Vietnam Covid-19 Updates (March 29): Infections on Downward Trajectory
On average the daily number of fresh infections recorded in Vietnam in the past seven days remains high at 109,424 cases.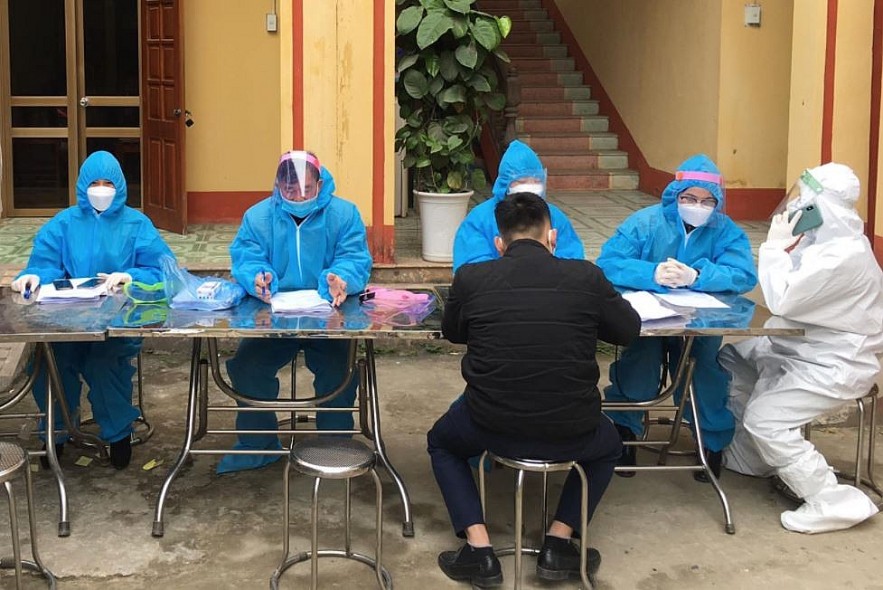 Photo: Suc Khoe & Doi song
Covid-19 infections on a downward trajectory in Vietnam
Vietnam has passed the peak of the ongoing coronavirus outbreak with daily infections decreasing considerably during the past few days. Official data from the Ministry of Health show after peaking at more than 180,000 cases on March 13, daily infections have gradually tumbled to fewer than 100,000 for the past two days.
March 28 saw 83,376 cases detected in 62 out of 63 cities and provinces across the country, a fall of 8,453 cases compared to the previous day. Hanoi capital has topped localities in infection number for a few weeks also recorded 9,326 cases on March 28, down nearly 1,000 cases.
Photo: Bao Dan Toc
Tourism sector speeds up for summer vacation following full reopening
More than ten days after the official reopening of Vietnam's tourism sector, localities and businesses are putting all hands on deck to prepare for the summer travel season and revive the industry.
As tourism activities resume, 'Hanoi Tourism 2022' was launched over the weekend at Ly Thai To Square. With the theme 'Get on Hanoi 2022', the event took place from March 25 to 27 with a series of activities to welcome tourists back to the capital. One of the event highlights was a hot air balloons festival at Long Bien longan garden, the area along the Red River and the foot of Vinh Tuy Bridge in the Long Bien district.
Ho Chi Minh City has also been putting in the effort and scaling up inter-provincial and inter-regional partnerships with more than 40 cities and provinces, which are in the Mekong Delta, the Northwestern, Central, Southeast regions, and the Central Highlands.
Vietnam National Administration of Tourism General Director Nguyen Trung Khanh said: "Domestic travel now no longer has any restrictions. Despite the outbreak, there is still a large number of local tourists, which proves that safe travel activities have been going in the right direction, and that we are ready for tourism reopening. Vietnam has set the goal to welcome 60 million local and 5 million international tourists in 2022, which is completely feasible."
Photo: TNMT
Vietjet resumes first international service from Thailand to Da Nang
Budget carrier Vietjet resumed the first international service to the central city Da Nang from Bangkok, Thailand, reaffirming its leading role as the largest flight capacity provider between the two countries while pioneering in boosting the post-pandemic recovery of tourism and trade connectivity across the region.
The flight departed from Bangkok to Da Nang, carrying over a hundred passengers, including representatives from numerous Thai travel agencies to visit Da Nang and Vietnam's central region on a trip to reactivate the tourism exchange between the two markets, following the relaxation of travel restrictions.
The resumption of the Da Nang – Bangkok route will once again provide Vietnamese travelers with a highly convenient and cost-saving travel option, especially for those in the central region looking to discover Thailand, one of the most popular international destinations for Vietnamese tourists.
Vietjet offers a complimentary pre-flight RT-PCR test for its flyers on international services. The flight time is around 1 hour and 40 minutes per leg. From Thailand to Vietnam, the flight takes off from Bangkok at 10:50 in the morning and lands in Da Nang at 12:30. Coming the other way, the flight departs from Da Nang at 13:15 and arrives in Bangkok at 14:55.
On average the daily number of fresh infections recorded in Vietnam in the past seven days remains high at 109,424 cases. Almost all daily routines and activities return to normal. Many localities have resumed face-to-face learning and non-essential services such as karaoke and dancing.
As of 6 pm on March 28, Vietnam has detected 9,274,849 Covid-19 cases since the start of the outbreak, ranking 14th out of 225 countries and territories worldwide. Of the infected patients, 5,474,708 have been discharged from the hospital after making a full recovery from the disease, and 42,358 patients have died of the virus.
More than 205 million vaccine doses have been administered nationwide.