Vietnam Covid-19 Updates (May 10): 167 new cases found in the last 24 hours
411 locally transmitted infections have been detected since the latest outbreak hit the country on April 27.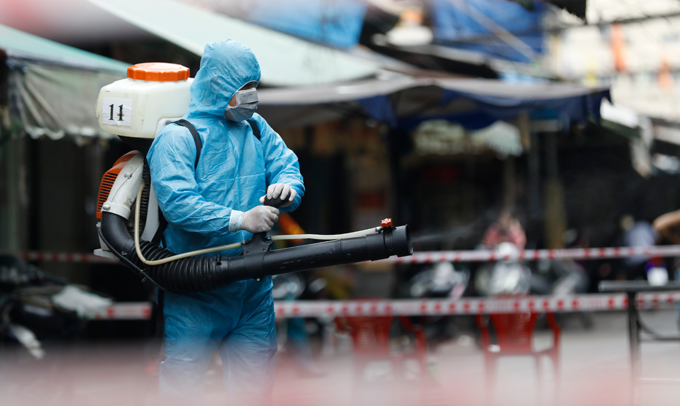 Photo: VN Express
167 new cases found in the last 24 hours
Vietnam documented 87 cases of COVID-19 from 6am to 6pm May 9, including 77 domestic cases, according to the Health Ministry. Bac Giang province had the most cases during the day with 26, followed by Da Nang with 17, Bac Ninh 15, Hanoi 11, while Hung Yen, Hoa Binh, and Thua Thien-Hue had two each, and Quang Nam and Quang Tri each had one.
Eighty new COVID-19 cases were confirmed on May 10 morning, including 78 domestic infections and two imported. The local transmissions were detected in Bac Ninh (27), Vinh Phuc (19), Da Nang (13), Bac Giang (5), Hanoi (9), Hoa Binh (2), Dak Lak (1), Dien Bien (1), Lang Soon (1). The two imported cases are a Vietnamese citizen returning from France and an Indian expert who arrived in the country from Qatar. Both were immediately quarantined on arrival.
Altogether, in the last 24 hours, 167 new cases were found, including 155 community cases and 12 imported.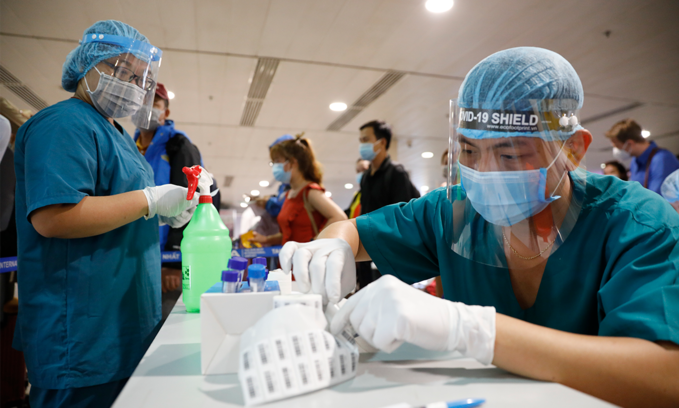 Photo: VN Express
PM holds emergency online conference on COVID-19 control
Prime Minister Pham Minh Chinh on May 9 held an urgent video conference with the National Steering Committee for COVID-19 Prevention and Control, relevant ministries and agencies, and six provinces along the southwestern border, focusing on how to respond to the latest COVID-19 resurgence in the country.
The PM also noted the threat from illegal entry across the border while the pandemic is ravaging neighboring countries, and demanded strict control of entry and residency. He stressed that if the pandemic spreads across the country, it would affect the elections of deputies to the 15th National Assembly and all-level People's Councils for the 2021 – 2026 tenure and this academic year, therefore, all local administrations, organizations, and units must strictly and drastically comply with instructions of the Party and the Government regarding COVID-19 control and ensure social security and order.
The PM also pointed to the need to prepare accommodations and treatment facilities for a 30,000-case scenario. He asked all cities and provinces to come up with plans to ensure safety for the upcoming elections, and the completion of the 2020-21 school year while ministries must collaborate more closely to combat the virus. The Ministries of National Defence, Public Security, and Health were also asked to send more personnel and supplies to support border provinces, particularly those in the southwest.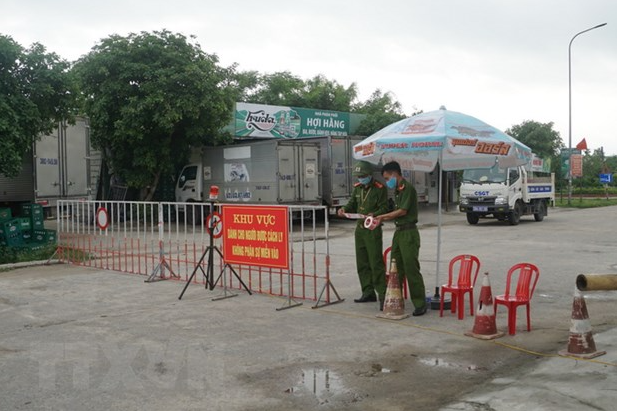 Photo: VNA
More restrictions imposed in provinces to prevent pandemic spread
Dien Bien isolated a neighborhood of 16 households where a positive case was found. Households in the blockaded area are required not to go out. Currently, Dien Bien province is tracing cases of contact with this patient. Initially, 63 related F1 were traced.
Hung Yen has also taken urgent measures to control the COVID-19 pandemic. Authorities have quarantined communes and towns where positive cases found, and at the same time, speedily brought nearly 350 F1 cases to concentrated quarantine. The province has checked more than 12,000 people, tested more than 7,000 samples.
From 0am on May 10, Hai Duong province will suspend operations for tourist cars. Customer transport vehicles can only carry 50% of the number of seats but not more than 20 people/vehicle per trip. Enterprises that do not meet pandemic prevention regulations shall be requested to stop operating and strictly fined. 27 provincial inter-agency posts to prevent and combat the COVID-19 pandemic have been set up. These posts came into operation from 5pm on May 9.
Vinh Phuc imposed a social lockdown in Dai Noi village, where 2 positive cases found, within 15 days from 0am on May 9, 2021, to 0am on May 24, 2021. Also in the same period, Yen Lac town comes into a social lockdown state as 2 positive cases were reported in the town.
Quang Nam set up 7 control posts for COVID-19 pandemic prevention and control on key national highways and the province's gateways. Quang Nam province has 4 testing facilities with human resources to ensure handling of urgent situations. To speed up testing, Quang Nam Department of Health has decided to deploy rapid testing for SARS-CoV-2 virus antigen in the province.
The new infections took to the total number of coronavirus cases in Vietnam to 3,412, including 411 locally transmitted infections detected since the latest outbreak hit the country on April 27.
According to the MoH's Medical Service Administration, 2,602 patients had been given the all-clear from coronavirus SARS-CoV-2. Among active patients undergoing treatment, 25 tested negative to the virus once, 22 twice, and 17 thrice.
As of May 10 morning, the total number of people quarantined is 59,198, including 991 in hospitals, 25,804 in state-designated establishments, and the remainders at their places of residence.
Up to 42,943 people were vaccinated against COVID-19 on May 9, raising the total to 851,513, mostly medical workers, members of steering committees for COVID-19 prevention and control, and members of police and military forces.