Vietnam COVID-19 Updates (May 7): 61 cases documented in the last 24 hours
Vietnam recorded 61 new cases of COVID-19 during the last 24 hours, including 57 locally infected cases and four imported, according to the Health Ministry.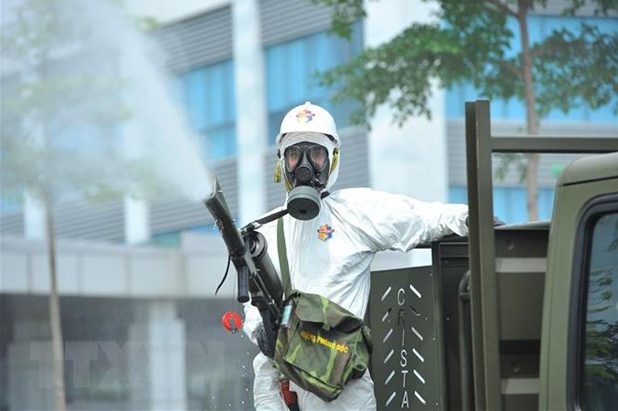 Photo: VNA
61 cases documented in the last 24 hours
Vietnam recorded 60 cases of COVID-19 from 6 am to 6 pm May 6, including 56 locally infected cases and four imported, according to the Health Ministry. Among the 56 local cases, 16 were at the second facility of the National Hospital for Tropical Diseases in Hanoi, 12 in the northern province of Bac Ninh, 11 in the northern province of Vinh Phuc, four in Hanoi, 3 in the central city of Da Nang.
From 6 pm on May 6 to 6 am on May 7, another positive case was found in the country. The patient, who was recorded in Thanh Hoa province, is a 42-year-old male, F1 of the Chinese specialist isolated entry in Yen Bai province. His second test result on May 6, 2021, showed that he was positive for SARS-CoV-2. Currently, the patient is isolated and treated at Dong Anh Central Hospital for Tropical Diseases.
Photo: VNA
Health minister and deputies receive COVID-19 vaccine shots
Minister of Health Nguyen Thanh Long, his deputies, and leaders of units at the Ministry of Health received COVID-19 AstraZeneca vaccine shots on May 6 morning at the Hanoi-based Bach Mai Hospital. Long, 54, along with three of his deputies – Tran Van Thuan, 51, Truong Quoc Cuong, 60, and Do Xuan Tuyen, 55 – remained at the hospital after the inoculations for follow-up health monitoring. All of them said they felt fine after receiving the injections.
The minister said the global vaccine sharing scheme COVAX is expected to deliver another 1.6 million doses of AstraZeneca to Vietnam on May 10, as part of the commitment to supply some 39 million doses within 2021 and early 2022 to inoculate the prioritized groups as identified by the Government.
Long said that 74 percent of the nearly 1 million doses of AstraZeneca – more than 800,000 from COVAX brought to Vietnam on April 1 and more than 117,000 purchased from the manufacturer that arrived late February – have been administered, and the doses could be finished within a few days. According to a report released on May 6 morning by the National Expanded Programme on Immunisation, more than 90,000 people were vaccinated on May 5.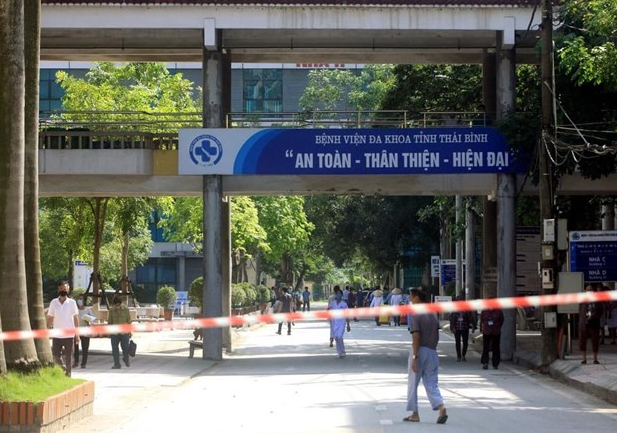 Photo: VNA
Vietnam returnees by road get quarantine fee support
At the regular Government press conference on the evening of May 5, Minister, Chairman of the Government Office Tran Van Son mentioned that the State budget would support the cost of medical isolation for Vietnamese citizens in neighboring countries who return by road. At this meeting, the Prime Minister also emphasized that units and localities must continue to raise awareness and responsibility in pandemic prevention and control.
According to forecasts, the COVID-19 pandemic will continue to be complicated and prolonged. No country, organization, or individual has been able to confirm its finishing time. Therefore, this pandemic is still a big threat. If not well controlled, the pandemic could wipe out all the achievements that Vietnam has achieved over the past years.
Therefore, the most important task of the Government, of the whole political system from the central to local levels these days is to thoroughly and effectively prevent and control the COVID-19 pandemic, protecting lives, ensuring a safe and stable life for the people, maintaining the gained achievements, continuing to recover and develop socio-economic.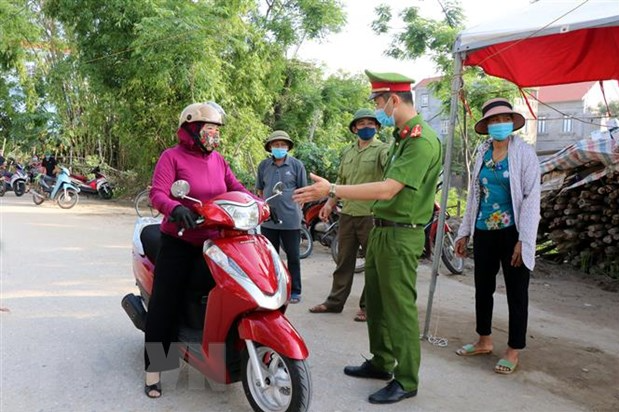 Photo: VNA
Province strengthens measures to cope with a pandemic
Chairman of the Hanoi People's Committee Chu Ngoc Anh has ordered drastically implementing COVID-19 prevention and control measures amid the complex and unexpected developments of the pandemic. Health declaration and mask-wearing are mandatory, Anh said, adding that large gatherings at public places are banned and the physical distancing of at least 1m must be kept. The official also ordered tightening the management at concentrated quarantine establishments, particularly hotels, to prevent cross-infections and pandemic spread among the community.
Thai Binh imposed lockdown since May 6 noon, after reporting 5 positive cases in the community. Currently, the health sector is urgently tracing F1 and F2 related to these positive cases. At the same time, all students in the province are asked to stay at home until further notice. Citizens cannot gather more than 20 people in public places. The province also suspended all business service establishments, except essential goods. Cultural, sport, and entertainment activities are also suspended.
From 0:00 on May 7, Bac Ninh province applies social distancing in Luong Tai district, Thuan Thanh, Tien Du, Tu Son town, and Bac Ninh city. These localities stop all gathering of over 20 people in one room, require strict implementation of COVID-19 prevention measures according to the health sector's guidance, ask residents to make a minimum distance of 2 meters in public places.
From 12 pm on May 7, Da Nang halts dine-in F&B service establishments. Restaurants are only allowed to sell takeaway foods or using online shopping services. Da Nang has already suspended cultural festivals, sports, religions, beliefs, worship, art performance events, operations of non-essential businesses, gatherings of more than 30 people, indoor gym establishments.
The national tally has reached 3,091, with 1,691 local cases. In the latest wave of outbreaks from April 27, 120 cases have been detected. A total of 2,560 patients have been given the all-clear, and the death toll remains at 35.
Among patients still under treatment, 24 have tested negative for the coronavirus once, 12 twice and 38 thrice. Meanwhile, 40,736 people are being quarantined across the country.