Vietnam COVID-19 Updates (May 6): Hanoi hospital becomes latest COVID-19 hotspot in Vietnam
The National Hospital for Tropical Diseases in Hanoi has become the nation's latest coronavirus hotspot following the detection of an additional 14 cases on May 5.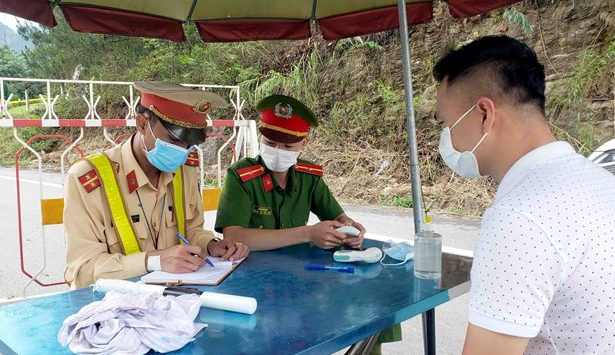 Photo: VNA
8 new cases found in Hanoi's hotspot
8 positive cases were found this morning, May 6, all related to the series of cases in the National Hospital Of Tropical Diseases. Those 8 people are patients treated in the hospital.
After one of its doctors was diagnosed with the virus on May 4, the hospital moved to close its door to visitors from May 5. It has put more than 800 healthcare workers, patients, and their relatives into quarantine in order to undergo a period of medical surveillance and testing. Despite the management stating that the source of infection originated from the hospital, Deputy Minister Tuyen proposed that the capital's administration direct relevant agencies to continue conducting epidemiological investigations into related cases. Among the 14 positive cases that had been recorded to May 5, two were doctors, eight were patients, and four were relatives of the patients.
In addition, Vietnam recorded 26 new COVID-19 cases, including eight imported and 18 domestically-transmitted infections from 6 am to 6 pm on May 5. The domestically-transmitted infections include one case in central Quang Nam province, one in the capital city of Hanoi, one in southern Dong Nai province, one in northern Hai Duong province, and 14 others at the National Hospital for Tropical Diseases in Hanoi's Dong Anh district.
Photo: VNA
Compulsory quarantine period extended to 21 days
The mandatory concentrated quarantine for those who enter Vietnam from abroad or who had close contact with confirmed COVID-19 cases will be extended from the current 14 days to 21 days, and the new regulation takes effect from May 5, Minister of Health Nguyen Thanh Long has said.
The decision was made after consultation with epidemiologists and virologists in light of new variants of the virus prompting revisions to our knowledge of disease incubation time, he said. The new protocol aims to "protect the community from the spread of coronavirus" amid recent cases found positive following the completion of 14-day quarantine, Long said. The follow-up medical observation period at home for those who have completed concentrated quarantine will be cut from two weeks to seven days.
People who return from quarantine facilities should make daily health declarations with local medical workers. If they show signs of fever, cough, sore throat, shortness of breath, tiredness, or loss of taste, they must go to the closest health clinic for guidance, a dispatch from the health ministry from earlier this morning, which still put the quarantine period at 14-day but provided tightened regulations. They are not allowed to leave their houses or places of residence. If they need to go out for work or other necessary purposes, they must report to local police and medical staff and strictly follow basic prevention measures.
Photo: VNA
Provinces raise level of restrictions to cope with the pandemic
On the evening of May 5, Hanoi People's Committee Chairman Chu Ngoc Anh issued a directive on the drastic enhancement of measures to prevent and control the COVID-19 pandemic in the new situation. Accordingly, people in Hanoi are asked to only leave their houses in necessary situations and strictly comply with pandemic prevention regulations. Street food and drink vendors are asked to close. Indoor F&B restaurants have to ensure a distance of 1 meter between every two customers and install shields between tables.
Also on May 5 evening, Bac Ninh People Committee held a meeting to raise prevention regulations to the highest level. From May 6, Bac Ninh lets students of all grades in the province leave school until further notice.
From 0:00 on May 6, Kon Tum province will suspend operations of non-essential service establishments that risk spreading the COVID-19 pandemic such as KTVs, discotheques, bars, massage facilities. Other service establishments are allowed to operate but must strictly implement measures for controlling COVID-19.
The new patients brought the total number of COVID-19 infections in the country to 3,030, including 1,632 domestically transmitted cases. Of them, 56 cases were detected since the latest outbreak hit the country on April 27.
According to the MoH's Medical Service Administration, a total of 2,560 patients were given the all-clear from coronavirus SARS-CoV-2, while the death toll related to the disease remained at 35. Among active patients undergoing treatment at medical establishments, 24 tested negative to the virus, 12 twice, and 38 thrice.
As many as 40,736 people who had close contact with COVID-19 patients or entered Vietnam from pandemic-hit regions are currently quarantined across the country, including 560 in hospitals, 21,733 in state-designated establishments, and 18,443 at their residences.