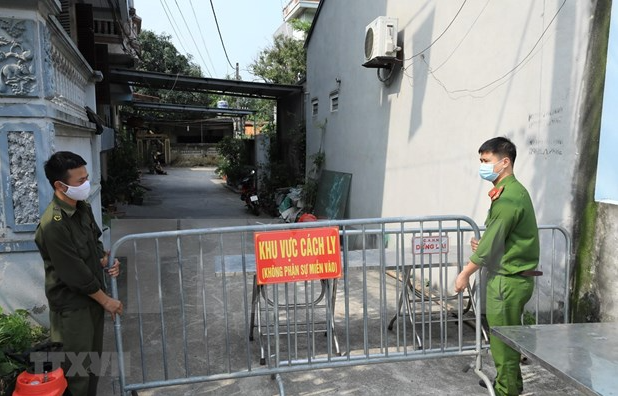 Photo: VNA
No new community cases confirmed
No new community cases of Covid-19 were recorded in Vietnam Saturday morning, despite 14 more being confirmed from 6 a.m. to 6 p.m. on April 30, including four domestically transmitted infections, according to the Health Ministry.
Among the new local infections, two were recorded in Hanoi and two in the northern province of Ha Nam. All the new cases have been linked to the current Covid-19 hotspot of Dao Ly Commune in Ly Nhan District of Ha Nam Province. The two patients in Ha Nam are being treated at the provincial General Hospital while those in Hanoi, workers at Bac Thang Long Industrial Park, are undergoing treatment at the National Hospital for Tropical Diseases No.2 in the capital's Dong Anh District.
Though no new cases were confirmed Saturday morning, the risk of transmission is still high, particularly with people set to return to the cities from their hometowns after the May 1 holiday.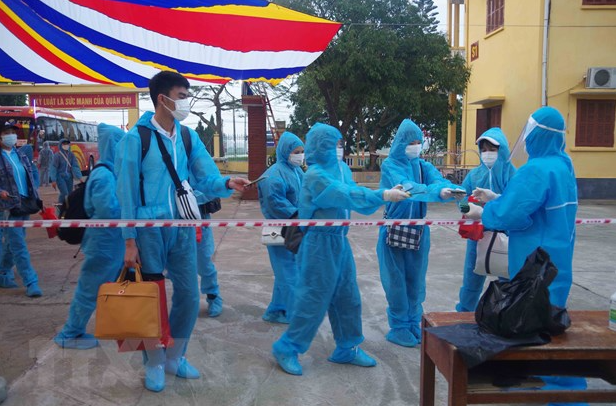 Photo: VNA
Individuals must be held accountable in Covid-19 fight: PM
Individuals must be held accountable in Covid-19 response efforts, said Prime Minister Pham Minh Chinh during an urgent meeting in Hanoi on April 30 morning after several new domestic Covid-19 cases were found. The government leader ordered relevant sectors and local administrations to take swift measures to prevent the spread of the the disease and voiced his concern that certain localities, units, and individuals were not taking coronavirus prevention rules seriously.
He stressed the need to effectively curb the pandemic so as to safely organize the upcoming national elections of deputies to the 15th National Assembly and all-level People's Councils for the 2021-2026 term. He called upon Vietnamese people nationwide to voluntarily comply with prevention rules and to stand united with the government in the Covid-19 fight for the health of their own and others and for the benefit of the nation.
He also urged relevant authorities and local administrations to take further drastic action to contain the spread of the virus, stating that border provinces must intensify border surveillance. Chinh moved on to ask the Ministry of Health to proactively seek new suppliers of the Covid-19 vaccine and ensure transparency in its acquisition.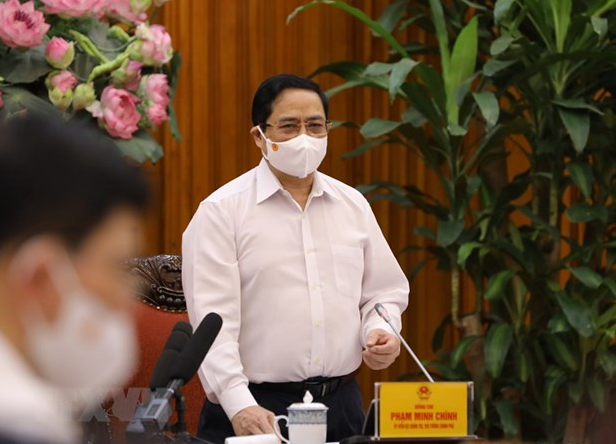 Photo: VNA
Hai Phong closes discotheques and KTVs from May 1
Facing a complex pandemic development, the nothern city of Hai Phong has required that all non-essential businesses stop activities from May 1. The businesses include discotheques, KTVs, massage and sauna parlors, bars, pubs and internet gaming shops. Hai Phong People's Committee have requested people in the province to wear masks when leaving home. The city and its district police have been told to strictly fine those violating pandemic preventive regulations. Cat Bi Airport, bus stations, railway stations and harbor areas are required to strictly carry out pandemic prevention and control, particulalry the wearing of masks, social distancing and disinfecting. Transport services must strictly refuse to serve passengers who do not fully implement the measures.
Hai Phong Department of Health and the People's Committee have enhanced inspection and supervision of the city's centralized isolation facilities, especially those for foreign experts, to avoid cross-infection and community infection.
In addition, city leaders have also requested agencies to strengthen management and supervision of cases after the 14-day centralized isolation; requiring them to continue isolation at home or their residence for another 14 days. If there are any symptoms such as coughing, fever, sore throat, chest tightness or difficulty breathing, they must promptly notify the health sector to take appropriate measures.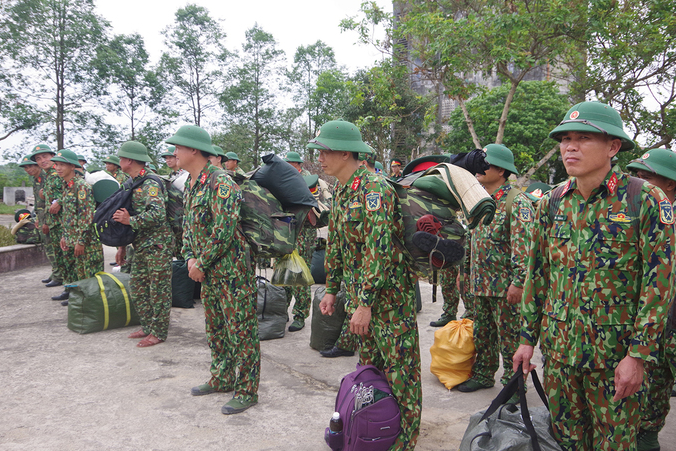 Photo: VN Express
Central region increases border guards to fight pandemic
On April 30, Nghe AnProvincial Military Command sent 68 soldiers to support the border posts. Nghe An has a 468 km long border with Laos. Currently, the province's border guard is guarding 34 posts and 22 checkpoints. A total of 18 local working groups with hundreds of soldiers are working 24 hours a day to prevent illegal entry and exit.
Quang Tri Military Command has dispatched 172 officers and soldiers across 86 border posts on the western borderline. Currently, the Quang Tri force guards 86 posts with 425 officers and soldiers across 23 mobile teams on the border with Laos.
The Military Command of Thua Thien Hue have dispatched 38 professional officers and soldiers to the border. The border command of Thua Thien Hue province is guarding 36 posts (19 fixed posts and 17 mobile posts) with 241 soldiers controlling more than 80 km of the borderline with Salavan, Se Kong (Laos).
The total number of COVID-19 cases in the country has risen to 2,928, including 1,584 domestically transmitted infections. As many as 2,516 patients have recovered while the death toll remains at 35.
Among patients still under treatment, 13 have tested negative for SARS-CoV-2 once, 15 twice and 20 thrice. Meanwhile, 37,249 people are being quarantined nationwide.
In face complicated pandemic developments, the Health Ministry has urged people nationwide to remain proactive in pandemic prevention and control by continuing to wear face masks when going out, disinfecting frequently, maintaining a safe distance, refraining from mass gatherings, and making medical declarations.
Valerie Mai