Vietnam Covid-19 Updates (September 20): Vietnam Records Additional 10,040 Cases
So far, 34,095,243 doses of vaccines have been given to people, including 27,577,472 first shots and 6,517,771 second jabs.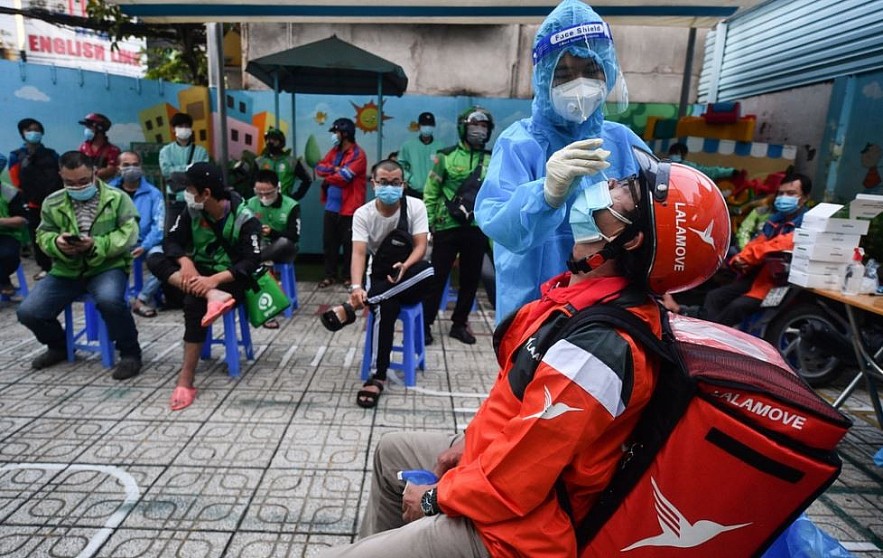 Photo: Zing News
Vietnam records additional 10,040 Covid-19 cases
Vietnam logged an additional 10,040 Covid-19 cases, including 15 imported, in the past 24 hours to 17:00 on September 19, the Ministry of Health announced.
Ho Chi Minh City, which is the country's current largest pandemic hotspot, reported the highest number of infections with 5,496 cases. It was followed by neighboring Binh Duong province (2,332), Dong Nai (953), and An Giang (287).
The remainders were detected in Long An (249), Kien Giang (151), Tien Giang (102), Ba Ria - Vung Tau (84), Tay Ninh (53), Can Tho (52), Khanh Hoa (37), Binh Dinh (30), Quang Ngai (24), Hanoi (20), Ca Mau (18), Quang Binh (15), Binh Phuoc (15), Ninh Thuan (15), Phu Yen (13), Quang Nam (13), Hau Giang (11), Dak Nong (11), Tra Vinh (8 ), Binh Thuan (7), Dong Thap (6), Ben Tre (6), Quang Tri (5), Bac Lieu (3), Da Nang (2), Vinh Long (2), Thanh Hoa (2), Ha Tinh (1), Hung Yen (1), and Bac Ninh (1).
Photo: Zing News
Council for business cooperation in response to Covid-19 set up
The Vietnam Chamber of Commerce and Industry (VCCI) has signed a decision to officially establish a council for business cooperation in response to Covid-19, a special mechanism to connect companies and business associations with agencies and organizations both in and outside the country in the fight against the pandemic. VCCI Chairman Pham Tan Cong holds the post of chairman of the council.
The council aims to promptly update and reflect arising issues and difficulties facing the business community and to collect the community's recommendations and suggest related policies and solutions to coping with Covid-19 to the Government and relevant agencies. It will create links among firms for information and experience exchanges to combat the pandemic and sustain production and business operations.
The council's missions are also to help enterprises learn about new regulations and supporting policies; conduct surveys on real-life implementation of such policies in localities; and mobilize domestic and international resources to aid Covid-19 prevention and control in Vietnam and within the business community.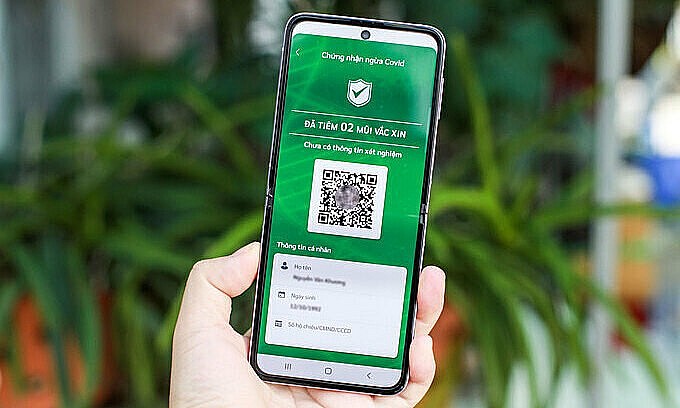 Photo: VN Express
HCMC considers 'green pass' for partially vaccinated residents
The HCMC health department has suggested that the "green pass" is given to all vaccinated people, including those who have only got one shot. It has also been said that all pass holders should be required to follow due to coronavirus restrictions and regular tests.
The proposal, submitted Saturday by the department to the city's Steering Committee for Covid-19 Prevention and Control, says people who have had one Covid-19 vaccine shot at least two weeks prior and Covid-19 cases who have completed their quarantine periods should be granted the passes that aim to foster and expedite economic recovery.
However, even "green pass" holders would still have to abide by coronavirus control measures like wearing masks and keeping distances, and take regular Covid-19 tests, the proposal says.
The plan to deploy "green passes" can have a positive impact, encouraging people to get vaccinated. While such a pass is proof that someone has been immunized against the coronavirus, it does not guarantee that holders won't get infected or pass the virus to someone else.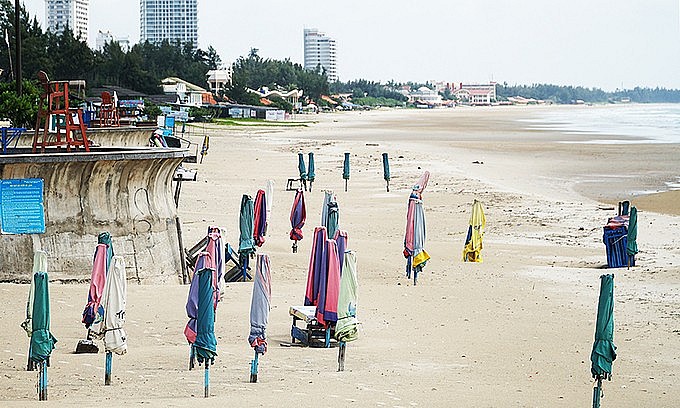 Photo: VN Express
Vung Tau proposes November reopening of beaches
The southern beach town of Vung Tau, neighboring HCMC, has proposed that its beaches be opened up for two hours every day starting November. The proposal is contained in a socio-economic recovery plan that the town is expected to submit to the provincial administration next Tuesday. If the Ba Ria-Vung Tau People's Committee approves the proposal, Vung Tau's gradual reopening process would happen in four phases.
In the first phase that will last at the end of September, low-risk wards in the town would relax certain restrictions on travel and business operations, like allowing traditional markets to reopen, but only selling essential goods. The second phase, to last for all of October, would allow businesses and families who produce, process, and sell food products, food takeaway services, and veterinarian and agricultural facilities, among others, to operate between 6 a.m. and 7 p.m. every day. The third phase, November to December, would allow gyms, billiards, yoga, and fitness facilities to reopen. The fourth phase, starting in 2022 and would further opening up for socio-economic development.
Vung Tau has recorded 1,360 Covid-19 cases so far and has spent over two months under social distancing order. Starting next Wednesday, 17 wards and communes are expected to become low-risk areas.
The new patients brought the total of Covid-19 cases in Vietnam to 687,063, ranking 47th out of 222 countries and territories worldwide in terms of infections per one million people. The country's death toll reaches 17,090.
So far, 34,095,243 doses of vaccines have been given to people, including 27,577,472 first shots and 6,517,771 second jabs.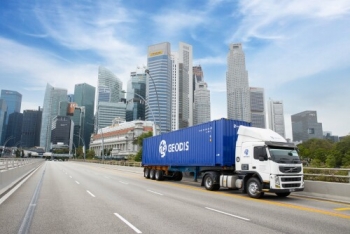 Economy
GEODIS, a global leading transport and logistics services provider, has expanded its road network in Southeast Asia to Vietnam; another step towards its ambition to develop a scheduled road service connecting Singapore to China.