Vietnam Covid-19 Updates (September 3): Automatic Extension Granted For Foreigners Stranded
The country has to date administered over 20.54 million doses of vaccines, with over 2.88 million people having been fully vaccinated.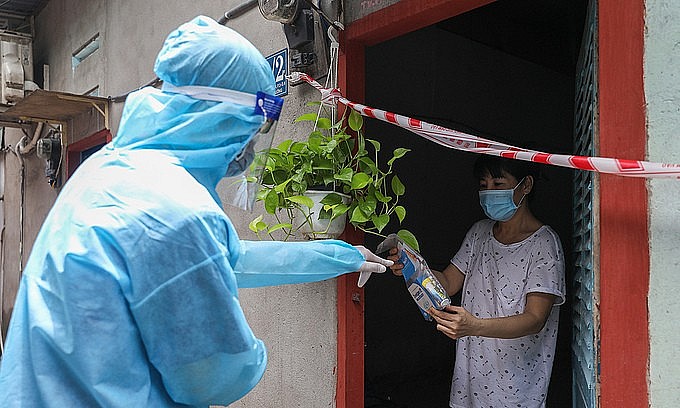 Photo: VN Express
Vietnam reports 13,197 Covid-19 cases on September 2
Vietnam sees 13,197 Covid-19 cases, including 11 imported ones, from 5 pm on September 1 to 5 pm on September 2, according to the Ministry of Health.
Ho Chi Minh City continued to see the highest number of daily infections with 5,963, followed by Binh Duong province with 4,504, Dong Nai 803, Long An 583, and Tien Giang 290. The capital city of Hanoi logged 48 cases.
Photo: VN Express
Automatic extension granted for foreigners stranded due to Covid-19
The Department of Immigration has issued a notice regarding an automatic extension for foreigners stranded in the country due to Covid-19. In line with this policy, foreigners who entered the nation on visa waivers, e-visas, or tourist visas after March 1, 2020, are entitled to an automatic extension until September 30. Indeed, they will be able to depart the country without having to apply for an extension.
For those who entered the nation before March 1, 2020, the same automatic extension until August 31 can be considered, subject to the provision of proof that the person is actually stranded in the country due to Covid-19. This must be accompanied by a diplomatic note with Vietnamese translation from relevant diplomatic missions, or a written document from relevant Vietnamese authorities confirming that the person must undergo mandatory quarantine or treatment for Covid-19 or proof of other force majeure.
Foreign citizens are required to present a diplomatic note or a written document regarding their departure from the country. During their "automatic stay extension" period, foreigners are required to complete temporary residence and health status declarations.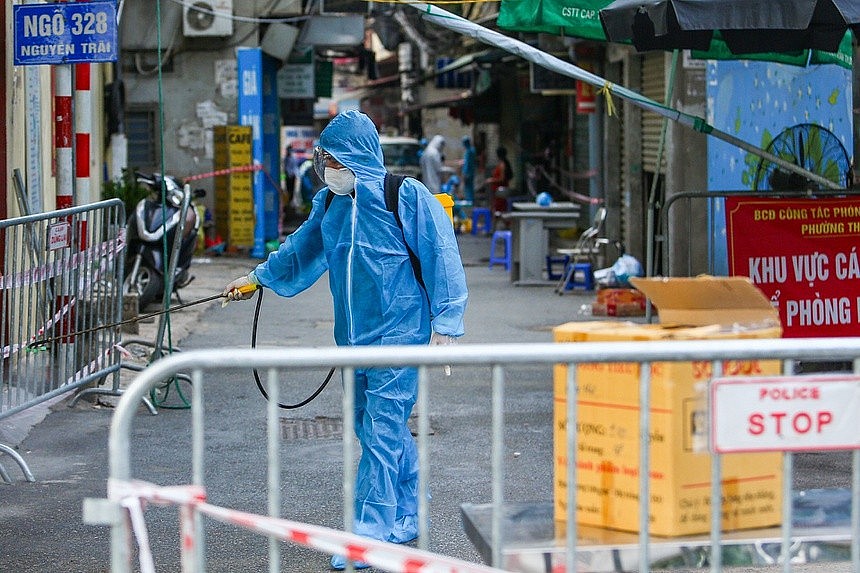 Photo: Zing News
Hanoi to extend strict social distancing in high-risk areas
Hanoi will maintain strict Covid-19 restrictions in high-risk areas while easing them in lower-risk areas after Sept. 6 Hanoi's Party Committee said the city will apply the strictest social distancing rules in areas with very high risks of Covid-19 exposure, or red zones, requiring everyone to "shelter in place."
Restrictions will remain in place also for lower-risk areas and safe zones, but less strict than Directive 16 and more strict than Directive 15, the committee said. Directive 15 requires suspension of social events, bans gatherings of 20 people or more in one place and of 10 people or more outside workplaces, schools, and hospitals. A minimum distance of two meters between people in public places should be ensured. Directive 16 requires people to stay home and only go out for basic necessities like buying food or medicines or to work at places that are still allowed to open.
Hanoi has recorded more than 3,600 community Covid-19 cases since the fourth coronavirus wave hit Vietnam in late April. The capital has undergone several social distancing orders since late July but outbreaks have been more unpredictable than earlier, with new clusters still being detected, showing gaps in the city's coronavirus control measures, Dinh Tien Dung, secretary of the municipal Party Committee, said last Sunday.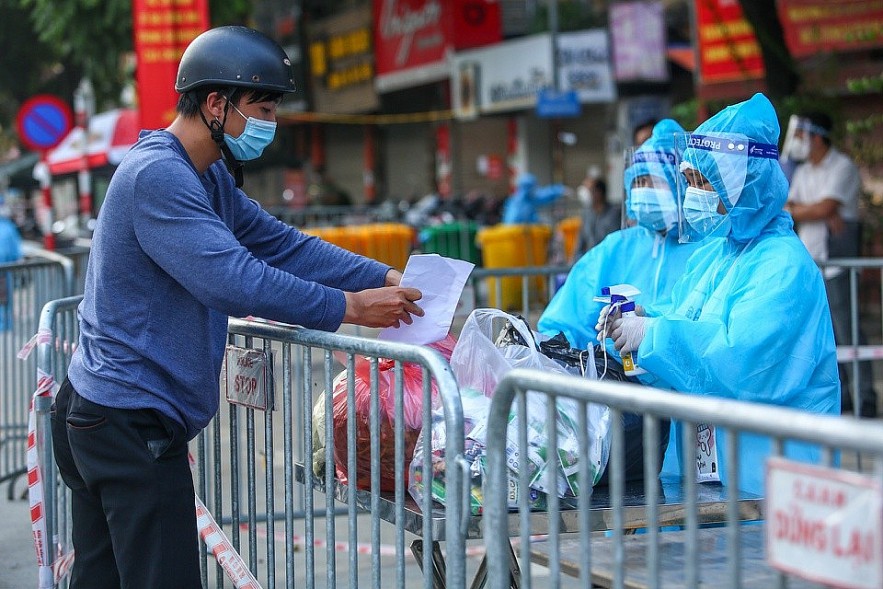 Photo: Zing News
Ho Chi Minh City to continue Covid-19 support even after pandemic is contained
People hurt by the Covid-19 pandemic will be supported even after the outbreak has been brought under control, HCMC vice chairman said Wednesday. In the best-case scenario that the city is able to bring the Covid outbreak under control by mid-September, the administration will keep supporting 4.5 million people for another three to four months, Vice Chairman Vo Van Hoan said during a live show called "People ask, city answers," wherein officials communicate directly with citizens.
HCMC will also use its own budget to release two million food support packages. Related agencies are still working on the value of each package. The city has been implementing three Covid-19 relief packages to support people affected by the pandemic: a government's relief package of VND 26 trillion (US$1.13 billion) that came out in July; and two of its own packages valued at VND 886 billion launched in July and VND 905 billion announced last month.
Late last month, the city requested VND 28 trillion (US$ 1.2 billion) from the government and 142,200 tons of rice to support vulnerable populations. The city itself has suffered financial impacts from the pandemic as its budget collection has been dropping since May and it is unlikely to meet the collection target of VND 365 trillion for this year.
The new cases brought the national tally since Covid-19 broke out in Vietnam to 486,727, ranking 55th among the 222 countries and territories. A total of 259,324 patients have recovered from Covid-19.
As many as 271 fatalities were recorded on September 2, bringing the death toll to 12,138. The country has to date administered over 20.54 million doses of vaccines, with over 2.88 million people having been fully vaccinated.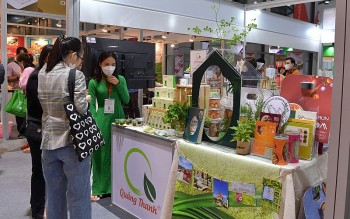 Economy
Nearly 100 Vietnamese food and beverage businesses attended the THAIFEX - Anuga Asia 2022 International Food and Beverage Trade Fair in Bangkok, Thailand, address ground-breaking innovations that will influence the fast-paced industry.