UN Resident Coordinator
Vietnam Deserves to be Applauded For Its Steadfast Commitments at United Nations
On the occasion of Prime Minister Pham Minh Chinh attending the high-level general discussion of the 78th session of the United Nations General Assembly (September 19-25), Rana Flowers, acting UN resident coordinator in Vietnam, shared about efforts to implement Vietnam's Sustainable Development Goals (SDG).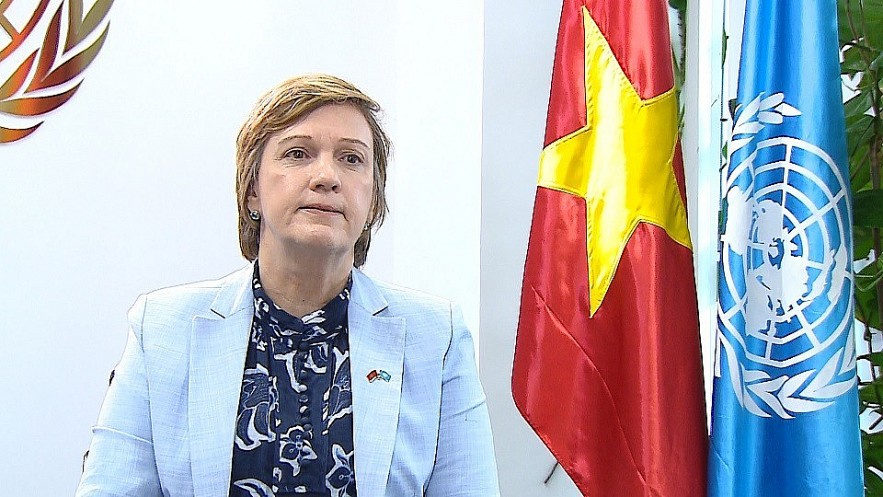 Rana Flowers, acting resident coordinator of the United Nations in Vietnam, shared with reporters about the implementation of the SDGs. Photo: Phuong Hang
Towards "Plan to save people and the planet"
Rana Flowers, acting resident coordinator of the United Nations (UN) in Vietnam, said that the SDG Summit marks the halfway point of implementing the 2030 Agenda with 17 Sustainable Development Goals (SDGs).
The conference is an opportunity for world leaders to evaluate progress in implementing these goals, reflect on which goals are on track, and which goals have not achieved the expected progress.
According to Rana Flowers, this is a pivotal moment in the world's development process, when countries, following the call of the UN Secretary-General, commit to accelerating and creating breakthroughs to ensure the planet we live on will grow stronger by the end of this decade.
"We can do a lot in the next seven years, with the right political will," Rana Flowers said.
With the participation of other leaders, Vietnam will make a strong commitment to addressing limited areas in need of Government funding, areas where data is lacking, action is needed to protect biodiversity, action to slow the pace of the climate crisis, and identify vulnerable groups at risk of being left behind.
"The commitments that Vietnam presented at the SDG Summit are a testament to human development, as well as Vietnam's strong determination to the 2030 Agenda with 17 SDGs - keeping promise to not leave anyone behind," she said.
Strong action attracts more resources
According to the Acting UN Resident Coordinator, Vietnam's commitments and actions in the upcoming SDG report are important.
Accordingly, as one of the countries making good progress on the SDGs, Vietnam can share its experiences with other countries.
As the 15th most populous country in the world and one of the fastest-growing and integrated economies, Vietnam can effectively use its voice to contribute ideas and promote investment and innovation, to accelerate the implementation of the SDGs.
"I believe that coming to this Summit, Vietnam will show its strong progress, as well as reflect areas where Vietnam has not made as much progress as expected," Acting UN Resident Coordinator said.
Building a roadmap to fill the gap
Rana Flowers assessed that Vietnam achieved significant progress in sustainable development goals and targets.
For example, Vietnam made great progress in goals related to hunger eradication and poverty reduction, the right to access clean water and sanitation, industrial and infrastructure development as well as access to information technology and the Internet.
However, according to Rana Flowers, the Covid-19 pandemic and other crises have shown signs that progress on some goals is at risk of being reversed. These include natural resource management, water resources and biodiversity, and renewable energy sharing.
Although Vietnam may achieve some of its goals at the national level by 2030, Rana Flowers believed that there are still disparities between regions and vulnerable groups (such as ethnic minorities, laborers, immigrants, people with disabilities, adolescents, the elderly and other groups) are still at risk of being left behind.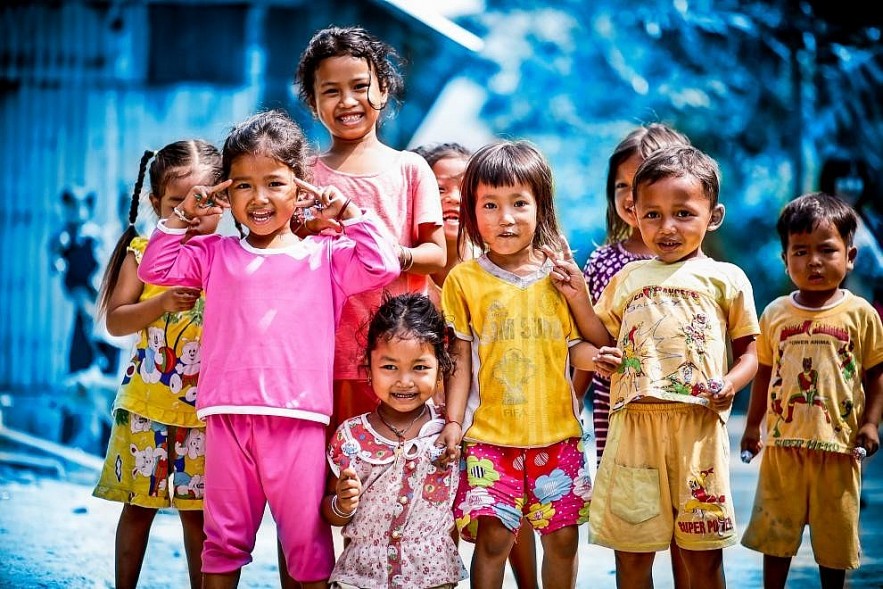 The Acting UN Resident Coordinator assessed that Vietnam achieved significant progress in sustainable development goals and targets. Photo: UNICEF
"Developing an SDG financing strategy will be key to this. While mobilizing additional climate and green finance is a priority, freeing up resources existing resources, including official development assistance (ODA) and improving the efficiency of domestic resource use, are equally important," Rana Flowers said.
Remarkable contributions
The Acting UN Resident Coordinator appreciated Vietnam as a dynamic, developed and valuable member country of Vietnam at the UN for the past 45 years.
Accordingly, Vietnam officially joined the UN in September 1977, two years after the war ended in 1975.
Over the past 45 years, Vietnam transformed from a country that only received UN support, into a country with increasing capacity, strongly contributing to regional and global agendas.
Vietnam is a responsible member of multilateral processes. Today, Vietnam plays an important role in the region and the world, in preserving peace, being a non-permanent member of the UN Security Council for the 2020-2021 term, ASEAN Chairmanship 2020.
According to Rana Flowers, Vietnam deserves to be applauded for its steadfast commitment to the 2030 Agenda for Sustainable Development, as well as its goal of achieving net zero emissions by 2050, thereby promoting the country's development in a comprehensive and sustainable direction.
"The United Nations welcomed Vietnam's commitments to strengthening human rights in all fields. The UN encouraged Vietnam's next actions to prioritize gender equality, ensure an open mechanism for the Government to listen to the voice of the people, and prioritize women's rights and children's rights. Vietnam also continues to better protect the rights of vulnerable groups, in accordance with international standards and practices, leaving no one behind," said Rana Flowers.