Vietnam Implements Israeli Plant Watering Technology
Many innovative technological solutions from Israel are applied in Vietnam to help increase crop yields, conserve and optimize water resources for agriculture development across the country.
In Quang Ninh province, one of the pioneering agriculture models using the Israeli drip irrigation system is Green Farm hydroponic vegetable production facility 188 Mao Khe in Dong Trieu, Quang Ninh province (also known as Green Farm 188 Mao Khe).
With Israeli irrigation technique, this model uses long irrigation pipes, distributing water to each stump, to provide a sufficient amount of water for each type of plant slowly and steadily. Green Farm 188 Mao Khe also uses specialized equipment to measure the temperature of leaves, to study the amount of water that leaves "lose" and then determine the amount of water that plants need to absorb regularly to maintain growth.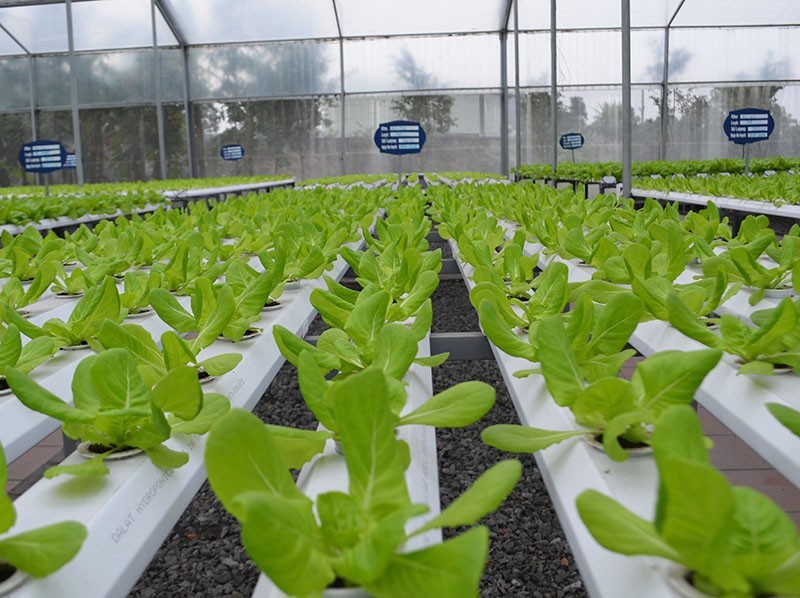 The hydroponic vegetable model at the Green Farm 188 Mao Khe (Photo: Quang Ninh Newspaper).
Other advantages of the Israeli drip irrigation systems include saving water, and reducing operating costs and production personnel, especially in farming locations with arid conditions and difficult-to-reach water resources. These systems are used in the Green Farm 188 Mao Khe and other farming facilities in Quang Ninh province.
In October 2020, the University of Agriculture and Forestry (Thai Nguyen University) received the sponsorship of a drip irrigation system with Israeli technology from the Israeli Embassy in Vietnam and Israel's Agency for International Development Cooperation at Israel's Ministry of Foreign Affairs (MASHAV).
This system has many advantages. The plants grown in the greenhouse are protected from adverse environmental factors and pests. The system integrates automation and information technology to control light, humidity, temperature, nutrition, and water through specialized software for easy remote installation and adjustment. Also, it allows growing plants by potting and using liquid nutrient solutions, automatic watering, and fertilizing through the drip irrigation system, which is safe, accurate, and highly effective.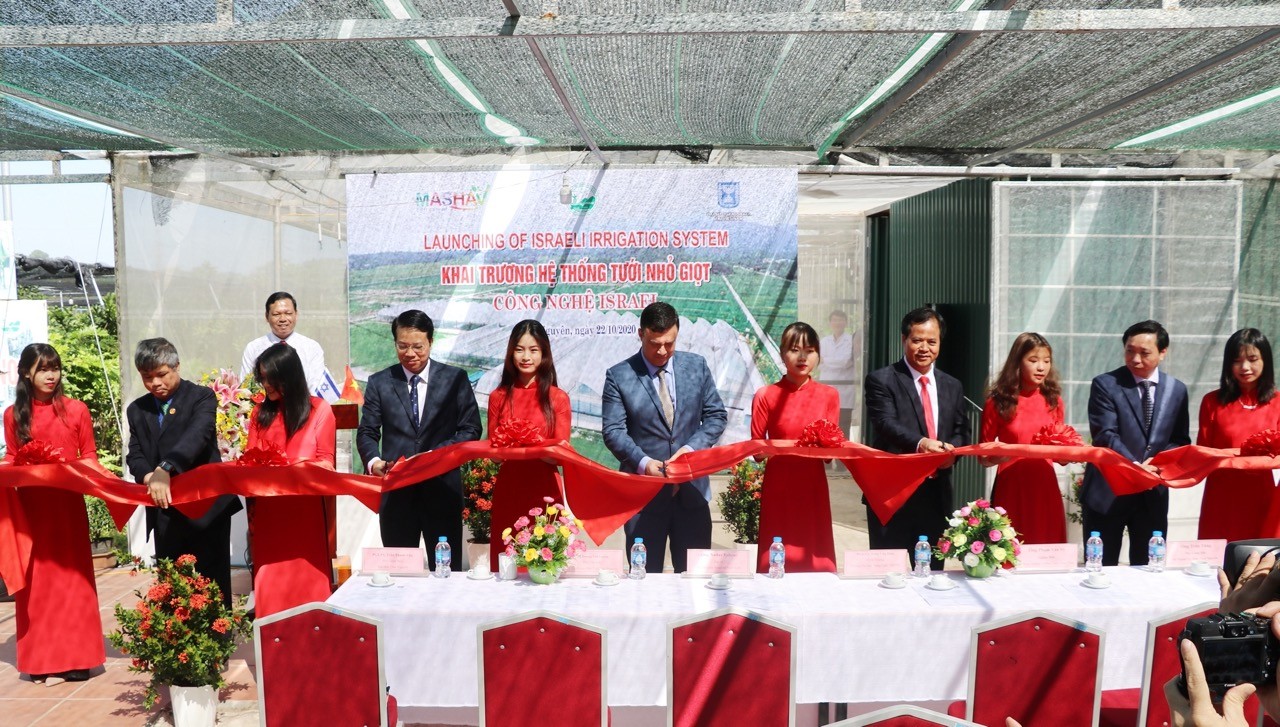 Delegates cut the ribbon to inaugurate the Israeli technology drip irrigation system at the University of Agriculture and Forestry (Thai Nguyen University). (Photo: thainguyen.gov.vn)
Dr. Tran Dinh Ha, Head of the Department of High-tech Agriculture (University of Agriculture and Forestry - Thai Nguyen University) said: After being put into use, the Israeli technology drip irrigation system has been managed and used effectively. The system was made for the irrigation of fruit plants, especially for high-tech crop production greenhouse plants with an area of nearly 1,000 m2.
The greenhouse regularly produces crops of high economic value like pomelos, cucumbers, tomatoes, and other fruit vegetables ... that become safe, quality goods that customers enjoy. Every year, the model supports the training of hundreds of students, and science researchers and provides skill improvement; and learning experiences for many delegations of officials, high school students and agricultural professionals.
In April 2022, the Embassy of Israel in Vietnam held the inauguration of a circulating water filtration system for the University of Agriculture and Forestry in Ho Chi Minh City.
This was a donation activity from the MASHAV's support fund. The circulating filtration system of the manufacturer Atlatium (Israel) is based on the principle of reusing dirty water in water tanks. The water from the tank passes through a biological filtration system, then treated with UV light to kill bacteria and viruses, and finally flows back to the tank.
According to Assoc. Dr. Nguyen Nhu Tri, Dean of the Faculty of Fisheries, University of Agriculture and Forestry Ho Chi Minh City, the university used the presence of the Israeli Embassy to carry out projects and research by its students and lecturers. Since self-funding is very expensive, the Embassy sponsors this system to help agricultural students as well as workers and researchers, whether units or individuals, in the local agricultural industry, for them to operate a filtration technology model.
According to the Food and Agriculture Organization of the United Nations (FAO), within the next few decades, the world must increase agricultural output by 70% to feed a growing population. Under the threats of food security and water scarcity due to climate change, Israel's experience in agriculture is valuable for countries like Vietnam.
Israel is the most agriculturally advanced country in the world, although more than 60% of the country is desert and only about 20% is water. It managed to provide a full range of fruits and vegetables for the domestic and export markets while also sharing water resources with neighboring countries, transferring water technology to about 150 countries and training experts in water treatment for more than 100 countries around the world.