Vietnam expected to produce 100 million Nano Covax Covid-19 vaccine doses each year
Vietnam is expected to produce about 100 million doses of Nano Covax, the country's first Covid-19 vaccine candidate each year.
Nano Covax is among 15 Covid-19 vaccines in the world entering the third phase of human trials with the participation of 13.000 volunteers, said the Nanogen Pharmaceutical Biotechnology Company, its producer.
In the 3A phase, 1.000 volunteers were given the first shots. After 28 days, they will receive the second.
On the 14th day after the second injection, the research team can collect data on the safety, immunogenicity and effectiveness of the vaccine against strains detected for the first time in the UK, South Africa and India.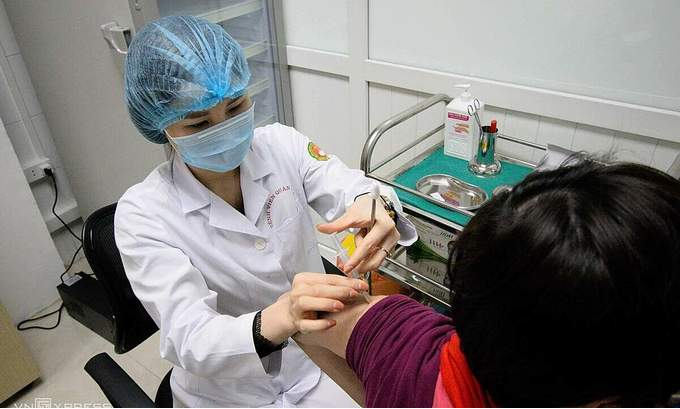 A volunteer is injected with a Nanocovax vaccine shot as part of its second phase of human trials at the Vietnam Military Medical University in Hanoi. Photo: VnExpress
For the Delta variant (first discovered in India), the team sent serum samples for evaluating the ability to neutralize the virus.
Once the 3A phase's data is available and meets requirements, the team will report to the Health Ministry and the Ethical Council in Biomedical Research for evaluation and consideration of granting emergency licenses, moving forward to the mass inoculation.
Around 12.000 volunteers in Hanoi, Hung Yen, Long An and Tien Giang are expected to participate in the 3B phase of human trials.
In the first phase, 100% of volunteers were immunogenic and had a seroconversion rate of 99.4%. It is expected that in the third phase, Nano Covax will be a 90% effective against the virus, equivalent to vaccines in the world.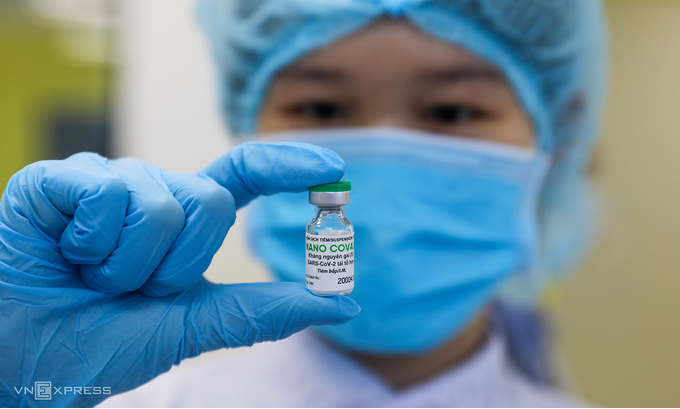 A worker holds up a vial of Nanocovax Covid-19 vaccine, in a laboratory in HCMC's District 9. Photo: VnExpress
After the administration, several volunteers experienced pain at the injection site and mild fever, but they disappeared 1-2 days later. In phase 3A, one person suffered mild level-2 anaphylaxis and now in stable health condition.
Nano Covax Covid-19 vaccine uses the recombinant protein technology which has been utilized by the Nanogen company for the past 10 years to produce medicines treating cancers and anemia.
Nano Covax started the third phase of human trials in June 2021.
Nanogen now can manufacture at a capacity of 8 million doses per month and can raise to 10 million doses in August.
Nano Covax is expected to be sold at US$ 5.3- US$ 10.
Ho Chi Minh City may buy 10 million Covid-19 vaccines this year
Duong Anh Duc, Vice Chairman of Ho Chi Minh City People's Committee said the city might secure 5-10 million doses of Covid-19 vaccines this year through direct negotiations with producers, without any third party involved. The exact terms of these contracts would be announced in detail once signed, he added.
The southern metropolis has received nearly one million Covid-19 vaccine doses.
Ho Chi Minh City kicked off the largest-ever vaccination campaign on June 19. About 200.000 vaccine shots have been administered a day in 650 sites. About 51% of vaccine quantity will be given to workers and managers at industrial parks, export processing zones and high-tech areas to ensure the production chain.
The campaign is expected to last until June 27.
A person holds a vial containing the AstraZeneca Covid-19 vaccine in HCMC. Photo: VnExpress
Deputy Director of the Municipal Department of Health Nguyen Hoai Nam said by the time the campaign ends, about 6% of the city's population would have been inoculated with the Covid-19 vaccines.
Vietnam's mass Covid-19 vaccination campaign since March has inoculated more than 2.4 million shots, fully vaccinated 121,683 people, using a Covid-19 vaccine by AstraZeneca, which requires two shots. The country aims to secure 150 million vaccine doses to cover 70 percent of its population this year.
Since the new wave started April 27, Vietnam has recorded 10.258 local Covid-19 cases in 42 cities and provinces.
Bac Giang and HCMC suffer the highest number of infections, 5.466 and 1.820.
The country has more than 13.500 cases since the pandemic hit.
National
Vietnam News Today (October 21): Vietnam confirms 3,635 new local Covid-19 cases; Ministries asked to facilitate exit, entry by Vietnamese, foreigners; Winter monsoon to hit northern Vietnam; Vietnam Airlines plans to operate nearly 40 domestic routes.