Vietnam-Finland promote cooperation on education and training sector
A Finnish Education forum named "Finnish Education Bootcamp" took place on March 21 in Hanoi, during which the delegates exchanged ideas to promote deeper cooperation in the field of education and training between the two countries.
HE. Kari Kahiluoto - Ambassador of Finland to Vietnam speaking at the forum.
Speaking at the forum, HE. Kari Kahilouto – Finnish Ambassador to Vietnam acknowledged that over the last years Vietnam and Finland have conducted numerous cooperation in the education sector and reached fruitful achievements. As the result, Finland is welcoming 2.500 Vietnamese students studying in the country.
As said by the Ambassador, currently in Vietnam, there are more than 30 Finnish education projects in deployment. However, as the COVID-19 pandemic has badly affected many professions, 2 Finnish schools in Vietnam have to close. Still, the Ambassador expressed his joyfulness when witnessing Wise Consulting Finland Oy signed a cooperation agreement with the Tan Thoi Dai education system.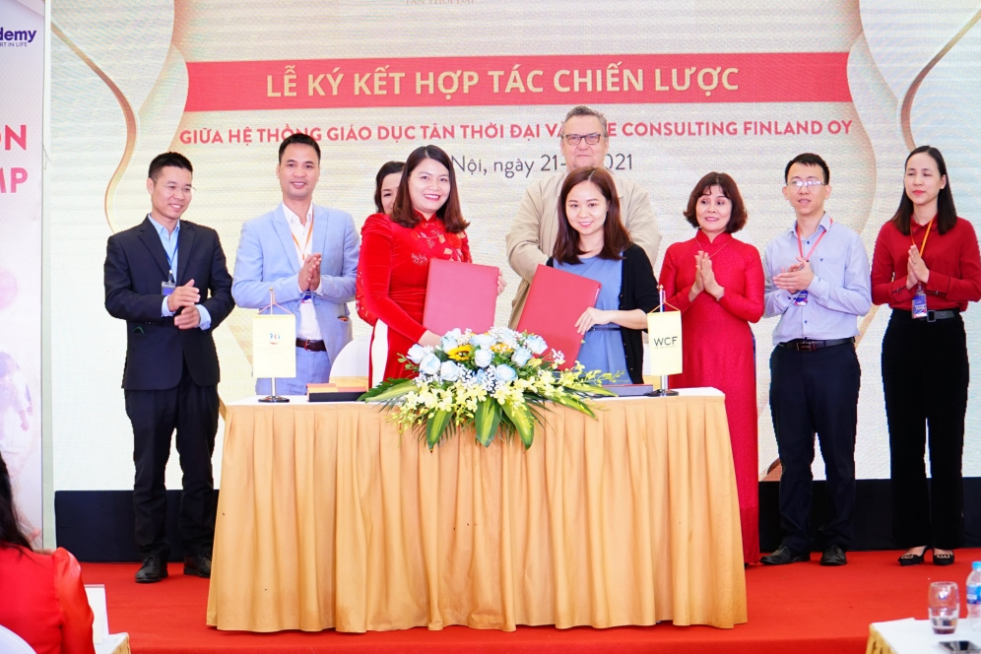 HE. Kari Kahiluoto - Ambassador of Finland to Vietnam witnessed the signing ceremony.
Vietnam's education market is challenging and highly competitive. Therefore, the Ambassador shared his delight as many Finnish education enterprises found cooperation opportunities with Vietnam. However, the current cooperation most focuses on kindergarten, general education, and university education. The Ambassador himself hoped that in the coming time, cooperation in the vocational training sector would soon be deployed.
"Finland has strength in vocational training but has not cooperated much with Vietnam on this field. I hope that in the coming time, there will be additional vocational training cooperation between the two countries," said the Ambassador.
At the "Finnish Education Bootcamp" forum, a significant cooperation signing ceremony was held between Wise Consulting Finland Oy and Tan Thoi Dai Education System. Accordingly, WCF will hold professional training programs for Tan Thoi Dai teachers.