Vietnam Focuses on Digitizing the Tourism Industry
Different from the traditional tourism, the modern tourism is more focused on the customer thanks to the digitization of data through a variety of digital technology applications.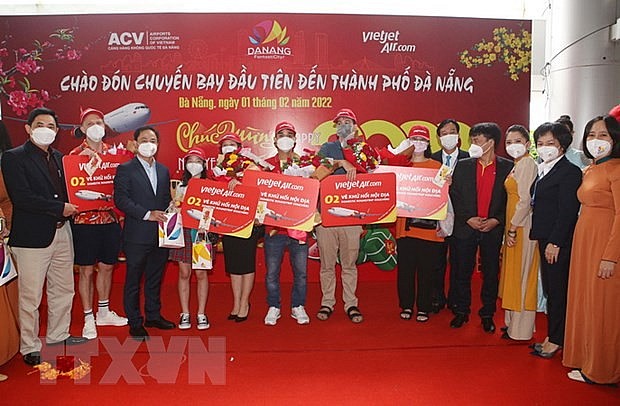 The organizers gave flowers and gifts to congratulate guests coming to Da Nang on the first day of the New Year. Photo: VNA
The digital transformation largely depends on the travel business and the tour operator, where the digital transformation process takes place.
In fact, many businesses' digital transformation efforts have failed to achieve their initial goals. This makes many tourism businesses concerned, especially small and medium enterprises, accounting for 97% of tourism businesses in Vietnam.
However, there are still a few bright spots with successful digital transformation businesses, creating trust and helping other businesses participate in the process.
Data digitization
According to a survey in the tourism industry, all industry activities are focused on providing experiences for visitors. Therefore, digital transformation can be understood as a shift from the traditional tourism model to a new tourism model. Modern tourism model focuses on customers according to the digital value chain based on digitized data.
Different from the traditional tourism model, modern tourism business activities focus more on customers thanks to the digitization of data through a variety of digital technology applications.
Data digitization is divided into 3 stages, including: collecting data about products, customers, locations; digitizing data, using digital technology for analysis, helping to gain insight into customers and business activities; converting acquired information into concrete action.
Identifying the importance of digital transformation and considering it as a fundamental factor to promote tourism, Vietnam's tourism industry has launched "Safe Vietnam Travel App."
This is an online travel application that combines electronic payment and medical health monitoring with just one card. This app, aimed at more than 43 million smartphone users, provides practical assistance in finding safe destinations and introducing the destination to tourists. It also effectively serves the second domestic tourism stimulus program of Vietnam's tourism industry.
Digital transformation and tourism stimulus are priorities in the tourism business today, besides encouraging businesses to regularly launch promotions, attracting customers and boosting revenue. With the difficult economic situation due to Covid-19, Vietnam's tourism industry should boost a variety of activities to get businesses back on track.
Digital technology application
Regarding the digital transformation, Vu Van Tuyen, CEO of Travelogy Vietnam also said that his business has applied digital transformation since the beginning of 2020, after two weeks of the Covid-19 outbreak.
Due to previous research on digital transformation, Travelogy did not face too many difficulties in digital transformation.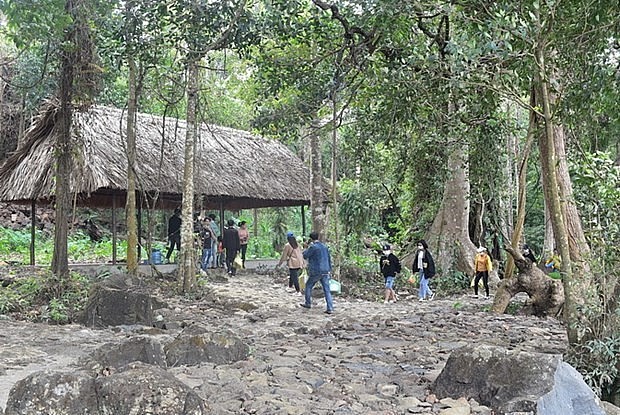 Dak Nong province is making efforts to prevent and control the Covid-19 pandemic, keeping the environment green to attract tourists. Photo: VNA
Through digital transformation, Travelogy has reached a larger number of customers, improved customer service, reduced costs and increased business efficiency.
Ngo Minh Duc, director of HG Holding, said that with international travel and aviation being almost paralyzed by the pandemic, digital transformation is important. HG Holding started digital transformation 5 years ago. At that time in Vietnam, there were very few enterprises implementing this activity.
In 2020, HG Holding continued to focus on technology to pursue the goal of digital transformation. HG Holding also built a Vietnamese platform on amazon.com.
The important points in digital transformation and digital technology application are to build products; have protection policies from authorities; good communication campaign so that all Vietnamese people give priority to Vietnamese products.
In the current context, when choosing products and types of tourism to build a supply chain, each selected tourism supply chain should be a link to carry out digital transformation, to make the product more competitive in the market.
The tourism product selected should ensure the safety of attendees (visitors and business members) in the context of living with the Covid-19 pandemic. It should also be sustainable, which will facilitate tourism development in the next period.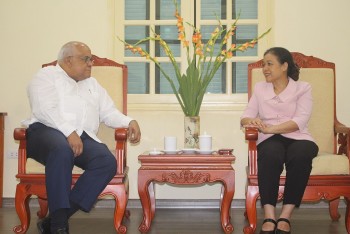 Friendship
Ambassador Nguyen Phuong Nga - President of the Vietnam Union of Friendship Organizations had a meeting and worked with Cuban Ambassador Extraordinary and Plenipotentiary to Vietnam Orlando Nicolas Hernandez Guillen. The two Ambassadors agreed to work closely in organizing solidarity and friendship activities.