Guests attending the 75th anniversary reception.
The Vietnam Embassy to Hungary has just held a reception to celebrate the 75th National Day of the Socialist Republic of Vietnam.
Mr. Gyula Nagy, the representative of the Hungary-Vietnam Friendship Association, congratulated Vietnam on the 75th National Day anniversary. He expressed his appreciation of Vietnam's outstanding achievements in national construction and international integration in recent years and delighted that the cooperation between Vietnam and Hungary has been increasingly tightened on all fronts.
He said that the Government and the people of Hungary always supported and gave special affection to the Government and the people of Vietnam.
Attending this year's National Day celebration reception Vietnam Embassy in Budapest were representatives from Hungary's Ministry of Foreign Affairs and Trade, representatives of the diplomatic corps, embassies, Hungary-Vietnam Friendship Association, and guests who were Hungarian friends and representatives of the Vietnamese community in Hungary.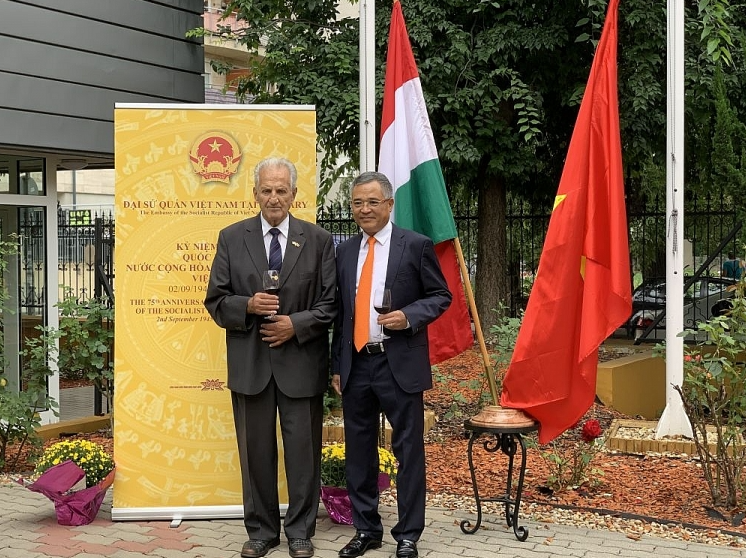 Mr. Gyula Nagy, Representative of the Hungary-Vietnam Friendship Association, took a photo with Ambassador Nguyen Tien Thuc.
Speaking at the ceremony, Ambassador Nguyen Tien Thuc reviewed the 75-year history of establishment and development of Vietnam and the important external achievements that Vietnam has achieved in recent times based on the great trust and support of the international community.
During the past 70 years, the relations between Hungary and Vietnam have always been good, especially in the last flourishing decade.
2020 is also the 70th anniversary year of the establishment of diplomatic relations between the two countries and the 2 year anniversary of the Vietnam-Hungary Comprehensive Partnership. This is an important milestone in the relationship between the two countries. Due to the impact of the COVID-19 epidemic, some commemorative activities on this occasion were not carried out as planned.
Ambassador Nguyen Tien Thuc affirmed that the support that the Government and the people of Hungary give to Vietnam during the process of national construction and development will always be appreciated and remembered by the Vietnamese government and people.
In the coming time, the two sides will continue to strengthen cooperation on all aspects and promote visits and work of senior leaders as well as ministries, branches, and localities.
Valerie Mai