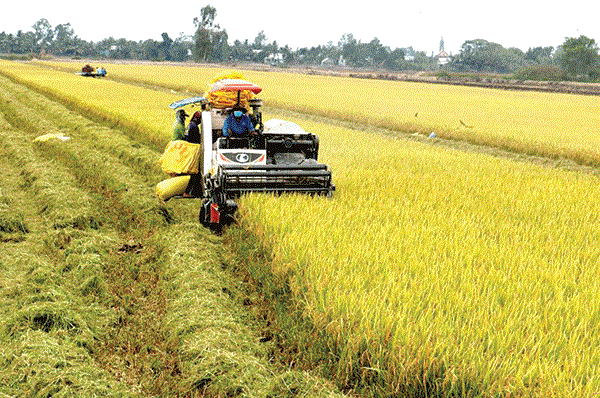 Illustrative photo
Vice Minister of Agriculture and Rural Development Le Quoc Doanh and Swiss Ambassador to Vietnam Ivo Sieber today signed an agreement to extend a Swiss-funded project titled "Remote Sensing-based Information and Insurance for Crops in emerging Economies (RIICE)". Utilizing remote sensing technology, the Ministry of Agriculture and Rural Development and its provincial departments can improve their rice monitoring and disaster risk management in crop production. At the same time, RIICE enables upgrading and expanding of agricultural insurance for smallholder farmers. The project's extension will run until the end of 2021.
"The government is implementing an ambitious agriculture sector transformation program. As part of this effort, digitalization is essential to improve productivity and environmental sustainability. RIICE directly contributes to achieving our sector transformation objectives", said Vice Minister Le Quoc Doanh.
"We highly appreciate the joint efforts of MARD and the other partners to support smallholder farmers to increase crop production and to reduce their risks through an accessible and cost-effective crop insurance. They are particularly impacted by climate change and best placed to benefit." Ambassador Sieber said. "I am confident that the nine-year project has created a solid foundation for Vietnam to integrate digital solutions into the national agricultural insurance schemes and the national plan for food security."
Dr. Renaud Mathieu, Senior Scientist and RIICE coordinator at the International Rice Research Institute (IRRI), highlighted the positive changes brought about by the project. "As one of the RIICE developers and implementers, IRRI is delighted to see that RIICE is being accepted and implemented in more and more countries. Providing insurance solutions to the farmers clearly has a positive impact on their incomes," he said.
About the RIICE project
Launched in Vietnam in 2012, RIICE provides a wide range of maps and data for rice monitoring and crop insurance. Currently used in seven provinces throughout Vietnam, it has the potential for a nationwide upscaling without major additional investment. RIICE is a public private partnership sponsored by the Swiss Agency for Development and Cooperation, SDC. It is jointly implemented by Swiss-based technology company sarmap, the International Rice Research Institute (IRRI), the National Institute for Agriculture Projection and Planning (NIAPP), Can Tho University (CTU), and in cooperation with insurance companies such as Bao Viet Insurance, Bao Minh Insurance, Vina Re and Swiss Re.
30 years of Swiss support to sustainable human development in Vietnam
The Swiss and Vietnamese governments embarked on their development partnership in 1991. Initially focusing on humanitarian assistance and reducing poverty via support to rural development, local governance, citizen's participation and access to justice, the emphasis shifted for the past 5 years to the promotion of reliable and coherent business conditions and the support of small and medium-sized enterprises (SMEs)' capacities to comply with international standards and do business internationally. Over the course of the past three decades, more than 600 million Swiss francs (more than VND 15 trillion) were disbursed to support Vietnam's development of which nearly 140 million Swiss francs (VND 3.6 trillion) went to agriculture, forestry sector, and value chain development etc. The RIICE project is part of this development partnership.
2021 is also the year when Switzerland and Vietnam celebrate the 50th anniversary of the establishment of the diplomatic relations.
Switzerland-Vietnam business group debuts

The Vietnamese Embassy in Switzerland has recently held a ceremony to launch the non-profit Switzerland-Vietnam business group (SVBG), which aims at promoting exchanges and investment ...
Tarah Nguyen