Vietnam in Top 4 for Girls' Leadership in Asia
It was ranked 4th among 19 countries in the "2021 Asia-Pacific Girls Report" conducted by the Plan International.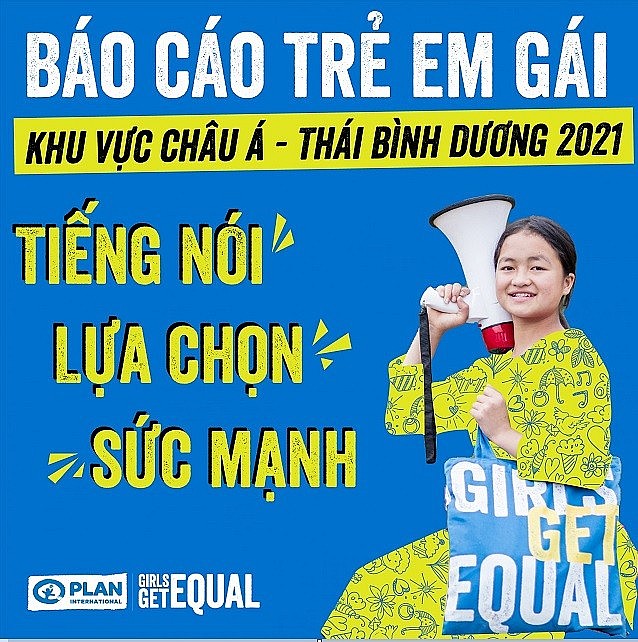 The 2021Asia-Pacific Girls Report: Voices, Choices, and Power to Continue Plan International's 2020 report on girls and young women's leadership in the region .
Vietnam was ranked fourth in the Asia-Pacific region for girls' political voice and representation in leadership, according to a new report "Voice, Choice, and Power" by Plan International.
Plan International developed and updated the Asia and Pacific Girls' Leadership Indexes to measure the opportunities of adolescent girls and young women to develop and demonstrate their leadership capabilities, their unique voice in the region, support for their choices, and collective and individual power.
The overall index values and ranking of each country were based on education, economic opportunities, protection, health, political voice and representation, and laws and policies.
Vietnan received the fourth-highest index score (0.712) behind Singapore (0.784), Thailand (0.733), and the Philippines (0.715).
Vietnam's Health and Education indexes also increased from 2020. While the Protection index was unchanged, the Economic Opportunities index of Vietnamese girls decreased slightly.
It placed 8th for the health domain and 6th for the education, and first for laws and policies domain.
For the economic opportunities and protection domain, it ranked 10th and 11th out of 19 countries.
he report found that girls and young women are working tirelessly to ensure gender transformative change and social inclusion.
Across the region, social and cultural norms continue to contribute to gender inequality and the lack of opportunity, the report said.
Plan International Asia-Pacific Hub Regional Director Bhagyashri Dengle said, "Through peer-led advocacy, these young female activists have demonstrated that their voice can influence not only the progress made towards ensuring gender equality but also a country's overall development."
The report said if given sufficient support and the right tools, girls and young women could ensure positive change towards gender equality.
It added that girls and young women activists were successfully using different levels of civic engagement to influence gender-transformative change.
"This report demonstrates girls' ability to break through barriers and contribute significantly to reforms and development."
The research also highlighted digital technologies and social media as key components in successful civic engagement.
The report on young female leadership is a follow-up and expansion of a previous one first published in 2020 which included research from 19 countries in South and Southeast Asia.
Promoting children's right to participate with the Children's Council model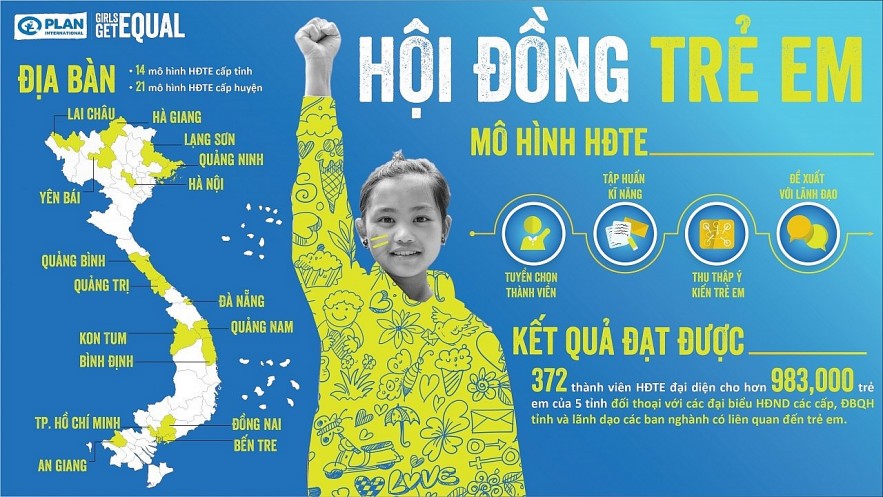 Ensuring the participation of children and young people, including girls and young women, is a priority for Plan International in Vietnam. One of the typical activities that Plan International has implemented is the Children's Council model.
Ensuring the participation of children and young people, including girls and young women, is a priority for Plan International in Vietnam. One of the typical activities that Plan has implemented is the Children's Council model.
The Children's Council is the representative of children in the locality and periodically expresses opinions and aspirations to delegates and local leaders on child-related issues.
This is a model that Plan International Vietnam in collaboration with the the Central Council of the Ho Chi Minh Vanguard Children's Union have piloted since 2017.
From five pilot models at the provincial level, so far, there have been 14 models at provincial level and 21 at district level across the country.
Joining the Children's Council, children are trained to not only understand their rights, but also practice many soft skills for information gathering, organization promotions and present opinions.
Many young people have the opportunity to represent the voices of their friends, express their thoughts, aspirations, dreams and gradually be heard by the local leaders with practical decisions.
From July 2020 to June 2021, 372 outstanding children (in which 162 children are ethnic minorities) are members of 10 children councils, representing more than 983,000 children of Plan's five project province has synthesized more than 14,880 opinions from peers on child-related issues.
Anh Duong, head of the district children's council in Ha Giang said: "Participating in the council, I had the opportunity to represent the opinions of young people in the whole district. We hope that the leaders will pay attention to help us so that we can develop and organize many meetings so that we can express our aspirations more."
Meanwhile, Ne, a Mong ethnic girl, a member of the Children's Council of Lai Chau province said: "Thanks to participating in the Youth Council, I have learned about the child rights, including the right to actively speak up. I have actively talk to my peers in my hometown so that they can learn and understand more about our rights, thereby gradually eliminating outdated customs."
The Children's Council model is evaluated by the Department of Child Affairs under the Ministry of Labour, Invalids and Social Affairs, as a model to promote children's participation.
The model helps children to develop and is a bridge to help leaders of provinces, cities, districts and other branches and agencies to grasp the needs and aspirations of children, and create awareness throughout society.
Promoting girls' leadership through empowerment activities
In October 2021, to celebrate the International Day of the Girl on Oct. 11 and Vietnamese Women's Day on Oct. 20, Plan International Vietnam organized many empowerment activities to create opportunities to help young women and girls experience leadership roles.
At the national level, six girls have been given leadership roles in various organizations: 20-year-old Y Nhi from Hanoi, was appointed Ambassador of Sweden to Vietnam; My Hanh, 20, from Nam Dinh, and Yen Nhi, 20, from Ha Giang, were given senior leadership positions of Astrazeneca Vietnam; 23-year-old Ngoc Tien from Ho Chi Minh City, was appointed CEO of Vietcetera Media.
Minh Anh, 14, was given the right to manage the Career and Vocational Training Program of Plan International Vietnam; and Ngoc, 16, was given the role of Managing Director of the Asia-Pacific region of DNV - a large telecommunications enterprise in Norway.
Across the country, 15,381 girls directly participated in the Girls Takeover series of events, in which 87 girls were empowered in various local leadership positions.
Besides experiencing leadership positions in many different fields and talking with leaders of organizations and companies about the challenges and achievements that the students have achieved with Plan International Vietnam, girls also urged people to sign an open letter calling for the promotion of digital literacy for all children, especially girls.
"More efforts are needed so that girls and women not only in Vietnam but around the world can confidently join the 4.0 world and hold leadership positions," said Sharon Kane, country director Plan International Vietnam.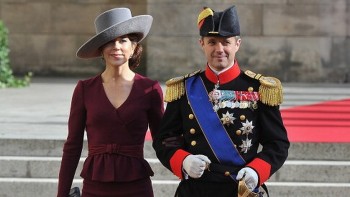 Friendship
Denmark's Crown Prince and Crown Princess will visit Vietnam to celebrate 50 years of diplomatic relations and promote green solutions.