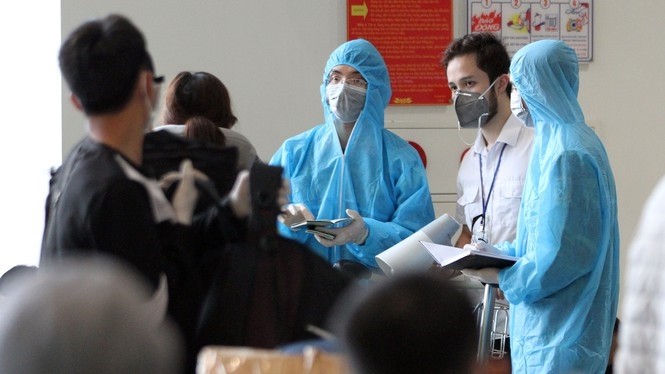 Health workers check body temperature for passengers at Noi Bai Airport - Photo: Tien Phong newspaper
The government, which has quarantined more than 21,000 people since the novel coronavirus outbreak hit the country in January, will be able to house 38,000 people more, it said. About 14,000 people have since been released from isolation.
Additionally, Ho Chi Minh City is converting dormitories at the Vietnam National University Ho Chi Minh City into a 20,000-bed quarantine zone, which will increase the municipality's isolation capacity to 23,800 people, Tuoi Tre Newspaper reported, citing information from the city's health department. That includes 1,500 beds at two facilities under the military.
Nearly 7,000 Vietnamese returned to the country by plane on Wednesday, including more than 5,700 from across Asean, after local carriers announced they are suspending flights to other Southeast Asian countries and Europe, Zing News reported, citing information from airports nationwide.
Hanoi may have to place more than 10,000 people under quarantine in coming days as large numbers of Vietnamese are expected to arrive at the capital city's airport from virus-affected nations, Hanoi's government said on its website, citing Mayor Nguyen Duc Chung.
Vietnam has monitored the health of 41,918 people that have had close contact with virus patients and or arrived from virus-hit countries, including 34,443 under self-quarantine at homes, as of Wednesday, the health ministry said on its website.
Vietnam has confirmed 85 infection cases, including 17 patients that recovered, according to the health ministry.
Vietnam expands foreign visa ban
Vietnam will temporarily suspend visa-free travel for citizens of Japan, Belarus and Russia from Saturday as its health ministry reported nine more coronavirus cases on Friday (March 20), bringing total in the country to 85.
The foreign ministry had already suspended visa waivers for nine European countries and South Korea.
Visitors from the United States, Europe and Asean countries will be immediately transported to repurposed military camps for 14 days quarantine.
Bloomberg