Vietnam Is Named As World's and Asia's Best Golf Destination In 2021
There are 35 golf courses operating in Vietnam, with another 65 projects at some stage of development, planning, and construction.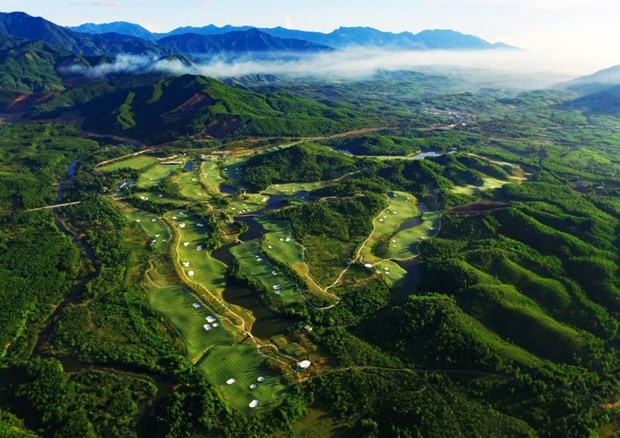 An aerial view of a golf course in Vietnam. (Photo: VNA)
Vietnam has been named as World's and Asia's Best Golf Destination in 2021, which is a great honorarium, at the eighth annual World Golf Awards held in Dubai, the United Arab Emirates.
It is the second year that Vietnam has been honored with the world title and the fifth consecutive year with the Asian title since 2017. Despite the impacts of COVID-19, a record amount of votes was collected this year, according to VNA.
The World Golf Awards celebrate and reward excellence in golf tourism through the annual awards program. It is part of the World Travel Awards.
Earlier, the Vietnam National Administration of Tourism was honored as Asia's Leading Tourist Board 2021 of the 28th World Travel Awards, after the first time it received the title in 2017.
The WTA also honored Vietnam as Asia's Leading Sustainable Tourism Destination, and Hoi An was named Asia's Leading Cultural City Destination, Ha Long Bay as Asia's Leading Tourist Attraction, and Cuc Phuong National Park as Asia's Leading National Park.
Notably, Vietnam Airlines won the award Asia's Leading Airline for Economic Class, while Vietravel was awarded Asia's Leading Tour Operator title.
Vietnam Golf Course – One of the world's golf destinations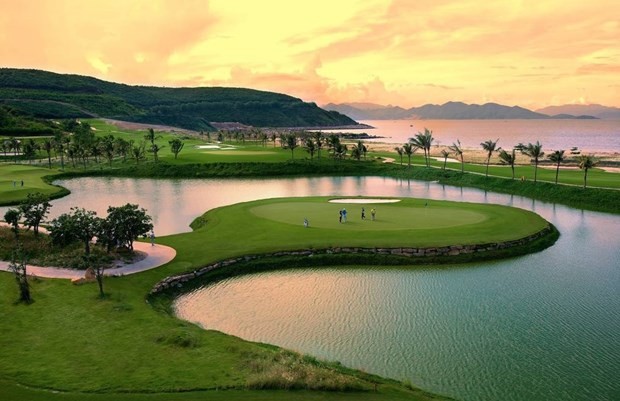 A golf course in Vinpearl Nha Trang. (Photo: golftimes.vn)
Vietnam is one of the world's up-and-coming golf destinations and was named as the 2012 "Undiscovered Golf Destination of the Year" by the International Association of Golf Travel Operators (IAGTO). With its fascinating history, ancient culture, superb climate, and now it is offering fantastic championship golf courses designed for the golfer on and off the course. Vietnam is the 'next Thailand' when it comes to Asian golf tours.
There are 35 golf courses operating in Vietnam, with another 65 projects at some stage of development, planning, and construction. Among the existing golf courses, the coastal areas around Danang and Nha Trang boast the countries best. In particular, the Greg Norman designed Danang Golf Club has won numerous awards and another Norman course, The Bluffs at Ho Tram Strip, is considered one of the best in the world.
In addition, there are multiple 36-hole tracks in Saigon such as Vietnam Golf & Country Club, Long Thanh Golf Club, and Song Be Golf Club and King's Island Golf Club, Sky Lake Golf Resort, and Chi Linh Star Golf & Country Club in Hanoi. Among the 18-hole standouts are the exclusive Van Tri Golf Club and Twin Doves Golf Club in Hanoi and Saigon, respectively.
With so much quality golf to choose from and all at affordable prices, Vietnam is breaking onto the international golf scene.
Best Golf Courses in Vietnam
1. The Bluffs Ho Tram Strip in Vung Tau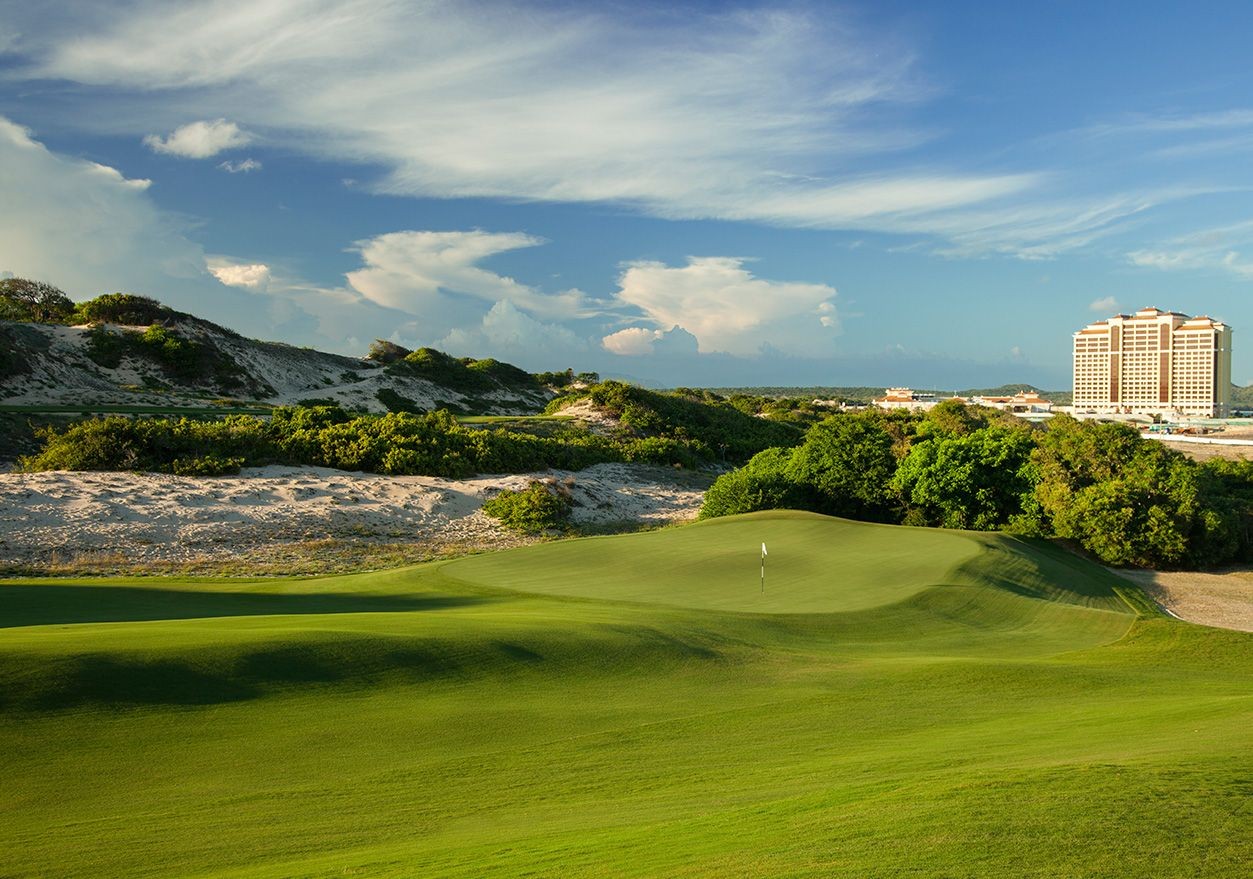 Photo: Leading Courses
The Bluffs Ho Tram Strip is an international class link-style course designed by Greg Norman, a "great white shark" who has built over 70 courses around the world. This place was regarded as one of the most ideal pieces of land that Norman had ever worked with. Located on a coastal plateau 70 miles southeast of Ho Chi Minh City, the course boasts stunning views of the boundless ocean from most of its 18 holes. Besides, there is a luxurious restaurant where you can dine in style and admire the ocean from above. The Bluffs Ho Tram Strip is definitely the course for golfers to make unforgettable rounds.
Designed by the legendary Greg Norman, The Bluffs Ho Tram Strip is an international class links layout built on a coastal strip gifted to golf by Mother Nature.
Together, The Bluffs and The Grand Ho Tram Strip form Vietnam's first 5-star fully integrated resort and casino complex offering a unique full-spectrum leisure experience.
The Bluffs welcomes members and guests from within Vietnam as well as visitors from around the world.
2. Dalat Palace Golf Club in Da Lat

Photo: GOLF DALAT
The Dalat Palace Golf Club is situated 5000 feet above sea level in the temperate highlands of Dalat and plays downhill to the Xuan Huong Lake. Golfers at Dalat Palace remind golfers of the days when the pursuit of leisure was the norm for the French colonialists. Local Vietnamese staff greets guests with warm, friendly smiles and service that has made Dalat a favorite retreat for decades.
Dalat Palace crosses through stately pine trees to oversized and delicately manicured bent grass greens, the only ones in Asia. Today, it's the top-rated course in Vietnam due to the excellent layout, many elevation changes, and for bent grass greens. In fact, due to the colder climate in the mountains of Dalat, Vietnam, the Dalat Palace Golf Club is the only golf course in South East Asia with bent grass tees, fairways, and greens. Bentgrass is often considered to be the ultimate playing surface in golf. The large, undulating bent grass greens are maintained to impeccable standards and present a good challenge. Once golfers adjust to the fast speed, they agree that the greens at Dalat Palace are among the finest in Asia.
3. Bana Hills Golf Club in Danang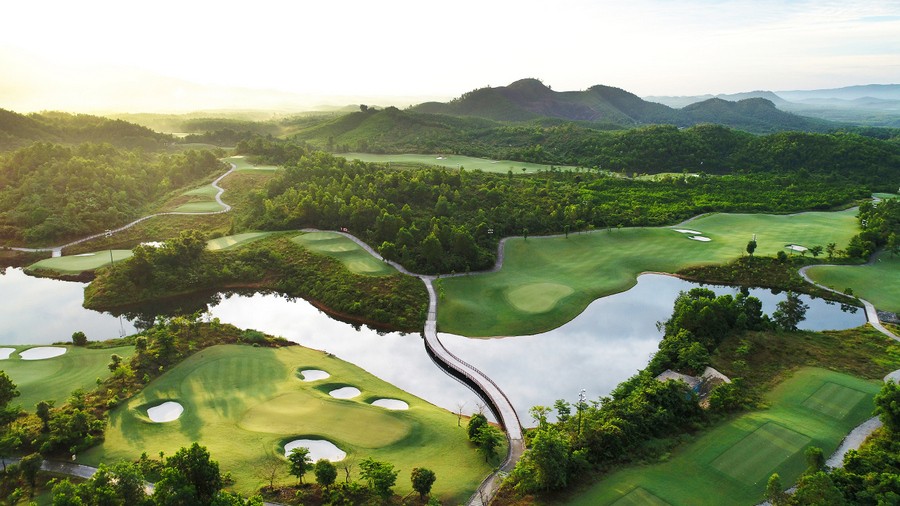 Photo: Communist Party Newspaper
Designed by Luke Donald and managed by IMG, Ba Na Hills Golf Club is a world-class facility located at the foothills of the famed Ba Na Hills on Vietnam's central coast, located 25 minutes from downtown Da Nang. Ba Na Hills Golf Club was also awarded "Asia's Best Golf Course" at the World Golf Awards 2018.
This stunning property is set amongst some of the most impressive mountain ranges in the region. The par 72, 18-hole Championship golf course provides a balance of challenge, enjoyment and excitement to golfers of all levels and abilities with 5 sets of tees to ensure golfers of all standards a pleasurable round of golf. Ranging from 7,857 yards from the Professional tees to 6,022 yards from the white, friendlier tees, a good variety and mixture of playing lengths makes every hole feel unique.
4. Vietnam Golf & Country Club in Ho Chi Minh city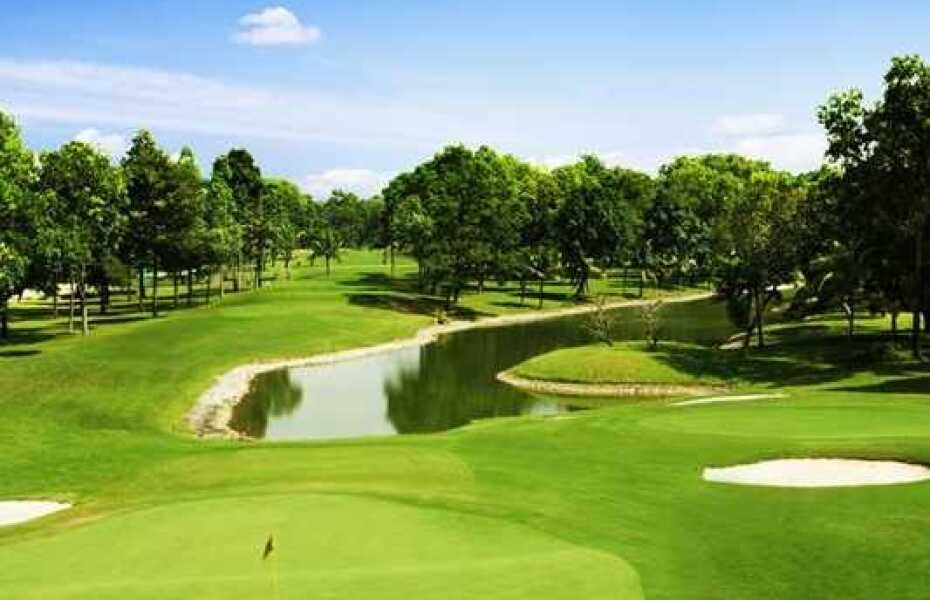 Photo: GolfPass
Located just 17 kilometers from the center of Ho Chi Minh City, Vietnam Golf & Country Club is one of the nearest golf clubs to the city center. Vietnam Golf & Country Club is set amongst 300 hectares of land and includes two championship golf courses. Both courses play through mature woodlands with minimal land movement. Golfers at Vietnam Golf & Country Club get the feeling that the land was destined to be a golf course, so natural is the layout and design.
Open since November 1995, the 7,106-yard West Course at Vietnam Golf & Country Club features narrow tree-lined fairways and fast-level greens. The par-72 championship course was Taiwanese designed and hosted the Vietnam Open Asian PGA Tour events in both 1995 and 1997.
The course winds its way through mostly oil palm trees offering challenging tee shots to narrow landing areas. Several holes also feature a lone tree in the center of the fairway. Bermuda Tifeagle greens provide beautiful putting surfaces all year round. The West Course's difficulty lies in its championship length. Only single-digit handicap players should play off the back tees. Even from the regular men's tees, this course can provide a very long afternoon of golf, especially if drives are not on target.
5. Chi Linh Star Golf & Country Club in Hai Duong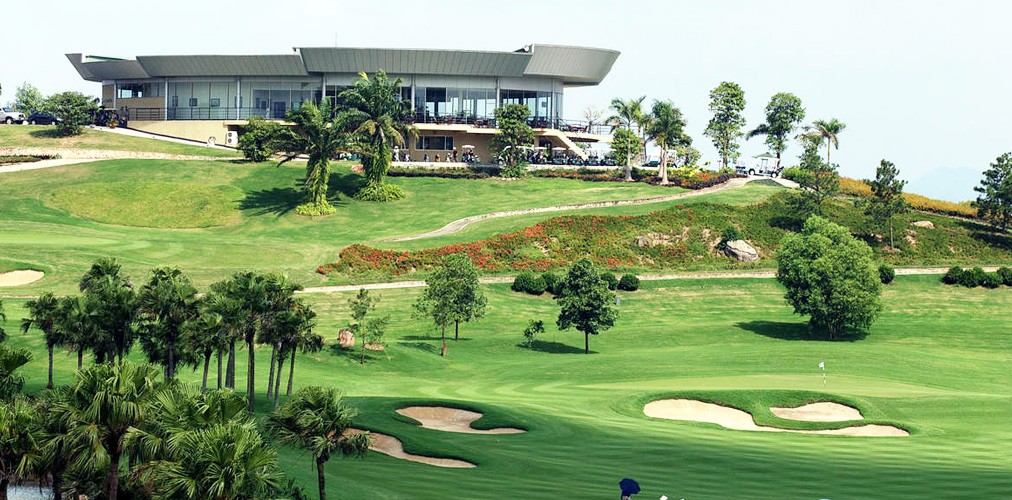 Photo: UniGolf
Located on a gorgeous valley midway between Hanoi and Halong Bay, Chi Linh Star is one of the most eclectic golf courses in Northern Vietnam. Its Australian designer Independent Golf Course Services is renowned for having built various world-class golf courses. International golfers can enjoy the best time of their life conquering its 36 holes among winding creeks and lush vegetation. Chi Linh Star Golf Club is hence a sure bet for anyone who wants to unplug from the frantic pace of city life.