Vietnam-Israel Business Forum Takes Place in Ho Chi Minh City
The trade revenue between Vietnam and Israel is expected to hit US$3-4 billion soon, and even higher in the years to come, heard a forum in Hanoi on August 16.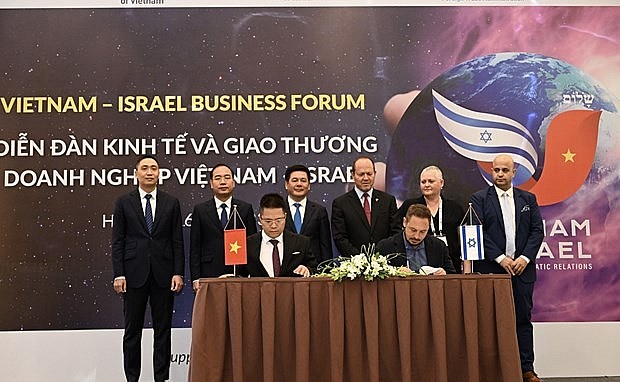 The signing of a cooperation document at the forum. Photo: VNA
The Vietnam-Israel Business Forum, organized by the Embassy of Israel in collaboration with the Vietnam Chamber of Commerce and Industry (VCCI), took place in Ho Chi Minh City on August 15.
In the opening speech, Nir Barkat, Israel's minister of Economy and Industry appreciated the fact that Israel and Vietnam have just signed a free trade agreement. He believed that the agreement would open up many new cooperation opportunities for the two countries.
He said that many European businesses put their goods on sale in the Israeli market at a rather high price. Israel is now more open to business policies to have more new products and goods.
Any product that already entered the EU market can also enter the Israeli market, Nir Barkat said, adding that Israel will "open the door" and create favorable conditions for the goods of Vietnamese enterprises to penetrate this market.
In addition to Israel with a market of more than 9 million people, Vietnamese businesses can also expand to potential markets in the Middle East and Southern Europe.
"We warmly welcome Vietnamese businesses to do business and invest here," Israel's Minister of Economy and Industry said.
He said Israel will consider opening direct flights to Vietnam to promote tourism and create favorable conditions for businesses of the two countries to trade.
Israel is also considering setting up a venture capital fund in Vietnam, Nir Barkat said.
He wants Vietnam to create a favorable ecosystem for Israeli businesses to have the opportunity to cooperate and invest, as Israeli businesses see Vietnam as an investment gateway to Southeast Asia with a population of 700 million people.
Trade between Vietnam and Israel jumps from US$1.2 billion in 2019 to US$2.2 billion last year. Photo: VNA
Vice Chairman of Ho Chi Minh City People's Committee Vo Van Hoan welcomed the Israeli Minister of Economy and Industry Nir Barkat and the Israeli business delegation to visit Ho Chi Minh City.
This year marks the 30th anniversary of the establishment of diplomatic relations between Vietnam and Israel, an important milestone in the growing bilateral relationship between the two countries.
Vice President Vo Van Hoan believes that the signing of this free trade agreement between Vietnam and Israel will open up new cooperation opportunities for the two countries as well as for the business community, including Ho Chi Minh City.
As the largest economic, cultural, and tourist center in the country with a population of more than 10 million people and more than 500,000 businesses, Ho Chi Minh City is a large and potential market for domestic and foreign businesses.
Experiencing the challenges of the Covid-19 pandemic and the volatile economic situation of the world, Ho Chi Minh City's economy has been recovering quickly. This shows that Ho Chi Minh City is a potential and large market, a market that still has a lot of room for investors from countries around the world, including Israeli investors, Vice President Vo Van Hoan said.
The organization of the forum is one of the efforts of Israel and Ho Chi Minh City in creating conditions for Vietnamese and Israeli businesses to meet, exchange information, find potential and reliable partners.
"We have every reason to believe that after today's event, many new relationships will be established, new contracts will be signed, and new achievements will be created for the relationship between Vietnam-Israel and between Israel and Ho Chi Minh City particularly," said Vice Chairman Vo Van Hoan.
Since 1997, the two countries have signed an agreement on agricultural cooperation. Israel supported Vietnam in implementing many projects and transferring technology in animal husbandry, farming, and irrigation.
The application of high technology and advanced techniques of Israel in production helped Vietnam's agricultural industry develop and achieve many results.
Regarding investment, until July 20, Israel has 40 FDI projects in Vietnam, with a total capital of more than US$140 million, ranking 47th out of 148 countries and territories investing in Vietnam.
In terms of trade, Israel is the 5th largest trading partner and the 3rd largest export market of Vietnam in the Middle East.
Israel is also the 33rd largest trading partner out of more than 200 markets in countries and territories where Vietnam imports and exports goods.
In 2022, Vietnam's total import-export turnover with Israel reached US$2.2 billion, up 17.9% over the same period in 2021. Vietnam's export turnover to Israel reached US$785.7 million, and Vietnam's import turnover from Israel reached US$1.4 billion.
Currently, the two countries are striving to increase the bilateral trade turnover to reach the target of US$3 billion USD to match the potentials and strengths of the two sides.