Vietnam issues 1.2 mil chip-based ID cards for citizens
Over 1.2 million chip-mounted ID cards have been issued to Vietnamese citizens across the country in the last two months.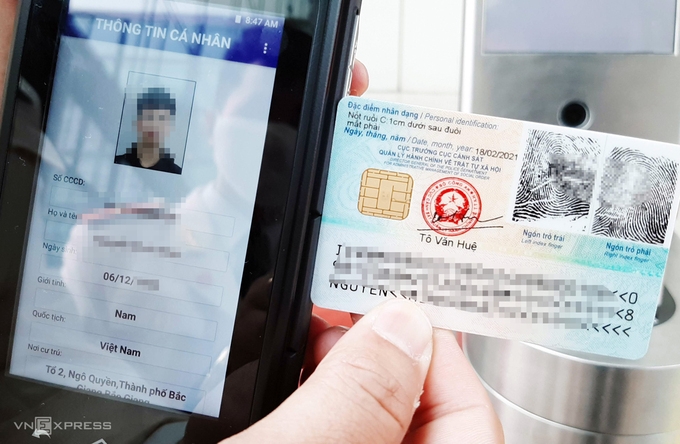 The electronic chip mounted at the backside of the card can encode thousands of information fields relating to biometric information, fingerprints, etc. (Photo: VNE)
These are the very first chip-based ID cards available in Vietnam. Police authorities are currently eyeing to issue 5 million such smart cards nationwide by July 1. The issuance date is due on March 30 in big cities including Hanoi, Ho Chi Minh City, Da Nang, Binh Duong, etc., according to Major General To Van Hue, head of the Police Department for Administrative Management of Social Order (C06).
To meet such deadlines, police officers across the country must receive and process some 300,000 records every day. So far, the real number only reaches 200.000 records per day.
A number of localities have set up makeshift sites to speed up procedures. The police force at Vinh Tuy ward's cultural house is reportedly working relentlessly three shifts (from 7:30 am to 11 pm) all weekdays and weekends to "meet the issuance deadlines".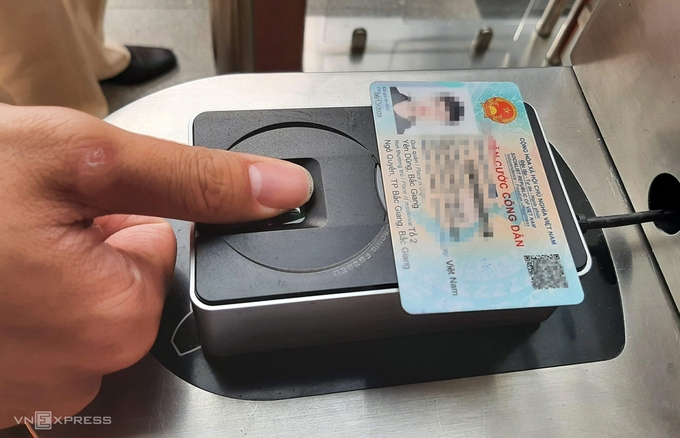 Fingerprints are also encoded into the card (Photo: VNE)
"The procedure for chip-based ID cards lasts for only 5-10 mins, which is way simpler than the bard-coded ones", a representative from Hai Ba Trung district police told Zing News.
According to Hue, the C06 Department can produce hundreds of thousands chip-based a day. The chip-mounted identities cards are more secure, and capable of encoding personal information confidentially and covering more information fields than bar-coded ID cards. The QR code on the front side of the card would facilitate checking procedures. In particular, individuals and organizations can use smart phone to scan for needed information in a matter of seconds.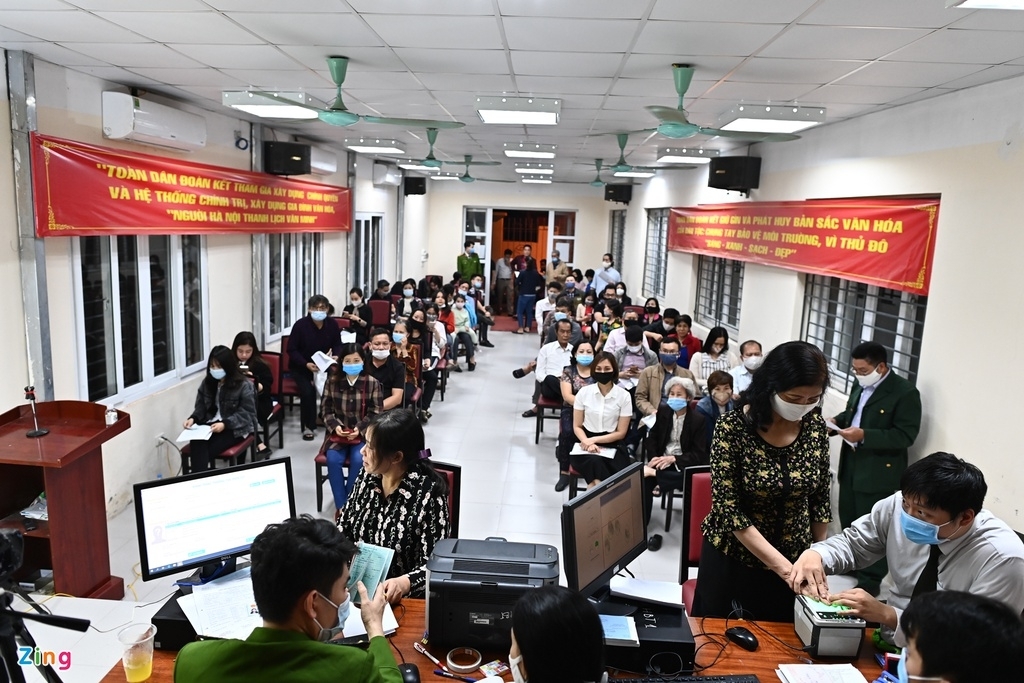 Residents waiting at a cultural house in Hanoi for their turn to register information (Photo: Zing)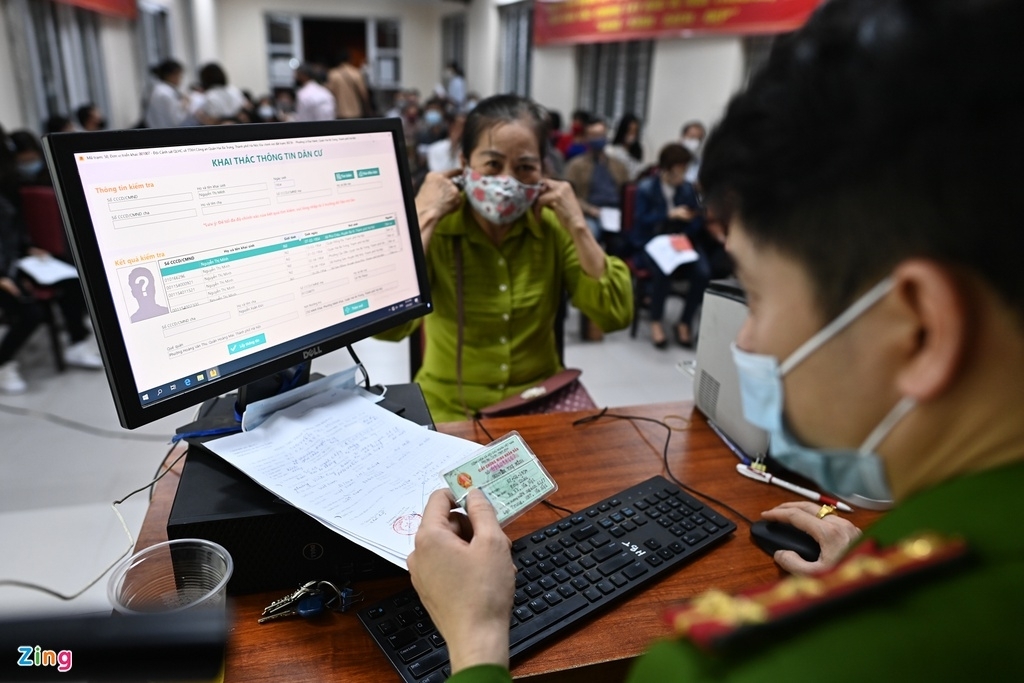 (Photo: Zing)
Currently, Vietnamese citizens are using either nine-digit ID cards, 12-digit ID cards or the ID cards with 2D barcode. The latest kind of ID was introduced in 2016 but until now, only available in 16 cities and provinces nationwide including Hanoi, Vinh Phuc, Hung Yen, Hai Duong, Ha Nam, Nam Dinh, Ninh Binh, Thai Binh, Hai Phong, Quang Ninh, Thanh Hoa, HCM City, Can Tho, Tay Ninh, Ba Ria-Vung Tau and Quang Binh, according to Vietnam Law Magazine.
The issuance of 2D bar code ID has faced difficulties including cost.
The Ministry of Public Security wants to speed up the project on ID issuance so to bring it in line with the national database population project. Under the project, as of July 1, 2021, 50 million ID cards would be granted to eligible citizens. (The Law on Citizen Identification in 2014 stipulates that people from 14 years old are eligible to get an ID card and it will be renewed when they turn to 25, 40, and 60 years old.)
On the back of valid ID cards in Vietnam, personal information is posted while with the latest form of ID cards, the information is coded under 2D-barcode.
However, studies found that the 2D bar code fails to add more information into the ID cards or implement online transactions under the e-Government system that Vietnam is deploying.
So, the Public Security Ministry proposed Government to issue chip-based ID cards.
When Vietnam introduced 12-digit ID cards in 2012, electronic chips were expensive and the country faced difficulties to master the technology.
However, now, electronic chips are much cheaper and Vietnamese companies can produce the chips. E-chips have more advantages than barcodes, especially as the chips could store data that not only serves the public security sector but also other sectors.
As the chips are widely used all over the world and more suitable to e-Government, the ministry of Public Security proposed to apply this form of identification.