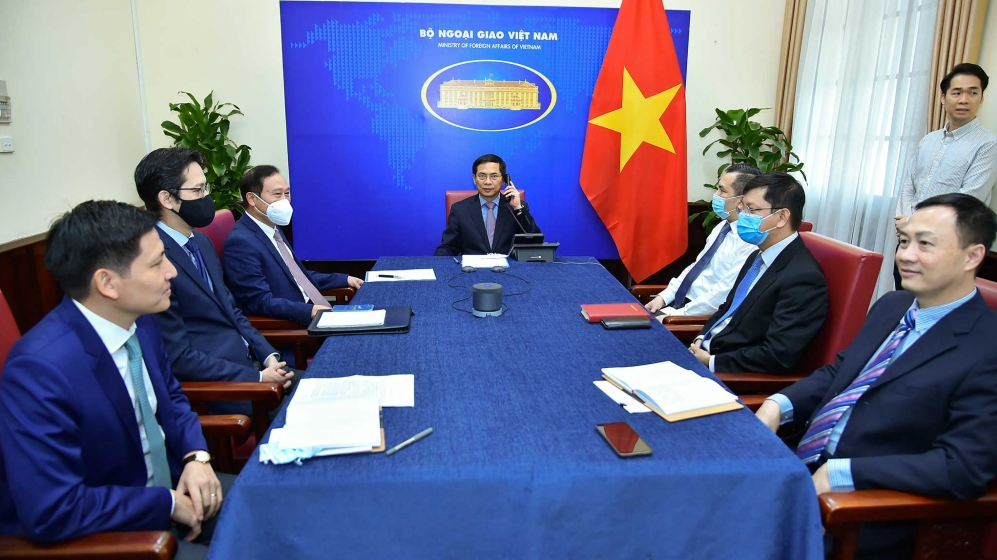 Korean side highly appreciated Vietnam's success in the fight against the pandemic.
Korea's Minister of Foreign Affairs Chung Eui Yong congratulated Minister Bui Thanh Son for being appointed to be Vietnam's Minister of Foreign Affairs. He affirmed coordinating closely to bring the strategic cooperation partner of the two countries to a new level.
Minister Bui Thanh Son expressed his delight at the remarkable development of Vietnam - Korea relations in all fields in recent years; affirmed that Vietnam always attached great importance to Korea as one of the top partners. The minister affirmed that Vietnam wished to continue promoting relations with Korea.
Minister Chung Eui Yong appreciated that Vietnam performed well in the prevention of COVID-19. He expressed his trust that Vietnam would achieve targets in its socio-economic development strategy from 2021 - 2030. Chung affirmed that Vietnam was a key partner in South Korea's Newly Southern Policy.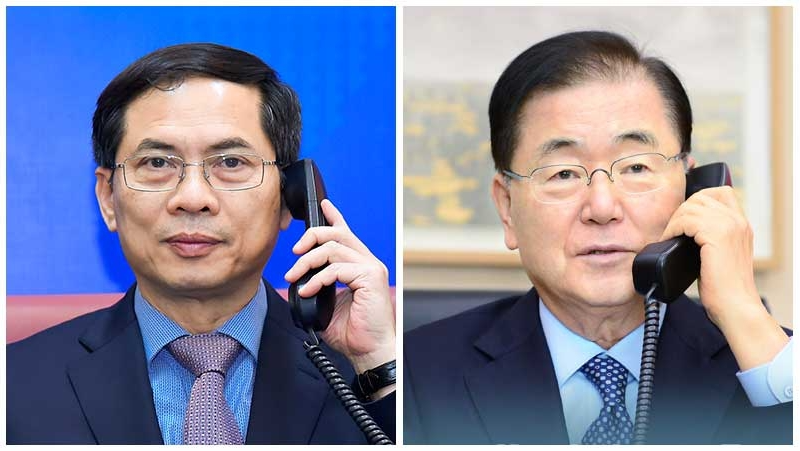 On April 28, Vietnam's Minister ò Foreign Affairs Bui Thanh Son held a phone talk with his Korean counterpart Chung Eui Yong.
The two sides agreed to enhance exchanges at all levels, especially high levels, by flexible forms such as telegraph and online communication, strengthen close cooperation between the two countries' Ministry of Foreign Affairs, including promoting the good implementation of activities commemorating the 30th anniversary of relations establishment, which will take place in 2022. They agreed to support the duties of the two countries' diplomatic missions; coordinating to achieve the goal of USD 100 billion trade turnover while heading to a better balance, promoting quality investment into Vietnam, enhancing the relationship between the locality and enterprises of the two countries; closely coordinated in citizen protection.
They consented to support and closely coordinate within the framework of regional and international cooperation such as the United Nations, ASEAN - Korea. The ministers also exchanged views on international and regional issues of mutual interest, including the Bien Dong Sea and the Korean Peninsula. Regarding the Myanmar situation, the two sides agreed to work closely at regional and international forums in order to call all parties to avoid violence, end bloodshed, and conduct peaceful dialogues.
Foreign Minister Chung Eui Yong invited Foreign Minister Bui Thanh Son to visit Korea. In his turn, Minister Bui Thanh Son also invited his counterpart to visit Vietnam at a convenient time. Minister Chung Eui Yong happily thanked and accepted the invitation.
Valerie Mai