Vietnam looks to further expand cooperation with Pakistan
Vietnamese Ambassador to Pakistan Nguyen Tien Phong has presented a letter of credentials from State President Nguyen Xuan Phuc to Pakistani President Arif Alvi.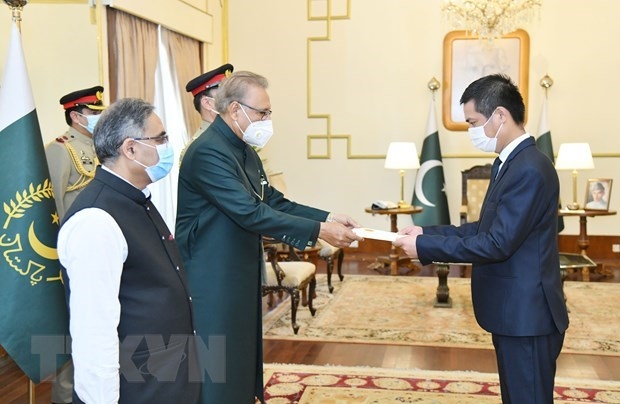 Vietnamese Ambassador to Pakistan Nguyen Tien Phong presents his letter of credentials to Pakistani President Arif Alvi. (Photo: VNA)
During a meeting with the President on June 7, Phong conveyed President Phuc's regards to the Pakistani leader, which highlight the message that Vietnam wants to further promote cooperation with Pakistan in many fields, especially economic and trade ties, according to Vietnam Plus.
The diplomat expressed his pleasure and honour at receiving the assignment in Pakistan - a country that is making positive steps forward in economic development, gradually stabilising in politics and security, and playing an important role in the South Asian region and the world.
He promised to do his utmost to promote bilateral cooperation through maintaining and promoting existing cooperation mechanisms and political and economic consultations.
The two countries should expand cooperation in trade and investment and fields such as culture, education, sports, tourism, and the training of high-quality workers, Phong stressed.
They will celebrate the 50th founding anniversary of diplomatic ties in 2022, he said, expressing his belief that under the leadership of senior leaders, the Vietnam - Pakistan relationship will develop strongly in the time to come.
For his part, President Alvi congratulated Vietnamese leaders and people on important socio-economic achievements in recent years, and especially the success of the 13th National Party Congress, the election of deputies to the 15th National Assembly, and its positive results in the fight against the COVID-19 pandemic.
He expressed his belief that the Vietnamese ambassador will fulfil his responsibilities, further contributing to developing the friendship and multifaceted cooperation between the two countries, especially economic and trade ties.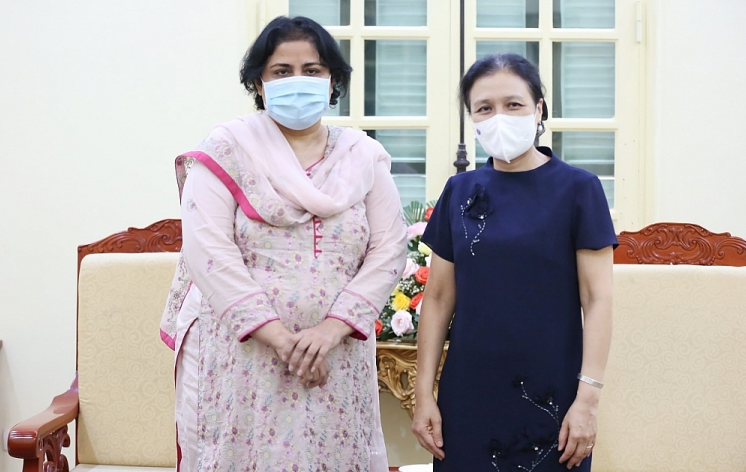 Ambassador Nguyen Phuong Nga, President of the Vietnam Union of Friendship Organizations (R), and Samina Mehtab, Pakistani Ambassador to Vietnam (L). (Photo: Tuan Viet)
Earlier on June 3 afternoon, Ambassador Nguyen Phuong Nga, President of the Vietnam Union of Friendship Organizations (VUFO) received Pakistani Ambassador to Vietnam Samina Mehtab, who came for greeting on the occasion of her assignment in Vietnam.
Emphasizing that the two countries have great potential for developing economic cooperation, the ambassadors hoped that the two countries could increase bilateral turnover. "There is a great potential between our two countries in this [economic] relationship," said the Pakistani Ambassador.
Ambassador Samina Mehtab also expressed her desire to promote tourism development between the two countries.
Samina Mehtab said that it was necessary to further promote people-to-people diplomacy between the two countries. She shared ideas of connecting young people, experts, women, etc through friendship initiates.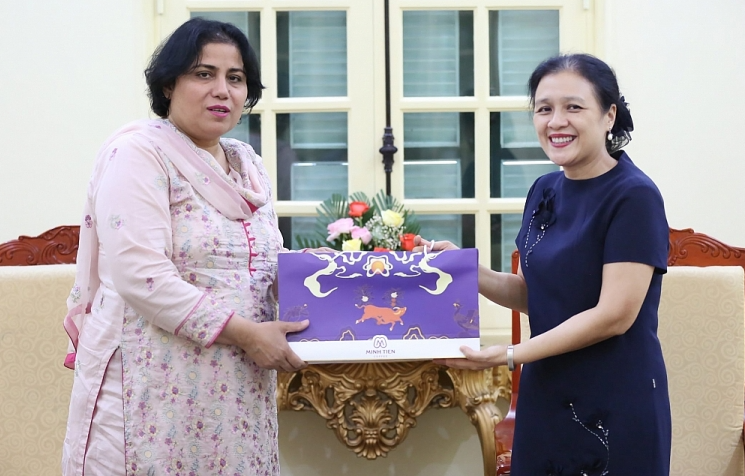 VUFO President Nguyen Phuong Nga and Pakistan Ambassador Samina Mehtab sent each other commemorative gifts. (Photo: Tuan Viet)
Technical education and media are also areas that the Pakistan ambassador wanted to promote in the relationship between the two countries, through cooperation activities and mutual learning for bilateral development.
On behalf of the Vietnam Union of Friendship Organizations (VUFO), Nguyen Phuong Nga welcomed Ambassador Samina Mehtab to accept her new position in Vietnam. Nga also thanked the ambassador for her "comprehensive and insightful ideas" to develop Vietnam - Pakistan relations. Nga said that with the ambassador's energy and great insight, she would realize her ideas very soon in Vietnam.
At the meeting, the two ambassadors discussed the Covid-19 situation and vaccination in the two countries. Nga wished Ambassador Samina Mehtab a successful term in Vietnam. She hoped the Embassy of Pakistan in Vietnam continued to be a bridge to promote Vietnam - Pakistan people-to-people relations.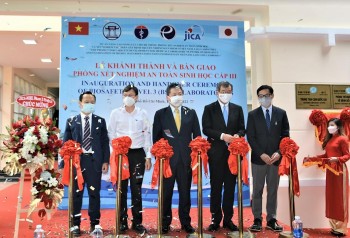 Friendship
The Pasteur Institute in Ho Chi Minh City (PI HCMC) hold an inauguration of its new Biosafety Level-3 Laboratory (BSL-3) on January 17th, 2022. For this new laboratory, the Japan International Cooperation Agency (JICA) has supported the main materials and equipment such as the air conditioning system, the wastewater treatment system, and the two-door autoclave, with a total value of 200 million yen (nearly 40 billion VND).