Vietnam named the only nation among 6 Asian countries with increase in exports
While exports from six Asean countries fell 2.2 per cent year-on-year last year, Vietnam is the only country to post an increase in exports for the year, up 7.0 per cent to US$282.66 billion.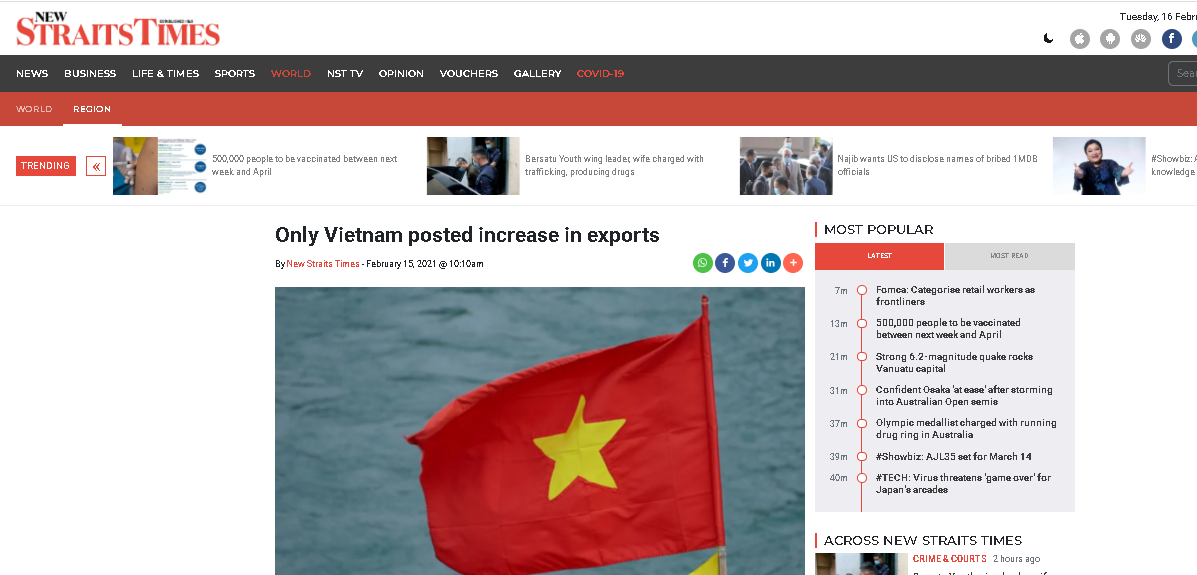 New Strait Times run an article saying Vietnam is the only one among 6 Asian countries with increase in export volume in 2020 (Photo: Captured)
Japan External Trade Organisation (Jetro) said data from the countries showed that their total exports were US$1.35 trillion.
According to New Strait Times, Vietnam's exports to Japan dropped by 5.2 per cent, but exports to the United States rose by 25.7 per cent and to China by 18 per cent.
However, the country's growing trade surplus with Washington and Hanoi's interventions in the foreign exchange market prompted the US Treasury Department last December to label the country as a currency manipulator for the first time.
Among the other Asean nations mentioned in the report, the Philippines logged a 10.1 per cent fall in exports, followed by a contraction of 6.0 per cent in Thailand, 4.1 per cent in Singapore and 2.6 per cent each in Malaysia and Indonesia.
It said the combined trade surplus of the six countries tripled to US$133.66 billion, as easing energy prices and shrinking domestic demand led to steeper declines in imports than exports.
Thailand's trade surplus surged 144.5 per cent, compared with an 83.5 per cent increase for Vietnam, Singapore 43.9 and Malaysia 25.6. The Philippines narrowed its trade deficit by 46.3 per cent to US$21.84 billion while Indonesia chalked up a trade surplus of US$21.74 billion, a turnaround from a deficit of US$3.6 billion in 2019.
Singapore accounted for 27.4 per cent of the six countries' total trade by value last year, followed by Vietnam at 21.3 per cent, Thailand 17.1, Malaysia 16.5, Indonesia 11.9 and the Philippines 5.8.
Meanwhile, The Phnom Penh Post reported that trade between Cambodia and the Eurasian Economic Union was worth US$67.37 million last year, marking an increase of 18.22 per cent from US$56.98 million in 2019.
According to data from the Commerce Ministry, Cambodia exported US$52.19 million, up from the US$51.81 million in 2019, and imported US$15.18 million, ballooning 193.57 per cent from US$5.17 million.
Trade between Cambodia and other Asean countries hit US$11.33 billion last year.
This marks a 22.42 per cent increase from the US$9.254 billion posted in 2019.
According to the Vietnamese Trade Office in the Middle East country, in 2020, Vietnam has reached a total of US$700 from exporting goods to Israel, which is a positive progress amid Covid-19 pandemic.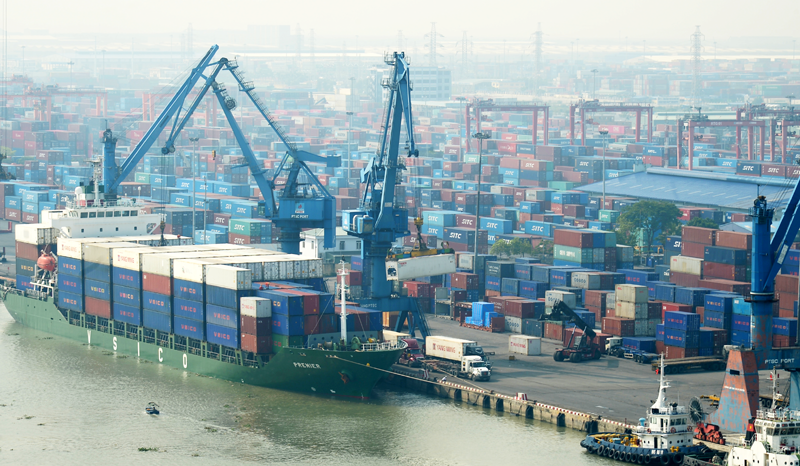 Cargos handling at Dinh Vu port, Hai Phong city. Photo: Pham Hung.
2020 also marks a successful year for Vietnam exports. Amid severe impacts of the Covid-19 pandemic, the country's exports remain a spotlight of the economy with an expansion of 5.3% year-on-year to US$254 billion, which resulted in a record high trade surplus of over US$20 billion.
By the end of June, Vietnam's export turnover was estimated at US$121 billion, three months later, the figure rose to US$203 billion and US$254 billion as of late November. This showed Vietnam's good adaptability to negative impacts from the Covid-19 pandemic, Hanoitimes reported.
In the January–November period, the US remained Vietnam's biggest export market, spending US$69.9 billion on Vietnamese goods, up 25.7% year-on-year, followed by China (US$43.1 billion, up 16%), and the EU (US$32.2 billion, down 2.4%).
General Director of the General Statistics Office (GSO) Nguyen Thi Huong said Vietnam's high trade surplus is thanks to a positive economic growth and strong resilience of the business community.
During the 11-month period, Vietnam had 31 export items earning more than US$1 billion each, accounting for 92% of total exports, and six with over US$10 billion, or 64.3%. Among Vietnam's key export staples, phones and parts are predicted to gross the largest export turnover during the January-November period with US$46.9 billion, down 3.4% year-on-year and accounting for 18.4% of Vietnam's total exports.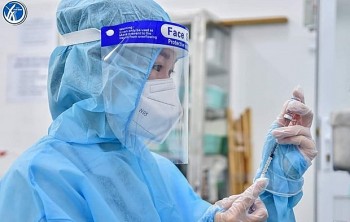 National
Vietnam News Today (December 9): Vietnam confirms 14,595 new Covid-19 cases; Vietnam, New Zealand sign action program to promote strategic partnership; HCM City to inject third Covid-19 vaccine jab from December 10; Hanoi may ban motorbikes in inner areas from 2025.