Vietnam needs $35 bln to meet climate adaptation demands next decade: PM
Vietnam would need $35 billion until 2030 to meet climate adaptation demands, Prime Minister Nguyen Xuan Phuc said at the 2021 Climate Adaptation Summit (CAS 2021) hosted online on January 25.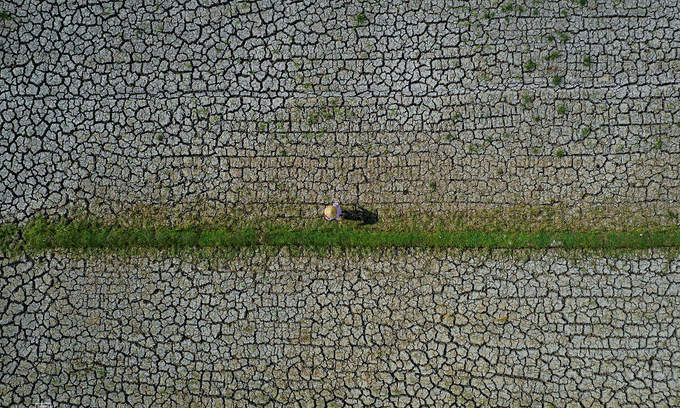 A paddy field in Ben Tre Province is cracked and parched due to drought, March 2020. Photo: VnExpres
At the summit, Phuc said Vietnam has restructured its economy toward a low-carbon model and reduced greenhouse gas emissions, while pledging to strengthen the resilience and adaptation of communities, economic stakeholders and the ecosystem in response to climate change.
The country would also step up disaster risk reduction, mitigate climate-related damage, invest in human resources, scientific research and the development of advanced technologies in the fight against climate change. Climate adaptation would also be further mainstreamed into national strategies and planning, it was added.
"Despite such efforts, our economy may only meet around 30 percent of our climate adaptation demands, and Vietnam needs an additional $35 billion between 2021 and 2030," Phuc was cited by VnExpress as saying.
Increasing resilience among communities, industries and sectors against climate change, bolstering sustainable development, gender equality and poverty eradication, providing financial and technological support to developing countries and promoting multi-stakeholder partnerships for climate change adaptation would be key to tackle challenges posed by the climate crisis, he noted.
Vietnam is one of six economies most affected by climate change between 1999 and 2018, according to the Global Climate Risk Index published by the German environmental think tank Germanwatch.
Within the period, the country suffered 226 extreme events, a death toll of 285 and losses of more than $2 billion per year.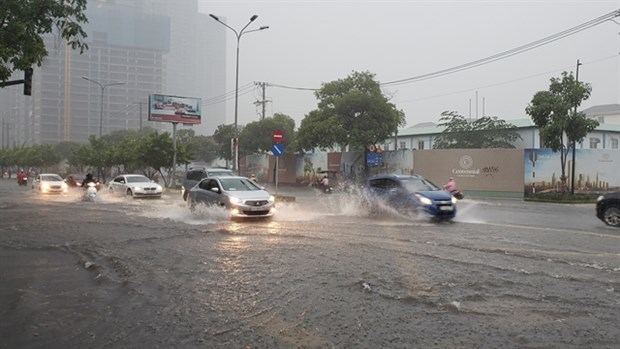 Vietnam's southern hub - HCM City - has drawn up 56 projects and plans to adapt to climate change. Photo: VNA
Rising temperatures and sea levels, along with the increased frequency and intensity of extreme weather events combined with population growth and urbanization, are increasing the risk of coastal erosion, urban flooding and drought.
According to Laurent Umans, first secretary in charge of water and climate change at the Netherlands Embassy in Vietnam, the CAS 2021 was held based on an idea to connect countries with investors and boost the public-private partnership in projects to respond to climate change.
After COVID-19, Vietnam should go ahead in a more sustainable manner by ensuring the fund for improving the public healthcare system and the resistance of vulnerable communities, Umans added.
Investments from the Government and the private sector will be a strong driving force for the improvement of activities to combat climate change and develop the economy.
The Law on Public-Private-Partnership Investment will create favorable conditions for the attraction of private investment for infrastructure development projects, while the State budget will remain limited, Umans was cited by Saigon Times as saying.
World to see "dramatic reversals" without bold action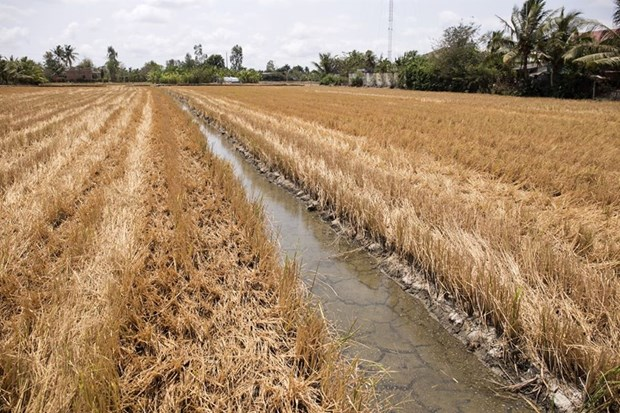 Severe drought in the Mekong Delta of Vietnam. Photo: VNA
Without bold action to build resilience to climate change, the world will likely see "dramatic reversals in economic development", with poor and vulnerable communities paying the highest price, U.S. climate envoy John Kerry said at the summit.
The best course of action, Kerry said, is to treat climate change "like the emergency that it is" and step up global efforts to slash planet-heating emissions faster, to hold warming to 1.5 degrees Celsius, the lower limit in the Paris Agreement.
The world is currently on track to heat up by 3.7-4.5C, which "invites for the most vulnerable and poorest people on Earth fundamentally unliveable conditions", he warned.
Kerry said more powerful storms were also costing his own country tens of billions of dollars each year, according to Reuters.
"It is cheaper to invest in preventing damage, or minimising it at least, than cleaning up," he said by video link.
About 20 world leaders spoke at the opening session of the largely virtual two-day summit, alongside the U.N. secretary general and heads of development finance institutions.
Many underscored the need to step up action to adapt to worsening extreme weather and rising seas. U.N. chief Antonio Guterres said that deserved far more investment, especially in the poorest countries and small island nations.
"Support for adaptation and resilience is a moral, economic and social imperative," he told the summit.
"Adaptation cannot be the neglected half of the climate equation," he added, pointing to "huge gaps" in financing to help developing countries cope with a warming planet.
Adaptation action includes everything from expanding green space in cities to prevent floods and moving coastal communities to safer places to capturing rainwater, providing storm warnings and giving farmers weather and crop advice via mobile phones.
Guterres called for 50 percent of climate finance from donor governments and international development banks to be allocated for adaptation, up from about a fifth now.
Most spending currently goes to developing clean energy systems and other means of curbing emissions.
The U.N. secretary general urged donors to commit to that 50 percent goal by the time of the next major U.N. climate summit, set for November - and to deliver on it by 2024./.
The CAS 2021, hosted online by the Netherlands on Jan. 25-26, saw the launch of a comprehensive Adaptation Action Agenda that sets out clear commitments to deliver new concrete endeavors and partnerships to make the world more resilient to the effects of climate change.
The online summit was attended by over 30 world leaders, including French President Emmanuel Macron, German Chancellor Angela Merkel and British Prime Minister Boris Johnson.
Former U.S. Secretary of State and Joe Biden's newly-appointed climate envoy John Kerry and Deputy Chinese Vice Premier Han Zheng also spoke at the summit.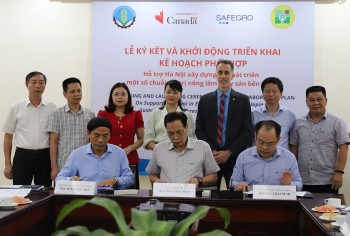 Make in Vietnam
As Vietnam furthers its international intergration, building agro-forestry-fishery high value chains is crucial for the sustainable development of the agriculture sector.