Vietnam News Today (April 25): Vietnam, China hold border defence friendship exchange
Vietnam News Today (April 25) features headlines include Vietnam, China hold border defence friendship exchange, Vietnamese PM Meets Cambodian, Singaporean, Malaysian Counterparts, PM receives ASEAN Secretary General and COVID-19 updates.
Vietnam News Today (April 25) notable healines:
Vietnam, China hold border defence friendship exchange
Vietnamese PM Meets Cambodian, Singaporean, Malaysian Counterparts
PM receives ASEAN Secretary General
Foreign Minister Meets UN Special Envoy on Myanmar
Vietnam, Brunei to expand all-round cooperation
Vietnam calls for regional efforts to resolve Myanmar crisis
Vietnam expects 'most suitable solution to Myanmar crisis', Foreign Minister
Three New COVID-19 Cases Bring National Tally to 2,516
Relief aid Vietnamese-origin Cambodians amid lockdowns
Conference seeks ways for local goods to enter Chinese market
OCOP trade fair promotes product brands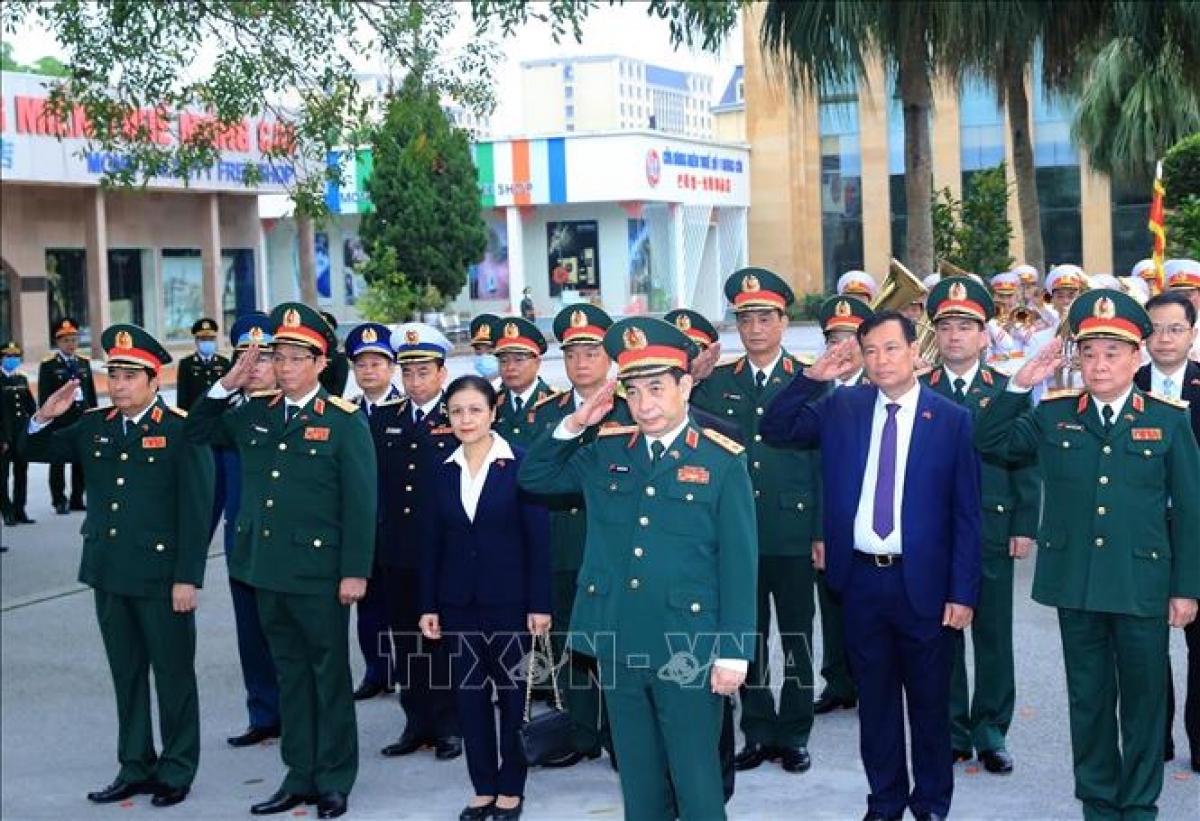 Vietnam, China hold border defence friendship exchange
The Ministries of National Defence of Vietnam and China on April 24 jointly conducted the sixth border defence friendship exchange in Dongxing city in the Chinese province of Guangxi province.
Upon arrival, the Vietnamese delegation led by Defence Minister General Phan Van Giang was warmly welcomed by Chinese Defence Minister General Wei Fenghe at the Dongxing border gate.
During their talks, Gen. Wei affirmed that the friendship exchange represents a meaningful activity in terms of bilateral defence co-operation as it contributes to strengthening solidarity and fostering political trust between both countries.
The two ministers maintained that despite ups and downs occurring in mutual ties, relations have been able to stand the test of time as they have developed strongly over the past seven decades. Both sides have conducted exchange activities in an array of flexible ways, thereby achieving a number of positive results, which has served to strengthen the comprehensive strategic co-operation partnership between the two countries, meeting the aspirations and interests of their citizens.
Most notably, the two ministries and their border guard forces have strived to promote effective co-operation as a means of developing a common border of peace and stability for co-operation and development, both ministers noted.
They added that thanks to regular contact mechanisms, border forces have been able to promptly detect, inform each other, and handle acts of illegal entry in a timely manner. This has therefore prevented the further spread of epidemics across the border whilst simultaneously facilitating border trade activities, according to VOV.
Vietnamese PM Meets Cambodian, Singaporean, Malaysian Counterparts
Prime Minister Pham Minh Chinh had bilateral meetings with his counterparts from Singapore, Malaysia and Cambodia on the sidelines of the ASEAN Leaders Meeting in Jakarta, Indonesia on April 24.
PM Pham assured that Viet Nam always attaches importance and gives high priority to consolidating and enhancing the good neighborliness, traditional friendship and comprehensive cooperation with Cambodia.
Expressing his sympathy over difficulties posed by the COVID-19 pandemic in Cambodia, Pham announced an aid of US$500,000, 800 ventilators, two million medical masks and 300,000 N-95 masks to help Cambodia fight the pandemic.
PM Pham asked the Cambodian side to continue assisting the Vietnamese-origin Cambodians, especially in obtaining legal recognition, to help them stabilize their life and integrate into the host society.
PM Pham reassured PM Lee that Viet Nam attaches importance to the strategic partnership with Singapore.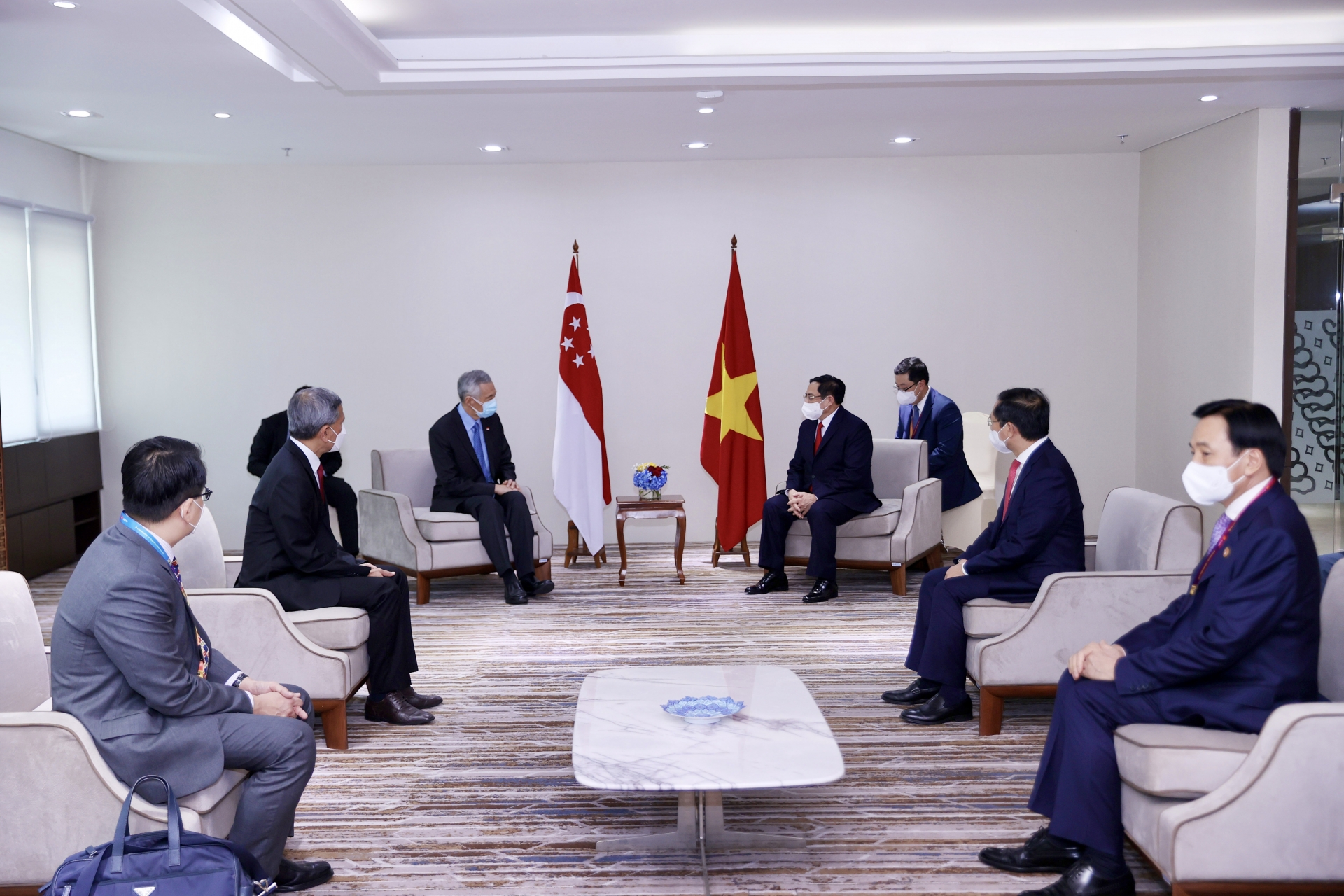 Present at the meeting include Vietnamese Foreign Minister Bui Thanh Son and Minister-Chairman of the Government Office Tran Van Son. Photo: VGP
Pham also asked Singapore to continue short- and long-term scholarships for Viet Nam, including Lee Kuan Yew School of Public Policy scholarships.
For his part, Lee expressed his wish to build close ties with Pham in order to further broaden and deepen the Viet Nam-Singapore strategic partnership.
The two leaders also agreed to coordinate in maintaining ASEAN's shared positions on the East Sea, back the bloc's centrality in settling the Myanmar issue in order to contribute to ensuring peace, stability, and cooperation in the region as well as the image and position of ASEAN.
At his meeting with Malaysian PM Muhyiddin Yassin, PM Pham wished to reinforce ties with Malaysia in both bilateral and multilateral aspects.
Yassin expressed his belief that with achievements in pandemic control, socio-economic stability and success in external relations, Viet Nam will obtain further successes in socio-economic development, thus improving its stature in the region and the world.
The two PMs promised to further expand bilateral cooperation in various fields in the near future, including maintaining all-level exchanges and contacts, both online and offline, according to VGP.
PM receives ASEAN Secretary General
Prime Minister Pham Minh Chinh, while attending the ASEAN Leaders' Meeting at the office of the grouping's secretariat in Jakarta on April 24, received Secretary General Lim Jock Hoi.
PM Chinh spoke highly of the cooperation and coordination of the official and the secretariat with Vietnam, and pointed to the bloc's priorities, namely the control of the pandemic, the acceleration of recovery, the rational settlement of issues, and the maintenance of the central role, prestige and position of ASEAN.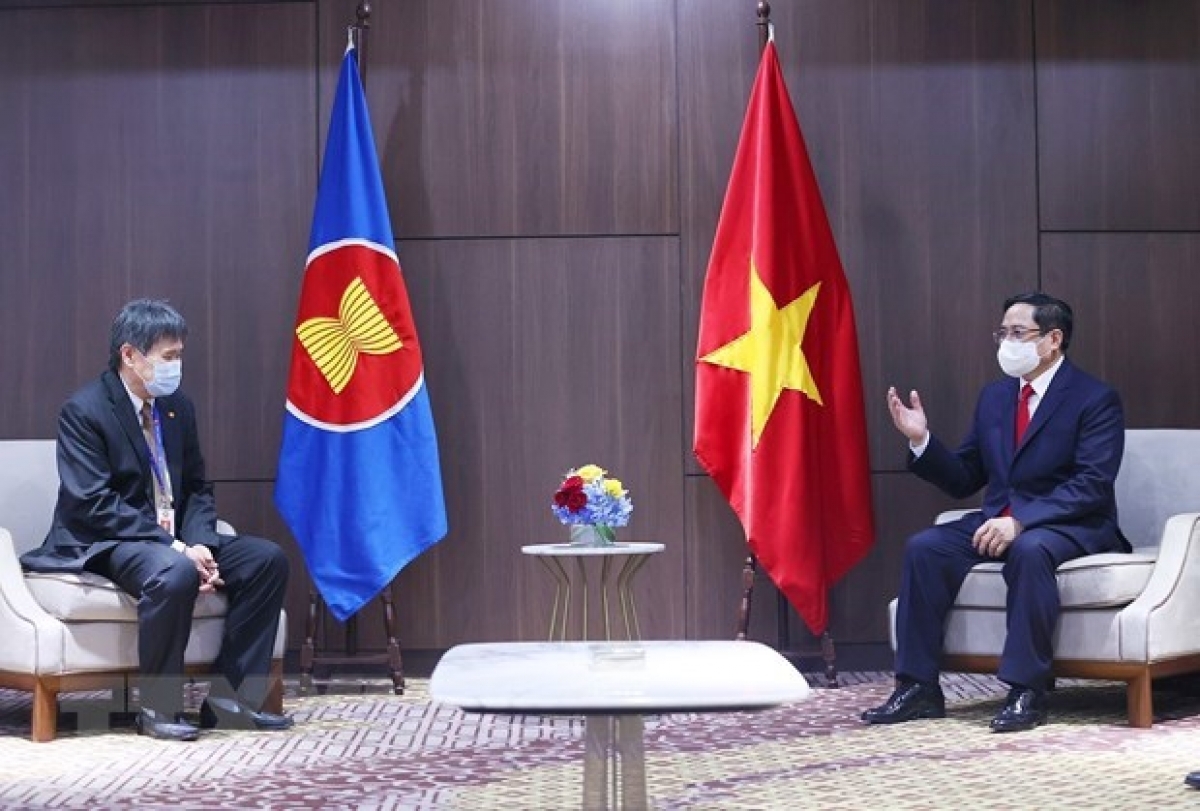 The ASEAN official congratulated Vietnam for successfully playing the role of the ASEAN Chair 2020 and a non-permanent member of the UNSC in the 2020-2021 tenure. He said he hopes Vietnam will further its support and contributions to the grouping.
PM Chinh asked Lim to support the effective implementation of the outcomes recorded by ASEAN last year, and expressed his hope the official will continue to bring into play his role, thus helping improve the efficiency of the operation of the bloc. He also proposed to continue pushing up the popularisation work so the people can understand more about the ASEAN Community and improve the grouping's image in the eye of the international community, VOV reported.
Foreign Minister Meets UN Special Envoy on Myanmar
Viet Nam has closely followed the developments in Myanmar and taken an active part, together with other ASEAN nations, in search for the most suitable solutions for Myanmar.
Foreign Minister Bui Thanh Son made that above statement during his meeting with United Nations Special Envoy on Myanmar Christine Schraner Burgener on April 24.
The UN Special Envoy expressed her concerns over loss of life in Myanmar, particularly women and children, expecting that ASEAN will take proactive measures to settle divergences and bring peace to Myanmar.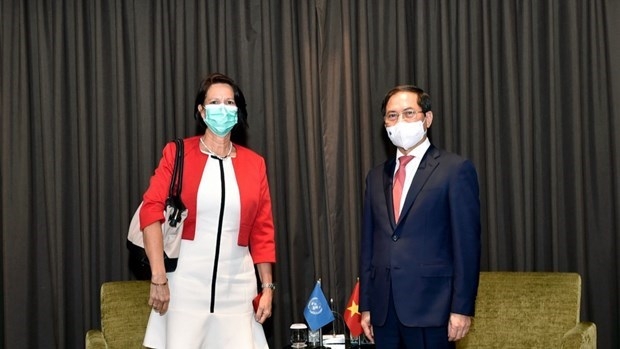 Foreign Minister Bui Thanh Son (R) and Special Envoy of the United Nations Secretary General on Myanmar Christine Schraner Burgener (Source: baoquocte.vn)
Minister Bui acknowledged efforts of the UN and Burgener in handling the situation in Myanmar, affirming Viet Nam shares deep concerns of the international community and the UN on the situation in Myanmar.
He underlined the importance of self-restraint, end of violence, humanitarian assistance and dialogue while ASEAN's centrality should be promoted in this process.
Viet Nam, as non-permanent member of the UN Security Council, has strived to promote balanced and comprehensive discussions on the Myanmar situation at the UN.
The Vietnamese diplomat expressed hope that the international community, the UN and Burgener will advocate the bloc's efforts in general and Viet Nam in particular in this issue, as reported by VGP.
Three New COVID-19 Cases Bring National Tally to 2,516
Two Vietnamese returnees and one Indian expert were confirmed positive for COVID-19 on Saturday, bringing the national tally to 2,516.
Both of the Vietnamese nationals were brought home from Japan on separate flights, according to the National Steering Committee for COVID-19 Prevention and Control.
Meanwhile the Indian national, who flew from India to Ha Noi on April 18 after transiting in the United Arab Emirates, is being treated at the National Hospital for Tropical Diseases in Ha Noi's Dong Anh District, VGP said.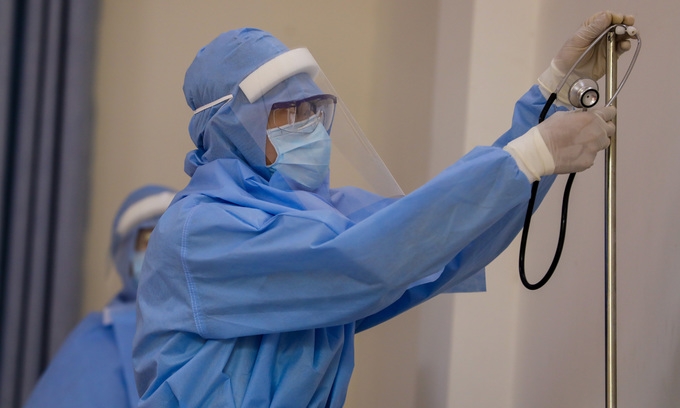 (Photo: VNE)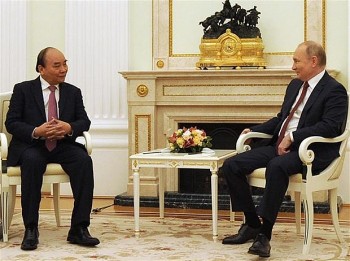 National
An article in Russia's independent newspaper focused on the Vietnam-Russia relationship and the significance of President Nguyen Xuan Phuc's visit to Russia from Nov. 29 to Dec. 2.