Vietnam News Today (Aug. 12): Vietnam to Produce Drugs Against Viral Monkeypox
Vietnam News Today (Aug. 12): Vietnam logs 2,367 Covid-19 cases on August 11; Vietnam to produce drugs against viral monkeypox; Petrol prices further down; Storm Mulan weakens, heavy rain expected along northern coastal localities.
Vietnam News Today (Aug. 12) notable headlines
Vietnam logs 2,367 Covid-19 cases on August 11
Vietnam to produce drugs against viral monkeypox
Petrol prices further down
Storm Mulan weakens, heavy rain expected along northern coastal localities
Vietnam's export to American market sees sharp rebound
Vietnam closely monitors situation in Taiwan Strait: Spokeswoman
Vietnam facilitates travel of Vietnamese, foreign citizens
Vietnam Cultural Week held in Cambodia
Football: Vietnam reach final of AFF U16 Youth Championships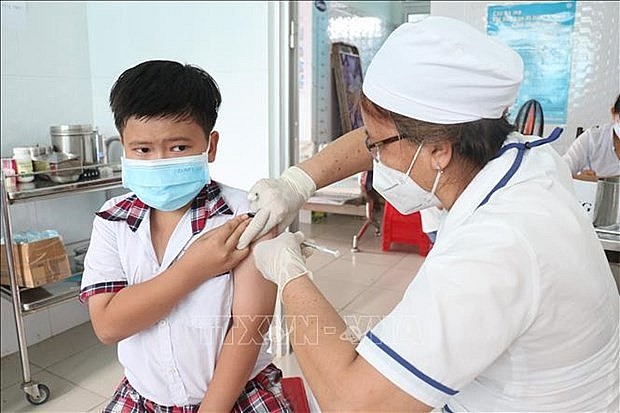 Illustrative image. Photo: VNA
Vietnam logs 2,367 Covid-19 cases on August 11
Vietnam recorded 2,367 new Covid-19 cases on August 11, while Nghe An province supplemented 4,408 cases after verifying information, raising the national caseload to 11,360,348, according to the Ministry of Health. ​
With 6,418 patients given the all clear during the day, the number of recoveries rose to 10,003,554. Meanwhile, there are 63 patients in serious conditions needing breathing support, cited VNA.
No death from Covid-19 was recorded in the past 24 hours. The total fatalities stood at 43,095.
On August 10, an additional 490,288 doses of vaccines were administered, raising the total number of doses of Covid-19 vaccines injected to 249,778,892.
Vietnam to produce drugs against viral monkeypox
The Drug Administration of Vietnam (DAV) under the Ministry of Health has requested that pharmaceutical manufacturers move to increase the import of drugs to combat monkeypox, and intensify efforts to actively research and produce drugs which can treat the viral disease in Vietnam.
The DAV made this request in a dispatch sent to pharmaceutical manufacturers nationwide amid fears that the monkeypox virus, which is evolving in a complicated manner worldwide, could break out in the country.
The World Health Organization (WHO) declared in late July that the global monkeypox outbreak is a Public Health Emergency of International Concern. As many as 31,800 cases have been reported in 89 countries and territories worldwide since the beginning of the year, according to data released by the US Centres for Disease Control and Prevention as of August 9.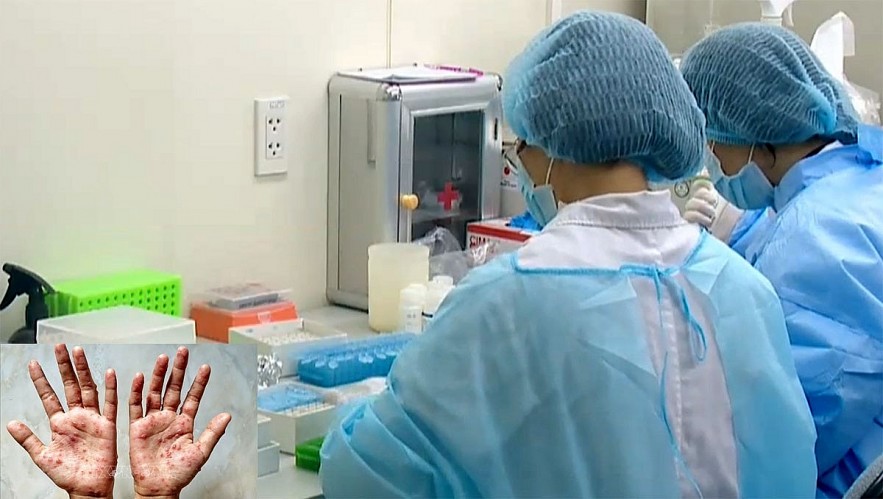 Vietnam will intensify research to produce drugs against monkeypox locally. Photo: VOV
Many countries globally have therefore begun to intensify research for new drugs to treat patients infected by monkeypox.
In its dispatch, the DAV cited the Diagnostic and Treatment Guidelines for Monkeypox by the Ministry of Health that drugs which contain Tecovirimat, Brincidofvir, Cidofovir, and Probenecid are those recommended by the WHO. In addition, the monkeypox vaccine has also been licensed for circulation in a number of countries.
The DAV has requested that pharmaceutical manufacturers work to strengthen research and stay updated on international trends in research and the production of drugs and vaccines for treatment against monkeypox, while accessing medicinal ingredients and importing them to be used for research and production locally, according to VOV.
The DAV will give maximum priority to granting circulation registration and import permits for these drugs, as well as medicinal ingredients in accordance with regulations, it said in the dispatch.
The viral disease has yet to be detected in the country, though some cases have been reported in regional countries. The Ministry of Health has also developed three scenarios to deal with monkeypox in the event that it breaks out in the country.
The Ministry has been in constant contact the WHO and the US CDC, as well as other health organisations, to remain updated and exchange information on the current epidemic situation. It has also strengthened the surveillance of suspected cases at border gates and launched communication campaigns as part of efforts to raise public awareness about monkeypox and temporary prevention measures.
Petrol prices further down
Fuel prices were reduced in the latest review on August 11 by the Ministry of Industry and Trade and the Ministry of Finance, the fifth consecutive time and the fourth significant drop.
Starting from 3 p.m., the retail price of E5RON92 bio-fuel slid by 904 VND to a maximum of 23,725 VND per litre, while that of RON95-III was cut by 939 VND to 24,669 VND per litre.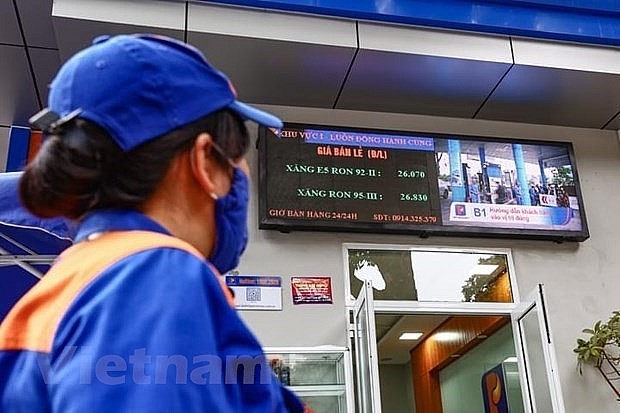 A Petrolimex gas station prepares for the listing of new petrol prices. Photo: VNA
Diesel fetched 22,908 VND per litre, a decline of 1,000 VND; and kerosene, 23,320 VND per litre, down 1,213 VND.
The price of Mazut 180CST 3.5S remains unchanged at no more than 16,548 VND per kg, reported VNA.
The two ministries also determined to extract 350 – 750 VND per litre from fuel prices for the petrol price stabilization fund.
They review fuel prices every 15 days to adjust the prices in accordance with fluctuations on the world market.
Storm Mulan weakens, heavy rain expected along northern coastal localities
Tropical storm Mulan was downgraded into a tropical low depression in the Gulf of Tonkin and struck localities along the northern coast early on August 11.
At 4 a.m. on August 11, the tropical depression was located near the coast along Quang Ninh and Hai Phong, with winds gusting 49kph. It is forecast to move further inland and weaken further in the coming hours.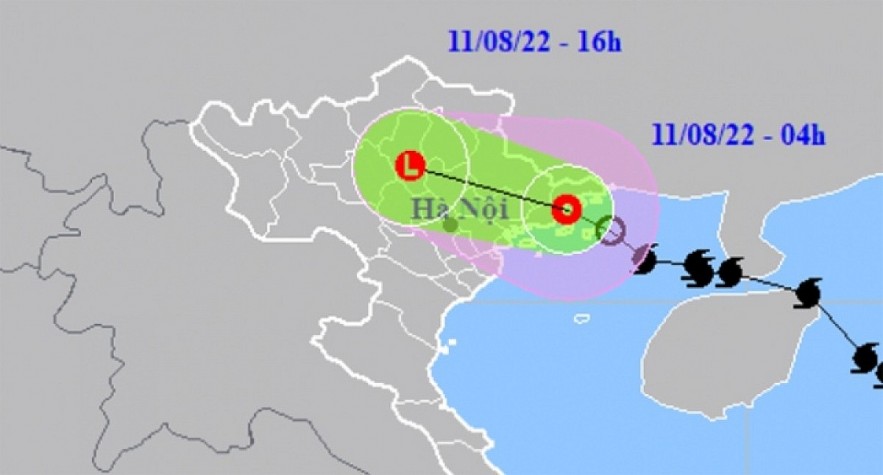 Tropical storm Mulan has weakened before making landfall along the northern coast on August 11. Photo: VOV
The northern and north-central localities will experience a large spell of heavy rain on August 11, with some areas expected to receive up to 100mm or even 150mm during the day, according to weather experts.
Mulan is the second tropical storm that has form in the Bien Dong Sea and the first storm that has hit Vietnam the 2022 stormy season, cited VOV.
Before Mulan moved close to the mainland, localities along the northern coast had banned fishing vessels setting sail and reinforced fishing cages. Some had even planned to evacuate local residents in low-lying areas and estuaries in case of emergency.
Several airlines such as Vietnam Airlines and Vietjet Air announced early on August 9 that they would reschedule a number of flights due to the impact of the storm.
Vietnam's export to American market sees sharp rebound
Post-pandemic robust rebound in the American market has ushered in multiple opportunities for Vietnam to expand its export of key products, according to the Ministry of Industry and Trade.
Vietnam's export to the American market jumped by nearly 22% to nearly 77 billion USD in the first seven months of 2022. Of which, shipment to the US was a bright spot, reaching 66.7 billion USD, up 23.7% year-on-year.
In 2021, Vietnam made a hallmark in exporting its goods to the American market in the context of the global COVID-9 crisis, earning 114 billion in total export value, representing a year-on-year increase of 27%. It enjoyed a trade surplus of 89 billion USD with the market in the year.
Exports to the US surpassed 96 billion USD last year, 21 billion USD higher than that reported in 2020, placing the US in the leading position among Vietnam's importers with export turnover far exceeding that to other markets like China, the EU, ASEAN, the Republic of Korea, and Japan.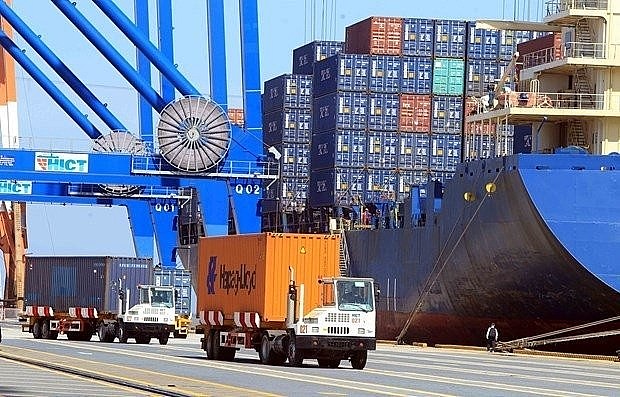 Illustrative image. Photo: VNA
Many new markets that signed free trade agreements (FTAs) with Vietnam in America such as Canada and Mexico have also increased imports from the Southeast Asian nation.
In January – July, Vietnam's export turnover to Canada and Mexico hit 3.23 billion USD and 2.4 billion USD, up 31.5% and 14.2 percent, respectively, reported NDO.
Vo Hong Anh, Deputy Director of the MoIT's European - American Market Department, said apart from the US market, Vietnam's exports to other American markets recorded robust growth thanks to the Comprehensive and Progressive Agreement for Trans-Pacific Partnership (CPTPP).
Aquatic products, wooden products, textiles, footwear and farm produce and electronics were among those recording impressive export growth in the American market.
Anh cited shrimp export as an example for effectively tapping CPTPP, saying Vietnam earned over 100 million USD from shipping shrimp to Canada in the first half of 2022, soaring nearly 90% as compared to the same period last year.
According to the MoIT, handsets, computers, and electronic items hold the largest proportion in Vietnam's export structure to the American market, reaching 43.3%; followed by textile, apparel, and footwear products with 25%; wood and wooden items with 8%; and agricultural and agro-aquatic products with 4%.
However, the foreign-invested sector remains a main contributor to Vietnam's total export value to this market.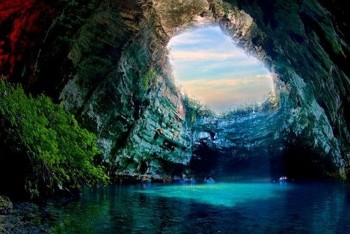 Multimedia
Son Doong Cave in Vietnam, the world's largest cave, now has been listed among top 10 Greatest Natural Caves in the World by Wonderlist.