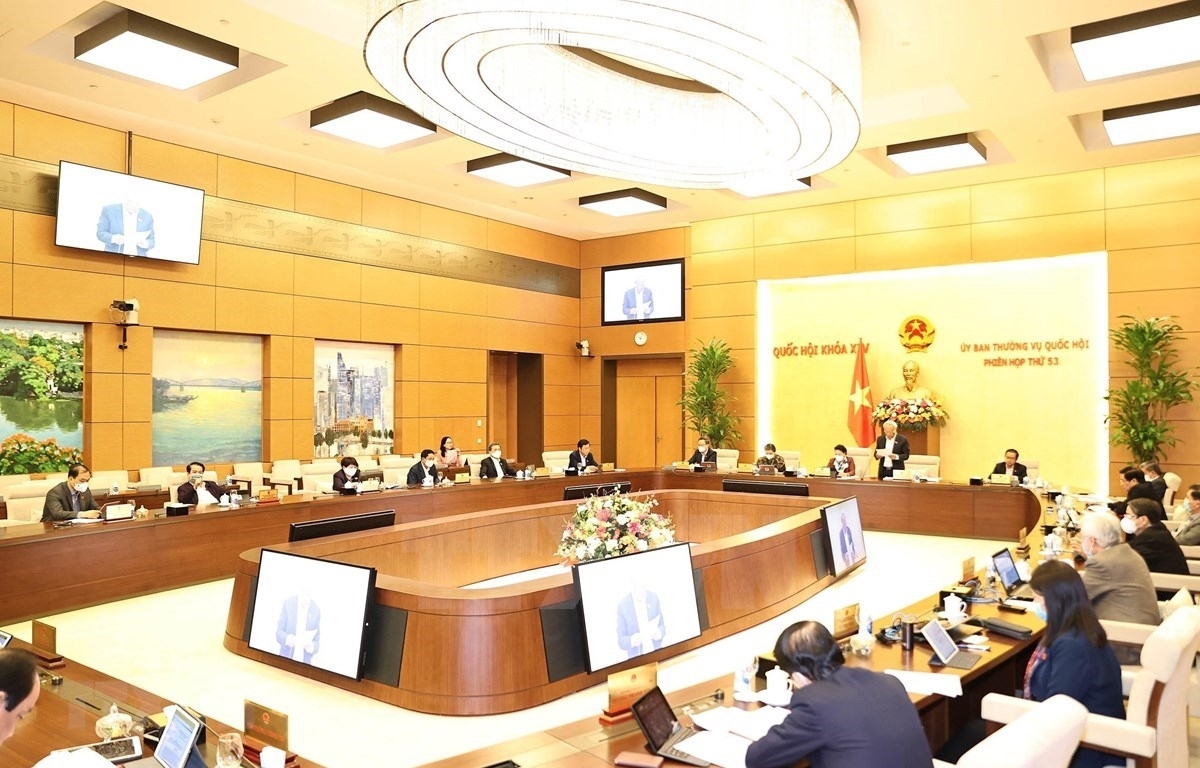 NA leader praises government's performance over last tenure
It has been a very successful tenure of the government, said National Assembly (NA) Chairwoman Nguyen Thi Kim Ngan during the ongoing 53rd session of the NA Standing Committee on February 23.
Briefing participants on an overview report of the government's performance in the 2016 – 2020 tenure, Minister and Chairman of the Government's Office Mai Tien Dung said the government has stuck to its commitment of building a public-serving and constructive government of integrity and action since the beginning of its term.
The government has without delay issued programmes and plans to translate the resolutions of the Party and NA into reality and implemented the 2011 – 2020 socio-economic development strategy, Dung said.
In the face of the COVID-19 crisis, the government has demonstrated consistency in fulfilling the dual goals of containing the novel coronavirus, with a motto "fighting the pandemic is like fighting an enemy," and recovering and developing the economy, he stated.
This year, the government will continue focusing on fulfilling the twin goals, he noted, adding that it will keep guard up against the disease, seize all opportunity to recover and develop the economy in the "new normal," and create solid foundation for the successful achievement of the next-five-year socio-economic goals, VOV reported.
Nguyen Van Giau, Chairman of the NA Committee for External Relations said the government has accomplished Vietnam's international mission over the last five years, reflected by the successful hosting of the APEC Economic Leaders' Week 2017, the 2019 US – Democratic People's Republic of Korea Summit and the ASEAN Chairmanship Year 2020. The country is also undertaking the role as a non-permanent member of the United Nations Security Council, and has signed a number of new-generation free trade agreements, expected to set the scene for its sustainable development, Giau said.
Deputy PM addresses high-level segment of UNHRC's 46th session
Ensuring a safe society against epidemics like COVID-19 is the best way to ensure that each and every member of the society can fully enjoy their human rights, Vietnamese Deputy Prime Minister and Minister of Foreign Affairs Pham Binh Minh said while attending a High-level Segment of the 46th Regular Session of the United Nation Human Rights Council (UNHRC) via video conference on February 22.
Deputy PM Minh told the event that prompt and determined actions have been taken to control the COVID-19 outbreaks to protect the health and safety of the people as a matter of top priority. Efforts are also made to maintain economic growth and social welfare, to leave no one behind.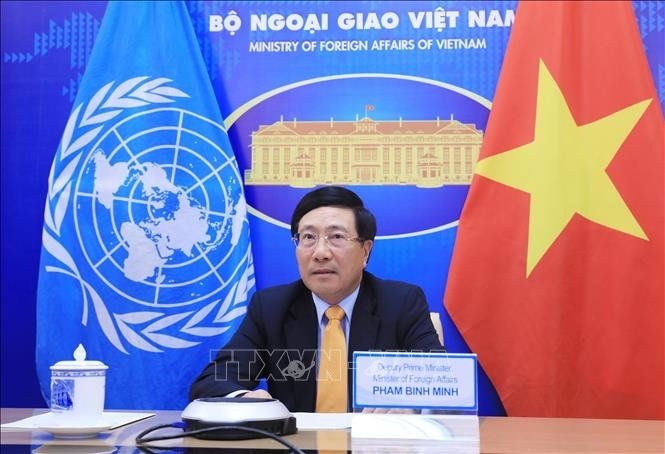 Vietnamese Deputy Prime Minister and Minister of Foreign Affairs Pham Binh Minh. (Photo: VNA)
To further contribute effectively to joint efforts in protecting and promoting human rights, Vietnam presented its candidature for membership of the Human Rights Council for the term 2023-2025, he added.
The UNHRC's 46th regular session is taking place from February 22 to March 23 to discuss measures to promote and protect humans rights in all civil, political, socio-economic and cultural aspects.
Speaking at the opening ceremony, chaired by President of the UNHRC Nazhat Shameem Khan, UN Secretary-General Antonio Guterres emphasised that human rights are the basis for connecting humanity, resolving conflicts and building sustainable peace and the UNHRC is the main global body to address challenges on human rights.
He said that the COVID-19 pandemic has exacerbated human rights challenges and seriously affected vulnerable groups. He called for joint actions in priority areas of anti-racism, anti-discrimination and anti-xenophobia, and gender equality.
UN High Commissioner for Human Rights Michelle Bachelet stressed pandemic response measures should be carried out on the basis of ensuring human rights, the community's trust and democratic institutions effectively, NDO said.
COVID-19 situation basically under control, Deputy PM says
The COVID-19 pandemic has been basically controlled well across the nation as evidenced by the drop of new cases in recent days, said Deputy Prime Minister Vu Duc Dam, VGP said.
Deputy PM made the above statement at a meeting of the National Steering Committee for COVID-19 Prevention and Control.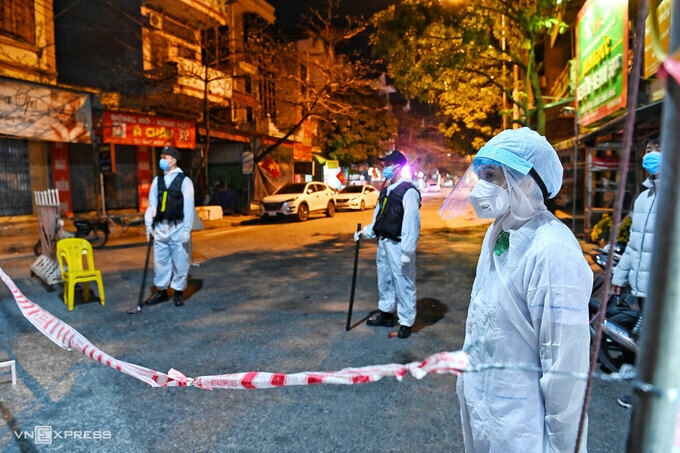 (Photo: VNE)
Hai Duong, one of the 13 cities and provinces experiencing the third wave of local transmissions, has only recorded three new cases in the areas not placed under lockdown, he added.
Hai Duong has raised its testing capacity to 80,000 samples a day the figure may be further increased to 120,000, said Dam.
Effective containment efforts have allowed 51 out of 63 localities to have reopened schools while the rest, including Hai Duong, planned to resume in-person classes from March 1.
The Deputy PM, however, emphasized the necessity to sustain vigilance and be 100% ready to cope with new resurgence of the virus as the country still needs to open borders to foreign experts for economic activities.
Tuyen Quang City recognized as grade II city
Prime Minister Nguyen Xuan Phuc on February 23 attended a ceremony to announce the decision on the recognition of Tuyen Quang City as grade II city under Tuyen Quang Province, as reported by VGP.
Addressing the event, the PM expressed his pleasure at Tuyen Quang City's promotion to the grade II city under Tuyen Quang Province, a land of rich revolutionary traditions once known as the capital of the liberation zone and a resistance capital in the past.
He hailed urbanization as a crucial factor behind the success of the economic restructuring, productivity improvement and socio-economic development process of each region and the whole country.
Earlier on February 2, 2021, the PM signed a decision on recognizing Tuyen Quang City as the grade II city under Tuyen Quang Province.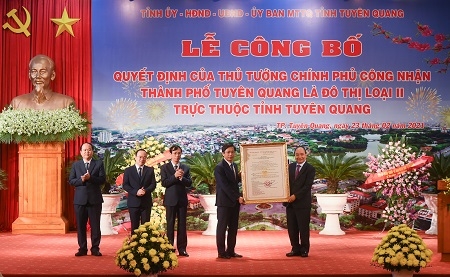 PM Nguyen Xuan Phuc attendes a ceremony to announce the decision on the recognition of Tuyen Quang City as a second-class city under Tuyen Quang Province (Photo: VGP)
After over 10 years of construction and development efforts since it became a third-class city, Tuyen Quang has exerted great efforts to achieve remarkable strides in various fields.
The city's average economic growth rate reached 12.51% in the last three years, while its urban population stood at 232,230 as of late 2019.
The percentage of non-agricultural employment has now hit 80.04%; the rate of solid and semi-solid houses at 97.48%; the rate of lighted major streets at 96.2%; and especially 100% of daily-life solid waste has been treated, according to VGP.
VN posts trade surplus of US$700 million in first half of February
The General Department of Customs on Monday announced that Viet Nam enjoyed a trade surplus of US$700 million in the first half of February, with export revenue rising nearly 2.5% year-on-year to US$9.94 billion.
According to VGP, where were four groups of goods each earning US$1 billion or more, including phones and spare parts; computers, phone products and components; machinery, equipment, tools and spare parts; and textiles and garments.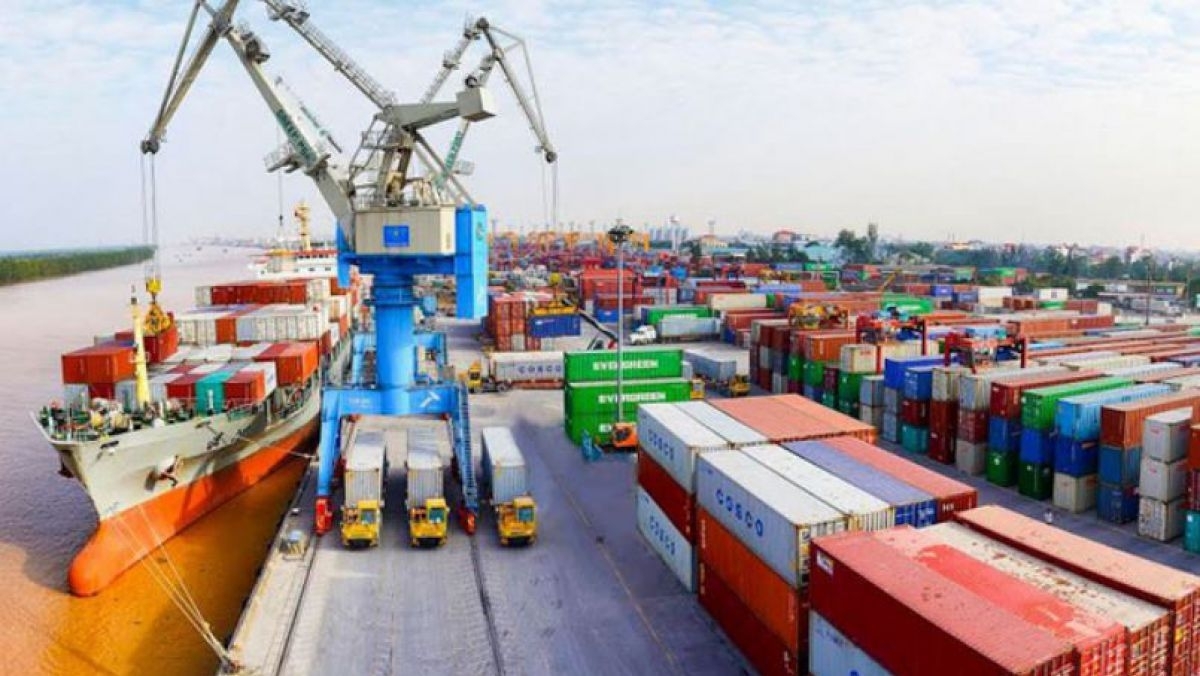 (Photo: Nhan Dan)
During the period, the country imported US$9.24 billion worth of products, a decrease of about US$500 million over the same period last year.
Only two goods categories recorded an import value of at least US$1 billion – computers, phone products and components, and machinery, equipment, tools and spare parts.
As of February 15, Viet Nam's export turnover reached US$38.46 billion, up nearly 36.9% year-on-year, or over US$10 billion. Meanwhile, its import revenue rose by 25.3% to US$35.7 billion, resulting in a trade surplus of US$2.76 billion.
Jasmine Le