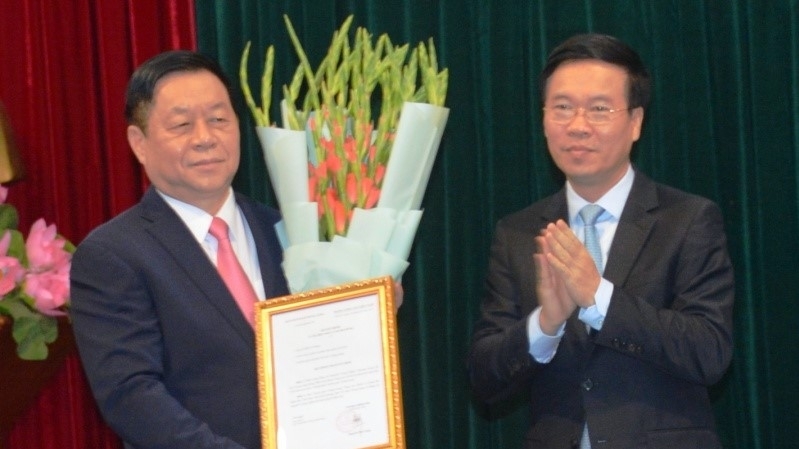 Head of the Party Central Committee's Commission for Communication and Education Nguyen Trong Nghia (L) and his predecessor Vo Van Thuong (Photo: NDO)
Party's Communication and Education Commission has new chairman
Sen. Lt. Gen. Nguyen Trong Nghia, Secretary of the Party Central Committee and Vice Chairman of the General Department of Politics of the Vietnam People's Army, has been appointed head of the Party Central Committee's Commission for Communication and Education.
The Politburo's Decision No 06-QDNS/TW, dated February 18, on the assignment was announced at a meeting in Hanoi on February 19.
Handing over the decision to Nghia, Politburo member and Permanent Member of the Party Central Committee's Secretariat Vo Van Thuong said the Politburo believes that Nghia, with his rich experience gained during the time he served in the army, his deep understanding of ideological, cultural, press, and communications affairs, as well as his close connection with the Communication and Education Commission, will fulfil all assigned tasks.
For his part, Nghia said the new duty is a great honour but also a heavy responsibility, stressing that he always keeps in mind and is determined to keep the oath of a serviceman that is being absolutely loyal to the Party, the Fatherland, and the people, fulfilling every task, and weathering every difficulty, NDO reported.
14th NA Standing Committee to convene 53rd meeting on February 22
The 14th National Assembly Standing Committee will convene its 53rd meeting in the capital city of Hanoi on February 22, announced the NA Office on February 19.
According to NDO, the session, to last one day, is scheduled to offer feedback on the first adjustment of the structure, component and number of nominees to run for the 15th NA at central and local agencies and units, and the number of full-time deputies of the Hanoi People's Council (if qualified).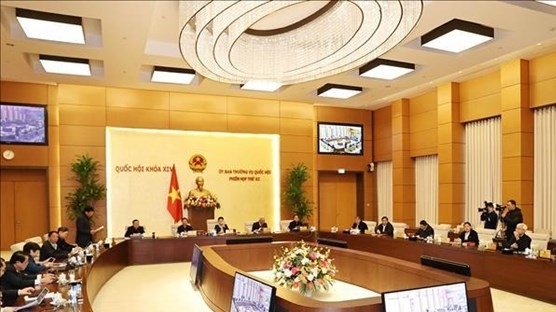 At the NA Standing Committee's 52nd meeting (Photo: VNA)
Participants will also examine the Government's working report for the 2016-2021 tenure, and present in written form their feedback on the NA and NA Standing Committee's reports reviewing their performance in the 14th tenure.
They will look into preparations for the 14th NA's 11th session, the draft Resolution on amendments and supplements to the Resolution No.887-NQ/UBTVQH12 on the issuance of scientific management regulations in NA and NA Standing Committee's organs and NA Office.
VN attaches importance to ties with China
Prime Minister Nguyen Xuan Phuc reiterated that Viet Nam always attaches importance to maintaining and developing the friendly neighborliness and comprehensive strategic cooperative partnership with China.
The Government chief made the above statement at his reception for Chinese State Councilor and Minister of Public Security Zhao Kezhi in Ha Noi on February 19.
PM Phuc stressed that advancing the ties with China is a consistent policy, a strategic choice, and a top priority in Viet Nam's foreign policy adopted at the 13th National Party Congress.
He affirmed Viet Nam wishes and stands ready to work with China to further enhance political trust, coordinate well on international and regional issues of shared concerns, effectively implement the high-level common perceptions on sea-related issues, respect each other's legitimate interests on the basis of compliance with international law.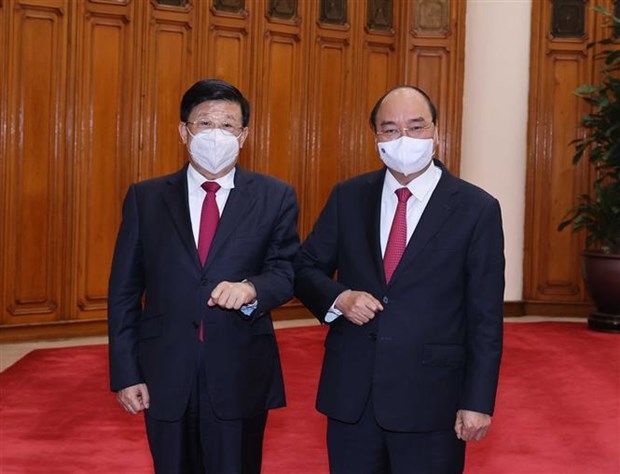 Prime Minister Nguyen Xuan Phuc (right) hosts reception for Chinese Chinese State Councilor and Minister of Public Security Zhao Kezhi at the Government Office, Ha Noi, February 19, 2021. Photo: VGP
PM Phuc took the occasion to express thanks for China's active cooperation and support for Viet Nam's proposals and initiatives during the latter's ASEAN Chairmanship in 2020.
Viet Nam highly valued China's great efforts in containing the COVID-19 pandemic and bolstering economic recovery, said PM Phuc.
For his part, Zhao conveyed Premier Li Keqiang's Lunar New Year's greetings and congratulations to PM Phuc on the success of the 13th National Party Congress.
In reply, PM Phuc offered the best wishes to Chinese Party General Secretary and State President Xi Jinping and Premier Li Keqiang.
The meeting is an important event in bilateral ties, which seeks to further promote the comprehensive strategic cooperative partnership between the two countries in the fields of national security, crime prevention and combat, and protection of social order and safety, as reported by VGP.
Vietnam aspires to promote stronger trade ties with Myanmar
The nation applauds Myanmar's achievements over the past year recorded in structural reforms and impressive economic growth, with strong desires to continue boosting economic-trade and investment ties with Myanmar moving forward.
Ambassador Le Thi Tuyet Mai, head of the Permanent Mission of Vietnam to the UN, the World Trade Organisation (WTO), and other international groups, stated this at the second review of the trade policies and practices of Myanmar, which was held from February 15 to February 17 at the WTO's headquarters in Geneva.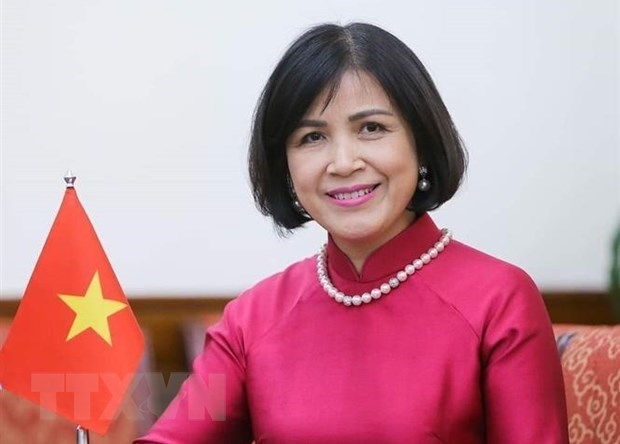 Ambassador Le Thi Tuyet Mai, head of the Permanent Mission of Vietnam to the UN (Photo: Vietnam Plus)
Recent times have seen mutual ties strengthened, with both sides upgrading their ties to the level of a comprehensive partnership.
Furthermore, two-way trade has also been increasing despite facing formidable challenges caused by the impact of the novel coronavirus (COVID-19) pandemic, Mai said.
During the course of the event, ASEAN member states welcomed Myanmar's transparency in granting import licenses, customs valuation, technical standards, and epidemiological safety measures. In addition, participants spoke highly of their response to the COVID-19 pandemic through offering support packages and promoting trade which ultimately helped to facilitate conditions for investment.
They also expressed concern regarding the ongoing political situation in Myanmar, adding that it is necessary to stabilise the political situation in each member state with a view of forming an ASEAN Community of peace, stability, and prosperity, according to VOV.
COVID-19 situation basically controlled in 12 localities
The COVID-19 situation in 12 out of 13 cities and provinces has been basically controlled the COVID-19 situation, said the National Steering Committee for COVID-19 Prevention and Control.
As of 6:05pm on Friday, Viet Nam confirmed 2,362 COVID-19 patients, including 770 cases recorded in 13 cities and provinces since January 27, with Hai Duong being the hardest-hit locality (590 cases).
All 12 districts and cities in Hai Duong have identified COVID-19 cases, in which Chi Linh City, Cam Giang District, Kinh Mon Town, Nam Sach District, and Hai Duong City are the biggest clusters.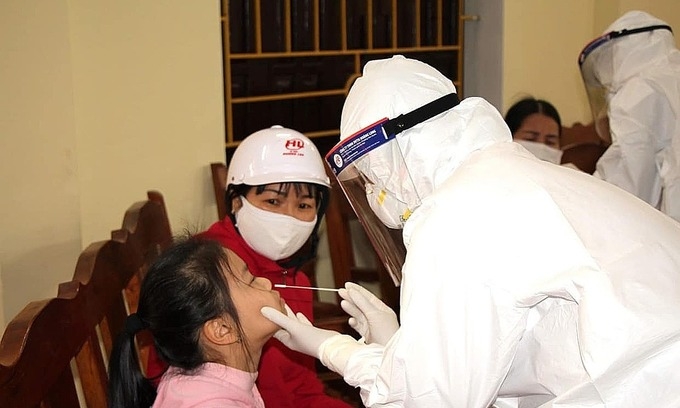 (Photo: VNE)
Among the above clusters, the COVID-19 situation in Cam Giang remains complicated as source of transmissions has not been identified, according to the Ministry of Health.
Hai Duong quickly placed Cam Giang District under lockdown and then imposed 15-day social distancing in the entire locality since February 16 in a brave move to extinguish the outbreaks and ensure safety for the whole country, said Dr. Tran Dac Phu, senior advisor at the Public Health Emergency Operations Center under the Health Ministry.
Thanks to its drastic measures, the number of new cases started to fall over the past days in the northern province, with 95% of them are F1 individuals who have been quarantined, according to VGP.
Jasmine Le