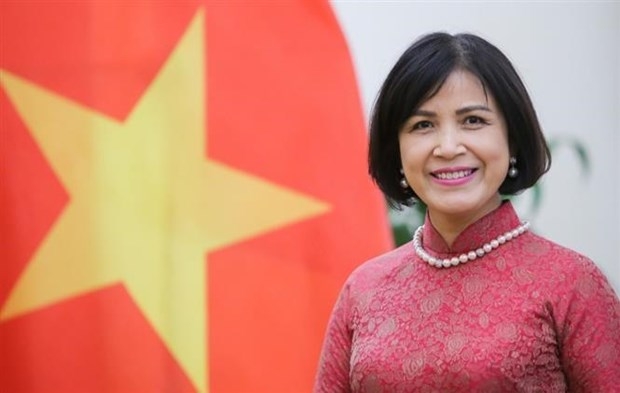 Ambassador Le Thi Tuyet Mai (Photo: VNA)
Vietnam supports, congratulates new WTO leader: Ambassador
Ambassador Le Thi Tuyet Mai, head of the Permanent Mission of Vietnam to the United Nations, the World Trade Organisation (WTO) and other international organisations, has affirmed that Vietnam together with ASEAN member states and other WTO members support and congratulate Ngozi Okonjo-Iweala on her election as WTO General Director.
Addressing a special session of the WTO General Council held online on February 15, Ambassador Mai stressed that Vietnam will closely with Ngozi Okonjo-Iweala and believed that she has enough qualifications to helm WTO through present challenges and achieve targets of the multilateral trade system.
At the event, Okonjo-Iweala expressed her hope to work with member states to shape and carry out necessary policies to reboot the global economy which has been hit hard by the COVID-19 pandemic.
When taking office as the seventh WTO General Director on March 1, Okonjo-Iweala will become the first woman and the first African to be elected as a WTO leader.
She used to serve as Finance Minister of Nigeria and former Managing Director of the World Bank. As Chair of the Global Vaccine Alliance (Gavi), she is also a global financial expert, an economist and an expert on international development with over 30 years of working experience across the world, as reported by VNA.
Top leader offers incense to late Kings, martyrs at imperial citadel
According to VNA, Party General Secretary and State President Nguyen Phu Trong offered incense in commemoration of late Vietnamese Kings, heroes, martyrs and those who rendered their services to the nation at the Thang Long Imperial Citadel in the capital city of Hanoi on February 17.
Accompanying the leader were Politburo member and Secretary of Hanoi's Party Committee Vuong Dinh Hue; and Secretary of the Party Central Committee and Chief of the Party Central Committee's Office Le Minh Hung, among others.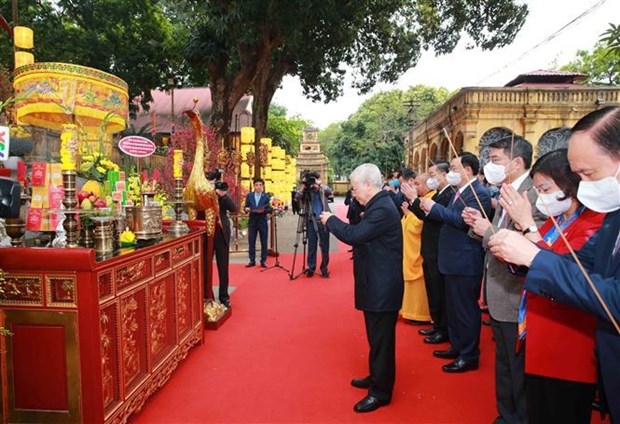 Party General Secretary and State President Nguyen Phu Trong and other leaders offer incense to late Vietnamese Kings, heroes and martyrs (Photo: VNA)
The top leader reaffirmed the determination to promote the heroic tradition of Thang Long - Hanoi and noble values of the nation, strengthen the national great solidarity bloc, and build a wealthier, more democratic, equal and civilized country.
He expressed his hope that the Party Organisation, authorities, army and people of Hanoi will promote important achievements gained last year, and make more efforts to reap greater fruits this year.
The leader also asked the staff of the Thang Long Imperial Citadel to maintain the values of the world cultural heritage site.
On this occasion, Party General Secretary and State President Nguyen Phu Trong and other leaders planted a tree at the citadel to follow late President Ho Chi Minh's teaching of growing trees in spring.
PM urges officials, public employees to focus on work right after Tet
Prime Minister Nguyen Xuan Phuc has asked officials and public employees to focus on work right after the Lunar New Year (Tet) holiday and not organise New Year parties and go to festivals during working hours.
During the first working session with permanent cabinet members following the holiday on February 17, he asked the Health Ministry, the Government Office and localities such as Hai Duong, Hanoi and Ho Chi Minh City to keep a close watch on developments of COVID-19 pandemic and the country's socio-economic situation, thus offering timely recommendations to the PM, the National Steering Committee for COVID-19 Prevention and Control, and ministries to effectively cope with the pandemic.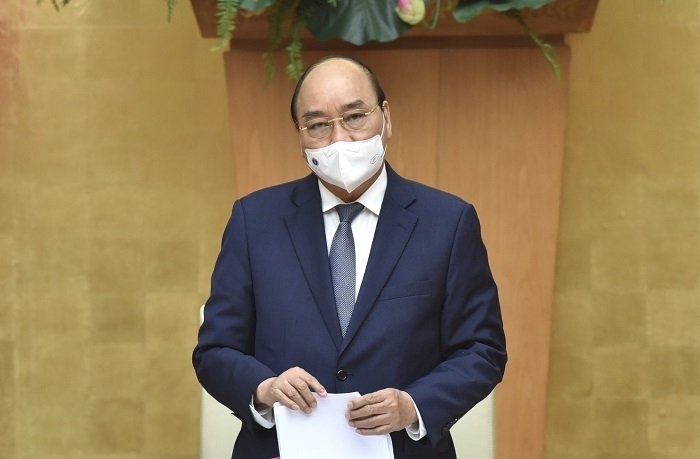 Prime Minister Nguyen Xuan Phuc speaks at the meeting. (Photo: NDO/Tran Hai)
They were also urged to give ideas on how to boost production and exports-imports amid the pandemic.
Ministries, agencies and localities were asked to carry out projects assigned by the Government and PM from the beginning of this year, including those regarding agricultural production and launching a drive to plant 1 billion trees.
He directed ensuring five major balances in national development in the first half of this year, the full year and the five-year period.
They include balance between socio-economic development and improving the Party's leadership role; balance between rapid economic development and guarantee of social progress and equality; and balance between internal and external strengths, internal and external trade, and between building of an independent and self-reliant economy and regional and global economic integration, NDO said.
Forty localities switch to online learning due to COVID-19
As of early February 17, as many as 40 localities decided to shut schools of all levels due to a resurgence in COVID-19.
In Hai Duong Province, the biggest coronavirus hotspot in Viet Nam, schools closure will last till March 2.
In Ho Chi Minh City, Ha Noi, Kon Tum, Binh Dinh Province, Thai Nguyen Province, Phu Yen Province and Ba Ria-Vung Tau Province, pupils were asked to stay at home for online study till February 28.
In Binh Thuan, Binh Phuoc, Ben Tre, Dien Bien, An Giang, Ha Nam, Bac Ninh, Quang Ngai, Phu Tho, Ninh Binh, Bac Lieu, Hau Giang, Quang Nam, Hoa Binh, Vinh Long, Tra Vinh, Quang Ninh, Long An and Lai Chau provinces, schools will be shut till February 21.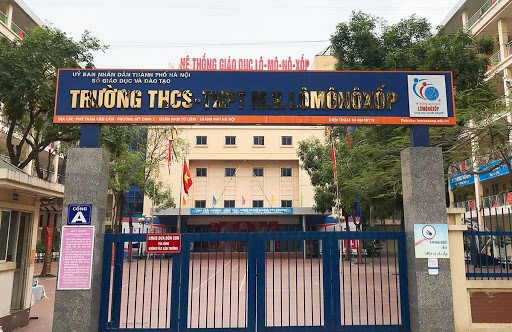 (Photo: VGP)
Schools are closed until next announcement in Can Tho City, Hai Phong City and provinces of Dong Thap, Bac Giang, Hung Yen, Ninh Thuan, Vinh Phuc, Son La, Thai Binh, Gia Lai and Tuyen Quang.
Thanh Hoa Province intended to open schools on February 20 while Binh Duong Province required pupils to stay at home till February 28 (for kindergartens and primary schools) and February 21 (for secondary and high schools), VGP reported.
Vietnam records impressive export growth in 2020
Of the six ASEAN nations, only Vietnam posted an increase in exports for 2020, up 7% to US$282.66 billion, according to The Straits Times.
The Malaysian newspaper quoted data from the Japan External Trade Organisation (JETRO) as saying that exports from six ASEAN countries, including Indonesia, Malaysia, Singapore, Thailand, the Philippines and Vietnam, fell 2.2% last year compared with 2019, with total exports of US$1.35 trillion.
JETRO said Vietnam's exports to Japan dropped by 5.2%, but exports to the United States rose by 25.7% and to China by 18%.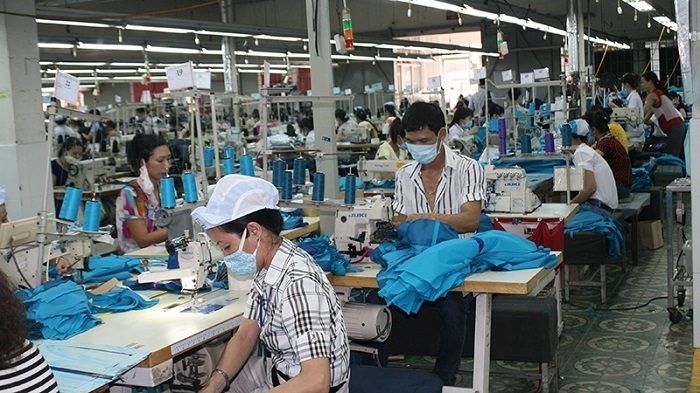 Vietnam posted an increase in exports for 2020, up 7% to US$282.66 billion, according to The Straits Times. (Photo: NDO/Quynh Chi)
It said the combined trade surplus of the six countries tripled to US$133.66 billion, as easing energy prices and shrinking domestic demand led to steeper declines in imports than exports.
Thailand's trade surplus surged 144.5%, compared with an 83.5% increase for Vietnam, Singapore 43.9 and Malaysia 25.6. The Philippines narrowed its trade deficit by 46.3% to US$21.84 billion while Indonesia chalked up a trade surplus of US$21.74 billion, a turnaround from a deficit of US$3.6 billion in 2019.
Singapore accounted for 27.4% of the six countries' total trade by value last year, followed by Vietnam at 21.3%, Thailand 17.1%, Malaysia 16.5%, Indonesia 11.9% and the Philippines 5.8%, according to NDO.
Jasmine Le