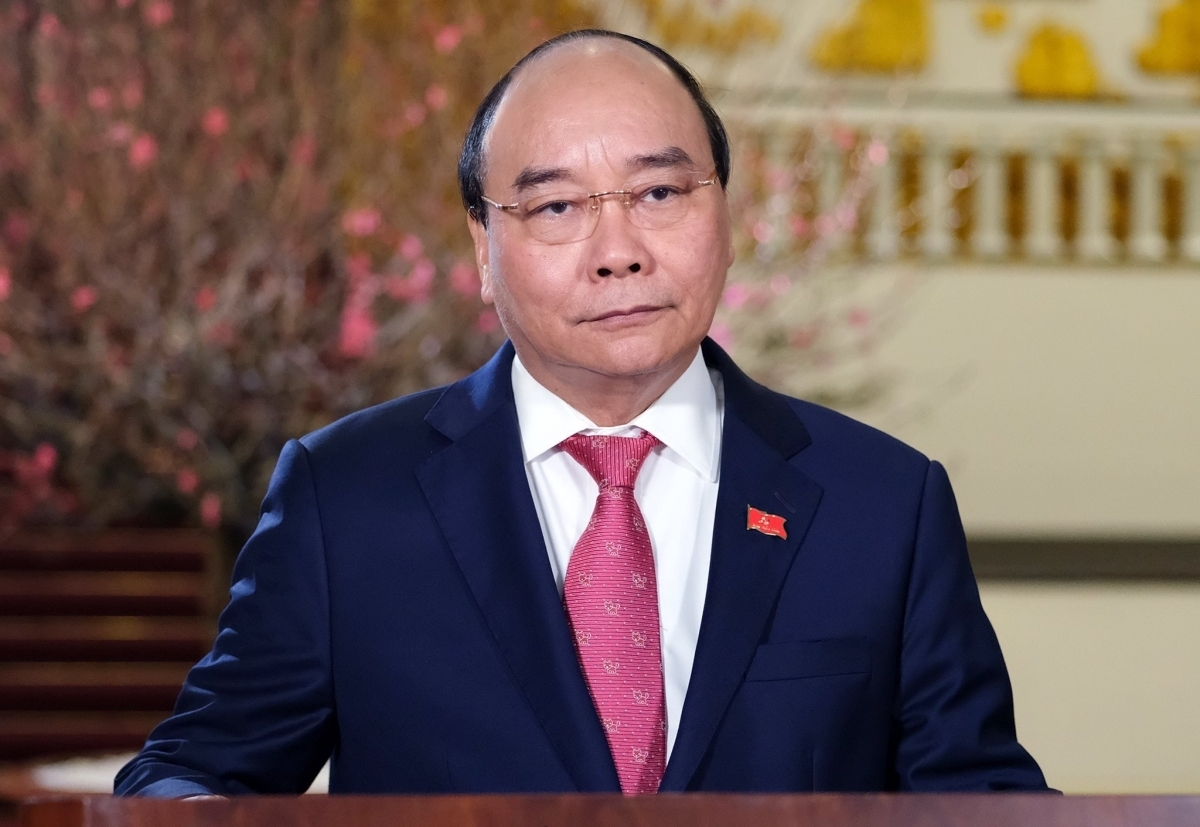 PM calls for greater national unity to move Vietnam forward
Prime Minister Nguyen Xuan Phuc on February 4 called for greater national unity among Vietnamese people living inside and outside the country to generate a source of combined strength to move Vietnam forward, VOV reported.
In a video clip to the annual Homeland Spring program for overseas Vietnamese, Phuc extended his best wishes to approximately 5.3 million Vietnamese nationals living abroad most of whom cannot return to the homeland for the coming traditional Lunar New Year (Tet) holiday due to the impact of the COVID-19.
Our Vietnamese people, no matter where they live, are part and parcel of the fatherland, he reiterated.
In 2020, Phuc said Vietnam fulfilled its roles as the President of the Association of the Southeast Asian Nations (ASEAN), the ASEAN Inter-parliamentary Assembly (AIPA), as well as a non-permanent member of the UN Security Council. Top Vietnamese leaders took part in and put forward initiatives at various multilateral forums such as the United Nations, the G-20 summit, OECD and WHO meetings.
He called on overseas Vietnamese to continue upholding the tradition of great national unity to work alongside their compatriots in the homeland so as to further elevate the image of Vietnam in the international arena.
He expressed his hope the COVID-19 pandemic will be soon contained globally so that more and more Vietnamese nationals living abroad will be able to return to the homeland for the Tet holiday next year, as opposed to nearly 90,000 this year.
Viet Nam sticks to foreign policy of independence and self-reliance
Viet Nam will consistently pursue the foreign policy of independence, self-reliance, multilateralization and diversification of foreign relations, said Foreign Ministry Spokesperson Le Thi Thu Hang.
Hang made the above statement at online press briefing on Thursday afternoon when she was asked about the foreign policy of the 13th National Party Congress.
Viet Nam will also work to further deepen relations with partners, especially major ones in an effective and sustainable manner, according to the Spokesperson.
The 13th Party National Congress took place from January 25-February 1 with the attendance of 1,587 delegates representing more than 5.1 million Party members nationwide.
During the eight-day working, the Congress elected 180 official members and 20 alternate members to the 13th Party Central Committee, VGP said.
Foreign Ministry Spokesperson Le Thi Thu Hang (Photo: Bao Quoc Te)
VN advocates rule-of-law principle on seas and oceans: Spokesperson
Viet Nam supports the maintenance of peace and stability in the region, security, safety and freedom of navigation and aviation, and the principle of respect for the law on seas and oceans, in accordance with the provisions of international law and the 1982 UN Convention on the Law of the Sea (UNCLOS), Foreign Ministry spokesperson Le Thi Thu Hang said on February 4.
Hang made the statement in response to reporters' questions on the East Sea at a press briefing held online by the Ministry of Foreign Affairs.
Viet Nam welcomes other countries' stance on the East Sea issue in accordance with international law, the 1982 UNCLOS, and shares the view expressed in the 36th ASEAN Summit's statement, and the Joint Communiqué of the 53rd ASEAN Foreign Ministers' Meeting (AMM 53), which states that the 1982 UNCLOS is the legal framework for all activities in the oceans and seas, Hang said.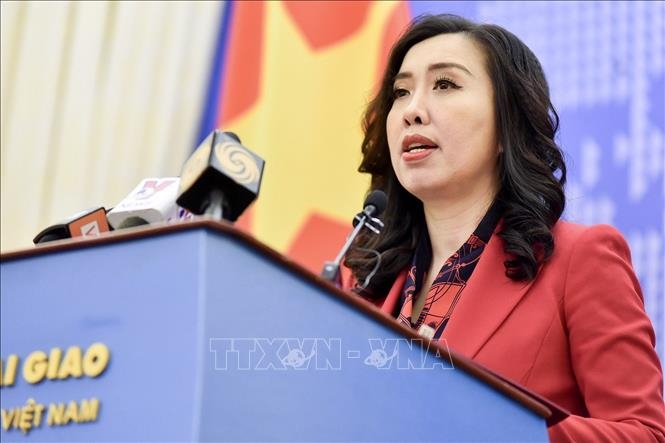 Foreign Ministry spokesperson Le Thi Thu Hang said Viet Nam would support the maintenance of peace and stability in the region, security, safety and freedom of navigation and aviation (Photo: VNA)
"With that in mind, together with other ASEAN countries, Viet Nam hopes that all countries, including ASEAN partner countries, will make efforts to contribute to maintaining peace, stability, and cooperation in the East Sea, and resolving disputes through dialogue and other peaceful measures in accordance with international law, the 1982 UNCLOS, for the common interest and in accordance with the aspirations of regional countries and the international community," Hang said.
She once again affirmed that Viet Nam has always made positive and responsible contributions to this process.
Regarding China's coast guard law, which took effect on February 1, Hang said countries are obliged to comply with international laws and international treaties to which they are a signatory, especially the 1982 UNCLOS, when they issue and implement national legal documents relating to the sea, VGP reported.
Nine new local COVID-19 cases bring national tally to 1,957
Viet Nam documented nine new community infection cases of COVID-19 on Thursday afternoon, bringing the patient tally to 1,957.
The latest patients, numbered from 1949 to 1957, comprise one in Hai Duong, two in Quang Ninh, four in Gia Lai, one in Ha Noi and one in Binh Duong, as reported by VGP.
Specifically, patient 1949 is a 17-year-old girl in Tan Truong Commune, Cam Giang District, Hai Duong.
Of the national patient tally, 375 have been confirmed since January 27. Of these 278 have been reported in Hai Duong, 44 in Quang Ninh, 22 in Ha Noi, 18 in Gia Lai, five in Binh Duong, three in Bac Ninh, two in Hoa Binh, one in Bac Giang, one in Hai Phong, one in HCMC.
(Photo: VNE)
Secretariat's Permanent member calls for better preparation for Lunar New Year
Permanent member of the Party Central Committee's Secretariat on February 3 called on the entire political system and people to strengthen caring for policy beneficiaries amid organisation of celebrations for the 2021 Lunar New Year holiday from February 10 to 16, 2021, according to NDO.
1. Focus intently on COVID-19 epidemic prevention and control under the direction of the Permanent members of the Party Central Committee's Secretariat, the Prime Minister's instructions and all related dispatches.
2. Continue to thoroughly grasp and strictly implement Directive No.48-CT/TW, dated December 9, 2020 of the Secretariat on the organisation of the 2021 Lunar New Year (Tet) holiday, as well as all dispatches and directions of the Prime Minister on ensuring political security, social order and safety during the Tet holiday; preparing optimal conditions for people to enjoy the Spring festival and celebrate Tet; taking good care of the people's material and spiritual life during Tet, ensuring every family can enjoy the Spring festival; and in particular, taking care of policy beneficiaries, people with meritorious services to the revolution, people in difficult circumstances, ethnic minority people in remote and far-flung areas and regions hit by natural disasters or epidemics.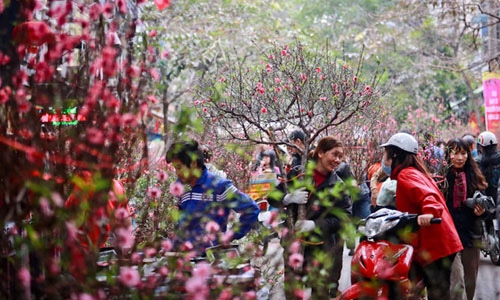 (Photo: To Quoc)
3. Localities should consider the necessity for fireworks displays, strictly comply with regulations on epidemic prevention and control and perhaps save resources to care for needy people and policy beneficiaries and the anti-epidemic work.
4. Public vehicles are prohibited to go to festivals during working hours (unless assigned by the competent authorities in some special circumstances).
Jasmine Le