Vietnam News Today: Government lifts social distancing restrictions
Vietnam news today May 8: VN rejects China's unilateral fishing ban in East Sea, Gov't lifts social distancing restrictions, shares experience in post-COVID-19...were headlines and breaking stories.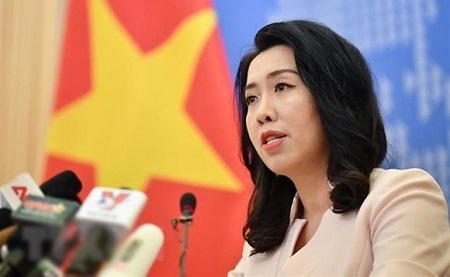 Foreign Minister Spokesperson Nguyen Thi Thu Hang (Photo: VGP)
VN rejects China's unilateral fishing ban in East Sea
Accordingly, Hang reiterated that Viet Nam has sufficient historical and legal evidence affirming its sovereignty over Hoang Sa and Truong Sa archipelagoes in accordance with international law.
As a littoral country and a signatory of the 1982 United Nations Convention on the Law of the Sea (UNCLOS), Viet Nam has sovereignty, sovereign right and jurisdiction over its waters as defined in the UNCLOS and enjoys other legitimate rights and interests at sea in accordance with the provisions of the UNCLOS, said the Spokesperson.
Given the current regional and global context, Viet Nam demands China not further complicate the situation in the East Sea, she stressed, VGP reported.
Gov't lifts social distancing restrictions on production and services establishments
Prime Minister Nguyen Xuan Phuc has lifted social distancing against business establishments but safety measures such as wearing face masks and hand washing remain mandatory.
In a latest announcement, the Government chief requested restaurants and dining facilities to ensure hand disinfection, while discos and karaoke services are not yet allowed to return to operation.
Regarding sport events and activities with large crowds, wearing masks and hand washing are compulsory.
Health care facilities are allowed to reopen to serve the people's medical checkup and treatment needs.
Concerning customs clearance of goods through auxiliary border gates on the Viet Nam-China borders, PM Phuc agreed to allow the reopening of some minor border checkpoints and border crossings in Lang Son and Quang Ninh at the proposals of the two provinces that share borderline with China.
Such border gates and crossings include Binh Nghi, Na Hinh, Na Nua and Po Nhung of Lang Son and Bac Phong Sinh and Ka Long of Quang Ninh, according to VGP.
Vietnam shares experience in post-COVID-19 development policies
The Vietnamese Ambassador to India Pham Sanh Chau was in attendance for an online seminar regarding post-Covid-19 development policies organised by the International Chamber of Media and Entertainment Industry (ICMEI) along with the Armenian Ambassador to India Armen Martirosyan on May 7. The pair were joined by a further 100 representatives from India's entertainment and media industry.
The seminar offered Ambassador Chau a platform to share the country's successful experience in fighting against the COVID-19 pandemic, noting how the nation had won the first stage of the fight against the virus with the number of recovered patients making up roughly 90% of all cases.
The presentation given by Ambassador Martirosyan outlined that the world is facing an unprecedented situation in its history and is therefore a challenge to take comprehensive measures at this time. Currently, the majority of countries are focusing on two major issues, namely protecting the capacity of public health services in addition to preventing the further spread of the COVID-19.
According to Ambassador Martirosyan, the role of each governments in this period is pivotal in terms of dealing with declining economic growth along with facing the transformations to economic activities and the digital economy.
Sandeep Marwah, ICMEI President, offered congratulations to Vietnam on initially bringing the epidemic under control, while adding that the situation in India has changed drastically after nearly 60 days of nationwide lockdown.
Therefore, the Indian government must devise fresh measures to adapt to the current situation. He also pointed out there are a number of sectors with great potential for strong growth following the conclusion of the virus, such as health care, insurance, digital industry, and media, VOV reported.
Vietnamese carrier conducts direct flight to the US for first time in history
The Vietnam Airlines special flight to repatriate Vietnamese citizens in the US landed at San Francisco International Airport on May 7.
San Francisco International Airport (SFO) on May 7 said on its Facebook:
"Today is a historic day at SFO as we welcomed the very first Vietnam Airlines passenger flight to the United States. This repatriation is being operated on one of Vietnam Airlines new Boeing 787-10 aircraft. SFO is proud to welcome this special flight!"
Vietnam Airlines on May 7 announced it had completed all necessary procedures at the request of the United State to conduct the flight to repatriate Vietnamese 'stranded' in the US.
Earlier, the flight was postponed due to some complicated procedures from the US.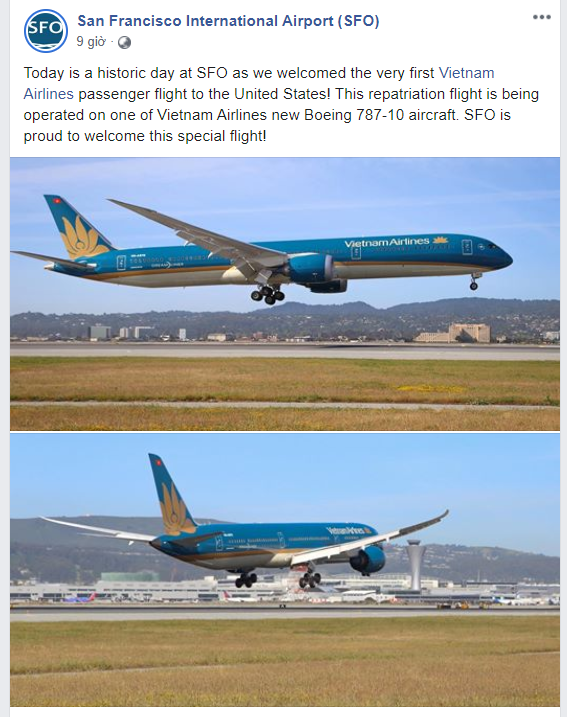 (Photo: Captured)
As many of those citizens have moved to the San Francisco International Airport waiting to fly back to Vietnam, the Vietnamese General Consulate in San Francisco has sent many officials to the facility to help them. The ministry advised them to keep calm and observe seriously the host authorities' regulations and guidance by Vietnamese representative offices.
During the suspension of commercial routines between Vietnam and foreign countries due to the COVID-19, the Government has allowed the licensing of a number of single fights to bring home stranded overseas Vietnamese.
Under the Prime Minister's directive, priority will be given to the elderly, the sick and people under 18.
Government supports film industry
According to a document signed by Vice Chairwoman of the Government Office Mai Thi Thu Van, the Ministry of Finance and the State Bank of Vietnam will consider helping businesses in the film industry at the request of the Vietnam Association of Film Promotion and Development (VFDA).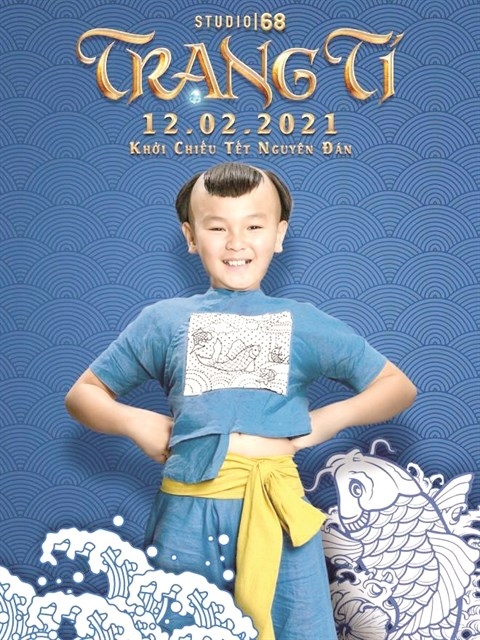 Vietnamese movie Trang Ti (Child Master) is one of many to change its release date to next year. (Photo thethaovanhoa.vn)
Cinemas have been closed since the start of the pandemic, but owners still have to pay rent. Plus, some film releases have been postponed. Filming has also ground to a halt as most sets need a hundred or more people to shoot.
VFDA Chairwoman Ngo Phuong Lan has asked the Government to give businesses in the film industry a tax break and defer individual income tax payments in 2020.
The association has also asked for employee social insurance to be deferred and preferential interest rates from banks.
(Video: VTV News)
Vietnam dong predicted to weaken this year

Fitch Solutions experts believe the Vietnam dong to gradually depreciate against the US dollar over the long term due to its overvaluation and Vietnam's higher inflation vis-à-vis ...
National
Vietnam News Today (October 21): Vietnam confirms 3,635 new local Covid-19 cases; Ministries asked to facilitate exit, entry by Vietnamese, foreigners; Winter monsoon to hit northern Vietnam; Vietnam Airlines plans to operate nearly 40 domestic routes.