Vietnam News Today (Jan. 14): Vietnam Remains Among Top Investment Destinations Globally
Vietnam News Today (Jan. 14): Vietnamese, Chinese provinces hold joint border patrol; Vietnam remains among top investment destinations globally; Vietnam wins global respect for human development achievements; Vietnam's GDP to grow by 6.83% this year.
Vietnam News Today (Jan. 14) notable headlines
Vietnamese, Chinese provinces hold joint border patrol
Vietnam remains among top investment destinations globally
Vietnam wins global respect for human development achievements
Vietnam's GDP to grow by 6.83% this year
'Unicorn Launching' to support 3,000 enterprises to go digital in 2023
RoK parliament speaker hails HCM City's contribution to Vietnam-RoK ties
Vietnam - Kazakhstan freight rail route launched
Vietnamese fruits introduced at festival in China's Tianjin city
RoK parliament speaker starts official visit to Vietnam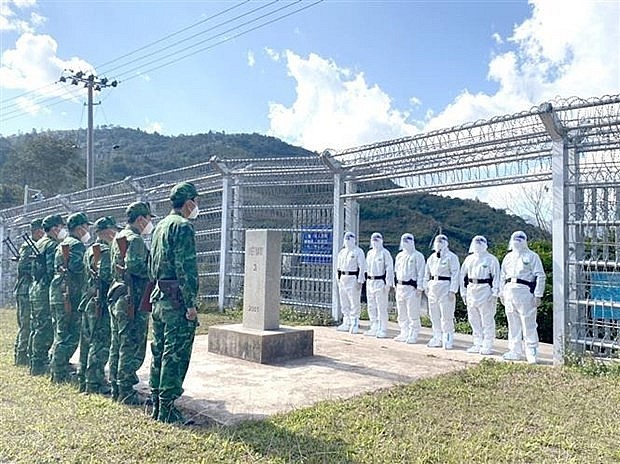 Vietnamese border guards and Chinese ones conduct a joint patrol on January 12. Photo: VNA
Vietnamese, Chinese provinces hold joint border patrol
Border guards stationed in Vietnam's northern province of Dien Bien coordinated with their counterpart in China's Yunnan province held a joint patrol along the shared border on January 12.
They patrolled the border from Marker No 2 to Marker No 3 along the Vietnam-China borderline and exchanged information about people's activities along the borderline.
Their inspection found that the border system and landmarks are maintained properly, and people in the border areas strictly abide by the Agreement on Border Management Regulations. Political security and social order and safety on both sides are also ensured.
At the end of the patrol, the two sides drew experience, and agreed on the time and content for the next joint patrol.
Since the outbreak of the COVID-19 pandemic, the border management forces of the two sides have regularly exchanged information and strengthened border area management and disease prevention and control.
The two sides closely coordinated in handling and preventing illegal activities such as illegal entry and exit, cross-border drug trafficking, or smuggling, cited VNA.
Vietnam and China share a border of almost 1,450 km, including 1,065.6 km on land and 383.9 km over water. It traverses seven Vietnamese provinces - Dien Bien, Lai Chau, Lao Cai, Ha Giang, Cao Bang, Lang Son, and Quang Ninh - and China's Yunnan province and Guangxi Zhuang Autonomous Region.
Vietnam remains among top investment destinations globally: EuroCham
Despite the Business Climate Index (BCI) falling to 48.0 points in the fourth quarter of 2022, Vietnam remains among the top global investment locations, according to the European Chamber of Commerce in Vietnam (EuroCham).
The BCI figure for quarter IV represents a drop of 14.2 points compared to three months prior and 25 points from quarter I of 2022.
"Things were definitely less positive in the fourth quarter of 2022 than they were earlier in the year," said Alain Cany, chairman of EuroCham.
"Although the situation is very likely to continue in this direction in 2023, this shouldn't be viewed as a cause for concern. In fact, Vietnam's economic opportunities continue to exceed those of its regional and international peers. This is evident from the fact that so many of EuroCham's members consider Vietnam central to their global investment strategies," added the EuroCham representative.
"It is also encouraging to see that foreign direct investment from Europe and around the world remains high and continues to grow, especially in Vietnam's green industries and manufacturing. It is clear that, with this FDI, Vietnam's strong economic fundamentals, and its commitment to sustainability, the country is still among the top investment destinations in the world. As a result, the European business community remains confident in the Vietnamese market," he noted.
Though the Vietnamese economy grew by 5.92% in the fourth quarter of 2022 and 8.02% for the whole year, this data comes amid continued global economic volatility as a result of a perfect storm of factors such as a slowdown in global growth, interest rate hikes, sustained inflation, and bruised consumer confidence.
EuroCham invites its 1,300 members, who represent virtually all sectors of the Vietnamese economy, to provide quarterly feedback on the local business environment and forecasts for their own businesses in the Vietnamese market.
With only 27% of respondents anticipating economic stabilisation or improvements to be made during quarter I, the BCI results also suggest a growing sense of pessimism. Compared to projections made in quarter IV, when 42% shared this sentiment, this marks a 15-point decline. Over the past quarter, the number of people who anticipated an economic downturn has also doubled.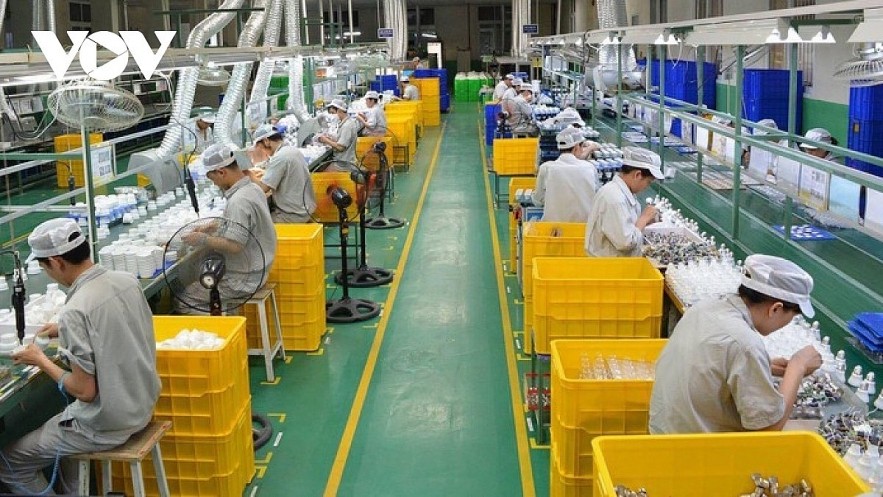 Photo: VOV
In total, 41% of respondents stated their company is shifting operations from China to Vietnam, up from 13% in quarter III. Furthermore, approximately 35% of respondents ranked Vietnam among the top five global investment destinations for their company, with 12% stating that the country was their firm's top international investment site.
The three most significant regulatory barriers to foreign companies operating in the Vietnamese market include a lack of clarity regarding rules and regulations (51%), administrative issues (41%, as well as visa and work permit difficulties (30%).
In spite of these difficulties, 58% of BCI respondents were satisfied with the attention policymakers pay to the needs and requirements of business when setting relevant policies.
In terms of what the country should do to improve its FDI attraction prowess, reducing administrative difficulties at 70% retained the top spot. This has been the case since this question was first raised with BCI respondents in quarter II of 2022. In addition, the issue of reducing visa difficulties for foreign experts has become increasingly pertinent, increasing by eight points from quarter III of last year.
According to the survey, 63% of respondents believed they are sufficiently knowledgeable about the EU-Vietnam Free Trade Agreement (EVFTA). Moreover, nearly half of respondents maintained that the EVFTA is relevant to or very relevant to their business, indicating no significant change compared to quarter III of 2022.
BCI participants also reported that new generation free trade agreements had led to a positive effect on the growth of their businesses, their financial health through tariff reductions, and the overall strength of their supply chains.
This latest BCI showed some concerns regarding the EVFTA's administrative procedures, a lack of understanding of the agreement, and technical barriers, which have combined to trade have all decreased.
Vietnam wins global respect for human development achievements
UNDP Resident Representative in Vietnam Ramla Khalidi has commended Vietnam for its achievements in poverty reduction and development, as well as the country's commitments to sustainable development goals (SDGs).
"Vietnam has earned the respect of the global community and UNDP for its achievements in poverty reduction and human development," she said in an interview with the Vietnam News Agency on the occasion of the coming Lunar New Year (Tet) holiday.
According to Khalidi, Vietnam offers many positive lessons for other developing countries, especially with regards to eliminating hunger, accelerating job creation for individuals and households in the bottom 40% of the population by income, increasing access to quality education and health care, and building basic infrastructure to achieve universal access to electricity and clean water.
She noted that Vietnam's commitment to the SDGs is evident in the incorporation of the SDGs to 115 Vietnam SDGs, which are included in national development plans and strategies.
"I am deeply impressed by the close partnership between the Government and UNDP and other UN agencies to closely monitor progress toward the SDGs, improving the quality of data and analysing remaining gaps and policy responses," she said.
The official lauded the rapid and equitable roll-out of vaccines during the COVID-19 pandemic in the Southeast Asian nation, which she considered a good example of the capacity of the Government in planning and implementing a complex national programme in a timely and effective manner.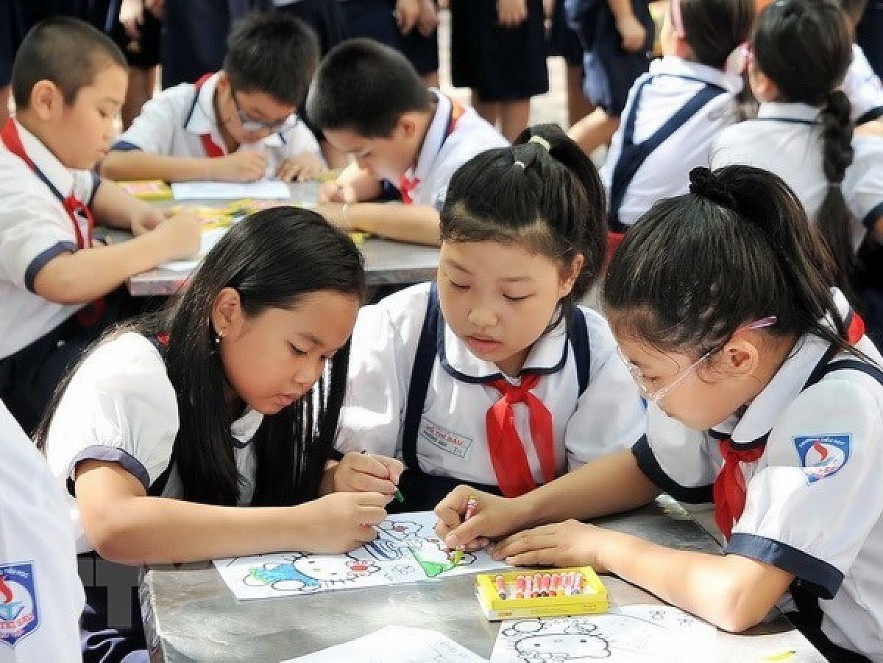 Vietnam has earned the respect of the global community and UNDP for its achievements in poverty reduction and human development. Photo: VNA
"The success of the immunisation programme made possible a robust economic recovery in 2022, including a significant rebound in domestic consumption among the poor and near poor," she added.
Notably, Vietnam enjoyed a robust and broad recovery in 2022 after two years of slow growth during the COVID-19 pandemic, with its GDP growth for the year could be as much as 8% - much higher than earlier forecasts, according to VNA.
This strong recovery was achieved despite powerful headwinds like rising energy and food prices, strengthening US dollar, slow growth in external markets, and the lingering effects of the pandemic, she said.
Khalidi, however, pointed out that Vietnam is still among the most vulnerable countries to climate change, saying despite tremendous domestic efforts to effective response to disasters and building resilience and adaptive capacities for the vulnerable communities who are at the frontlines of climate extremes, the country is still at high stake of climate losses annually in a number of sectors such as infrastructures, agriculture and food systems, water and natural resources, urban development and transportation.
Khalidi held that adapting to the negative effects of climate change and urgently mitigating the cause of global warming by cutting GHG emission to net zero target by 2050 will require an additional 30 billion USD per year in public and private investment over and above the business-as-usual situation.
In this situation, she suggested, public investment will play an important role in sustaining domestic demand, provide essential services like health care, education and clean water and sanitation, and provide conducive conditions to crowd in private investments and new international ODA to tackle the climate challenges.
A priority for next year and for the remaining years of the Socio-Economic Development Plan and Socio-Economic Development Strategy to 2030 is to achieve a closer alignment of public investment to national plans and strategies, Khalidi said.
Vietnam's GDP to grow by 6.83% this year: CIEM
Vietnam's Gross Domestic Product (GDP) is likely to reach 6.83% and inflation to be curbed at below 3.7% this year, according to projections by the Central Institute for Economic Management (CIEM).
Addressing a recent seminar, Nguyen Anh Duong, head of the CIEM's Research Division, emphasised that the Vietnamese economy recorded impressive results last year with GDP accelerating 8.02%, plus positive signs in import-export activities.
However, Duong pointed out that with a shortage of export orders, the country's economic growth rate has been slowing down since the fourth quarter of last year, which is projected to continue lingering until the opening months of this year.
In its latest report, CIEM has put forward two scenarios for the Vietnamese economy in 2023 based on the current global and domestic economic situation.
In the first scenario, Vietnamese GDP growth is anticipated to rise by 6.47%, inflation to be kept at 4.08%, exports to expand by 7.21%, and trade surplus to bring back US$5.64 billion.
In the event of the positive scenario, labour productivity is forecast to increase while GDP growth, inflation rate, and export growth will reach 6.83%, 3.69%, and 8.43%, respectively, while trade surplus will rise to US$8.15 billion.
This year the Vietnamese economy is anticipated to face numerous challenges, said CIEM experts, noting that the country needs to fully evaluate its achievements and the overall quality of growth in a bid to devise proper adjustments and fulfil the set goals.
The national economy is likely to endure other external factors, including the containment efforts for emerging SARS-CoV-2 variants, the prolonged impact of the Russia – Ukraine conflict, and tightened monetary policies in key economies to deal with inflationary pressures.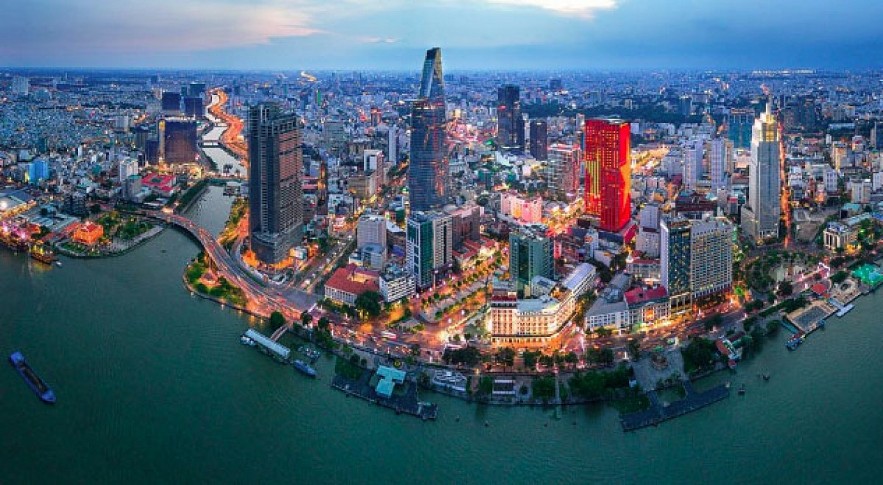 Ho Chi Minh City is the trendiest Asian destination of 2023. Photo: Internet
Think tanks also underscored the importance of the implementation of the country's Socio-Economic Development and Recovery Programme, saying in the event that macroeconomic stability is maintained, Vietnam will be able to continue to reform and promote fiscal and monetary measures in order to restore economic growth.
Most notably, the country's economic growth will largely depend on its ability to diversify export markets, take full advantage of opportunities from free trade agreements (FTAs), and handle risks related to trade conflict among major powers and the depreciation of regional currencies against the US$.
Economists also emphasised the necessity of improving the micro-economic foundation and renovating the economic institutional system in order to effectively handle risks amid global economic fluctuations.
'Unicorn Launching' to support 3,000 enterprises to go digital in 2023
In 2023, 'Unicorn Launching', the comprehensive sponsorship program for startups and small and medium enterprises (SMEs), is expected to approach 100,000 enterprises and support the digital transformation of 3,000 enterprises.
The program has been launched by the Vietnam Institute of Digital Economy and Management Science (VIDEM) and the Kim Nam Group technological ecosystem.
According to experts, Vietnam is becoming a potential destination for investment funds. However, Vietnam's startups and SMEs face barriers in accessing capital sources, including the unclear legal framework.
Meanwhile, enterprises find it difficult to prove the feasibility of projects and expected business efficiency.
In addition to the rapid development of the innovative startup ecosystem, a digital ecosystem which supports and incubates startups and SMEs has become an urgent need.
Nguyen Kim Hung, acting head of VIDEM, said that a unicorn enterprise is understood a digital technology firm with strong growth.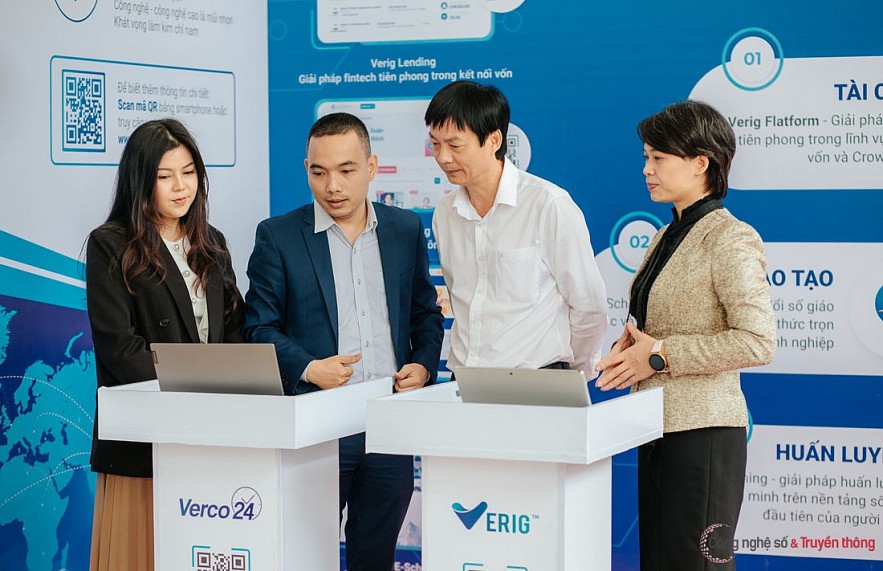 VIDEM's experts introduce some platforms that help enterprises go digitized.
However, 'Unicorn Launching' has a larger meaning. Inspired by 'unicorns', the program is expected to see exploits that any business can obtain during a short time with the support of the program.
"Unicorn Launching" includes a digital ecosystem to support and incubate startups and SMEs. The enterprises joining the program will have the opportunity to get advice and support to complete legal, personnel, financial and sale and marketing systems.
Particularly, enterprises will receive technological platforms that help move entire systems into the digital environment. They will also be provided short- and long-term capital for business activities, reported VNN.
Phu Tho was the first locality where the program was implemented with the sponsor being the provincial SMEs association, in December 2022. The program has given assistance in 11 digital transformation packages to 11 members of the association with total value of over VND1 billion.
A representative of VIDEM told VietNamNet that the program plans to approach 100,000 startups and SMEs nationwide this year and support the digital transformation of 3,000 enterprises.
In Q1 2023, the institute will cooperate with business associations of several northern provinces, including Quang Ninh and Bac Kan, to deploy the program there. The SMEs and startups which have projects can make direct registration at unicornlaunching.smemoney.vn.