Vietnam News Today (Jan. 8): Overseas Vietnamese to Receive Favorable Conditions to Return to Homeland
Vietnam News Today (Jan. 8): Vietnam records 16,254 new Covid-19 cases; Vietnam tightens management on drugs for Covid-19 treatment; Overseas Vietnamese to receive favorable conditions to return to homeland; HCMC, Da Nang eye return of foreign tourists in 2022.
Vietnam News Today (Jan. 8) notable headlines
Vietnam records 16,254 new Covid-19 cases
Vietnam tightens management on drugs for Covid-19 treatment
Overseas Vietnamese to receive favorable conditions to return to homeland
HCMC, Da Nang eye return of foreign tourists in 2022
Vietnam Airlines first launches e-commerce platforms
FDI in southern key economic region rises sharply despite Covid-19
AEON regards Vietnam as leading market in Southeast Asia
Vietnamese tea enjoys surge in Taiwanese market
Covid-19 outbreak in HCM City hotspot wanes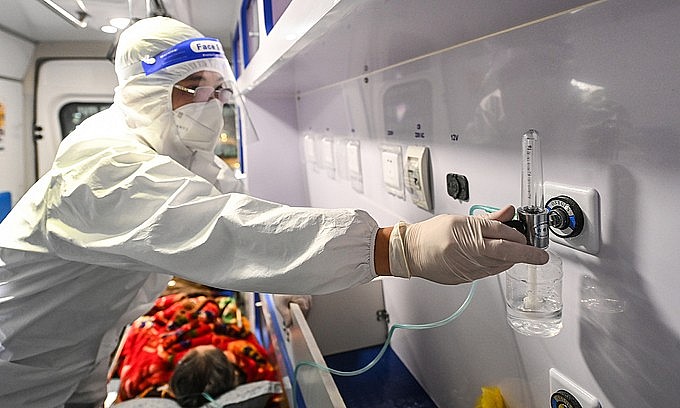 Transferring Covid-19 patient in Hanoi. Photo: VnExpress
Vietnam records 16,254 new Covid-19 cases
Health authorities announced 16,254 Covid-19 domestic cases Friday in 59 cities and provinces, with Hanoi still in the lead.
Hanoi recorded 2,723 cases, followed by Hai Phong with 795 and Khanh Hoa with 790.
The death toll since the pandemic started has risen to 33,877 after 233 deaths were announced in the past 24 hours.
In the latest wave that hit the country in late April, more than 1.85 million cases have been confirmed and 1.47 million of them have recovered, cited VnExpress.
So far, more than 70.5 million people have been fully vaccinated.
Vietnam tightens management on drugs for Covid-19 treatment
The Drug Administration of Vietnam under the Ministry of Health (MoH) has issued a document to tighten inspections, examinations, and handling of violations in Covid-19 drug trading.
According to the drug administration, since mid-August the MoH has been implementing a pilot scheme to use Molnupiravir as a way of treating mild and asymptomatic Covid-19 cases at home.
To ensure the safety of drug users and strictly handle violations in drug trading, the administration has asked the local health departments to continue investigating the online advertising, sale, and purchase of Covid-19 treatment drugs, as well as looking into medicines of unknown origin and any unreasonable price increases which may occur, according to VOV.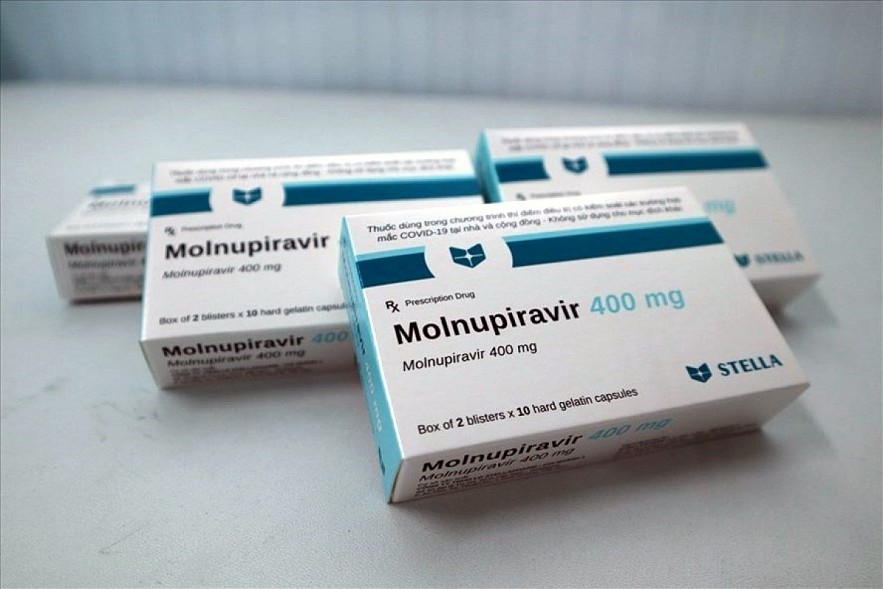 Vietnam tightens management on drugs for Covid-19 treatment. Photo: laodong.vn
It also requested that the Hanoi Department of Health urgently co-ordinate with relevant authorities to focus on inspecting and checking information regarding the sale of Molnupiravir at pharmacies across the capital.
All violations must be strictly handled to prevent the smuggling of trial drugs in the market, it said
In another development, an advisory council of the MoH on January 5 proposed that the Ministry grant certificates of registration for conditional circulation of three medicines containing the active ingredient Molnupiravir for Covid-19 treatment.
Molnupiravir has been used globally to treat mild and asymptomatic Covid-19 patients.
Most notably, the medication has proved to be both safe and effective at reducing the risk of hospitalization and death among mild to moderate patients who are at increased risk of developing severe symptoms.
OVs to receive favorable conditions to return to homeland: official
The best possible conditions will be created for overseas Vietnamese (OVs) to return to the homeland with safety from the pandemic ensured, especially now that the Lunar New Year festival is just around the corner, Deputy Minister of Foreign Affairs Pham Quang Hieu has said.
Chairman of the State Committee for OV Affairs also said repatriating OVs amid the Covid-19 pandemic is a major policy of the Party and State.
During the recent overseas trips by Vietnamese leaders, OVs expressed their wish to visit the homeland, attracting great attention from Party and State leaders who have ordered maximum conditions be created.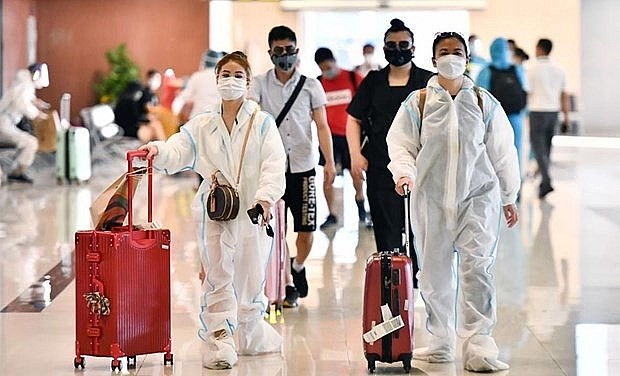 Photo: VNA
He noted that amid the complex pandemic situation around the world, including Vietnam, the Ministry of Foreign Affairs (MoFA) has worked with relevant ministries and sectors to arrange many flights repatriating those with special disadvantages, particularly the workers losing their jobs to the pandemic.
In 2021, MoFA coordinated with the ministries of national defense, health, public security, and transport in organizing 173 flights repatriating over 50,000 people of the priority groups. Besides, another 400 flights brought home about 70,000 others. All of those people went to quarantine facilities right after their arrival back to the country, cited VNA.
Hieu said to meet OVs' demand for returning to the homeland for the Lunar New Year festival - a traditional occasion for family reunion, as directed by Permanent Deputy Prime Minister Pham Binh Minh, MoFA and related agencies have been working to resume regular international flights to the places with high pandemic safety, firstly Beijing/Guangzhou (China), Tokyo, Seoul,Taipei (Taiwan, China), Bangkok, Singapore, Vientiane, Phnom Penh, and San Francisco/Los Angeles (the US), starting on January 1, 2022.
However, as demand among the expatriates is even greater, the ministries have proposed more international flights, aside from those linking with the nine above-mentioned places, be conducted in the form of charter flights to bring home OVs from other countries like what was done in 2020 and the first half of last year, with compliance with anti-pandemic rules ensured.
To do this, on December 16, 2021, the Ministry of Health issued guidance on Covid-19 prevention and control for people entering Vietnam. Accordingly, those who have been fully vaccinated only have to carry out quarantine at their home for three days while the unvaccinated ones must stay at concentrated quarantine sites for a longer period of time. Besides, MoFA is also discussing the "vaccine passport" recognition with other countries' authorities so as to facilitate OVs' travel, the Deputy Minister went on.
As the pandemic remains complicated, especially now that many new coronavirus variants have appeared, and countries are taking different response actions, the repatriation must be aligned with the situation, he noted, adding that the most important thing is to provide the best possible conditions for OVs to travel with ensured pandemic safety.
HCMC, Da Nang eye return of foreign tourists in 2022
Tourist hubs HCMC and Da Nang have unveiled two scenarios for tourism recovery this year, both focused on receiving foreign tourists under a trial vaccine passport program.
Under the first, when the pandemic is under better control, HCMC hopes to receive 25 million domestic tourists and 3.5 million foreign tourists.
Its tourism sector has a revenue target of VND97.7 trillion (US$4.3 billion).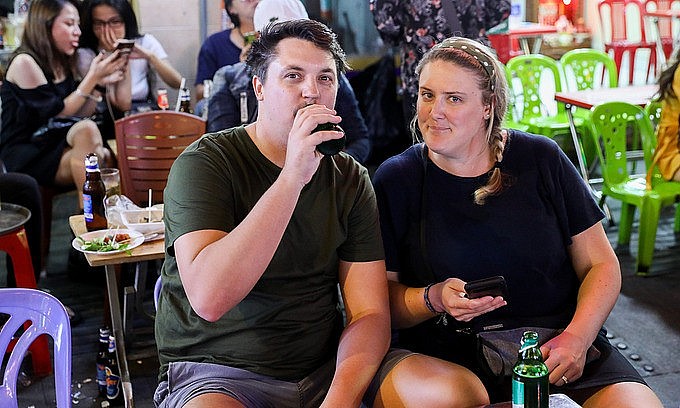 Foreign tourists drink beer on Bui Vien Street in HCMC on December 22, 2019. Photo: VnExpress
Under the second scenario, if the pandemic remains uncontrolled, the numbers fall to 18 million domestic tourists and revenues of VND67.6 trillion.
With over five months of lockdowns, HCMC received only 15 million domestic tourists last year, down 54.3 percent from 2019, according to its Department of Tourism.
In 2019 it had received over 8.6 million foreign visitors, or nearly half the total foreign arrivals in Vietnam, VnExpress reported.
It has got the green light from the government to allow in fully immunized foreign tourists under the trial program starting this month.
Da Nang, with its beautiful beaches and other stunning tourist sights, targets 3.32 million domestic tourists and 180,000 foreign visitors this year under one scenario and two million and 100,000 under the other.
Da Nang received 1.17 million domestic tourists last year, down 55.8 percent from 2019.
HCMC and Da Nang are among seven places where the government has started to allow tourists besides Binh Dinh, Khanh Hoa, Kien Giang, Quang Nam, and Quang Ninh.
Vietnam Airlines first launches e-commerce platforms
National flag carrier Vietnam Airlines on January 7 launched two e-commerce platforms VNAMALL and VNAMAZING to offer affordable, high-quality services to customers.
VNAMAZING is a trading platform that provides online travel services, such as domestic and international tours, and airfare - hotel combos.
The product has been developed by Vietnam Airlines and many big brands such as Vinpearl and Sungroup to provide passengers with a variety of choices at attractive prices, contributing to stimulating tourism demand after the Covid-19 pandemic.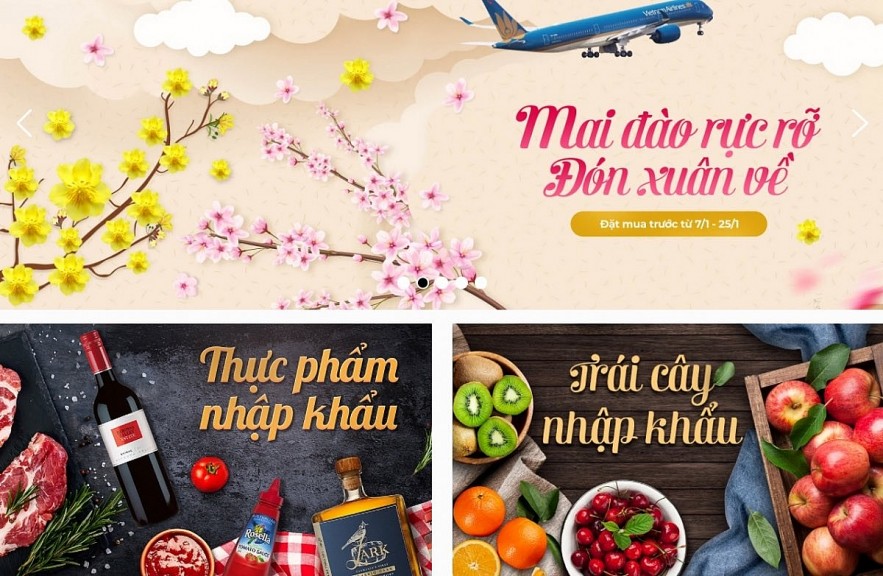 Vietnam Airlines' VNAMALL offers goods and services in both aviation and non-aviation sectors. Photo: VOV
Meanwhile, VNAMALL provides a wide range of goods and services in both aviation and non-aviation sectors.
This is the first e-commerce platform in Vietnam operated by an airline, in order to take great advantage of the large air logistics network and partners on a global scale. Customers can order more than 300 products from reputable suppliers and affiliates of Vietnam Airlines, cited VOV.
For the first time in the domestic aviation industry, Vietnam Airlines has offered its Gift Card on VNAMALL, enabling card holders to exchange for airfares or upgrade their airfares on flights operated by Vietnam Airlines, Pacific Airlines and VASCO, as well as to enjoy other privileges.
Le Hong Ha, director general of Vietnam Airlines, says developing e-commerce is one of the firm's top goals to become a digital airline.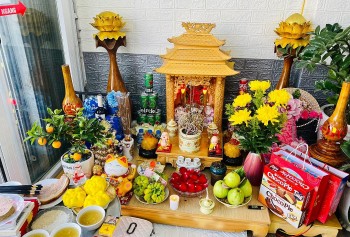 Handbook
Learn more about an ancient Vietnamese tradition that may bring you good fortune!