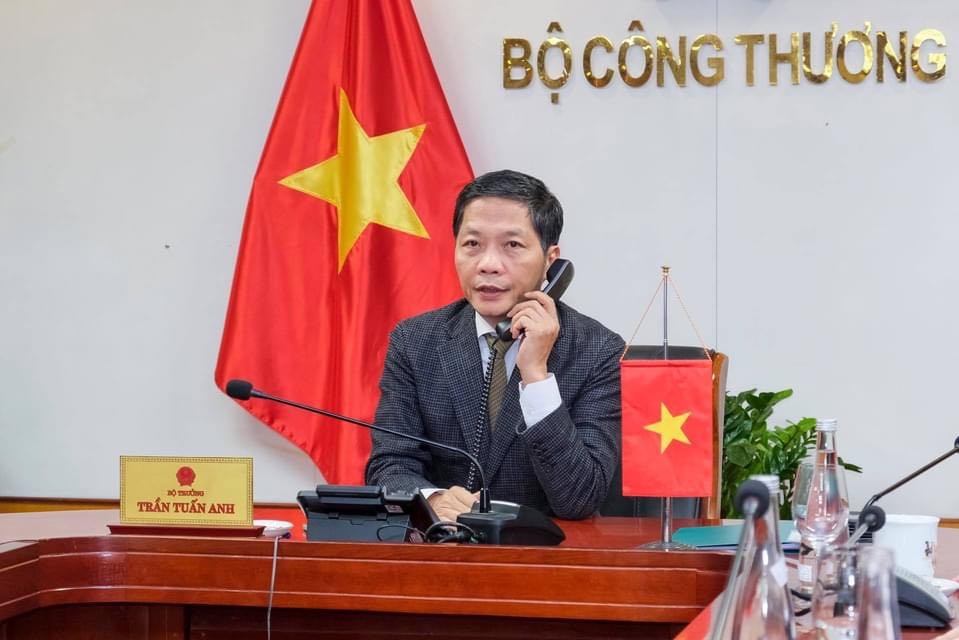 Minister of Industry and Trade Tran Tuan Anh holds phone talks with U.S. Trade Representative Robert Lighthizer. (Photo: VGP)
Viet Nam urges U.S. to carry out fair and transparent investigation into monetary policy
Vietnamese Minister of Industry and Trade Tran Tuan Anh and U.S. Trade Representative Robert Lighthizer have discussed economic and trade issues between the two countries over the phone, according to VGP.
Anh took the occasion to express deep concerns over the U.S. ongoing investigation of Viet Nam's monetary policy and timber materials in accordance with Article 301 of the Trade Act of 1974, saying that the investigation would result in negative impacts on bilateral relations between the two countries and thousands of businesses and millions of Vietnamese and American workers and consumers.
He reaffirmed the Vietnamese Government's stance that Viet Nam, as a developing country with limited economic capacity, has pursued a monetary policy in favor of inflation control and macro-economic stabilization, not in favor of creating unfair trade advantages.
For his part, Lighthizer spoke highly of the outcomes of practical and effective policy dialogues via the Viet Nam - US Trade and Investment Framework Agreement (TIFA) Council mechanism, thus helping both sides to seek satisfactory solutions to many economic and trade issues in short period of time.
Regarding the ongoing investigation on Viet Nam's monetary policy and timber materials, the U.S. Trade Representative said the USTR is still in the process of investigating and evaluating all related opinions and has not made a final decision.
VN kick-starts construction of National Innovation Center
Speaking at the ceremony of the Viet Nam National Innovation Center (NIC) and the opening ceremony of the Viet Nam International Innovation Expo 2021-VIIE 2021, Prime Minister Nguyen Xuan Phuc said that Viet Nam's spending for science and technology in both State and private sectors only accounts for 0.44% of the nation's GDP, much lower than the average proportion of the world (2.23%).
He said Viet Nam must rely on knowledge, science, and technology, especially innovation, all of which can be considered important factors for growth.
Most notably, it is the use of new technology coupled with suitable human resources that will be the decisive factor for long-term growth, the key to achieving development breakthroughs, and helping the country to get out of the middle-income trap, said PM Phuc.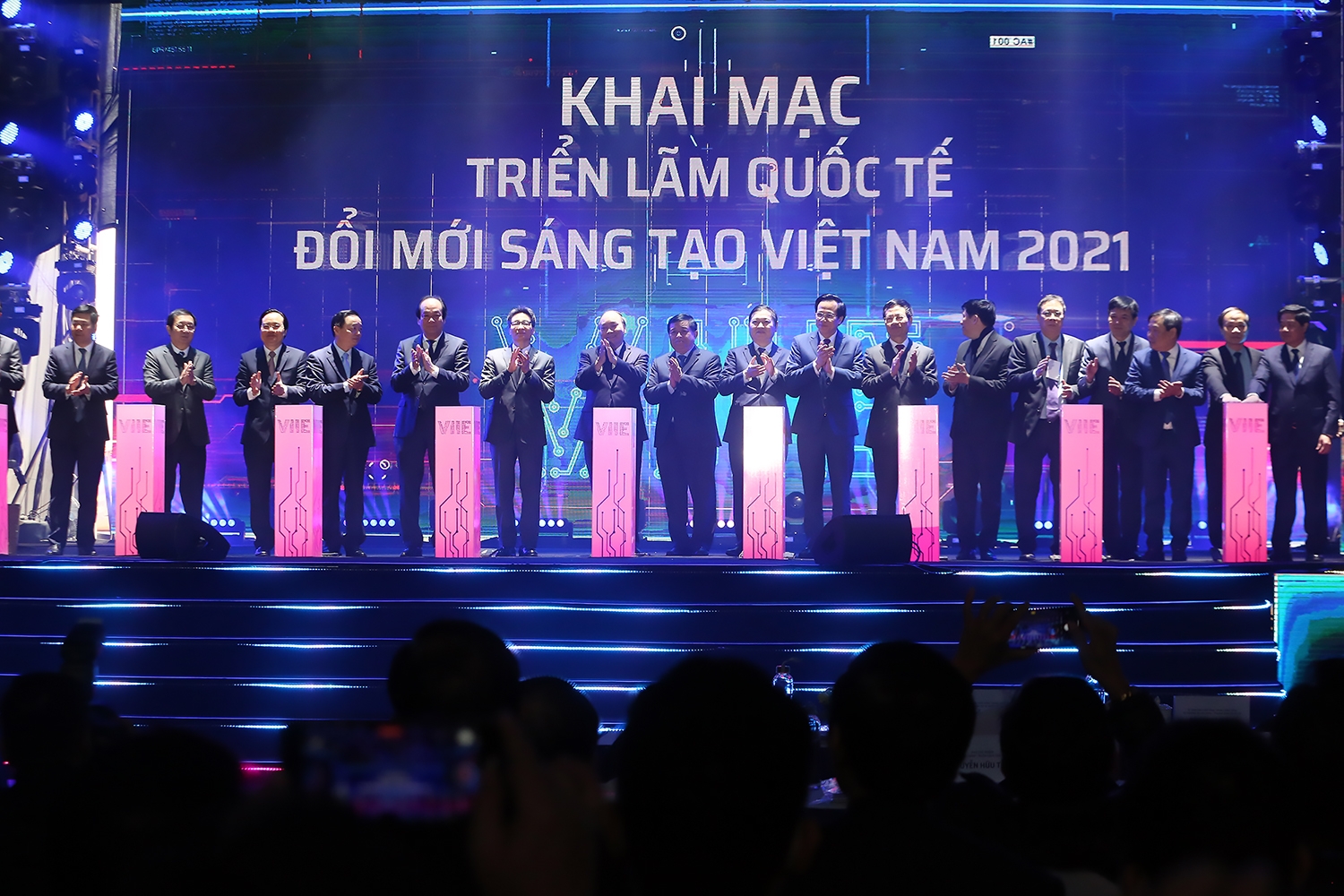 Prime Minister Nguyen Xuan Phuc (7th from left) attends the groundbreaking ceremony of the Viet Nam National Innovation Center (NIC) and the opening ceremony of the Viet Nam International Innovation Expo 2021-VIIE 2021, Ha Noi, January 9, 2021 (Photo: VGP)
He urged ministries, policy-making agencies and the NIC to propose policies and institutions to encourage and promote innovation in business sector, particularly start-ups and innovation.
Phuc stressed the need to promote the role of universities and institutes in strengthening human capital foundation for innovation and attaching research activities to the demands of enterprises and economy.
The PM also called for beefing up the connectivity of domestic and foreign innovation networks on the basis of upholding the crucial role of the NIC, as reported by VGP.
VN confirms one new COVID-19 case
A 25-year-old man repatriated from Japan was confirmed the latest COVID-19 case in Viet Nam on Saturday, taking the patient tally to 1,513.
The man, native of Nghe An Province, landed at the Van Don International Airport in Quang Ninh Province on December 29 and was quarantined in the nearby province of Hai Duong.
He is being treated at the Hai Duong Hospital for Tropical Diseases.
The same day, four more patients declared free of the virus, bringing the total recoveries to 1,361.
So far, Viet Nam has reported 35 COVID-19 fatalities, VGP said.
Shrimp exporters bring home 3.85 billion USD in 2020
Earnings from shrimp exports reached 3.85 billion USD last year, up 15 percent year-on-year despite difficulties caused by the COVID-19 pandemic, according to VNA.
Due to the low price of domestic raw shrimp as of late October, however, breeders were not keen on continuing to breed them, resulting in a shortage in the early days of this year.
Shrimp prices will continue to rise if the market remains the same, said General Director of the Vietnam Clean Seafood Corporation Vo Van Phuc.
Analysts said 2021 will be favourable for shrimp exports and processing thanks to more orders coming from abroad.
Exporters have suggested adopting a flexible approach to markets and diversifying products. Enterprises have been advised to focus on meeting market demand amid the pandemic.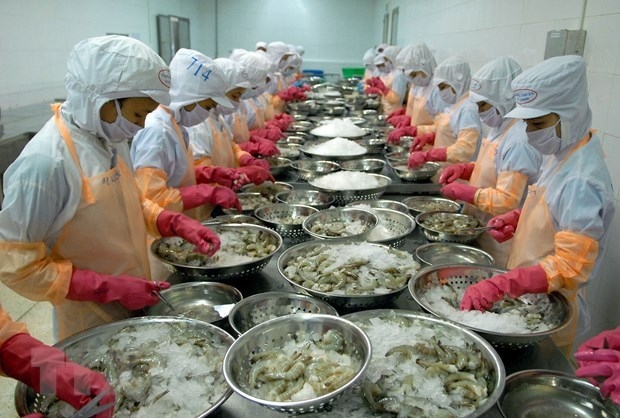 Shrimp processed for exports at Thong Thuan Company Limited in Ninh Thuan province (Photo: VNA)
Gov't issues new rules on foreign workers in Vietnam
The Government recently issued Decree No. 152 featuring regulations on foreigners working in Vietnam and the recruitment and management of Vietnamese working for foreign organisations and individuals in the country.
At least 30 days prior to the day planned to start using foreign labourers, employers, except for contractors, are responsible for identifying the demand for foreign employees for each position that Vietnamese workers have yet to satisfy and explaining the issue to the Ministry of Labour, Invalids and Social Affairs or the provincial-level People's Committees in the localities where foreigners are set to work in.
A foreign teacher lecturing a class in Vietnam (Photo: Vietnam News)
Meanwhile, the ministry or the provincial-level People's Committees have to issue documents accepting or rejecting the use of foreign workers for each job position within 10 working days since the reception of explanation about or report on the change in foreign labourer demand.
Before recruiting foreigners, contractors has responsibility for detailing the number, professional capacity, and experience of foreign workers they want to employ to implement bidding packages in Vietnam, VNA reported.
Jasmine Le