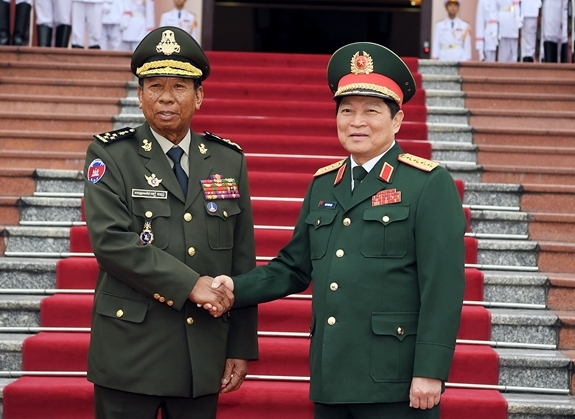 Minister of National Defense Ngo Xuan Lich hosts welcome ceremony for Cambodian Deputy Prime Minister and Minister of National Defense Samdech Picheysena Tea Banh at the Headquarters of the Ministry of National Defense in Ha Noi on December 20, 2019 (Photo: VGP)
Vietnam, Cambodia sign 2021 defense cooperation plan
Vietnamese Minister of National Defense Ngo Xuan Lich and Cambodian Deputy Prime Minister and Minister of National Defense Samdech Picheysena Tea Banh have signed a defense cooperation plan for 2021.
The signing ceremony was held digitally as part of the pair's virtual talks on January 8.
At the talks, both sides spoke highly of the outcomes of bilateral defense cooperation in 2020 despite numerous difficulties caused by the COVID-19 pandemic.
Lich appreciated Cambodia's support for and contributions to the events, especially the ASEAN Defense Ministers' Meeting (ADMM) and ASEAN Defense Ministers' Meeting Plus (ADMM+), hosted by the Vietnamese Ministry of National Defense as the ASEAN 2020 Chair.
Meanwhile, Tea Banh congratulated Viet Nam on outstanding performance as the ASEAN 2020 Chair .
Regarding future cooperation orientations, both sides agreed to continue implementation of the Protocol for 2020-2024 period and the 2021 cooperation plan, with a focus on accelerating communication on the bilateral traditional friendship, solidarity and comprehensive cooperation; improving efficiency of collaboration mechanisms, especially the Defense Policy Dialogue, VGP reported.
New national action program for children adopted
Prime Minister Nguyen Xuan Phuc has approved the National action program for children for the 2021-2030 period with a view to creating a safe, healthy and friendly environment for children.
The program targets to raise the percentage of communes, wards and townships fit for children to 65% and 75% by 2025 and 2030 respectively.
The rate of children aged under eight accessing to comprehensive healthcare services is expected to reach 90% and 95% by 2025 and 2030 respectively, as reported by VGP.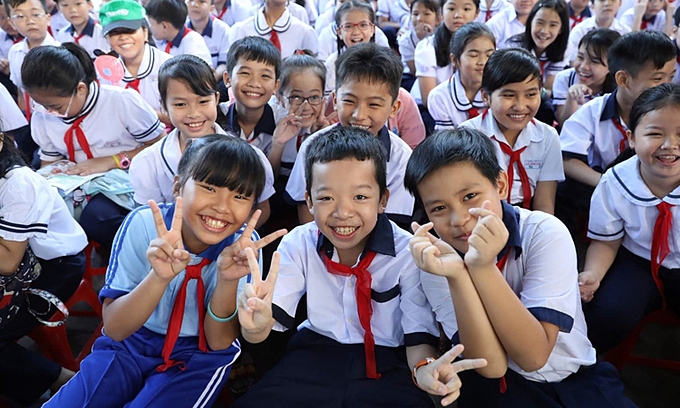 (Photo: VNE)
Procuracy sector urged to pay more heed to new corruption cases
Politburo member and permanent member of Party Central Committee's Secretariat Tran Quoc Vuong on January 8 asked the procuracy sector to pay more attention to detecting and handling new corruption cases and better the work in localities, as reported by VNA.
Speaking at a meeting in Hanoi on January 8, Vuong stressed the need to push ahead with the investigation and settlement of corruption cases in line with regulations of the Party and the State.
The 2021-2026 period marks the building and implementation of a strategy on judicial reform, he reminded, urging the sector to provide consultations in this regard.
He said the sector should work harder to improve the efficiency of the fight against crimes, especially those that tend to rise and develop complicatedly, while proposing solutions to improve the quality of crime combat.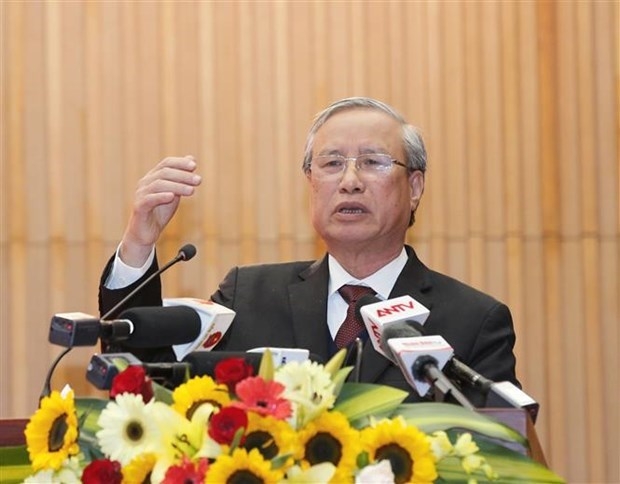 Politburo member and permanent member of Party Central Committee's Secretariat Tran Quoc Vuong speaks at the meeting (Photo: VNA)
He suggested increasing resources for the investigation agency of the Supreme People's Procuracy so that the agency would become an effective tool in preventing corruption acts and judicial violations.
The sector was also asked to pay more heed to personnel training, and resolutely handle the officials who violate laws and show degradation in ideology, morality and lifestyle, Vietnam Plus said.
Austrian expert infected with COVID-19
The Austrian citizen, 39, took EK394 flight from his country to Vietnam on January 5, transiting through Dubai. He was quarantined upon his arrival at Hanoi's Noi Bai International Airport.
He tested positive for the virus on January 7 and was immediately transferred to Hanoi-based Hospital of Tropical Diseases for medical observation and treatment.
The other two patients are Vietnamese citizens who returned to the homeland on separate flights from the United Kingdom on December 22, 2020 and from the Czech Republic on December 26, 2020.
As of 18.00hrs on January 8 Vietnam has recorded a total of 1,512 COVID-19 patients of whom 821 came from epidemic hit countries worldwide, according to VOV.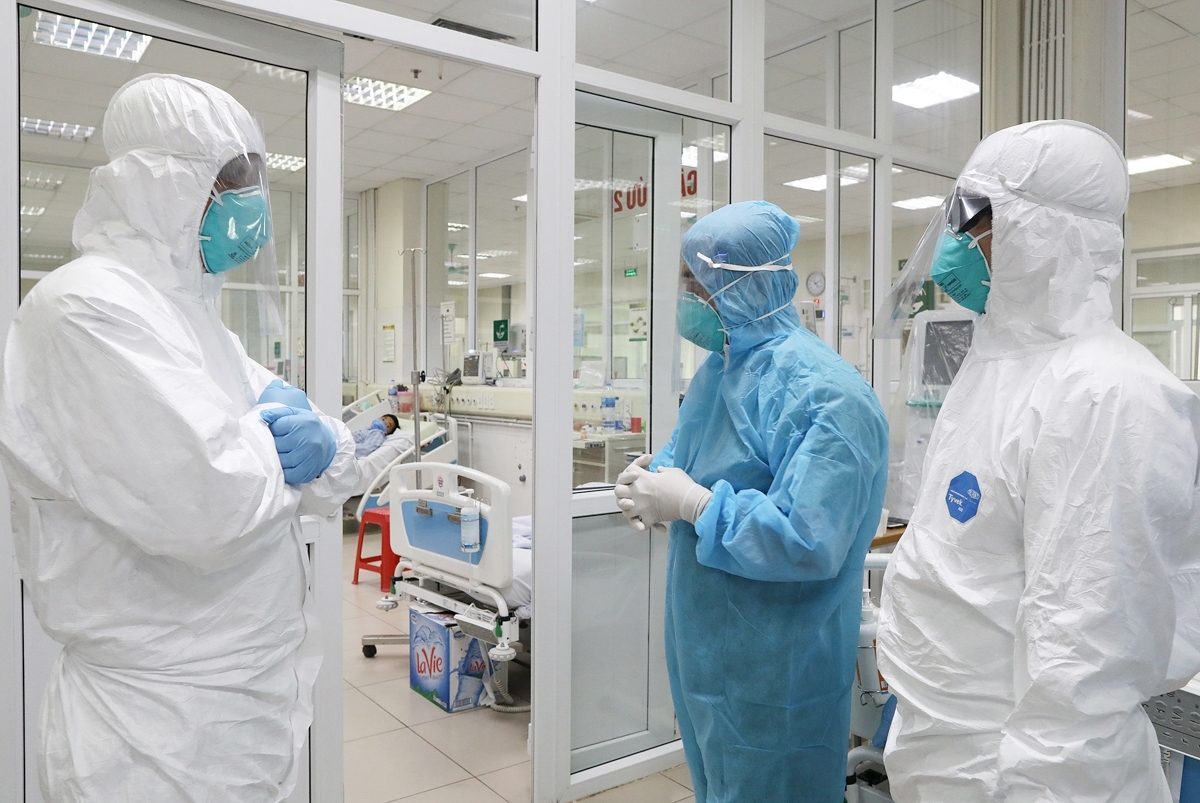 Northern, north central regions gripped in biting cold
A strong cold spell engulfed the entire northern Vietnam on January 8 and expanded to the north central and central regions, causing medium to heavy rains in several areas, according to the National Centre for Hydro-Meteorological Forecasting.
The northern and north central regions are in the grip of biting cold, with the hardest hit being the northern mountainous provinces of Lao Cai, Tuyen Quang, Ha Giang, Cao Bang and Bac Can where the mercury drops to around 7 – 10 degrees Celsius at the lowest and even hits below zero in mountainous areas. Frost and sleet are expected in some areas.
The cold wave lowers temperatures to 13 – 17 degree Celsius in central provinces from Quang Binh to Quang Ngai while the Central Highlands region also experiences cold weather.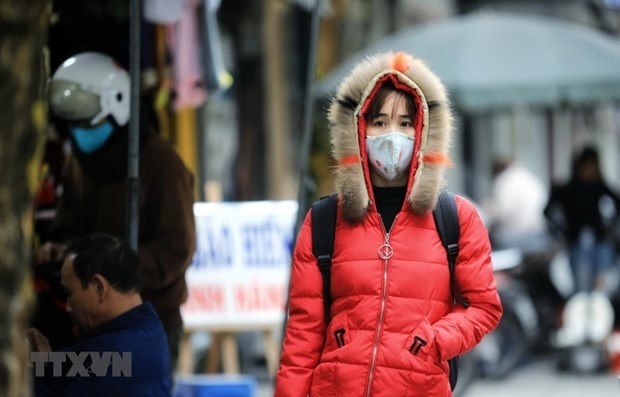 (Photo: VNA)
In response to the cold conditions, weather forecast centres are asked to increase daily weather updates and reports, particularly those in ethnic languages for ethnic minorities living in remote and mountainous regions, and provides advice to help people working outdoors protect themselves from cold-weather hazards.
Local authorities are urged to inform tourists on ice or frost-prone areas. Special warnings must be issued for tourists at at-risk areas.
Meanwhile, schools are advised to cancel classes and outdoor activities, VNA said.
Jasmine Le