Vietnam News Today (Jul. 9): New Covid-19 Subvariants Reported, HCM City Ready to Reactivate Field Hospitals
Vietnam News Today (Jul. 9): New Covid-19 subvariants reported, HCM City ready to reactivate field hospitals; Vietnamese firms interested in Cuban market: Ambassador; Vietnamese edtech startup raises USS$2.4 million from foreign funds; Vietnam aims to expand foreign labour markets in the post-pandemic period.
Vietnam News Today (Jul. 9) notable headlines
New Covid-19 subvariants reported, HCM City ready to reactivate field hospitals
Vietnamese firms interested in Cuban market: Ambassador
Vietnamese edtech startup raises USS$2.4 million from foreign funds
Vietnam aims to expand foreign labor markets in the post-pandemic period
Vietnamese trade surplus to EU reaches US$15.5 billion in H1
Vietnamese delegation to 11th ASEAN Para Games named
Vietnam's GDP growth to be well above 6.5% target, forecast experts
Resort apartments are no longer a 'gold mine' investment
Sotheby's to organize first exhibition in Vietnam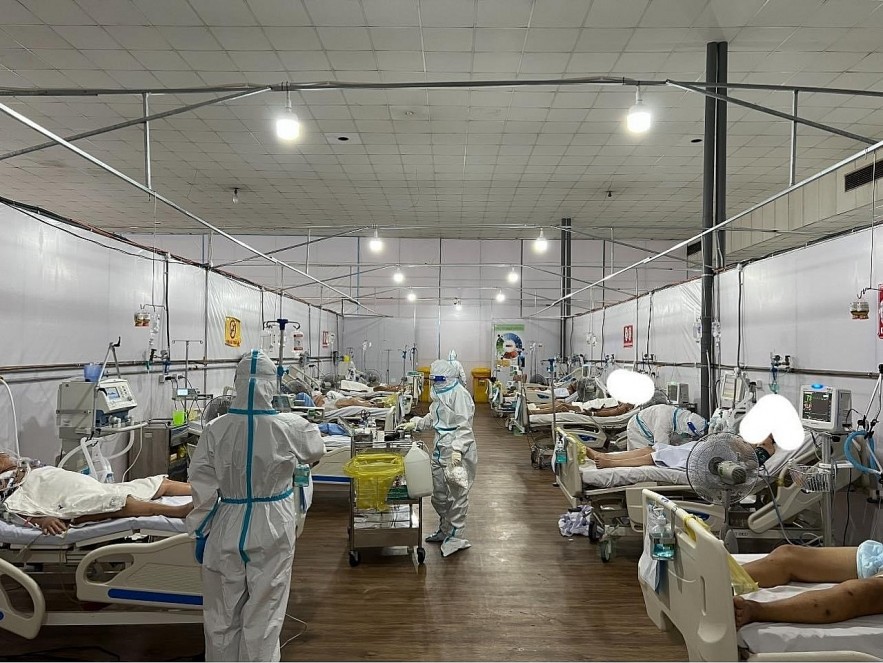 Photo: VNN
New Covid-19 subvariants reported, HCM City ready to reactivate field hospitals
Health officials in Ho Chi Minh City are considering reopening field hospitals to receive and treat coronavirus patients following the emergence of new subvariants of the Omicron variant – BA.4 and BA.5 – in the city.
The number of Covid-19 cases in Vietnam and Ho Chi Minh City in particular is on the rise again due to the appearance of two new subvariants BA.4 and BA.5 of the Omicron.
In Ho Chi Minh City, the first cases of BA.4 and BA.5 subvariants were detected on July 4 through random testing by the municipal Centre for Disease Prevention and Control (HCDC).
HCDC reported the number of new Covid-19 cases in the city has increased slightly over the past three weeks, with more than 50 cases detected per day compared to approximately 30 cases previously.
"The local health sector has developed plans to deal with a resurgence of the disease," said Thien Quynh Nhu, an official of the municipal Department of Health.
"The Ho Chi Minh City Department of Health is ready to reopen field hospitals in case the number of F0 cases rise again," she said. "The health sector is readying scenarios to receive and treat F0 cases in the near future."
Ho Chi Minh City, the most populous locality in Vietnam, established many field hospitals last summer to ease pressure on other hospitals when the coronavirus outbreak reached its peak, cited VOV.
With the virus being brought under control months later, most of these field hospitals were dissolved, and F0 cases could come other hospitals for medical examination and treatment.
Currently, the three-storey field hospital No. 13 with 1,000 beds is suspending admission, but it has been asked to get services ready to use, said Nhu.
"Most importantly, people strictly observe Covid-19 prevention measures such as wearing masks, disinfecting when going to public places, and increasing vaccination," affirmed Nhu.
Subvariants BA.4 and BA.5 are said to spread 10-13% faster than Omicron relatives BA.1 and BA.2, and indicate the potential for reinfections to become more common.
However, most clinical data suggest that vaccination can prevent disease progression and the need for hospitalization.
Vietnamese firms interested in Cuban market: Ambassador
Many Vietnamese investors are interested in the Cuban market and hope to make contributions to the Caribbean country, stated Vietnamese Ambassador to Cuba Le Thanh Tung during a meeting with leaders of Cuban western province of Artemisa on July 7.
Ambassador Tung expressed delight at the progress of Vietnamese-invested projects in Artemisa, most of which are located in Mariel Special Development Zone.
He said that many Vietnamese firms have revealed their intention to invest in solar power, agriculture, tourism infrastructure and many other areas in Cuba.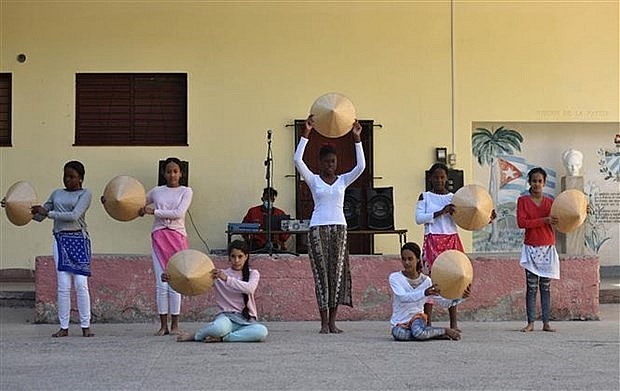 Students at Nguyen Van Troi school perform a dance with the traditional Vietnamese hats on February 15, 2022. Photo: VNA
First Secretary of the Party Committee of Artemisa Gladys Martínez Verdecia highlighted the potential of the locality and challenges it is facing.
Despite geographical distance, Vietnam and Cuba have always stood by each other, and Vietnamese people always keep in their mind the solidarity with the Cuban people, Ambassador Tung stressed.
Visiting Mártires de Tarará primary school, Amiguitos de los Vietnamitas kindergarten and Ben Tre village where Vietnamese bamboos grow, Ambassador Tung expressed his hope that the youth of both sides will continue to maintain and promote the special traditional friendship, comprehensive partnership and the absolute mutual trust between the two Parties, States and peoples, according to VNA.
The same day, the Vietnamese diplomat visited Artemisa martyr monument.
Earlier on July 6, he visited Mayabeque province, which is more than 50km East of Havana. At his working session with First Secretary of the provincial Party Committee Yuniasky Crespo Baquero and Governor Tamara Valido Benítez, both sides discussed the production in the locality and Vietnamese-invested projects to be developed this year.
Vietnamese edtech startup raises USS$2.4 million from foreign funds
Vietnam-based edTech platform Azota has raised 2.4 million USD in a Pre-Series A round led by GGV Capital, a global venture capital firm that invests in local founders.
According to Tech in Asia, new investor Nextrans and existing backer Do Ventures also participated in the round.
Founded in 2021 by Dai Nguyen, Hung Le, and Au Nguyen, Azota is an online platform that lets teachers create and grade tests automatically. It also offers real-time exam proctoring and student performance tracking tools.
The startup said it has a user base of over 700,000 teachers and about 10 million students nationwide. Since its inception, the platform has seen approximately 300 million exercises submitted through its system, reported VNA.
"We believe that by being able to reduce labour-intensive tasks, teachers could better spend their valuable time on impactful actions such as working more closely with individual students, or creating more engaging lessons for their students," said Au, who also serves as Azota's CEO.
The company will use the new funds to improve its system performance and develop new features for its products. Azota said it aims to become a holistic teaching platform for hybrid learning in the post-pandemic era.
Tech in Asia commented that Vietnam is one of the fastest-growing edtech markets in the world, with total revenue en route to reach USS$3 billion by next year. The country sees a compound annual growth rate of 20.2% from 2019 to 2023, it added.
Vietnam aims to expand foreign labor markets in the post-pandemic period
Over the past two years, the Covid-19 pandemic has seriously affected Vietnam's labor export as most countries and territories have closed their doors or restricted the acceptance of foreign workers.
In 2020 Vietnam sent only 78,600 workers abroad, equivalent to 60% of the target, while the figure for 2021 was only half the target at 45,000 workers.
This year, the Ministry of Labor, Invalids and Social Affairs (MOLISA) aims to dispatch 90,000 workers abroad. Most countries have now introduced policy changes to promote economic recovery by ramping up production and business, which is expected to lead to rising demand for workers. It is an opportunity for Vietnam to step up the task of sending workers to foreign labor markets.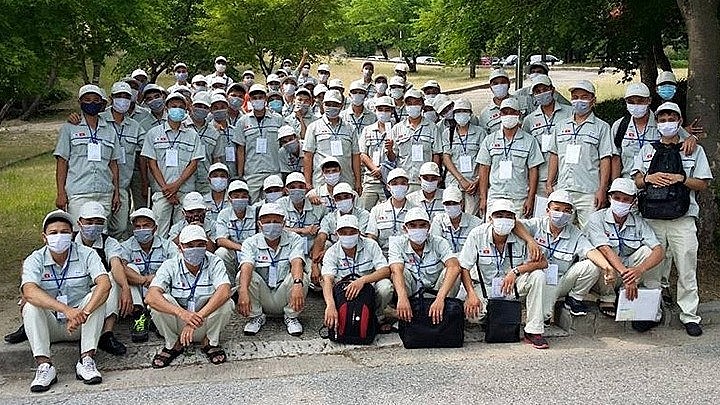 Vietnam aims to send 90,000 workers abroad in 2022. Photo: DOLAB
Since the early months of the year, besides reopening traditional markets such as the Republic of Korea, Taiwan (China) and Japan, many cooperation activities have been implemented to promote the dispatch of Vietnamese workers to high-income labour markets. MOLISA worked to sign agreements on labor cooperation with Germany, Russia and Israel as well as other European markets, cited NDO.
It is estimated that Vietnam had sent nearly 52,000 workers abroad as of mid-June 2022, equivalent to 57.4% of the full-year target.
Commenting on the labour export orientation in the final six months, a representative of the Department of Overseas Labour (DOLAB) said quality should be given top priority. Therefore, besides expanding new markets, it is necessary to enhance the quality of workers being sent abroad.
DOLAB is now focusing on strengthening the connection between service companies and vocational schools in preparing and training high-quality workers in terms of foreign language, professional skills and discipline. It will also step up efforts to enhance public awareness to prevent fraud and violations in this sector.
Vietnamese trade surplus to EU reaches US$15.5 billion in H1
The nation's export value to the EU grew further in the first six months of this year, resulting in a trade surplus of US$15.5 billion, a rise of nearly 39%, thanks to the bilateral free trade agreement in place between the two sides.
Statistics highlight that total trade between Vietnam and the EU stood at an estimated US$31.7 billion in the first half of the year.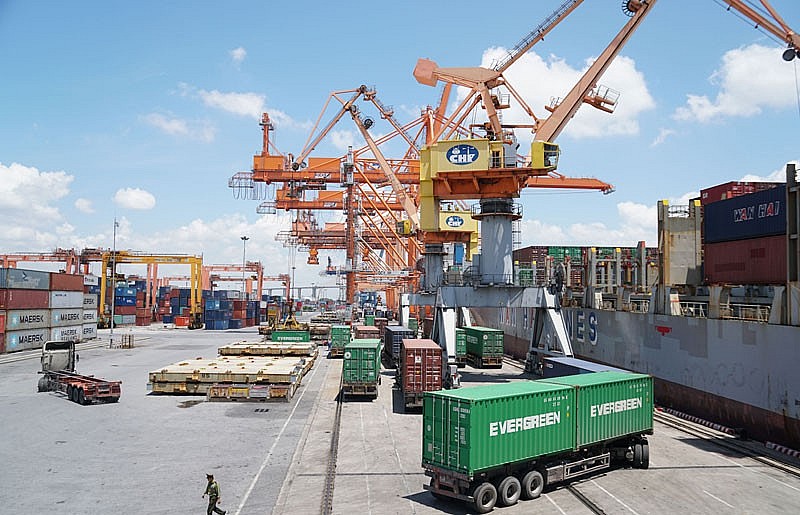 Photo: Cong Hung
Of the figure, Vietnam exported US$23.6 billion worth of goods to the bloc, while it imported US$8.1 billion worth of products from the lucrative market.
The Netherlands, Germany, Italy, Belgium, France, Spain, and Austria represent key markets in the region importing Vietnamese commodities, VOV reported.
Most notably, exports picked up on items such as cashew nuts, coffee, vegetables, fruit, fishery products, rice, and timber products.
These positive signs are attributable to the EU - Vietnam Free Trade Agreement (EVFTA) which took effect from August 1, 2021. Vietnamese exports continued to expand despite the lingering impact of the Covid-19 pandemic coupled with the Russia-Ukraine conflict which has pushed material and fuel prices up, as well as rising transportation costs.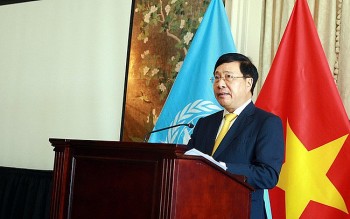 Friendship
Deputy Prime Minister Pham Binh Minh has asserted Vietnam's strong support for and commitment to the UN's role in leading and coordinating multilateral efforts to respond to global challenges.