Vietnam News Today (July 10): Vietnam Reports Highest Daily Rise in Infections With 1,616 Cases
Vietnam News Today (July 10): Vietnam reports highest daily rise in infections with 1,616 cases; Vietnam launches largest-ever vaccination campaign; HCM city suspends public transport as lockdown begins and Da Nang reopens beaches with strict restrictions.
Vietnam News Today (July 10) notable headlines
Vietnam reports highest daily rise in infections with 1,616 cases
Vietnam launches largest-ever vaccination campaign
HCM city suspends public transport as lockdown begins
Da Nang reopens beaches with strict restrictions
Hanoi to develop green space in connection with expanding pedestrian street
Vietnam in ASEAN top three for business expansion destinations
Phu Yen, Khanh Hoa asked to strictly follow social distancing measures
Vietnam to send 43-strong delegation to Tokyo 2020 Olympics
Kien Giang invests efforts in conserving rare genetic resources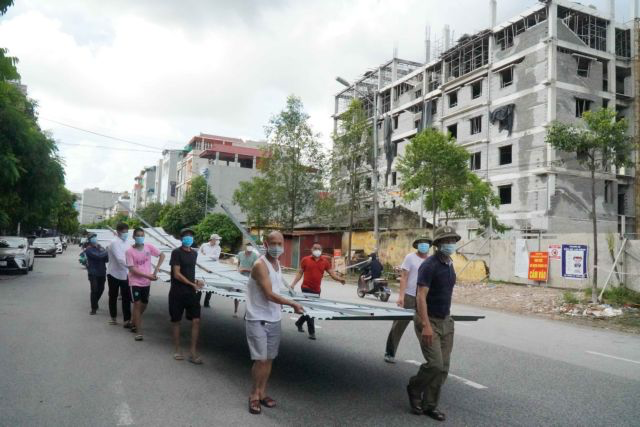 A checkpoint is set up to control the spread of Covid-19 at the Bac Ninh Pedagogical College in northern Bac Ninh city after new local cases are reported. Photo: VNS
Vietnam reports highest daily rise in infections with 1,616 cases
A new record for daily local Covid-19 cases was reported on Friday with total of 1,616 infections.
HCM city remains the largest coronavirus hotspot in the country with 1,229 new cases, raising its total domestic cases to 10,295 since the fourth wave of infections emerged in late April.
Infections were also reported in other southern and southern central provinces such as Long An (77), Binh Duong (73), Tien Giang (34), Dong Nai (32), Dong Thap (32), Khanh Hoa (29), Phu Yen (28), Tra Vinh (8 ), Can Tho (6), An Giang (5), Ba Ria - Vung Tau (4), Hau Giang (4), Bac Lieu (2), Soc Trang (2) and Binh Phuoc (1).
Some Central Highlands and central region provinces also reported new community cases, including Gia Lai (1), Lam Dong (1), Dak Nong (1), Quang Ngai (7), Thanh Hoa (1), Da Nang (1) and Nghe An (1), cited VNS.
In the northern region, new infection cases were reported in Bac Ninh (15), Bac Giang (10), Hung Yen (8), Vinh Phuc (2), and Hanoi (2).
There were also nine imported Covid-19 cases detected on Friday.
The health ministry also reported 34 recoveries and five deaths on Friday, bringing the country's total recoveries and deaths to 8,984 and 110 respectively.
As many as 12 localities have gone 14 days without new community infections, including Yen Bai, Quang Tri, Tuyen Quang, Son La, Ninh Binh, Thai Nguyen, Dien Bien, Hai Duong, Phu Tho, Nam Dinh, Quang Nam and Lao Cai.
Vietnam launches largest-ever vaccination campaign
Vietnam has launched its largest ever vaccination rollout with roughly 150 million doses of the Covid-19 vaccine set to be injected nationwide from this month, with the campaign to last until April, 2022.
The vaccination push will be rolled out on a national scale, with the primary aim of ensuring that at least 50% of all people aged over 18 will be injected with the Covid-19 vaccine between now and the end of the year.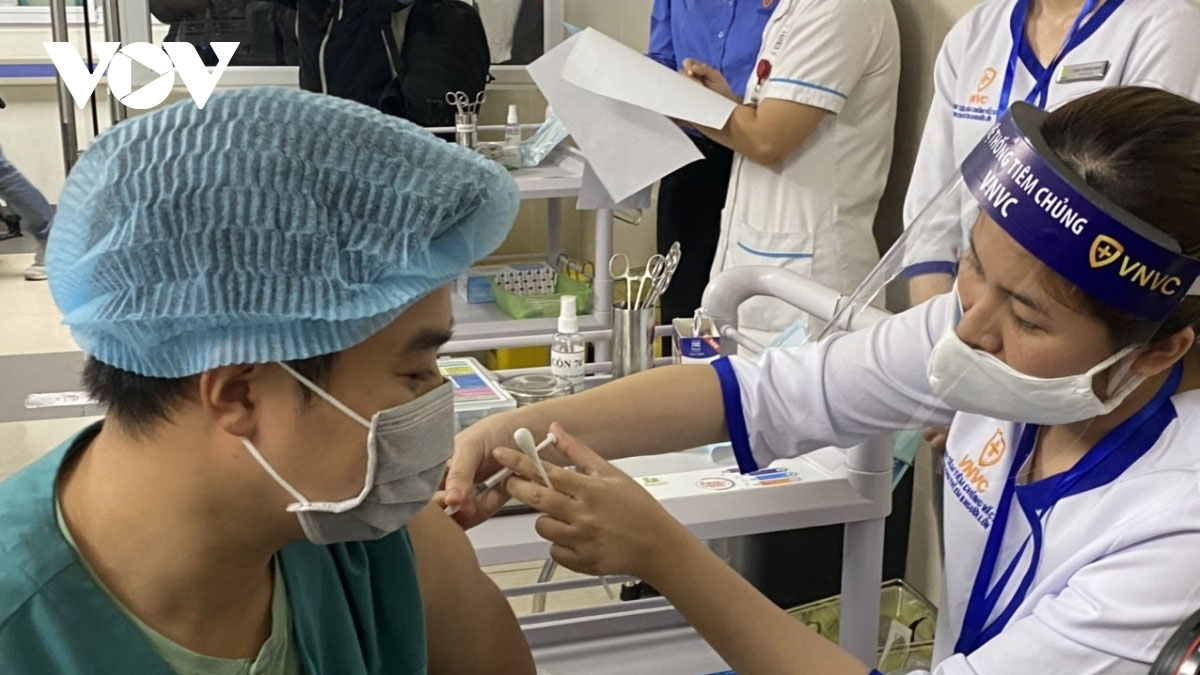 Vietnam aims to achieve herd immunity by the end of the year or in early 2022. Photo: VOV
Vietnam aims to have 70 million people vaccinated against Covid-19 in order to achieve herd immunity by the end of the year or in early 2022, according to Health Minister Nguyen Thanh Long.
As scheduled, the vaccination drive will simultaneously use vaccines from a variety of different sources to increase vaccine coverage for the wider population to ensure that all vaccines are used before their expiration date to minimise waste, according to VOV.
As the campaign will be the largest-scale ever seen in the nation, the vaccine rollout will involve the participation of various ministries and sectors, including the Ministry of National Defence, the Ministry of Public Security, the Ministry of Information and Communications, and the Ministry of Transport.
According to the Ministry of Health, inoculation priority will be given to medical frontline workers, healthcare workers, Covid-19 steering committees, along with police and military forces directly involved in the fight against the pandemic. This is in addition to essential service operators, such as utility providers and those working for airlines or tourism firms.
Furthermore, people living in pandemic-hit provinces and cities, provinces and cities located in key economic zones, industrial zones, and border provinces, will also receive the vaccine shot.
HCM city suspends public transport as lockdown begins
Ho Chi Minh city has suspended public transport for 15 days from July 9 to contain the spread of Covid-19.
All public buses, taxis, inter-provincial buses, contract taxis, and ride-hailing cars and motorbikes will go off the roads.
But vehicles used to transport goods and materials for production and food and other basic necessities, and shuttle buses that carry workers and experts are allowed to ply.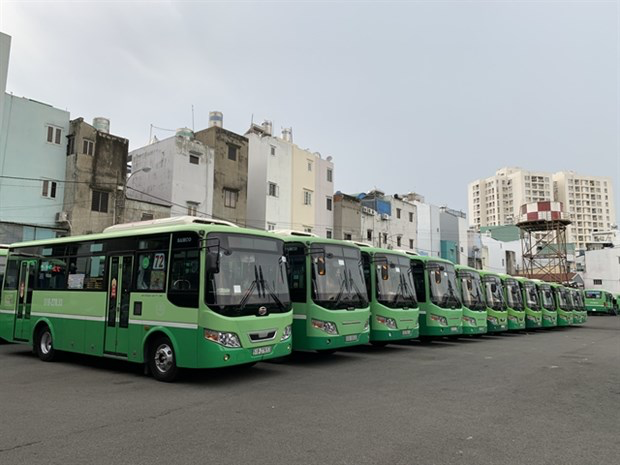 Public buses at the Mien Tay (Western) Bus Station in HCM city. All public transport in the city has been suspended for 15 days from July 9. Photo: VNA
But they can only carry half their designed capacity and no more than 20 passengers at a time, and must be disinfected each time before picking up and after dropping off people.
All passengers must wear a face mask at all times and keep a minimum distance of two metres from others.
They must fill out a health declaration form and have their body temperature measures before boarding, reported VNP.
City authorities will work with neighbouring provinces to secure permission for vehicles carrying goods and workers to pass.
A fixed number of taxis have been arranged to carry people to hospitals and health centres.
They have been instructed to keep their windows down and not use air conditioners.
Shipping goods by motorbike is allowed but the delivery people are required to wear masks, frequently wash their hands with sanitiser and keep a safe distance from customers.
Da Nang reopens beaches with strict restrictions
Da Nang residents can go to the beach and resume outdoor activities again alongside strict compliance with Covid-19 prevention measures, starting Saturday.
Municipal vice chairman Le Quang Namsaid thebeach visiting hours werefrom 4:30 a.m. to 8 a.m. and 4:30 p.m. to 7 p.m, reported VnExpress.
An empty beach in Da Nang on July 9, 2021. Photo: VnExpress
The decision was made after the pandemic situation in the city was deemed under control. On Friday, Da Nang has only one new Covid-19 case, a person quarantined since June 27.
Residents can only go to certain beaches, and they cannot gather there for any group activity. People must keep a distance ofonemeterfrom each other and wear face masks before and after going into the water.
This is the second time that Da Nang is reopening its beaches since the new wave started on April 27. It had first closed the beaches on May 4 and reopened them on June 9. On June 19, the beaches were closed again after the city recorded 92 Covid-19 cases that were linked to the Duy Tan Plastic Company.
Da Nang has also resumed outdoor activities and indoor sports (except in gyms or yoga centers) accompanied by strict prevention measures. Non-essential services in the city will remain closed until further notice.
Since May, 4, 249 local cases have been recorded in Da Nang.
Hanoi to develop green space in connection with expanding pedestrian street
Hanoi is researching a project on zoning public space and trialling eco-oriented management of green space in Hoan Kiem district, in cooperation with Ile-de-France province of France and consultancy firm DE-SO.
A view of Hoan Kiem Lake. The pedestrian space around this lake has become a popular destination in Hanoi. Photo: hanoimoi
The project aims to develop green space in Hoan Kiem district in connection with expanding pedestrian streets, highlighting valuable architectural structures, coupled with renovation and landscape lighting.
The consultancy firm has proposed landscape renovation plans for three main areas, namely King Ly Thai To statue and State Bank of Vietnam Square; Dien Hong garden and the government guest house; and the Opera House Square, Trang Tien and Hang Khay streets and Hoan Kiem lake.
The project is based on two basic principles of restoring public space for pedestrians within the heritage site, and increasing the presence of green space to better combat the climate change and air pollution, cited VNP.
The project is scheduled to be submitted for approval in the third quarter of 2021 and implementation is slated for the fourth quarter of 2021.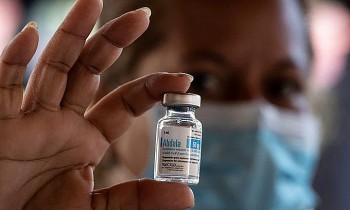 National
Vietnam News Today (September 19): Vietnam records 9,360 new local Covid cases; Vietnam approves emergency use of Cuba's Covid-19 vaccine; 4,000 foreigners vaccinated in Hanoi; Climate change adaptation featured in HCM City's master plan.
World
Somewhere in Portugal, there is a historical site named Quinta da Regaleira castle and its mysterious Initiation Wells that charms many tourists because of its unique architectural design.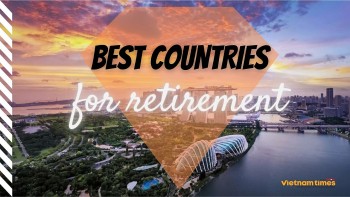 Handbook
If you are planning to relocate for your retirement, find out top 10 best countries that help you're no longer tied to a specific location.