Vietnam News Today (July 8): HCM City Imposes Another 15-Day Social Distancing Campaign
Vietnam News Today (July 8): Vietnam attends Special ASEAN-Russia Foreign Ministers' Meeting; HCM city imposes another 15-day social distancing campaign; Northern region gearing up for heavy rains and strong winds and first doses of Pfizer Covid-19 vaccine arrive in Vietnam.
Vietnam News Today (July 8) notable headlines
Vietnam attends Special ASEAN-Russia Foreign Ministers' Meeting
HCM city imposes another 15-day social distancing campaign
Northern region gearing up for heavy rains and strong winds
First doses of Pfizer Covid-19 vaccine arrive in Vietnam
HCM city to tighten social distancing measures as Covid-19 cases skyrocket
ADB helps boost private sector development in Vietnam
Returnees from HCM city subject to home quarantine, Covid-19 testing
Vietnam promotes trade, tourism co-operation potential in Egypt
Training course raises awareness of climate change in coastal areas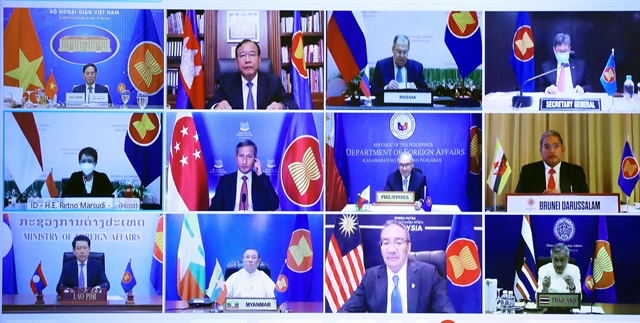 The Special ASEAN-Russia Foreign Ministers' Meeting held in the form of videoconference on Tuesday. Photo: VNS
Vietnam attends Special ASEAN-Russia Foreign Ministers' Meeting
Vietnamese Minister of Foreign Affairs Bui Thanh Son attended the Special ASEAN-Russia Foreign Ministers' Meeting via videoconference on Tuesday.
The event was co-chaired by Indonesian Foreign Minister Retno Masudi and her Russian counterpart Sergey Lavrov.
Delegates discussed working together to fight the Covid-19 pandemic, foster recovery and structure in the Asia-Pacific region during the meeting, which was organised to mark the 30th founding anniversary of ASEAN-Russia relations, cited VNS.
Speaking at the event, Son said that the ASEAN-Russia partnership has been increasingly solid and trustworthy over the past 30 years and welcomed Russia's stronger cooperation with the bloc.
He underlined that Vietnam always supports the enhancement of the ASEAN-Russia strategic partnership to new heights and appreciates Russia's willingness to transfer Covid-19 vaccine production technology and expand production in ASEAN, and capitalise on tourism cooperation to foster recovery in the post-pandemic period.
Son asked the two sides to build trust and mutual understanding and uphold international law. The Vietnamese Minister highly valued Russia's support for ASEAN's efforts in creating dialogues in ASEAN-led mechanisms.
He also affirmed ASEAN's commitment to the effective implementation of the Declaration on the Conduct of Parties in the East Sea (DOC), and prompt completion of negotiations on an effective and practical Code of Conduct (COC) in the East Sea in line with international law and the 1982 UN Convention on the Law of the Sea (UNCLOS).
Participants agreed to create new momentum in the bilateral ties and further promote the strategic partnership, overcome challenges of the ongoing pandemic and accelerate recovery efforts, thereby affirming the significant role of the ASEAN-Russia relationship in regional and international cooperation aspects.
HCM city imposes another 15-day social distancing campaign
HCMC will impose its second 15-day citywide social distancing campaign starting Friday as the current epicenter seeks to curb the spread of the novel coronavirus.
Municipal Chairman Nguyen Thanh Phong said Wednesday evening that the decision has been taken towards ensuring the health and lives of local residents.
Ho Chi Minh city Hall during the days of social distancing amid the Covid-19 pandemic. Photo: VnExpress
HCMC is now the Covid-19 epicenter of Vietnam with over 8,000 local cases in the latest wave which began April 27. There are 11 major infection clusters in the city.
Hundreds of new cases have been confirmed each day in recent days, with many detected in random testing at hospitals, reported VnExpress.
This is the second time that the city is imposing the citywide campaign. The first was a 22-day period in early April along with 11 other localities.
The campaign, imposed under Directive 16 which comprises the most stringent social distancing regulations, requires residents to stay at home and only go out for basic necessities such as buying food or medicines or to work at factories or businesses that are allowed to open.
People must keep a distance of at least two meters. No more than two people can gather at public places apart from workplaces, schools or hospitals.
The majority of public transportation will be shut down and there will be no travel to other localities.
Northern region gearing up for heavy rains and strong winds
A low-pressure tropical weather system is forming in the East Sea and is expected to become stronger after entering the Gulf of Tonkin this afternoon bringing heavy rains, strong winds and rough seas in the northern and north central regions, according to the National Hydrometeorological Forecast Centre.
At 1 a.m. on Thursday, the eye of the weather system is forecast to be hovering over coastal Thai Binh to Nghe An provinces producing wind speeds of up to 61 kilometers per hour.
It is expected to move westwards over the following 12-24 hours at a speed of 20 kilometers per hour directly impacting the northern and north central regions before weakening, cited VNS.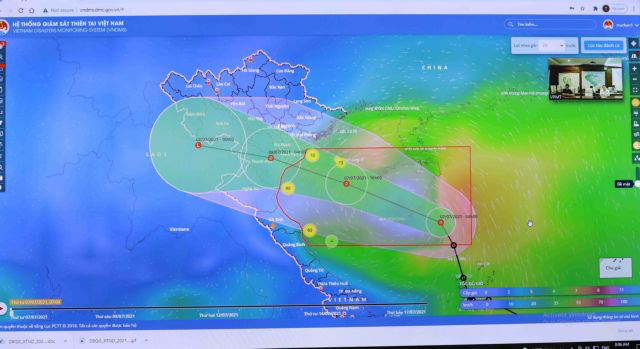 The low tropical pressure system is expected to cause heavy rains in northern and north central regions. Photo: VNS
Coastal areas from Quang Ninh to Ha Tinh and from Binh Thuan to Ca Mau will see strong winds and rough seas with 2-3 meters high waves while localities in northern and north central regions are expected to experience downpours of up to 300 millimeters on Wednesday and Thursday.
The National Hydrometeorological Forecast Centre also warned of possible flash flooding and landslides in lowland areas, particularly in Lai Chau, Son La, Hoa Binh, Lao Cai, Yen Bai, Tuyen Quang, Thanh Hoa, Nghe An and Ha Tinh.
The National Steering Committee for Natural Disaster Prevention and Control on Wednesday called on localities in northern and north central regions to prepare for possible heavy rains and flash flooding.
They were requested to closely watch the development of the weather conditions and prepare plans to deal with heavy rains, floods and landslides; take measures to ensure safety for local residents, particularly prepare to evacuate people from high-risk areas when needed while ensuring Covid-19 prevention and control; assign forces to guide traffic in case of heavy rains; and deploy measures to prevent flooding in urban and low land areas.
First doses of Pfizer Covid-19 vaccine arrive in Vietnam
The first batch of the Pfizer Covid-19 vaccine known as Comirnaty numbering 97,110 doses arrived at Vietnam's Noi Bai International Airport on July 7 morning.
Representing the Vietnamese Government, Deputy Minister of Health Truong Quoc Cuong was present at the airport to receive the vaccine, alongside Christopher Klein, Chargé d'Affaires of the US Embassy and John Paul Pullicino, Country Manager and Chief Representative of Pfizer Vietnam.
Addressing the ceremony, Deputy Minister Cuong thanked Pfizer/BioNTech for training Vietnamese experts to receive and use the Comirnaty vaccine.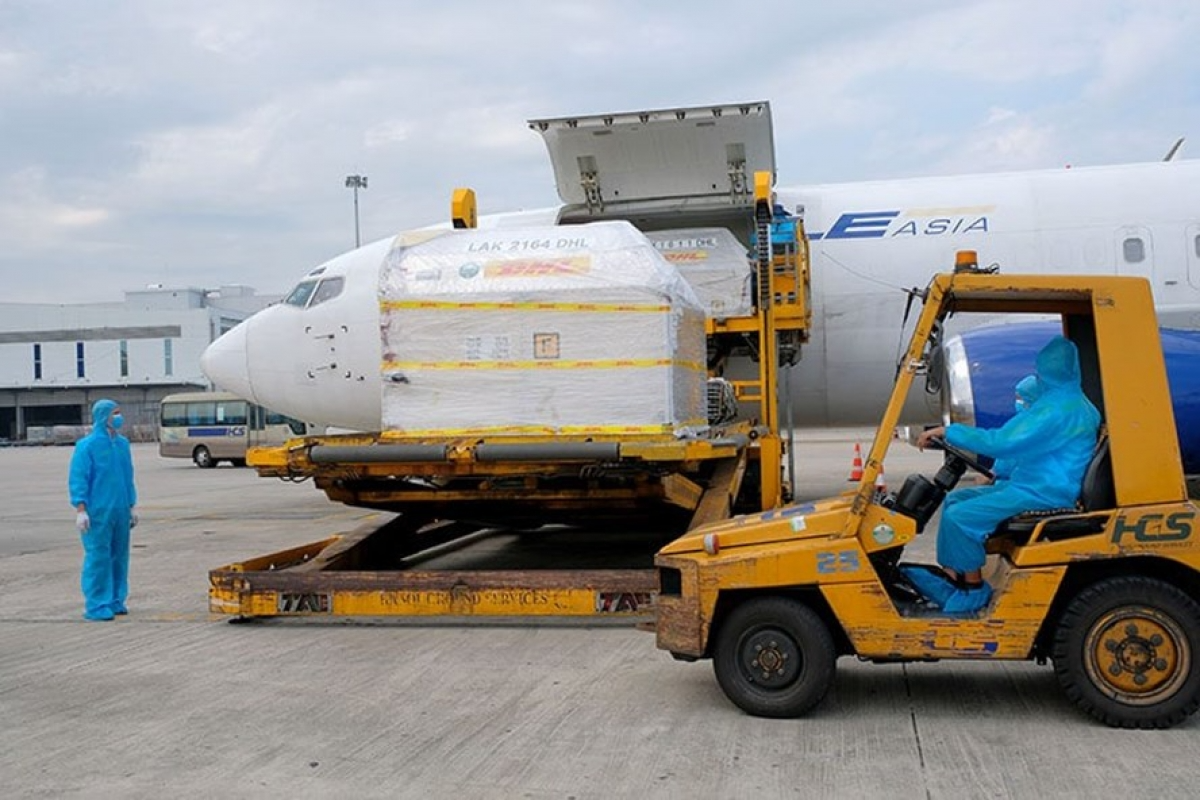 The first batch of the Pfizer Covid-19 vaccine has arrived in Vietnam Photo: VOV
"Today we are happy to welcome the first batch of the Pfizer vaccine, marking an important milestone in cooperation between the two sides to bring the Comirnaty vaccine to the Vietnamese people, contributing to the fight against the Covid-19 pandemic," said Cuong.
The first batch is part of a 31 million dose contract that the Ministry of Health has signed to purchase the vaccine from Pfizer/BioNTech, according to VOV.
Cuong expressed his wish that Pfizer will guarantee the delivery of its vaccine to Vietnam this year, while considering rolling out an additional 20 million doses and transferring its vaccine production technology to the nation.
Christopher Klein, Chargé d'Affaires of the US Embassy in Vietnam, emphasized that the delivery is a sign of hope that by "working together, we can overcome the difficulties Covid-19 has imposed on all of us" in order to protect the economy and help people go back to normal life.
Vietnam had persistently conducted negotiations with Pfizer/BioNTech for more than 10 months before signing the contract with the US manufacturer in June 2021.
Comirnaty is a vaccine for preventing coronavirus disease 2019 in people aged 12 years and older. It contains a molecule called messenger RNA (mRNA) with instructions for producing a protein from SARS-CoV-2, the virus that causes Covid-19.
The vaccine has been approved the World Health Organization and used widely in the United States and many European countries.
Vietnam now world's second largest fuel pellet exporter
Vietnam exported around 3.2 million tonnes of pellets of various types last year, making it the world's second largest exporter of the products, according to the General Department of Customs.
The Vietnam Timber and Forest Product Association (VIFOREST) reported that Vietnamese pellets were mostly exported to Japan and the Republic of Korea to provide input for thermal power production.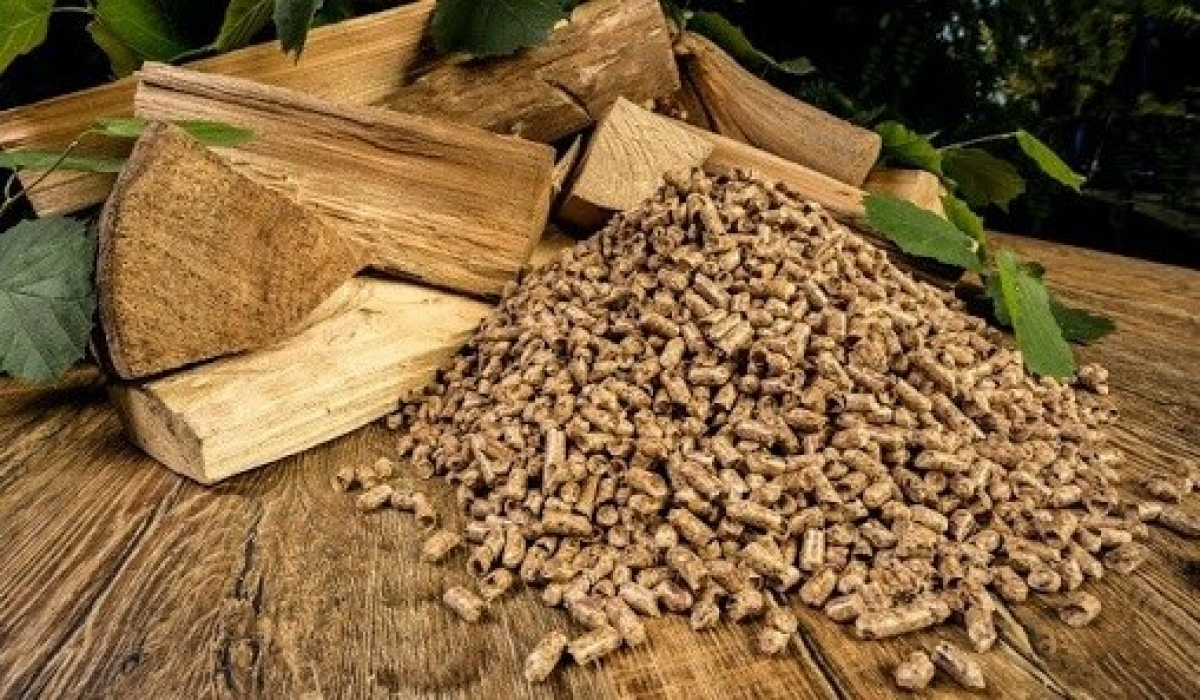 Photo: VOV
Pellets are biomass fuel generally made from wood wastes, such as wood shavings, sawdust, and logging residues; and agricultural wastes, for example, rice husks, corn stover, sugarcane bagasse, and coffee pulps, cited VOV.
The country's shipment of pellets rocketed to 3.2 million tonnes last year from just 175.5 tonnes in 2013. The export revenue increased 15.3 fold from nearly US$23 million in 2013 to US$351 million in 2020.
Vietnam has about 80 pellet factories and production facilities, mostly in the southeastern and northeastern regions, with combined capacity of close to 4.5 million tonnes per year.
The VIFOREST forecast the global demand for pellets is likely to spur about 250% over the next decade, to 36 million tonnes in 2030.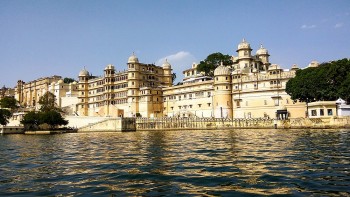 Travel
The ancient port city of Hoi An in the central province of Quang Nam has entered the Top 15 cities in Asia selected by Travel+Leisure's World's Best Awards 2021.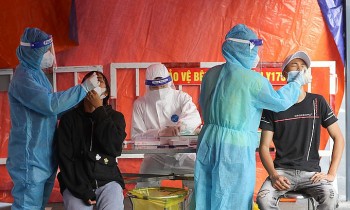 National
The country's Covid-19 tally during the latest wave has now risen to 663,232 while the number of infections since the pandemic initially broke out stands at 667,650, ranking 47th of 222 countries and territories globally.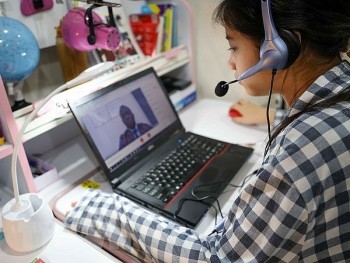 Friendship
The Dariu Foundation and Blancco Technology Group signed a cooperation agreement to provide used computers for students and pupils in difficult circumstances.