Vietnam News Today (June 12) notable headlines
Vietnam slams Taiwan's live fire drills on Spratly islands
Vietnam offers vaccination to foreign diplomats
Hanoi prepares for high school entrance exams amid virus resurgence
Hue reopens tourist destinations after nearly a month of closure
Vietnam sees 5.8% GDP growth in the first 6 months of 2021
Bac Giang focuses on Covid-19 fighting, industry recovering
Vietnam capable of achieving twin targets: ADB Country Director
EU, Vietnam ramp up co-operation in EVFTA implementation
Government assists firms, workers hit by Covid-19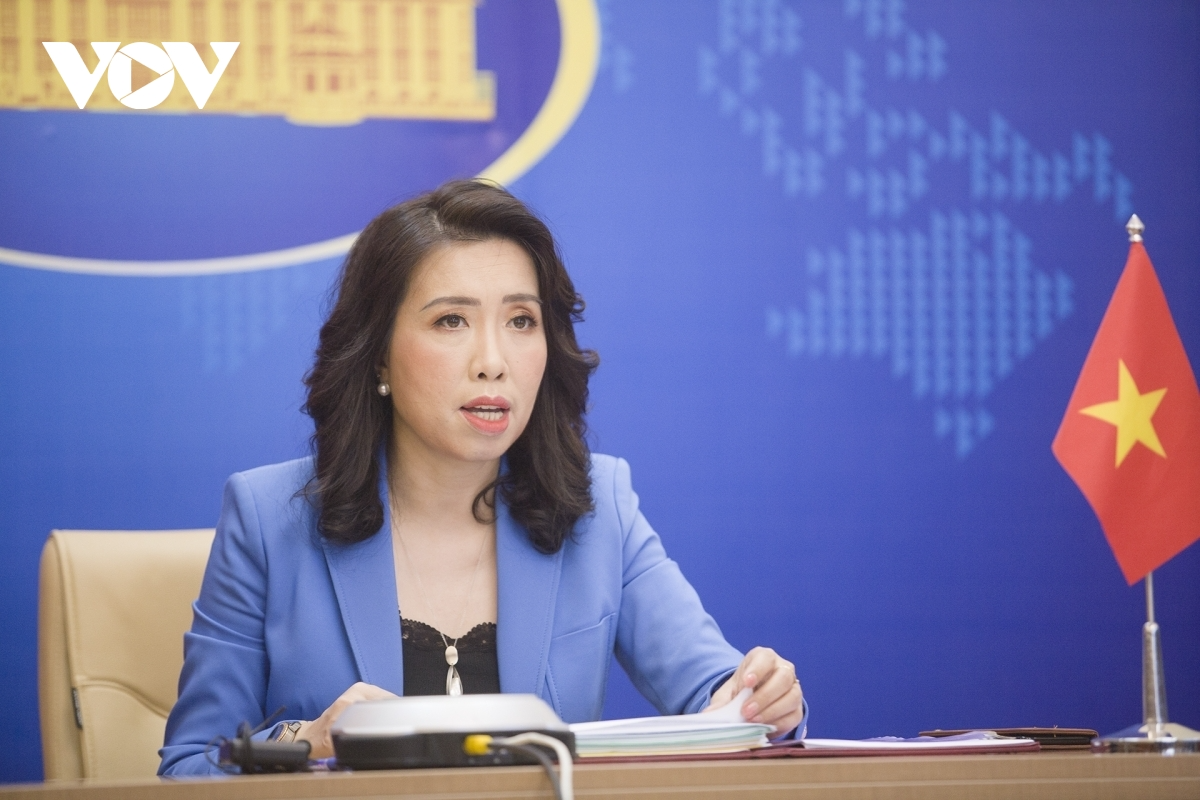 Foreign Ministry spokesperson Le Thi Thu Hang. Photo: VOV
Vietnam slams Taiwan's live fire drills on Spratly islands
A spokesperson for the Ministry of Foreign Affairs of Vietnam has voiced Vietnam's strong opposition to Taiwan's live-fire drills around Ba Binh (Itu Aba) island of the Truong Sa (Spratly) archipelago.
Vietnam has sufficient legal and historical evidence to affirm its sovereignty over Truong Sa (Spratly) and Hoang Sa (Paracel) archipelagos in the East Sea in accordance with international law, spokesperson Le Thi Thu Hang told media workers on June 11.
She stressed that Taiwan's move seriously violates Vietnam's territorial sovereignty over this archipelago that threatens peace, stability, safety, and security of navigation, causes tensions and complicates the situation in the East Sea.
Vietnam resolutely objects and requests Taiwan not to repeat similar actions in future, the spokesperson added.
Vietnam offers vaccination to foreign diplomats
Foreign diplomats and UN representatives are among the first to get vaccinated in Vietnam.
Covid-19 vaccines were administered to more than 600 members of foreign missions and UN bodies in Vietnam on June 9-10.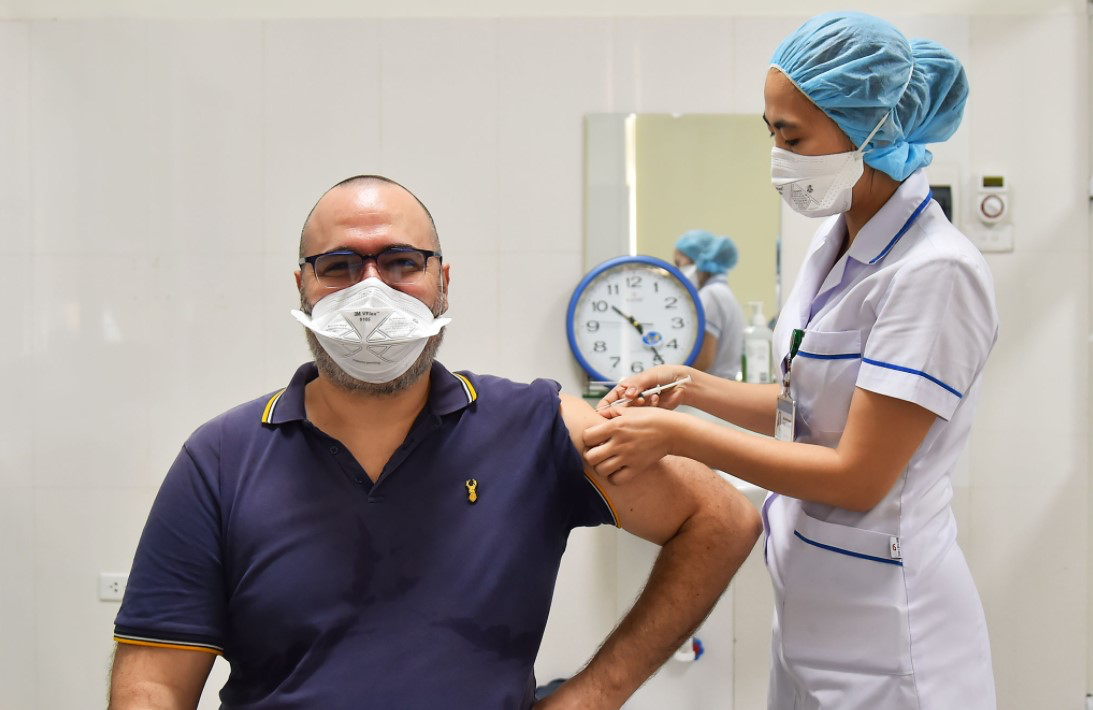 A staff at the French Embassy in Hanoi gets vaccinated. Photo: WVR
The vaccination went smoothly without any serious reaction, according to the Ministry of Foreign Affairs (MoFA).
Before the injection, vaccine recipients were given a pre-vaccination checklist and screening for contraindications and precautions.
The inoculation will continue among foreign missions and UN organizations, cited VNN.
Thus far, foreign diplomats and representatives of international organizations are the recipients only after frontline forces and industrial park workers in epicenters in Vietnam due to the thin vaccine supply.
As of June 10, about 1.42 million doses have been administered in Vietnam, or equal to 1.47 doses per 100 population, the lowest ranking in Southeast Asia.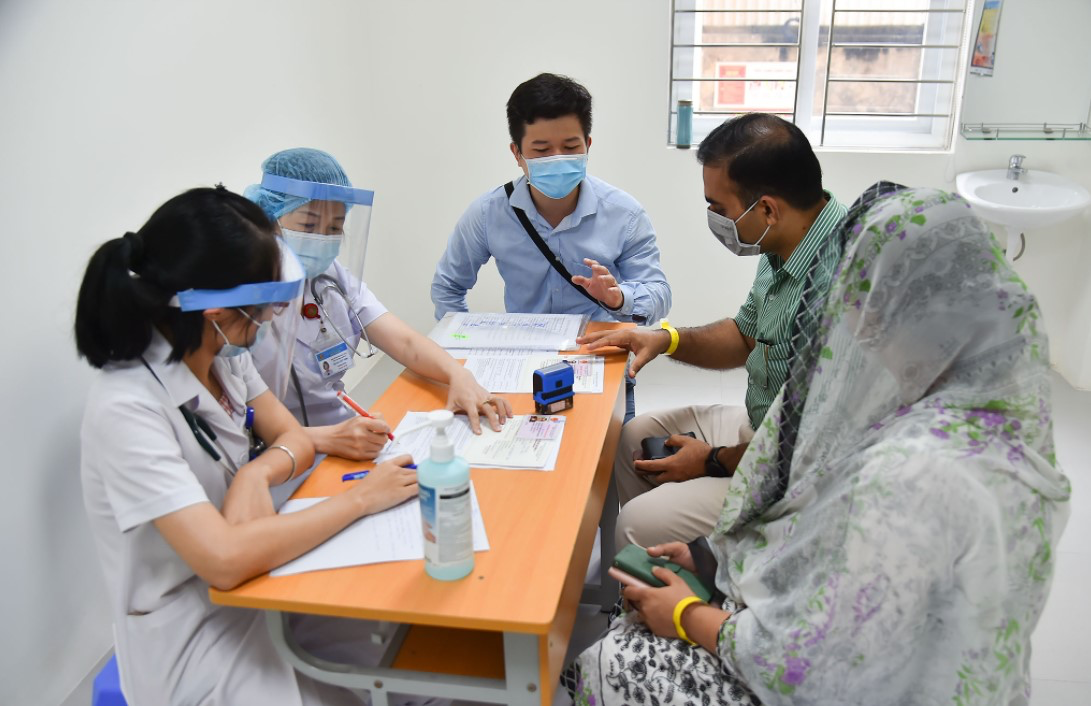 Consultation for precautions. Photo: WVR
Vietnam is estimated to need VND25 trillion (US$1.08 billion) to get 150 million doses of the Covid-19 vaccine for 75 million people. The country is seeking supply to fulfill its herd immunity target set for 2022.
Recently, foreign chambers of commerce in Vietnam and a number of FIEs have supported the inoculation and said they were willing to pay more to have their employees vaccinated.
Hanoi prepares for high school entrance exams amid virus resurgence
More than 93,000 students in Hanoi are set to take the high school entrance exams this weekend and measures are in place to ensure Covid-19 safety, according to officials.
Speaking at an online conference yesterday, chairman of the city's People Committee Chu Ngoc Anh said the virus situation is largely under control and city officials are confident in the safety of the students taking the exams.
The city has employed more than 17,000 education workers for the exams and all 30 districts and communes across the city are well-prepared. Social distancing protocols have been set up and drills have been conducted to ensure students are properly distanced during the exams, TPNews reported.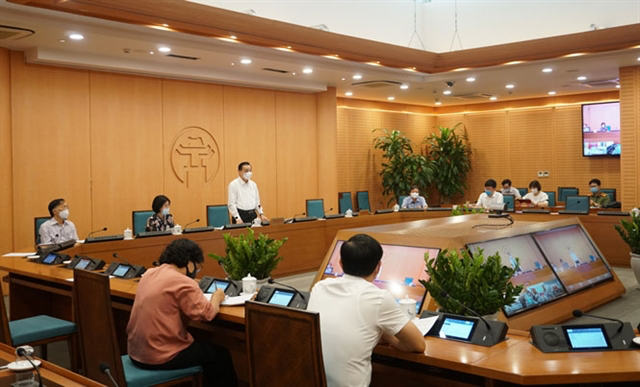 City officials during a meeting to discuss preparation work for the upcoming high school exams, in which over 93,000 students will sit for during this weekend. Photo: VGP
Vice-chairman of the city's People Committee Chu Xuan Dung asked those in charge of all 184 exam sites to ensure there is ample supply of sanitiser, to provide guidance for students and to stay in touch with parents on exam days.
City authorities have asked all students to finish their health declaration forms online before Friday.
Hue reopens tourist destinations after nearly a month of closure
Authorities in Thua Thien-Hue province, home to famous tourist town Hue, allowed popular attractions and historical sites to reopen Friday though swimming remains banned.
The move came after the central province experienced 28 days without new community transmissions of Covid-19. Provincial authorities are still yet to allow visitors from other localities amid the complicated development of the pandemic, cited VnExpress.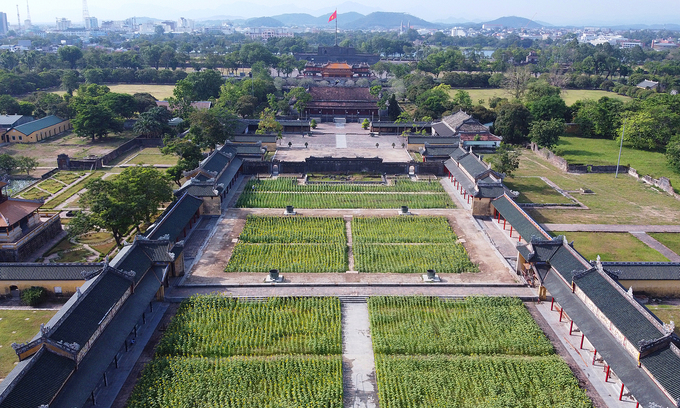 The Hue Imperial Citadel, a popular tourist destination in Hue. Photo: VnExpress
Restaurants, street eateries and coffee shops are allowed to serve customers, but not exceed half their covers while bars, karaoke parlors, dance clubs, pubs and beer clubs remain closed until further notice.
Festivals, religious gatherings, cultural and arts performance as well as swimming are still banned.
Hue, capital of Thua Thien-Hue province, is renowned for its Imperial Citadel, royal tombs, and famous beaches like Lang Co.
In the ongoing fourth Covid wave that hit April 27, Thua Thien-Hue has reported five infections, out of the nation's over 6,600 cases.
With the pandemic situation under control, many famous tourist hotspots like Hoi An, Da Nang and Ha Long have reopened tourist destinations and lifted the swimming ban with safeguards.
Vietnam sees 5.8% GDP growth in the first 6 months of 2021
Vietnam's GDP is expected to rise by 5.8% in the first six months of 2021 despite the negative impacts from pandemic, according to figures released by the Ministry of Planning and Investment.
The GDP growth rate in the first 6 months will be 1.31 percentage points lower than the scenario target of 7.11% set earlier the government.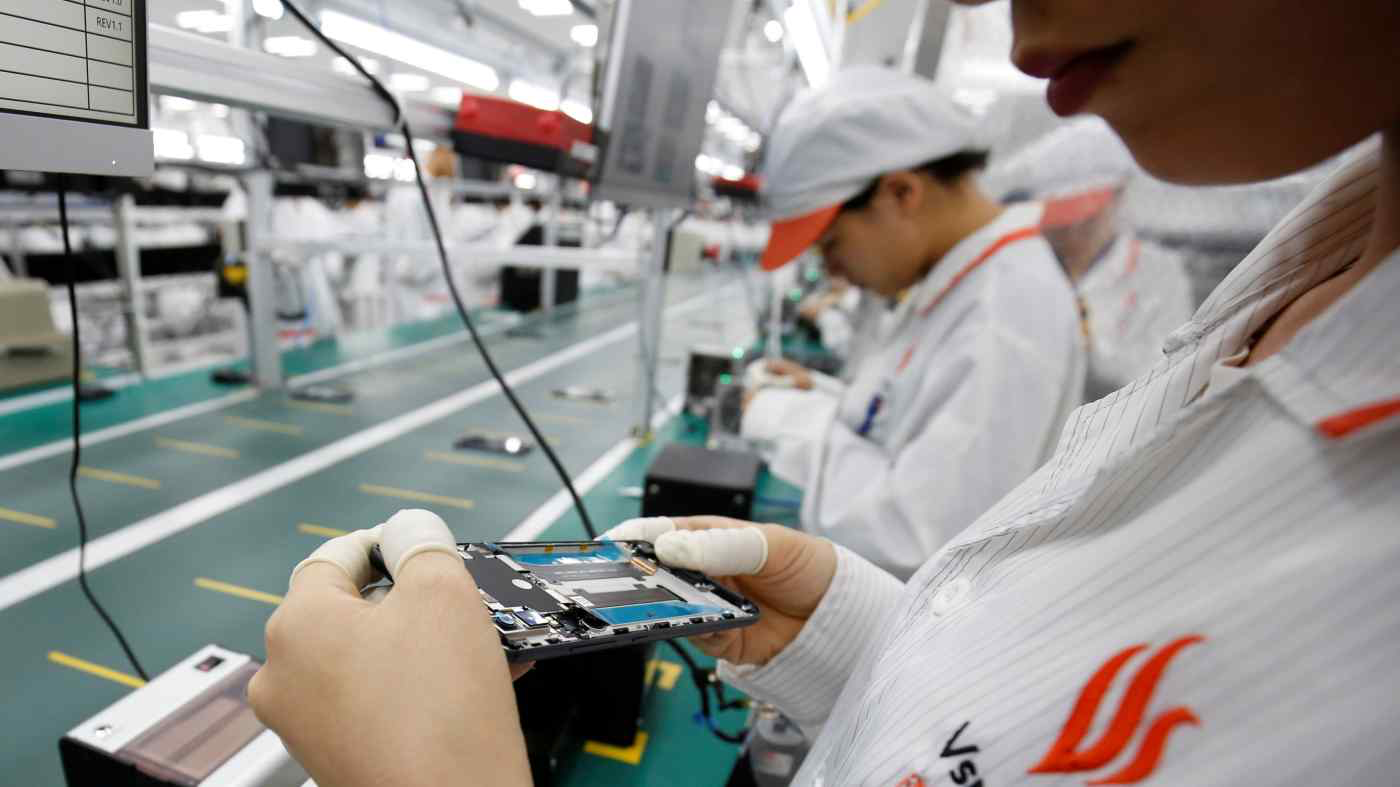 Photo: Reuters
The macroeconomy remained stable despite the Covid-19 pandemic. Inflation is under control. The currency and foreign exchange markets were stable, the ministry said in the report on the socio-economic situation in May and the first 5 months of the year.
According to the ministry's report, State budget revenue in 5 months reached 49.7% of the estimate, up 15.2% over the same period in 2020.
Total export and import turnover in the reported period was estimated to increase 33.5% compared to the same period in 2020. State budget revenue in 6 months is estimated at 55.5% of the estimate, up 10.9% over the same period in 2020, according to TPNews.
Agricultural and industrial production grew by 3% and about 7.8%. Product output of textile, garment, and automobile industries increase, but the output of electronic products is forecasted to increase slightly or even decrease.
According to the ministry, the number of newly registered enterprises is forecast to continue increasing slightly at about 1.6% but the newly registered capital is forecast to increase strongly.
"The successful response, prevention and control of the Covid-19 pandemic is an important factor that plays a decisive role in macro stability and economic recovery in the last months of 2021," Minister Nguyen Chi Dung said.
Rosie Nguyen