Vietnam News Today (June 17): Vietnam attends 12th ASEAN Inter-Parliamentary Assembly
Vietnam News Today (June 17) features headlines include: Vietnam asks for early finalization of Code of Conduct in East Sea; Vietnam attends 12th ASEAN Inter-Parliamentary Assembly; Vietnam to launch largest ever Covid-19 vaccination campaign and Vietnamese farm produce gain competitive edge on global market.
Vietnam News Today (June 17) notable headlines
Vietnam asks for early finalization of Code of Conduct in East Sea
Vietnam attends 12th ASEAN Inter-Parliamentary Assembly
Vietnam to launch largest ever Covid-19 vaccination campaign
Vietnamese farm produce gain competitive edge on global market: Central Retail
Wood exports to EU enjoy robust growth
Bac Giang hotspot confirms 61 out of 91 local infections over 12 hours
Businesses continue to utilise incentives from EVFTA
UK media outlet highlights Vietnamese equity market
Vietnam imposes anti-dumping and anti-subsidy tax on Thai sugar
Minister of National Defence Sen. Lieut. Gen. Phan Van Giang (midde) attends the 8th ASEAN Defece Ministers Meeting Plus (ADMM+). Photo: VNA
Vietnam asks for early finalization of Code of Conduct in East Sea
Minister of National Defence Sen. Lieut. Gen. Phan Van Giang touched upon maritime and East Sea security issues during the course of the 8th ASEAN Defence Ministers Meeting Plus (ADMM+) which was held on the morning of June 16.
In attendance at the ADMM+ for the first time as the Vietnamese Defence Minister, Gen. Giang shared with his colleagues' assessment of the regional security situation, stating that, "We all share the same opinion that peace, co-operation and development remain the main trends, but there are still existing risks from both traditional and non-traditional security threats."
"Vietnam believes that all relevant parties need to strictly abide by the principle of resolving disputes by peaceful means, on the basis of respect for international law, including the 1982 United Nations Convention on the Law of the Sea (UNCLOS). At the same time, it is necessary to soon complete an effective and substantive Code of Conduct in the East Sea (COC)," Gen. Giang emphasized.
He stressed that maritime forces of all countries involved must exercise the utmost restraint and should not take actions that contribute to increasing tensions and complicating the situation in any form, cited VOV.
At the ADMM+ meeting, a joint statement put together by 18 Defence Ministers was issued. The statement was given in response to maritime security challenges, as well as handling maritime issues in the region, with ADMM+ countries emphasising the importance of maintaining and promoting peace, security, stability and prosperity, safety, and freedom of both navigation and aviation.
Furthermore, the joint statement recognizes the unprecedented security challenges facing the region and the wider world, as well as the consequences of emerging traditional and non-traditional threats. This includes cross-border cybersecurity, chemical, biological and radioactive threats, terrorism, public health emergencies, including the novel coronavirus (Covid-19) pandemic as well as natural disasters.
Vietnam attends 12th ASEAN Inter-Parliamentary Assembly
Chairman of the National Assembly's Foreign Affairs Committee Vu Hai Ha led a delegation to attend the 12th ASEAN Inter-Parliamentary Assembly (AIPA) (AIPA Caucus 12), which took place virtually on June 16, focusing on measures to strengthen supply chain resilience and promote trade connectivity.
Tan Chuan-Jin, Speaker of Parliament of Singapore - the host country of the event, said that the 12th AIPA Caucus discussed the implementation of resolutions of the 41st AIPA General Assembly, including the Resolution on "the role of parliaments in promoting ASEAN cohesiveness and economic recovery post-Covid-19" , the Resolution on "Advancing AIPA's role in supporting ASEAN socio-cultural community in responding to Covid-19", and the Resolution on "the role of women parliamentarians in securing jobs and income for women workers".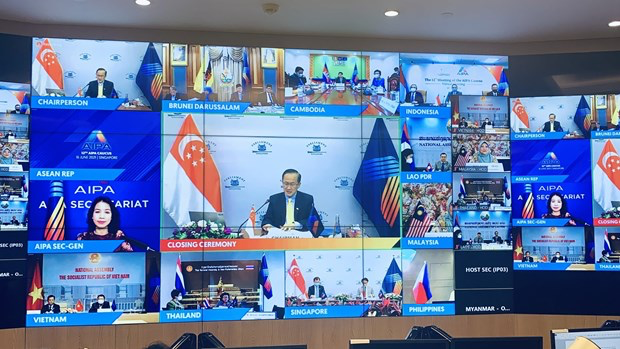 Vietnam attends 12th AIPA Caucus. Photo: VNA
The Vietnamese delegation said amidst the Covid-19 pandemic, ASEAN should pay more attention to restoring supply chains and promoting trade connectivity in parallel with enhancing close cooperation to prevent the spread of the disease, especially cross-border transmission, accelerating Covid-19 vaccine purchase and vaccination, as well as cooperation in vaccine research and development.
The delegation proposed six specific recommendations to AIPA member parliaments, related to many crucial issues such as completing legal framework to facilitate trade and investment activities, ensuring uninterrupted circulation of goods and supply chains in the region, reported VNP.
Vietnamese participants also underlined the need to strengthen parliamentary supervision over the implementation of commitments on investment and trade within regional and international frameworks, establish new methods in promoting bilateral trade ties, maintain commitments to opening market in order to enhance the resilience and sustainability of regional supply chains, speed up the application of digital technology in production and business activities and goods consumption through e-commerce platforms.
They demonstrated willingness to cooperate for economic growth recovery and green economic development, and realise sustainable development goals after the pandemic, for stability and prosperity of the ASEAN Community, and for the sake of regional people.
Vietnam to launch largest ever Covid-19 vaccination campaign
The Ministry of Health is going to launch the largest ever vaccination campaign in an effort to prevent and control the Covid-19 pandemic.
Minister of Health Nguyen Thanh Long said his ministry has been trying to seek and negotiate with partners to secure sufficient Covid-19 vaccines for domestic use, while speeding up the research and production of vaccines locally.
Photo: VNN
Vietnam has so far reached agreements to get approximately 120 million doses from vaccine manufacturers and partners such as AstraZeneca, COVAX Facility, Pfizer/BioNTech, and Sputnik V. It is now working towards a goal of securing 150 million doses in 2021 to inoculate up to 75% of its population.
Vietnam has successfully carried out a number of vaccination drives, but this is the largest vaccination campaign of its kind that requires the engagement of other ministries and agencies, Dr Long said at a meeting on June 15 to run the campaign, cited VNN.
Vietnam will set up eight vaccine storage facilities, of which one is located at the High Command of the Hanoi Capital and seven others in seven military zones nationwide. When the vaccines arrive at the airport, they will be immediately transported to these facilities for preservation.
An online vaccination network will be established that makes public the number of people to be vaccinated and the number of doses to be administered.
Dr Long stressed that safety is top priority and that a National Steering Committee for Immunization Safety will work online around the clock to direct and monitor the work.
Vietnamese farm produce gain competitive edge on global market: Central Retail
Vietnam's farm produce can completely compete with products in other countries around the world, Head of Creating Shared Values Projects of Central Retail Corporation Public Company Limited (CRC) Paul Le told Nong nghiep Viet Nam (Vietnam Agriculture) newspaper.
In a recent interview granted to the newspaper, Le said agriculture is one of the key sectors of Vietnam, noting that the country boasts many traditional products and regional specialties, especially the variety of seasonal products.
The Thailand-based CRC is one of the retail chains that are effectively implementing activities to promote and consume Vietnamese agricultural products on the international market.
The CRC's vision is to develop with Vietnam through cooperating and supporting Vietnamese products and brands, and local suppliers, Le stressed.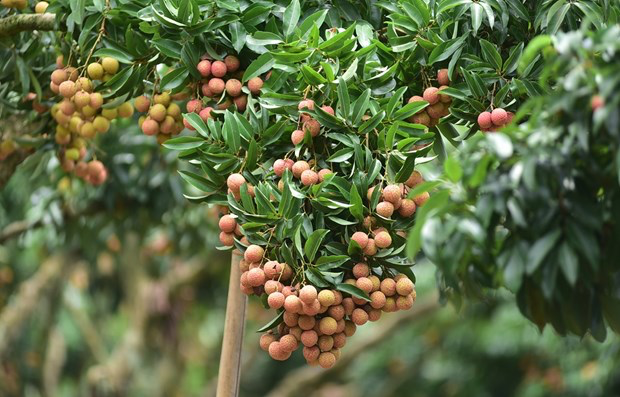 Photo: VNA
Its development will always go hand in hand with the prosperity of Vietnam, he said, adding that the firm's programme to accompany Vietnamese agricultural products is one of the the CRC's seven sustainable development strategies in the country.
The business will cooperate with Vietnamese suppliers in building and developing modern retail systems for Vietnamese goods, according to VNP.
According to Le, each product of Vietnam has a very long development history. For example, Thanh Ha lychee has development history of up to 250 years, which means that Vietnamese farmers have up to 250 seasons to gradually better the quality of lychees. This is the reason why Vietnamese lychees are among the best in the world.
That is reason for Le to believe that Vietnamese agricultural products have many competitive strengths on the international market.
Wood exports to EU enjoy robust growth
The country raked in US$250.4 million from exporting timber and wooden products to the EU market during the four months of the year, thereby representing a rise of 32.6% compared to the same period from last year, according to the General Department of Vietnam Customs.
April alone saw Vietnamese timber and wood exports to the EU reach US$63.79 million, an increase of 114.7% compared to April, 2020.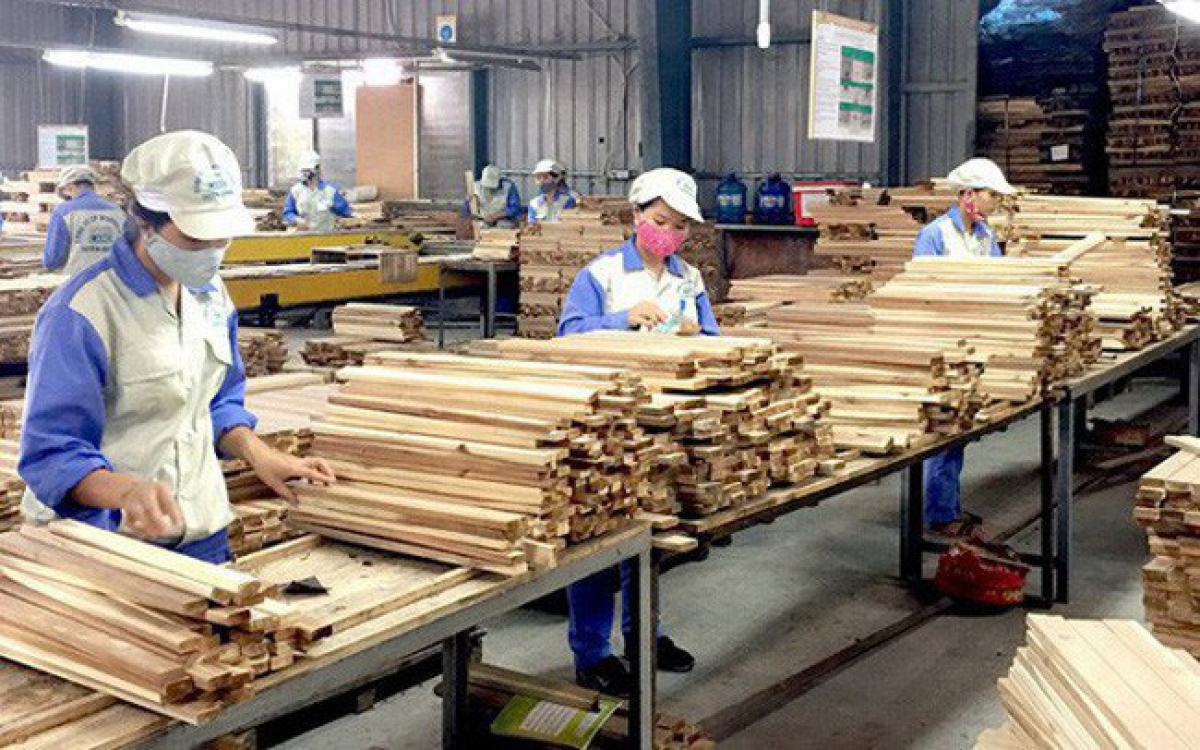 Photo: VOV
In relation to the figure, wooden furniture made up a high proportion with turnover reaching US$211.16 million, up 33.7% against the same period from last year.
Germany took the lead in the EU bloc, recording a turnover of US$52.83 million to mark an annual rise of 15.6%, followed by France with US$47 million, up 28%, the Netherlands with US$38.9 million, a boost of 56%, and Belgium with US$22 million, an increase of 42.9%.
Most notably, the export turnover to the Romanian market surged by 156.9% to US$2.4 million on-year, VOV reported.
Although Vietnamese exports of living room and dining room furniture to the EU market took the lead throughout the reviewed period, export turnover accounted for only a small proportion compared to the EU's average annual import demand of US$24.2 billion seen during the 2016 to 2020 period.
Therefore, there remains plenty of room for local exports of these products to grow moving forward, industry experts believe.
Economists have also advised domestic firms to boost wood exports to Germany, noting that due to its strategic and convenient location for logistics, the Central European country can serve as the gateway for the wood industry and help the nation achieve the greater penetration of the EU market in the near future.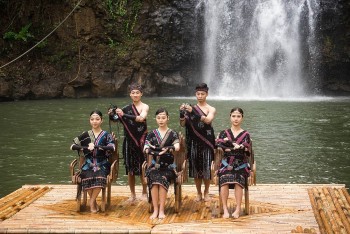 Travel
Many passengers applaud the creativity of the flight instruction video that Vietnam Airlines has recently introduced on their flights. This video not only creatively conveys the message of flight safety but also helps to spread globally the unique, indigenous cultural values ​​of the country and people of Vietnam.