Vietnam News Today (June 14) notable headlines
Storm Koguma makes landfall, heavy rain, gusts hit northern, central coasts
Ho Chi Minh city hospital cases rise sharply, most asymptomatic
Chances of Vietnam entering final World Cup qualifiers are 99.2 percent
Over 93,000 students enter 10th grade entrance exam in Hanoi
Bac Ninh eases social distancing, Quang Ninh reboots tourism
Hanoi student creates material that adsorbs antibiotics in wastewater
Fourth Covid-19 outbreak puts pressure on Vietnam strategic sectors: WB
Hanoi seeks ideas for cultural industry development
Vietnamese rice faces competition from India in Philippines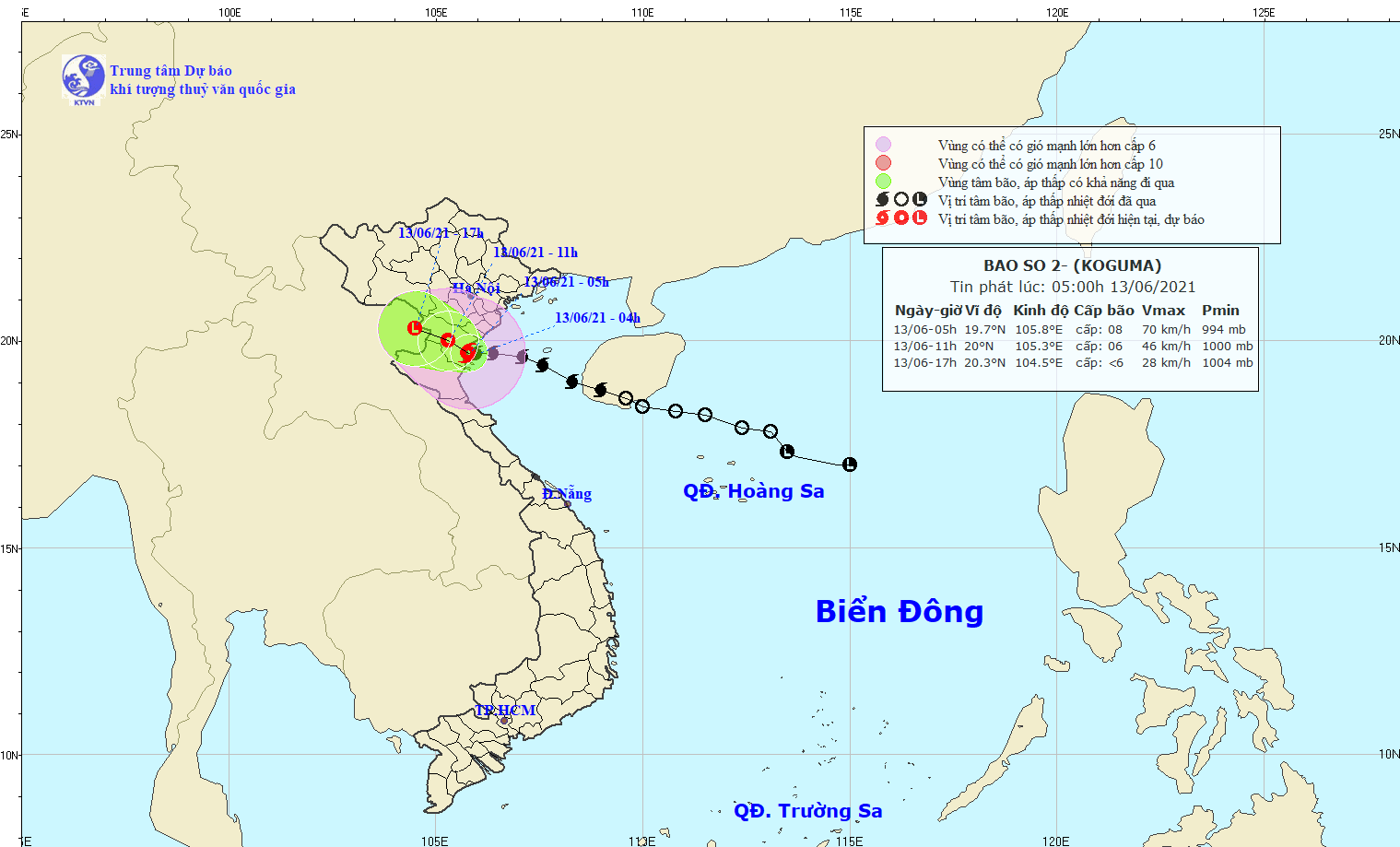 Storm Koguma has hit north and north-central coasts since early June 13. Photo: NCHMF
Storm Koguma makes landfall, heavy rain, gusts hit northern, central coasts
Tropical storm Koguma hit long coastal provinces from Thai Binh to Nghe An early on June 13, bringing heavy rain and high tidal surges.
At 07.00 a.m. June 13, Koguma was located at about 19.9 degrees North latitude; 105.5 degrees East longitude, on the coastal area from Thai Binh to Nghe An provinces, packing winds of between 60-75kph near its centre, according to the National Centre for Hydro-Meteorological Forecasting (NCHMF).
In the next six hours, the storm is forecast to move west and north-west at speeds of 15-20 kph and gradually weaken into a tropical depression.
Strong winds and heavy rainfall lashed areas along northern and north-central coastal areas as the storm moved further inland on June 13, cited VOV.
The northern delta, midland and areas from Thanh Hoa to Ha Tinh provinces are anticipated to receive heavy to heavy rain and thunderstorms, with average rainfall of 50-120mm. Some places are likely to even record excessive rainfall of 200-250mm and above.
All coastal localities from Quang Ninh to Nghe An and Ha Tinh have issued a ban on setting sail for fishing vessels. All vessels operating at sea have been required to move ashore or seek nearby storm shelters.
Relevant forces, including volunteers and rescue workers, have been mobilized to operate in low-lying areas and areas vulnerable to floods and landslides to respond to possible emergencies.
Storm Koguma is anticipated to cause heavy rain in mountainous localities after it weakens and dissipate on the mainland.
Ho Chi Minh city hospital cases rise sharply, most asymptomatic
Fifty-three employees of the Ho Chi Minh city Hospital for Tropical Diseases have tested positive for the SARS-CoV-2 virus since the first case was detected a day ago, according to the hospital's management.
Notably, 52 cases are asymptomatic and they have all been vaccinated against the virus, Dr. Nguyen Van Vinh Chau, director of the hospital told local media outlets.
These employees work in logistics services such as information technology, administration, finance, general planning, personnel and pharmacy.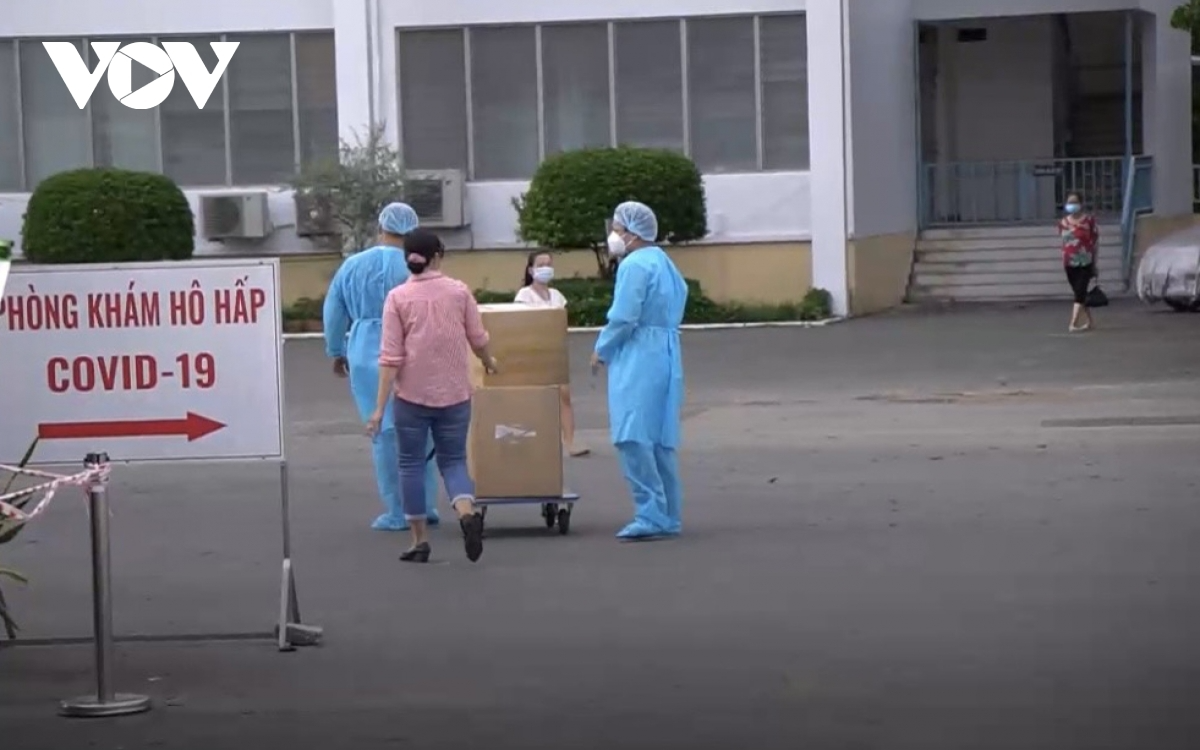 Employees of the HCM city Hospital for Tropical Diseases have been required to self-isolate to slow the spread of the virus. In the photo, employees are moving their personnal belongings to quarantine areas. Photo: VOV
All the infected employees have been isolated for medical surveillance and treatment, said Dr. Chau.
The HCM city Center for Diseases Control is working closely with the hospital to carry out contact tracing, isolation, testing and disinfection.
"We are tracking down those in direct and indirect contact with the infected employees in an effort to break up the chain of transmission," said Dr. Chau.
Preliminary epidemiological investigations show the cluster of infections is likely to originate from the community, according to VOV.
By June 13 afternoon, the hospital had completed rRT-PCR tests for 887 employees, with 834 samples coming back negative, and 53 positive for the SARS-CoV-2 virus.
The HCM city municipal Health Department on June 12 decided to lock down the hospital for contact tracing and disinfection.
During a working session with the hospital's management on June 13, Deputy Minister of Health Nguyen Truong Son asked the Municipal Department of Health to arrange other hospitals to receive and treat Covid-19 patients.
Under the local health sector's June 9 decision, the HCM city Hospital for Tropical Diseases has been transformed into a healthcare facility that specializes treatment for Covid-19 patients.
HCM city has confirmed more than 700 Covid-19 cases since the virus recurred in late April. Experts say though the fresh outbreak was brought under control, many cases have sporadically been detected in the community with unknown sources of infection.
The local administration has developed scenarios to receive up to 5,000 Covid-19 patients and place 10,000 people in quarantine.
Chances of Vietnam entering final World Cup qualifiers are 99.2 percent
Football statistics site We Global says the probability of Vietnam making it to the final World Cup qualifiers after defeating Malaysia is almost certain.
The American based football statistics site ran a risk analysis using Monte Carlo – a computational algorithm that relies on repeated random sampling to obtain numerical results – of the second qualifying rounds of the 2022 World Cup qualifiers and concluded that the chances of Vietnam entering the final qualifying round is 99.2 percent, reported VnExpress.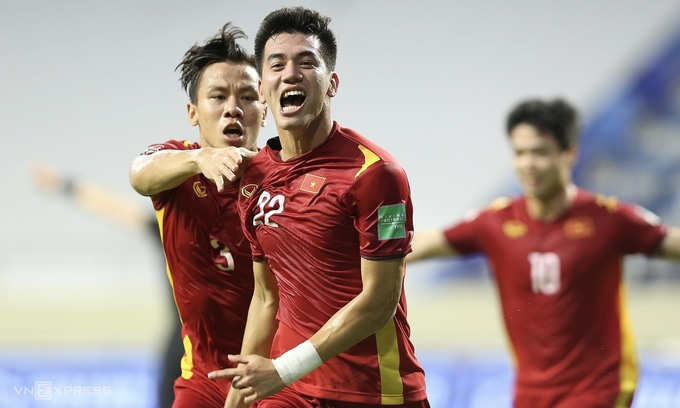 Vietnamese players celebrate their first goal against Malaysia in the World Cup qualifiers, June 11, 2021. Photo: VnExpress
In addition to the five teams - Australia, Saudi Arabia, Syria, Japan and South Korea - that have secured their slots in the Asian qualifying rounds, Vietnam's chances of advancing to third stage of World Cup qualifying rounds are behind Iraq (99.92 percent) and Oman (99.4).
The other teams that still have a chance to qualify for the final qualifiers are China with 99 percent, Iran (82.68), UAE (76.96), Lebanon (64.08), Uzbekistan (56.28), Jordan (13.24) , Tajikistan (8.72) and Kyrgyzstan (0.52).
Vietnam are at the top of Group G in the second qualifying round with 17 points, two more than the host UAE. The team will enter the third stage as the leader of group G if they do not lose to the UAE on June 15.
If Vietnam lose to the UAE, they still have a great opportunity to continue in the group as top five runners-up. Currently, the team are almost certain to score higher than the two second-place opponents, Kyrgyz Republic in group F and Lebanon in group H, each having 10 points.
Vietnam have never entered the final qualifying round of the World Cup - where 12 teams are divided into two groups of six teams each. Teams will play in a round-robin two-legged round to find the top two teams from each group to advance to the 2022 World Cup finals in Qatar.
The chance for Vietnam to directly enter the Asian Cup finals is 99.2 percent, according to We Global.
Over 93,000 students enter 10th grade entrance exam in Hanoi
More than 93,000 students throughout Hanoi took part in the 10th grade entrance exam for the upcoming school year.
Candidates participate in the exam on June 12-13 with subjects, including mathematics, literature, foreign language and history.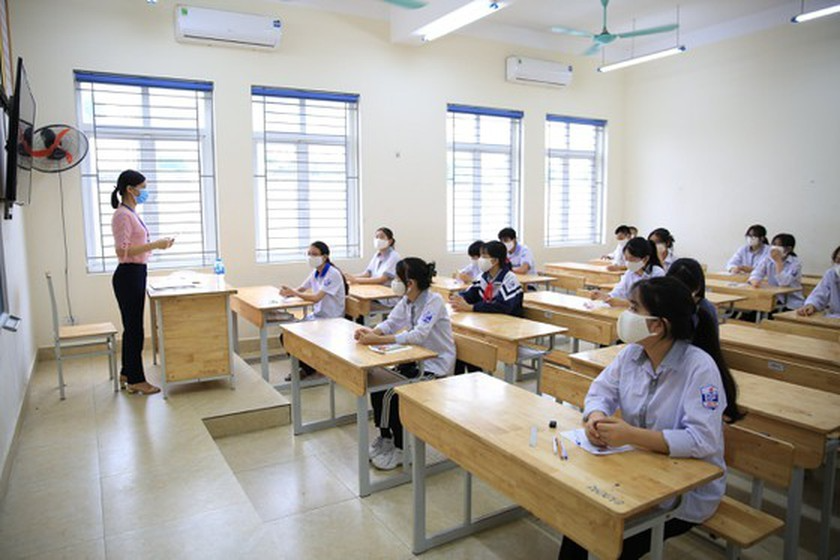 Photo: VNN
The mathematics and literature tests on the morning of the first exam day lasted 90 minutes of each while the foreign language and history exams take place within 45 minutes of each on themorning of the second day, VNN reported.
Students will participate in the tests for the 10th grade special classes on June 14 while the dual-degree program's exams will be held on June 15-16.
According to the municipal Department of Training and Education, around 93,000 students attended the 10th grade entrance exam at 184 venues with 15,000 education officials, teachers and staff teachers to serve the exams. About 67,000 students will get seats in public high schools.
The examination is organized under strict safety measures amid the complicated situation of Covid-19 pandemic.
Bac Ninh eases social distancing, Quang Ninh reboots tourism
The northern province of Bac Ninh eased social distancing measures in several areas, starting from 0 a.m. on June 13.
Deputy Director of the provincial Department of Information and Communications and member of the provincial Steering Committee on Covid-19 Prevention and Control Vu Huy Phuong said on June 12 that Tu Son town will be under social distancing in line with the Prime Minister's Decree No.19/CT-TTg instead of Decree No.15/CT-TTg. Tieu Son street alone in Tuong Giang ward will continue to be under stricter social distancing in line with Decree No. 16/CT-TTg.
Photo: VNN
Communes of Yen Gia, Que Tan, Phu Lang, Chi Lang, Dao Vien and Viet Hung in Que Vo district as well as 33 villages in eight communes of Thuan Thanh district will shift from the application of social distancing measures under Decree No.16 to those under Decree No. 15.
On June 8, the northern province of Quang Ninh also allowed several business sectors to resume operations, including stimulating local tourism demand in line with pandemic prevention and control regulations.
Director of Sun World Ha Long Tran Van Minh said ticket price will be halved to attract more visitors.
Those coming from pandemic-hit areas must submit certifications proving they are negative for SARS-CoV-2 within 5-7 days.
Rosie Nguyen