Vietnam News Today (June 13) notable headlines
Vietnam licenses Pfizer Covid-19 vaccine for emergency use
Vietnam on full alert with Koguma storm set to make landfall in hours
More beach destinations ease social restrictions
Ho Chi Minh city has several chains of Covid infections with unknown sources
Three Vietnamese weightlifters book places at Tokyo Olympics
Fisheries sector sets sights on US$16 bln export target by 2030
Vietnam working to stabilize economy amid challenges from pandemic
PV Gas among Forbes Vietnam's list of top 50 listed firms for 9th year
Photo contest for foreigners in Vietnam kicks off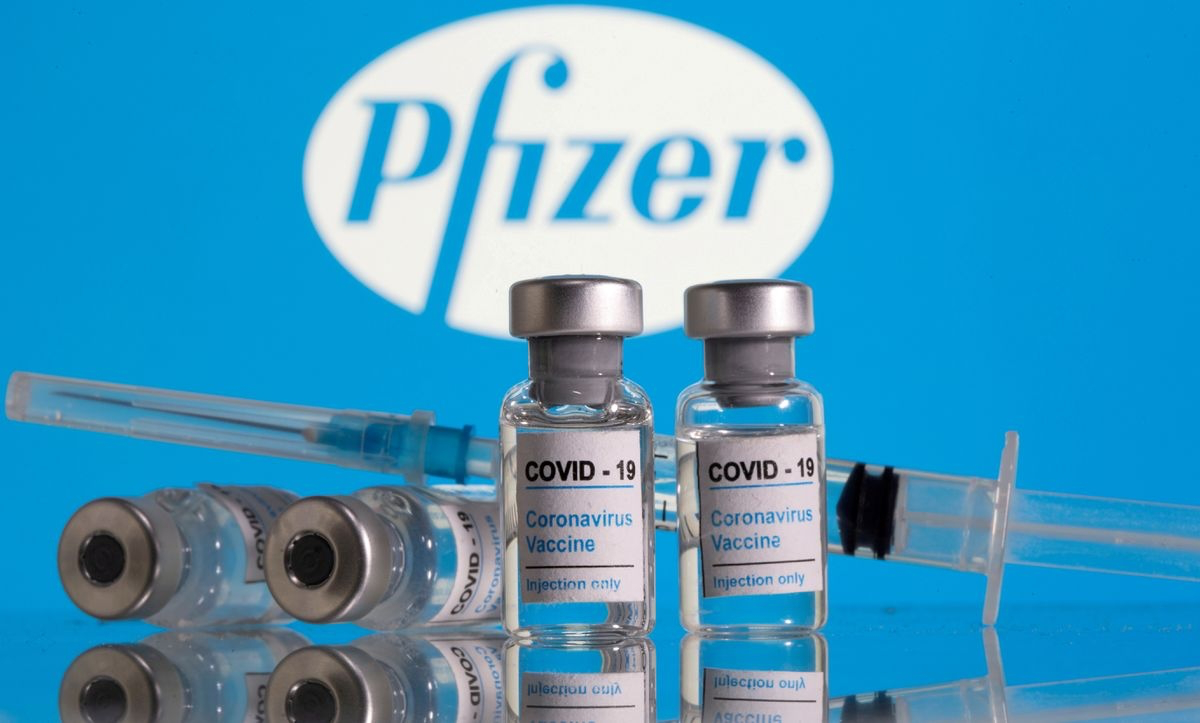 Vietnam has officially licensed Pfizer/BioNTech coronavirus vaccine Comirnaty. Photo: Reuters
Vietnam licenses Pfizer Covid-19 vaccine for emergency use
The Ministry of Health has approved the Pfizer coronavirus vaccine Comirnaty for emergency use in Vietnam on request from Pfizer Vietnam Co. Ltd.
The decision on conditional approval for the Comirnaty vaccine was signed by Deputy Minister of Health Tran Van Thuan on June 12.
Comirnaty is a vaccine for preventing coronavirus disease 2019 (Covid-19) in people aged 12 years and older. It contains a molecule called messenger RNA (mRNA) with instructions for producing a protein from SARS-CoV-2, the virus that causes Covid-19, cited VOV.
The vaccine is produced at Pfizer Manufacturing Belgium NV, Belgium, and BioNTech Manufacturing GmbH, Germany.
Pfizer/BioNtech's Comirnaty vaccine is the fourth Covid-19 vaccine to be imported to Vietnam, after the AstraZeneca vaccine of the United Kingdom, Sputnik V vaccine of Russia and Sinopharm vaccine of China.
Developed since early 2020, the vaccine has been approved by the World Health Organization based on its safety and immunogenicity records. The vaccine has been used widely in the United States and the European Union.
Vietnam has recently reached an agreement to purchase 31 million doses of the Pfizer/BioNtech, and the first batch is expected to arrive before July 2021.
Vietnam on full alert with Koguma storm set to make landfall in hours
Northern and north-central provinces from Quang Ninh to Binh Dinh have been put on standby as a tropical low depression strengthened into storm Koguma which is likely to make landfall in less than 24 hours.
Storm Koguma was located off of the nation's Tonkin Gulf at 1:00 p.m. on June 12 and was heading towards the northern coast at speeds of between 15 and 20kph, according to the National Centre for Hydro-Meteorological Forecasting (NCHMF).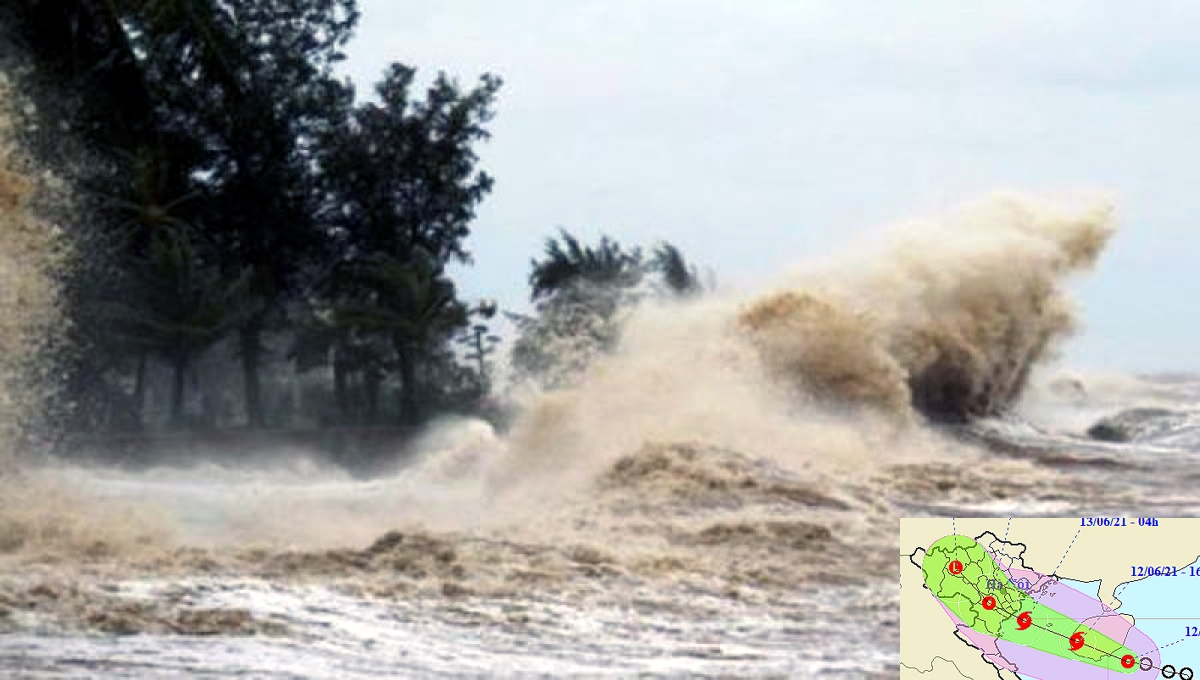 Storm Koguma is forecast to make landfall on June 13. Photo: VOV
The storm was recording wind speeds of up to 60kph, with gusts of 75kph near its centre. It is forecast to move west and north-west before making landfall in less than 24 hours with sustained winds of 75kph, according to VOV.
Koguma is anticipated to bring heavy rainfall and high tidal surges pounding northern and north-central localities from Quang Ninh to Nghe An.
In an urgent telegram issued on June 12, the Central Steering Committee for Natural Disasters Prevention and Control and the National Committee for Disaster Response and Search and Rescue requested that localities from Quang Ninh to Binh Dinh swiftly make preparations ahead of the storm's arrival.
Localities are also required to inform the owners of fishing vessels still operating out at sea of the storm's movements and either seek storm shelters nearby or return to the shore. Delta and coastal areas have also been asked to protect fishing cages and sea dyke systems, evacuate residents from low-lying areas, and move to reinforce public works.
This marks the second storm that has formed in the East Sea and the first to hit Vietnam this year.
More beach destinations ease social restrictions
Hai Phong city and Khanh Hoa province, home to famous beach destinations, relaxed Covid restrictions after more than two weeks without new community transmissions.
Authorities in the northern port city of Hai Phong allowed tourist destinations to reopen from Sunday but only serve people living and working in the city.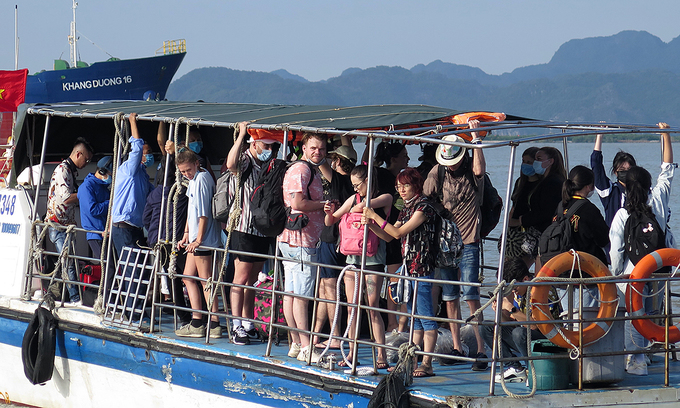 Locals and foreigners on a boat from Hai Phong city to Cat Ba Island, a popular tourist destination, April 30, 2021. Photo: VnExpress
Restaurants, catering services, outdoor sports activities, public parks and flower gardens are permitted to resume operation, but no gatherings of more than 20 people are allowed and people are required to keep a minimum distance of one to two meters, reported VnExpress.
Accommodation establishments are also allowed to reopen but not receive guests from pandemic-hit areas.
Authorities in the central province of Khanh Hoa, home to famous beach town Nha Trang, also allowed gyms, fitness centers and pool table services to resume operation from Sunday while restaurants, street food stalls and indoor catering services could serve customers but must ensure a minimum distance of one meter.
Provincial authorities also allowed swimming at public beaches but large crowds are discouraged. Parking lots along these beaches remain closed until further notice.
With the pandemic situation under control, tourist hotspots like Hue, Hoi An, Da Nang and Ha Long have reopened popular destinations and lifted the swimming ban with safeguards.
Ho Chi Minh city has several chains of Covid infections with unknown sources
In addition to the outbreak related to the Revival Ekklesia Mission, Ho Chi Minh city has recorded new infection chains at apartments, a mechanical workshop and a hotel, with unknown sources of infection.
At a meeting of the Ho Chi Minh city Steering Committee for Disease Prevention and Control on Thursday, Director of the Ho Chi Minh city Department of Health Nguyen Tan Binh reported that by the morning of June 11, the city had 837 Covid-19 patients, including 595 locally infected cases and 238 imported cases.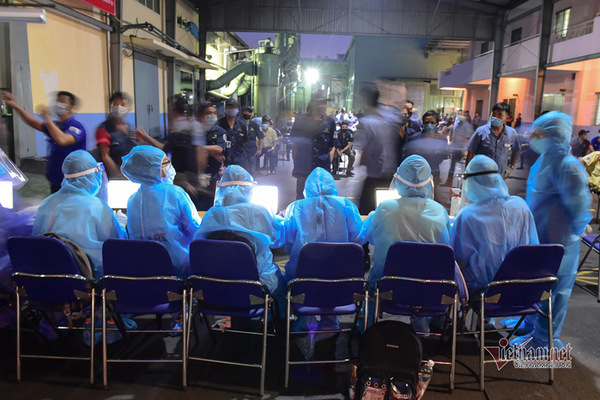 Health workers take samples for Covid tests for workers in an industrial park in Ho Chi Minh city. Photo: VNN
Related to the outbreak at the Revival Ekklesia Mission, which was discovered on May 26, were 441 cases as of June 11. This outbreak has spread to 21 of 22 districts, Thu Duc city, and many other provinces. The city has discovered transmission chains at offices, residential areas, schools and restaurants that are linked to Revival Ekklesia Mission, cited VNN.
Binh said that the infection chains related to the Revival Ekklesia Mission have been basically controlled.
Binh noted that in recent days, the city found 48 Covid-19 patients through screening at hospitals and clinics. However, the sources of infection of these cases have not been identified yet, so the city is continuing to investigate.
According to Binh, the pandemic situation is developing unpredictably, so the city will continue to take strict measures to control the pandemic, especially in industrial parks and export processing zones.
In the coming time, the city will expand Covid testing, especially for those who have close contacts with infection chains.
Binh called on local people to fill out their medical declarations and strictly follow the 5K rules issued by the Ministry of Health.
Three Vietnamese weightlifters book places at Tokyo Olympics
Three Vietnamese weightlifters have successfully qualified for the upcoming Tokyo Olympics which are scheduled to take place from July 23 to August 8, according to the Vietnam Bodybuilding and Weightlifting Federation.
The trio are Hoang Thi Duyen, Vuong Thi Huyen, and Thach Kim Tuan.
They had previously been named in the rankings for the 2020 Tokyo Olympic qualifiers by the International Weightlifting Federation (IWF) due to their stellar performances at the 30th Southeast Asian Games (SEA Games 2019) which took place in the Philippines.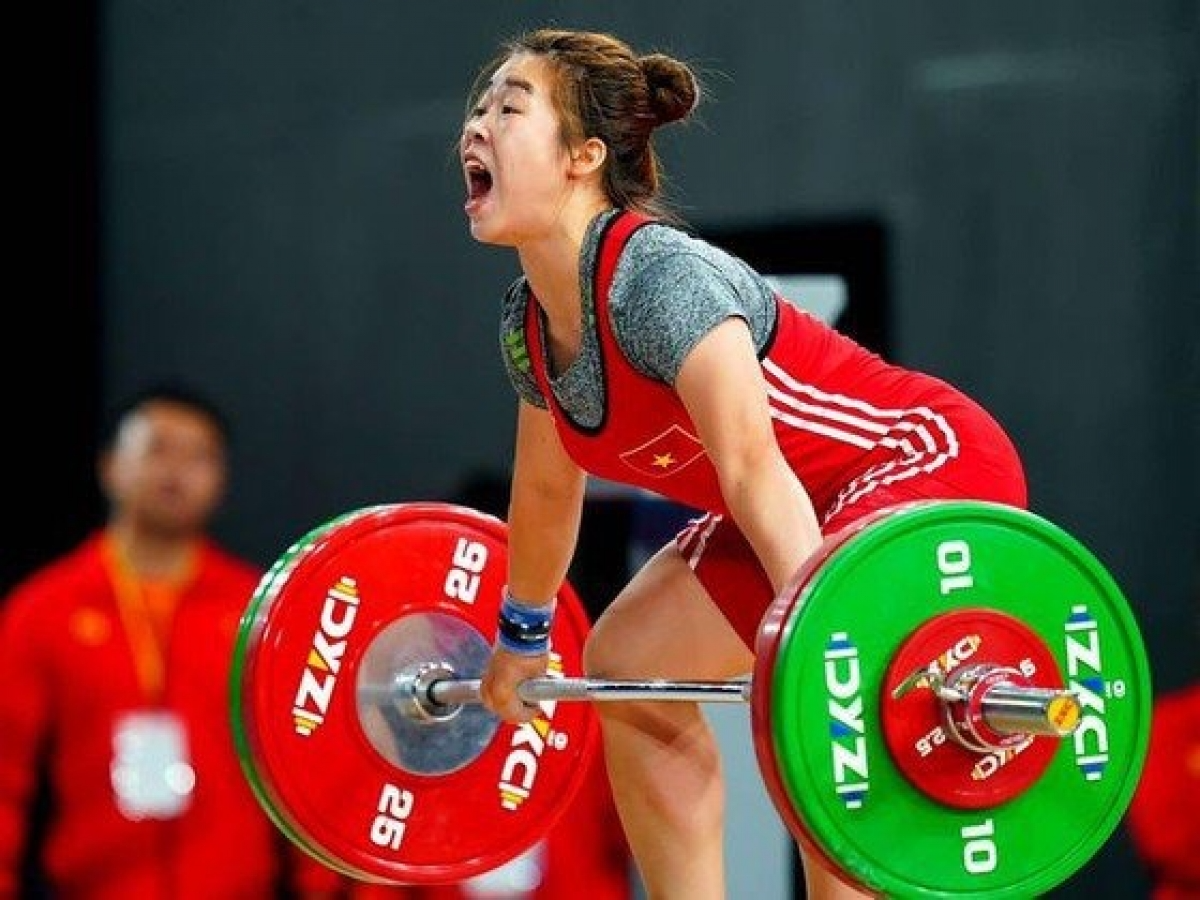 Hoang Thi Duyen is among three Vietnamese weightlifters who have successfully qualified for the upcoming Tokyo Olympics. Photo: VOV
Do Dinh Khang, general secretary of the federation, announced the good news on June 12, saying the IWF and the International Olympic Committee (IOC) had sent email confirming the slots.
This is good news for Vietnam, as Vietnamese weightlifters have not been banned from competing at the Tokyo 2020 Olympics due to a doping penalty, said Khang.
He added that in line with the rules of the IWF, any country found to have recorded three or more doping violations during the course of the Olympics qualifiers, which began back in November 2018, may face a ban from competing at the event, VOV reported.
Vietnamese weightlifters over the past two years have had four athletes test positive for banned substances. However, the IWF did not hand out any punishment to the Vietnamese weightlifting team for doping.
Currently, Vietnam has earned 14 places for the upcoming Olympics, including Phuong Thanh and Thanh Tung in gymnastics, Huy Hoang in swimming, Nguyen Van Duong and Nguyen Thi Tam in boxing, along with local pair Phi Vu and Anh Nguyet in archery. This is in addition to Luong Thi Thao and Dinh Thi Hao in rowing, Truong Thi Kim Tuyen in taekwondo, and Nguyen Tien Minh and Nguyen Thuy Linh in badminton, along with Thi Duyen, Vuong Thi Huyen, and Thach Kim Tuan in weightlifting.
Rosie Nguyen