Vietnam News Today (June 18): HCM city to administer nearly 1 million doses of Covid-19 vaccine
Vietnam News Today (June 18) features headlines include: Vietnam proposes quick vaccine rollout during WHO talks; Ho Chi Minh city to administer nearly 1 mln doses of Covid-19 vaccine; Key industrial sectors up and running amid Covid-19 threats and Bamboo Airways to trial digital health pass.
Vietnam News Today (June 18) notable headlines
Vietnam proposes quick vaccine rollout during WHO talks
Ho Chi Minh city to administer nearly 1 mln doses of Covid-19 vaccine
Key industrial sectors up and running amid Covid-19 threats
Bamboo Airways to trial digital health pass
Ninh Thuan pays attention to marine biodiversity conservation, development
New measures to control Covid-19 outbreaks in Ho Chi Minh city
Vietnam at World Cup qualifiers – A memorable journey
Vietnam-Lao trade posts growth in first five months
Community-based tourism developed in Binh Lieu District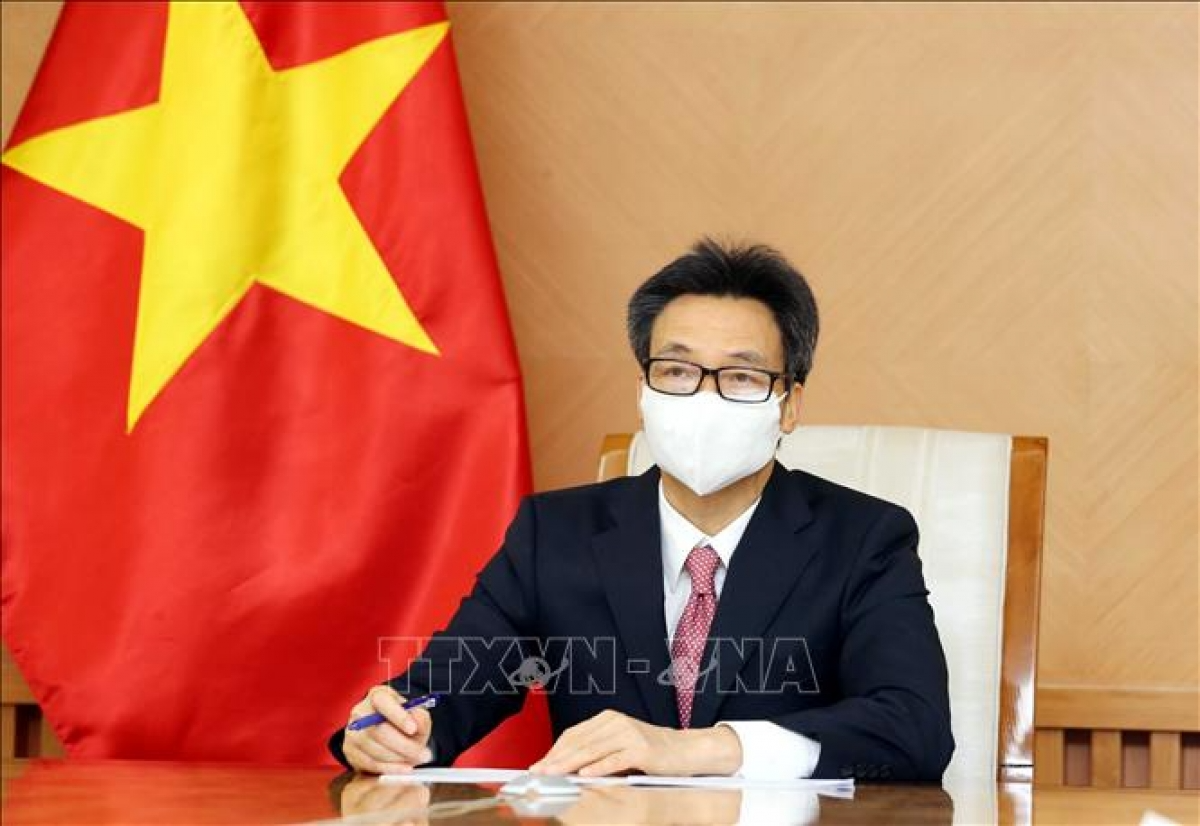 Deputy PM Vu Duc Dam suggests that WHO help facilitate the delivery of Covid-19 vaccines under the UN - administered COVAX Facility to Vietnam. Photo: VNA
Vietnam proposes quick vaccine rollout during WHO talks
Deputy Prime Minister Vu Duc Dam on June 17 suggested that the World Health Organisation (WHO) help facilitate the delivery of COVAX Facility – sponsored Covid-19 vaccines to Vietnam amid the complex nature of the pandemic locally.
During online talks with Dr Takeshi Kasa, WHO Western Pacific Regional Director, Dam highly appreciated WHO's role in the global fight against the Covid-19 pandemic, and thanked WHO and its chief representative in Vietnam for actively having supported the country for more than one and a half years since the pandemic broke out.
The Government of Vietnam is determined to accelerate the implementation of its vaccination strategy in order to achieve herd immunity soon, stressed the Deputy PM.
He suggested that WHO promote the early delivery of vaccines under the United Nations run COVAX Facility to Vietnam, and strengthen cooperation in technology transfer so that Vietnam would become one of the regional vaccine production centers, contributing to joint efforts to support regional countries in timely access to vaccine sources, cited VOV.
Dr. Takeshi Kasa, highly appreciated Vietnam's effective response measures, attributing the results to the top leadership's direction, communication campaigns, and the great support and participation of the entire population.
Vietnam has served as a role model in Covid-19 response in the region, said Takeshi, citing its effective approach of the "5K plus vaccine" which considers vaccines the key to controlling the pandemic alongside other pandemic prevention measures.
Given the current context of the pandemic, Dr. Takeshi recommended that countries continue to tighten disease control measures, and remain highly vigilant, even when the majority of the population are vaccinated.
The WHO official vowed to work closely with Vietnam to better control Covid-19 and promote an early rollout of the vaccine under the COVAX mechanism to the country. He voiced his support for technology transfer and cooperation on vaccine production with Vietnam to turn it into one of the regional vaccine research and production centers.
Ho Chi Minh city to administer nearly 1 mln doses of Covid-19 vaccine
More than 800,000 doses of the Covid-19 vaccine have been transported to the cold storage facility of the Pasteur Institute in Ho Chi Minh city in preparation for the rollout of a large-scale vaccination campaign.
According to information given by Deputy Minister of Health Nguyen Truong Son on June 17, the country has received nearly one million doses of Covid-19 vaccines, of which 836,000 doses have been delivered to Ho Chi Minh city.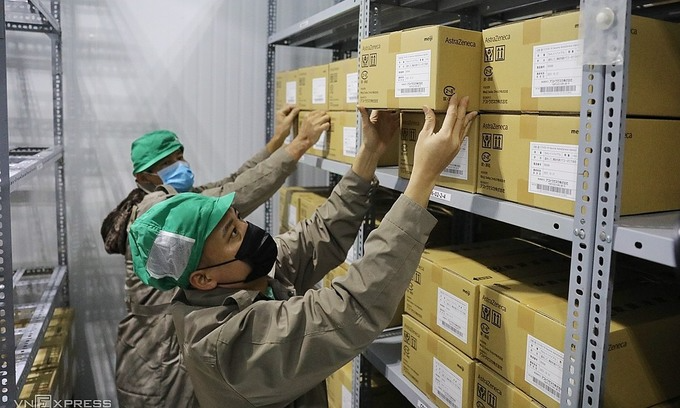 Batches of the AstraZeneca Covid-19 vaccine are transported from Hanoi to a storage facility of the Pasteur Institute in HCM city, June 17, 2021. Photo: VnExpress
He noted that the southern metropolis will launch the next stage of its vaccination campaign at 1,000 locations throughout the city over the next two days. The campaign is scheduled to be completed within five to seven days.
Previously HCM city had already received 140,000 vaccine doses allocated by the Ministry of Health, with 74,000 people being injected so far.
The fresh coronavirus outbreak has spread to all of the city's 22 districts and downs in less than a month. More than 800 people have tested positive for the virus, making HCM city the third largest Covid-19 hotspot in Vietnam. The number is expected to rise in the coming days.
On Thursday, HCM city recorded 137 Covid-19 cases, the highest number of infections observed within 24 hours for the southern metropolis. Vietnam meanwhile recorded 503 local Covid-19 cases, another new high for the nation's daily tally ever since the pandemic hit early last year, VnExpress reported.
HCM city has recorded 1,197 local Covid-19 cases since the new wave started in late April, behind only Bac Giang with 5,007 cases and Bac Ninh with 1,454 cases.
Key industrial sectors up and running amid Covid-19 threats
There have been a number of positive signs for local industrial production during the opening five months of the year, mostly coming from the domestic processing and manufacturing sectors.
Data from the Ministry of Industry and Trade (MoIT) show the industrial production index for May saw an increase of 1.6% compared to the previous month and an 11.6% climb against the same period from last year. This exhibits a positive sign of the national economy in the context that the latest Covid-19 outbreak has spread to dozens of cities and provinces, especially to industrial parks in Bac Giang and Bac Ninh provinces.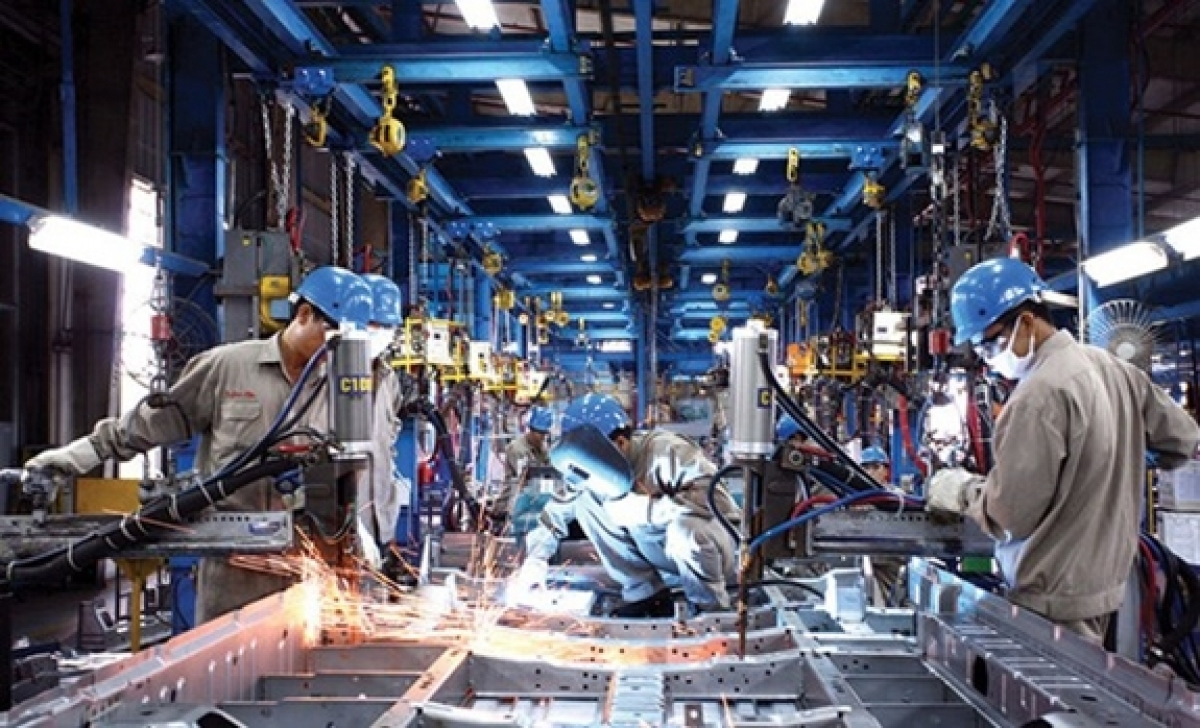 Photo: VOV
The MoIT says five-month industrial production witnessed an annual rise of 9.9%, of which the processing and manufacturing sectors enjoyed a boost of 12.6%, reported VOV.
Despite these positive signals, the local manufacturing and processing sectors have faced a number of risks, including a rise in raw material costs, alongside the negative impact of Covid-19 pandemic.
Pham Tuan Anh, deputy director of the Industry Agency under the MoIT, says the Ministry is fully focused on initiating major solutions aimed at creating higher added value for the processing and manufacturing industries.
The MoIT will co-ordinate alongside relevant ministries in order to formulate policies specifically for the development of a number of priority industries, such as the automobile, textile and garment, leather and footwear industry, electronics, minerals, and supporting industries, says Anh.
The main priority will be given to restructuring supply chain linkages in order to develop the industrial sector in a sustainable manner and to avoid reliance on some markets, he notes.
In addition, according to the official, localities nationwide should invest in industrial projects, especially those relating to the processing and manufacturing industries.
Bamboo Airways to trial digital health pass
Bamboo Airways officially entered into cooperation with the International Air Transport Association (IATA) to trial the IATA Travel Pass, laying a solid foundation for the airline's reopening of international routes.
In coordination with IATA, Bamboo Airways will begin preparations to trial the IATA Travel Pass on international flights in the coming months. With this move, Bamboo Airways demonstrates its commitment to relaunching international routes, opening borders safely as well as reviving the battered tourism industry.
IATA Travel Pass is a digital health wallet where passengers can upload and share their Covid-19 tests and vaccinations certificates for travel. Health information is an essential factor for both governments and carriers to conduct safe flights during and after the pandemic.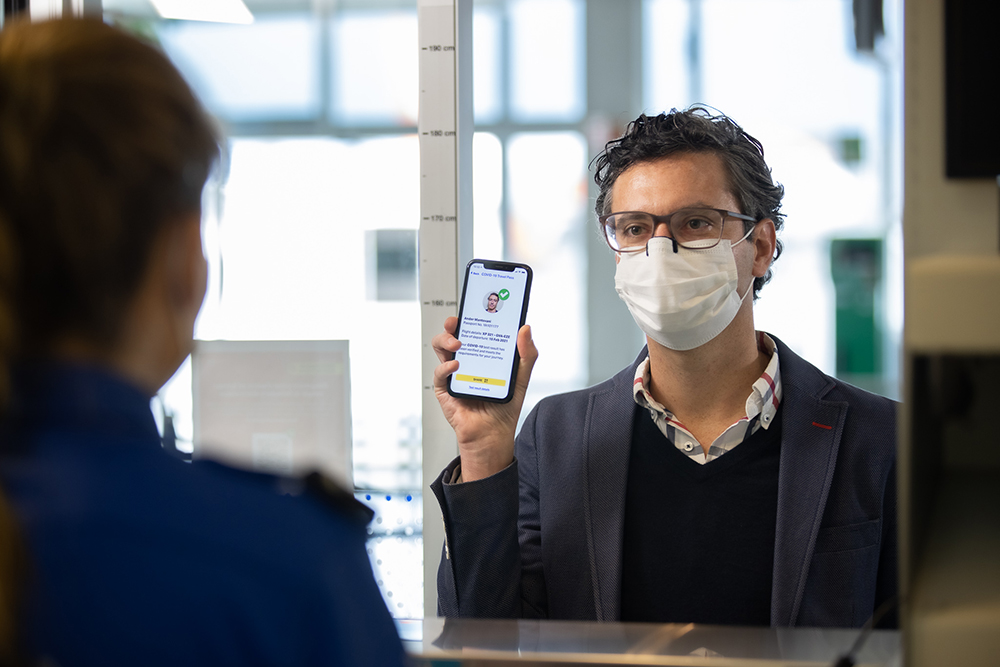 IATA Travel Pass has been put into application by many airlines across the world. Photo: IATA.
As a member of IATA, Bamboo Airways is closely collaborating with the body, authorities and related units to pilot the Travel Pass app in line with government regulations on "digital health passports" or "vaccine passports". With this trial, Bamboo Airways aims to establish an area to check the compliance of passengers at the airport and provide the government with valid information to ensure safe flights and repel the pandemic.
Bamboo Airways is promoting the digital transformation process and effectively fulfilling the market demand and practical requirements of a "new normal" phase, according to VnExpress.
"Alongside the valuable partnership with IATA, it's our conviction that Bamboo Airways will substantially contribute to the revival and sustainable development of aviation in the future," said Dang Tat Thang, CEO of Bamboo Airways.
Thang believes the tech solution would be the cornerstone of international routes reopening, especially Bamboo Airways' non-stop flights connecting Vietnam and the U.S.
Ninh Thuan pays attention to marine biodiversity conservation, development
The central province of Ninh Thuan has considered the conservation and sustainable development of marine biodiversity and the rational exploitation of marine resources as one of the priority tasks in its socio-economic development strategy, given the province's rich biodiversity with hundreds of marine species of economic and conservation value.
Ninh Thuan has a coastline of more than 105 km and over 18,000 sq.km of territorial waters. According to the latest studies by the provincial Department of Natural Resources and Environment, coral reefs and coral reef ecology are among the most prominent biodiversity components in Ninh Thuan waters. Scientists have recorded six coral reefs with an average coverage of about 42.6%. Coral reefs are home to many species of marine creatures, including coral reef fish with 147 species belonging to 81 genera and 32 families. Five species of seagrass are also identified which cover a total area of about 341 ha.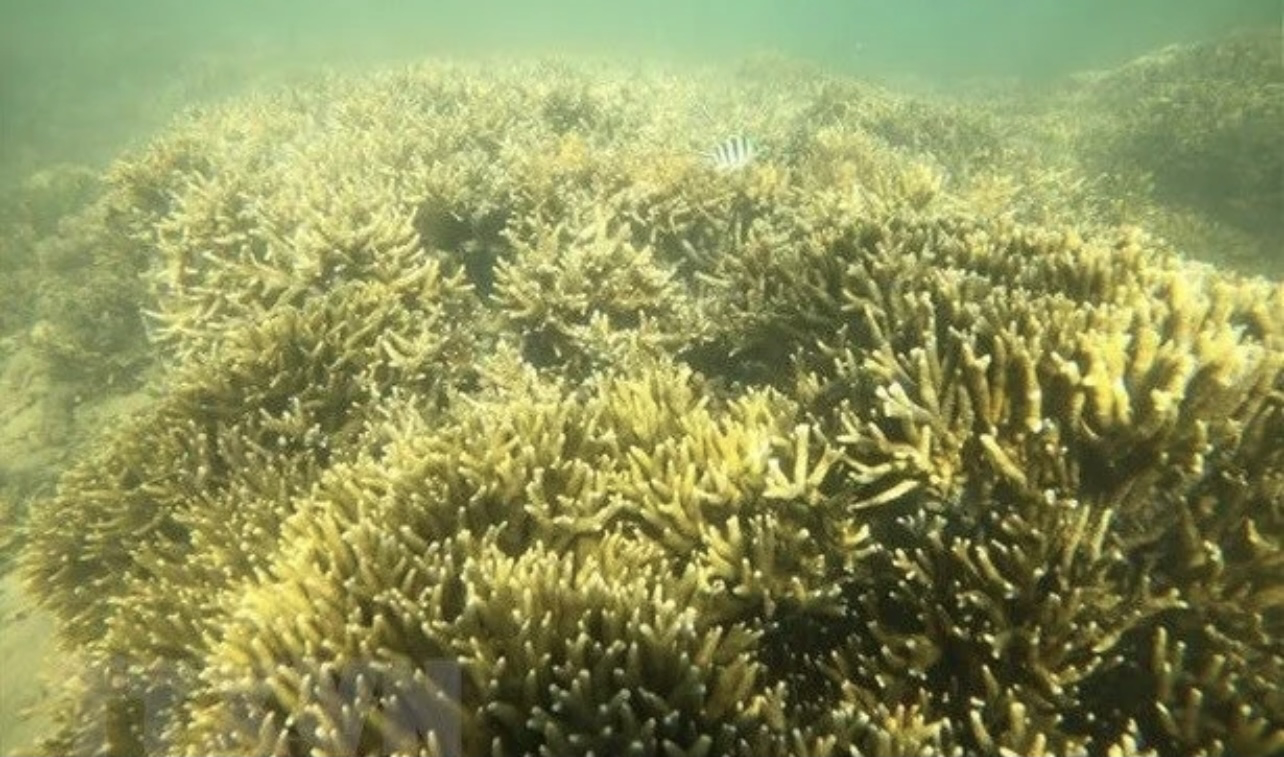 Coral reef in Ninh Thuan's Phan Rang - Thap Cham city. Photo: VNA
With the potential in valuable ecosystems and biodiversity, the province has paid special attention to the conservation of marine biodiversity. Over the past time, relevant agencies have cooperated with research institutes, universities, domestic and foreign organizations to implement many research projects and programmes on marine biodiversity. A programme on periodical monitoring of Ninh Thuan coral reefs has been built, and surveys were conducted on typical marine ecosystems in Ninh Hai and Thuan Nam districts. Work is also underway to restore mangrove ecosystems in Nui Chua and Dam Nai areas to protect and create a favourable environment for marine species.
Ninh Thuan also promoted communication activities to encourage sustainable fishing practice, and spent its own budget along with mobilising resources from local enterprises to release young shrimp and fish fry into the sea to revive marine resources. Since the beginning of this year, around 700,000 young shrimps have been released into the sea, cited NhanDan.
Chairman of the provincial People's Committee Tran Quoc Nam said that in the coming time, Ninh Thuan will continue to develop mechanisms and policies to attract central and local resources for investment programmes and projects to improve the operational efficiency of marine protected areas, and improve its capacity of responding to marine environmental incidents, actively encourage people living in coastal areas to raise their awareness of the conservation and sustainable development of marine biodiversity.