Vietnam News Today (June 22) notable headlines
Vietnam attends ASEAN SOM, ExCom SEANWFZ's meeting
Vietnam treasures extensive partnership with Japan, says NA Chairman
Hanoi reopens barber shops, indoor dining
Vietnam's exports to EU surge amidst Covid-19
Phu Quoc prepares to welcome international visitors with vaccine passport
High trade deficit recorded over five months nothing to worry about
China tops list for purchasing Vietnamese iron and steel
Vietnam could be granted large bonus at AFC Asian Cup 2023
Can Tho confirms first locally-transmitted case of Covid-19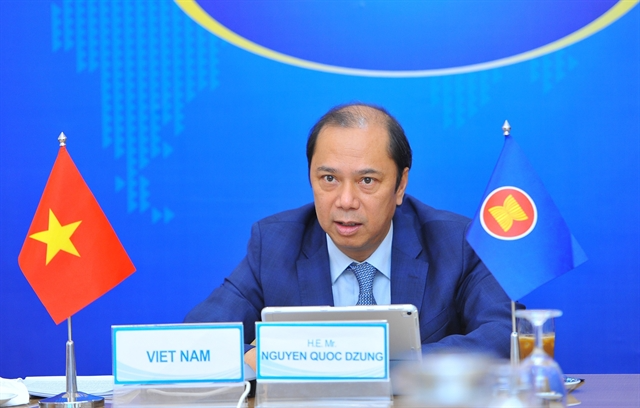 Deputy Foreign Minister and head of the Vietnam ASEAN SOM Nguyen Quoc Dung. Photo: VNS
Vietnam attends ASEAN SOM, ExCom SEANWFZ's meeting
Deputy Foreign Minister and head of the Vietnam ASEAN SOM Nguyen Quoc Dung on Monday attended the ASEAN Senior Officials' Meeting (ASEAN SOM) and a meeting of the Executive Committee of the Southeast Asian Nuclear Weapon Free Zone (ExCom SEANWFZ) Treaty Commission, which were hosted virtually by Brunei – the chair of ASEAN in 2021.
At the events, the Vietnamese official affirmed the support for Brunei's priorities and initiatives in 2021, and proposed directions to speed up the implementation of Vietnam's initiatives put forth in the ASEAN Chairmanship Year 2020.
He also voiced important ideas on directions for handling issues relating to the relations between ASEAN and its partners on the basis of ensuring the association's central role, cited VNS.
Regarding international and regional issues, Dung called on ASEAN countries to continue maintaining consistent principles and approaches in the East Sea issue in the context of recent complicated developments in the waters, and creating a favourable environment for substantive negotiations in order to soon achieve an effective and substantive Code of Conduct in the East Sea (COC) in line with international law and the 1982 UN Convention on the Law of the Sea (UNCLOS).
The Deputy FM also proposed a number of specific measures to promote intra-bloc efforts in this issue.
At the ASEAN SOM, representatives from ASEAN member countries discussed and agreed on directions to accelerate the implementation of initiatives and priorities proposed by Brunei in 2021, including the Strategic and Holistic Initiative to Link ASEAN Responses to Emergencies and Disasters (ASEAN SHIELD) to strengthen ASEAN's synergy to respond to natural disasters; a scholarship programme for young ASEAN cadres; building ASEAN's common awareness on blue economy.
Meanwhile, at the SEANWFZ ExCom, attendees reaffirmed the importance of the Treaty on the Southeast Asia Nuclear Weapon-Free Zone, saying that this is a key document that demonstrates ASEAN's commitment to maintaining a Southeast Asia region without nuclear weapons, thus contributing to regional security and international efforts in disarmament and non-proliferation of weapons of mass destruction.
Vietnam treasures extensive partnership with Japan, says NA Chairman
Vietnam always considers Japan as an extensive, important and long-term strategic partner in its foreign policy, and wants to boost this extensive strategic partnership with Japan, says National Assembly Chairman Vuong Dinh Hue.
Vietnam supports Japan in promoting its role as a global power, making a positive contribution to peace and development in the region and the world at large, Hue told Oshima Tadamori, Speaker of the House of Representative of the Japanese Diet during their phone talks on June 21.
He thanked the National Diet, Government and people of Japan for recently donating one million doses of vaccine to Vietnam, helping it carry out its vaccine strategy in key localities, reported VOV.
NA Chairman Vuong Dinh Hue of Vietnam pushes for a stronger extensive strategic partnership between Vietnam and Japan during his phone talks with Oshima Tadamori, Speaker of the House of Representative of the Japanese Diet. Photo: VOV
For his part, Oshima Tadamori affirmed that Japan will work closely with international mechanisms and organizations such as the World Health Organisation (WHO), the United Nations, and G7 countries to assist all countries worldwide to access Covid-19 vaccines for domestic use.
During talks, the two sides highlighted ASEAN's central role in resolving regional and international issues. They jointly affirmed the importance of maintaining peace, stability, security, safety, freedom of navigation and overflight in the East Sea, respecting the rule of law, and peacefully settling sea - related disputes according to international law, including the 1982 United Nations Convention on the Law of the Sea (UNCLOS 1982).
Hanoi reopens barber shops, indoor dining
Barber shops and restaurants can start serving customers indoors beginning Tuesday, Hanoi authorities have announced.
They must comply with Covid-19 prevention guidelines, Hanoi vice-chairman Chu Xuan Dung said Monday, according to VnExpress.
The city requires restaurants to ensure social distancing between customers and have dividers between seats. Establishments can't fill more than 50 percent of their seating capacity and have no more than 20 people in a venue at a time. They also have to close before 9 p.m. every day. Bar, pubs and draught beer venues are only allowed to sell takeaways.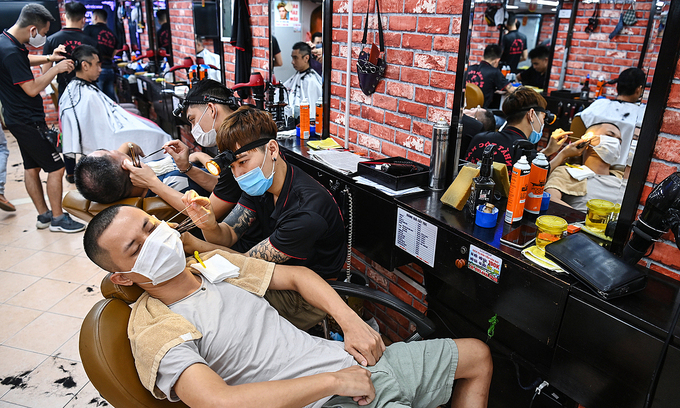 Customers at a barber shop on Hanoi's Dong Da district on May 25, 2021. Photo: VnExpress
The capital had shut down non-essential businesses and services starting April 29, beginning with karaoke parlors and bars, then restaurants and cafes and later, cinemas, gym and barber shops.
Tran Dac Phu, former head of the General Department of Preventive Medicine under the Ministry of Health, warned last Saturday that outbreaks were still happening in the country, and Hanoi could still be harboring infected cases within the community.
"The reopening process needs to be done carefully along with strict supervision, or we would return to square one," he said.
Hanoi has recorded 465 local Covid-19 cases in Vietnam's latest coronavirus wave, including 148 cases in two locked down hospitals.
Since April 27, Vietnam has recorded 10,078 community transmissions in 42 cities and provinces.
Vietnam's exports to EU surge amidst Covid-19
Trade in goods between Vietnam and the European Union (EU) has seen positive growth since the beginning of 2021, despite the impact of the Covid-19 pandemic.
According to statistics of the General Department of Customs, Vietnam exported US$16.1 billion worth of goods to the EU during January-May, while importing commodities worth US$6.7 billion from the bloc, up 20.1% and 16.8% compared to the same period last year, respectively.
The EU is currently Vietnam's fifth largest trade partner and second biggest importer of Vietnamese goods, following the US. Last year, two-way trade reached US$49.8 billion, down 0.1% year-on-year, and accounting for 9.13% of Vietnam's total foreign trade.
With the EU-Vietnam Free Trade Agreement, Vietnam's export to the bloc has bounced back since the end of 2020, said Tran Thanh Hai, deputy head of the Ministry of Industry and Trade's Import-Export Department.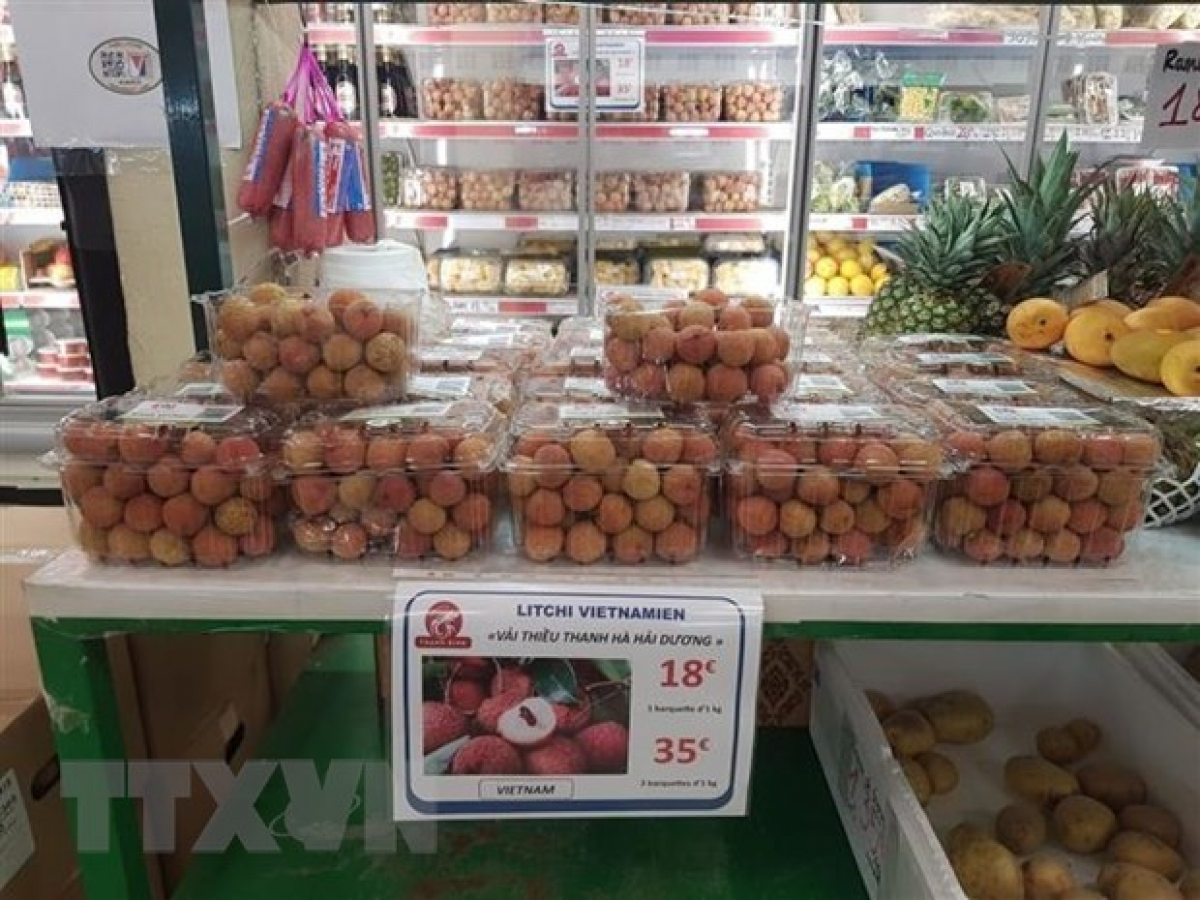 Vietnamese lychees put on sale in France. Photo: VOV
Thanks to the preferential tariffs under the deal, footwear exports to the bloc's 27 member countries increased by 19.2% year-on-year in the first quarter of 2021.
Countries that saw surges included Spain (39.2%), Belgium (37%), Czech Republic (36.5%) and Sweden (30.8%), cited VOV.
The agreement is also creating favourable conditions for the export of Vietnamese farm produce.
In recent days, batches of fresh lychees have been shipped to the Czech Republic, Germany, France and Belgium.
According to the Vietnam Association of Seafood Exporters and Producers (VASEP), European importers have shown more interest in Vietnamese seafood suppliers given tariff advantages from the EVFTA and the stable source of raw materials. Vietnam's seafood exports to the EU reached over US$380 million in the first 5 months of this year, up 15% y-o-y, with half of which, nearly US$199 million, coming from shrimp, up 22% y-o-y.
Phu Quoc prepares to welcome international visitors with vaccine passport
The Ministry of Culture, Sports and Tourism has suggested that Vietnam's largest island of Phu Quoc in Kien Giang province welcome foreign tourists who have vaccine passports.
The proposal was made based on the Politburo's instruction dated June 11, which turned the green light on for some tourist centers in Vietnam, firstly Phu Quoc Island, to open for foreign visitors who hold a vaccine passport.
To implement this policy, tourism experts believe that Phu Quoc's residents must be vaccinated to get herd immunity on the island. Thus, 90% of people on the island, including foreigners and migrant workers, must be vaccinated against Covid-19. International tourists wishing to visit the island must have a vaccination certificate (or vaccine passport) and negative PCR test results. Temporary soft isolation measures between Phu Quoc and the mainland should be applied, cited VNN.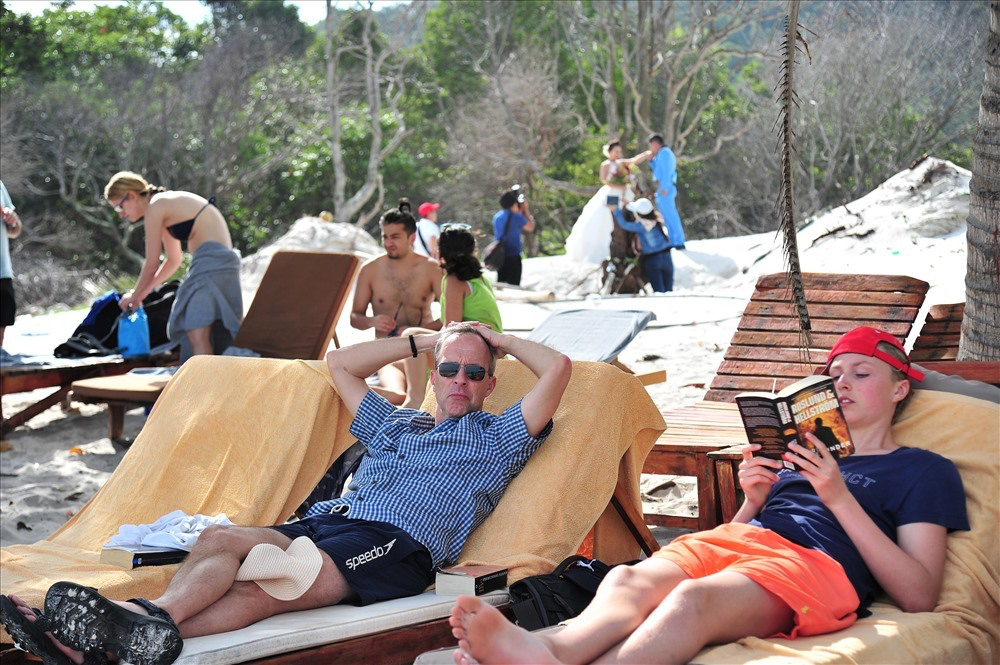 Phu Quoc expects to welcome international visitors in September-October. Photo: VNN
Nguyen Quy Phuong, Director of the Travel Department of the Vietnam National Administration of Tourism (VNAT), said that Phu Quoc has about 178,000 people. This is a good place for Vietnam to open door for international visitors.
The authorities of Kien Giang province said that they would propose that the Government vaccinate all Phu Quoc residents. Kien Giang's Chairman Lam Minh Thanh said that the island expected to welcome the first foreign tourists in September or early October.
About 1.5% of Vietnam's population (about 1.35 million people) have received at least one dose of Covid-19 vaccine. According to experts, it is necessary to digitize the data of people who have been vaccinated in Vietnam on a software system in line with international practices to gradually restore travel and tourism activities. In other words, the vaccine passport.
Luong Hoai Nam, a travel-aviation expert, said that it must be a digital passport set up on a technology platform.
"The vaccine passport is a progressive solution to support domestic travel, especially towards international arrivals. This is an essential tool. It is necessary to consider the use of vaccine passports, accepting international vaccine passports and issuing vaccine passports to Vietnamese citizens," said Nam.
In Vietnam, in addition to promoting vaccinations, domestic airlines such as Vietnam Airlines and Vietjet Air are deploying the world's first vaccine passport - the AITA Travel Pass.
Rosie Nguyen