Vietnam News Today (June 30) notable headlines
Vietnam to closely collaborate with Norway at UN Security Council
HCM city continues social distancing measures as Covid-19 cases surge
Vietnam successfully synthesises anti-SARS-CoV-2 drug
Infection concern as thousands of workers turn up for Covid tests
Vietnam's GDP rises 6.61% in QII despite Covid-19
Locally made Covid-19 vaccine Covivac evaluated in Canada
Expert believes inflation could fall below 4% this year
Vietnam to host ASEAN Competition Conference in December
Vietnam's iron and steel exports to EU soar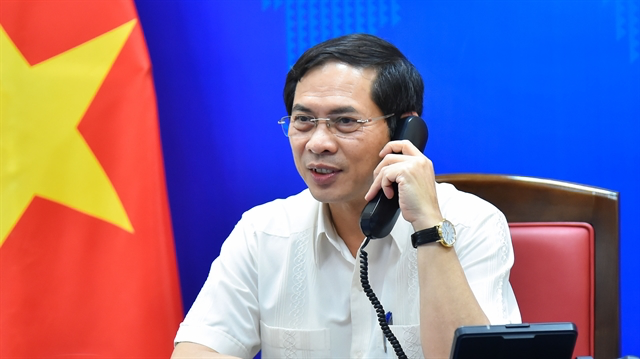 Bui Thanh Son, minister of Foreign Affairs of Vietnam, during phone talks with Norwegian counterpart Ine Marie Eriksen Soreide on Tuesday. Photo: Ministry of Foreign Affairs
Vietnam to closely collaborate with Norway at UN Security Council
Vietnamese foreign minister Bui Thanh Son and Norwegian counterpart Ine Marie Eriksen Soreide had a telephone conversation regarding the two countries' relations and cooperation at the United Nations Security Council.
The two diplomats expressed pleasure at the growing ties between Vietnam and Norway, especially with bilateral trade hitting US$500 million in 2020, cited VNS.
Foreign minister Son asked Norway to step up investment into fields of their strength such as maritime transport, shipbuilding, natural gas, renewable energy and aquaculture.
Regarding cooperation at multilateral forums, the two countries' foreign ministers highly valued the cooperation thus far between Vietnam and Norway, which they see as a result of the two countries' support for multilateralism and international law and also the two countries' shared interests and priorities in women, peace and security, climate change, resolving bomb and mine issues, and protection of civilians in conflicts.
The two foreign ministers shared their concerns over the humanitarian crisis in Syria, agreed on the maintenance of humanitarian aid to the war-torn country and pledged to further collaborate on this issue.
After being informed by foreign minister Son over ASEAN's efforts in stabilising the situation in Myanmar, Norwegian diplomat Soreide said would back ASEAN's role and hoped ASEAN would soon implement the five-point consensus reached during the ASEAN leaders' summit earlier this year.
HCM city continues social distancing measures as Covid-19 cases surge
Ho Chi Minh city, Vietnam's busiest and most populous locality, is expected to extend social distancing which was imposed a month ago as the number of newly detected cases has increased considerably these days.
Data from the Ministry of Health show the city detected 218 new cases on June 28 and a record high of 726 cases on June 25. So far it has registered nearly 3,500 cases since the fourth wave of the Covid-19 pandemic attacked Vietnam in late April, according to VOV.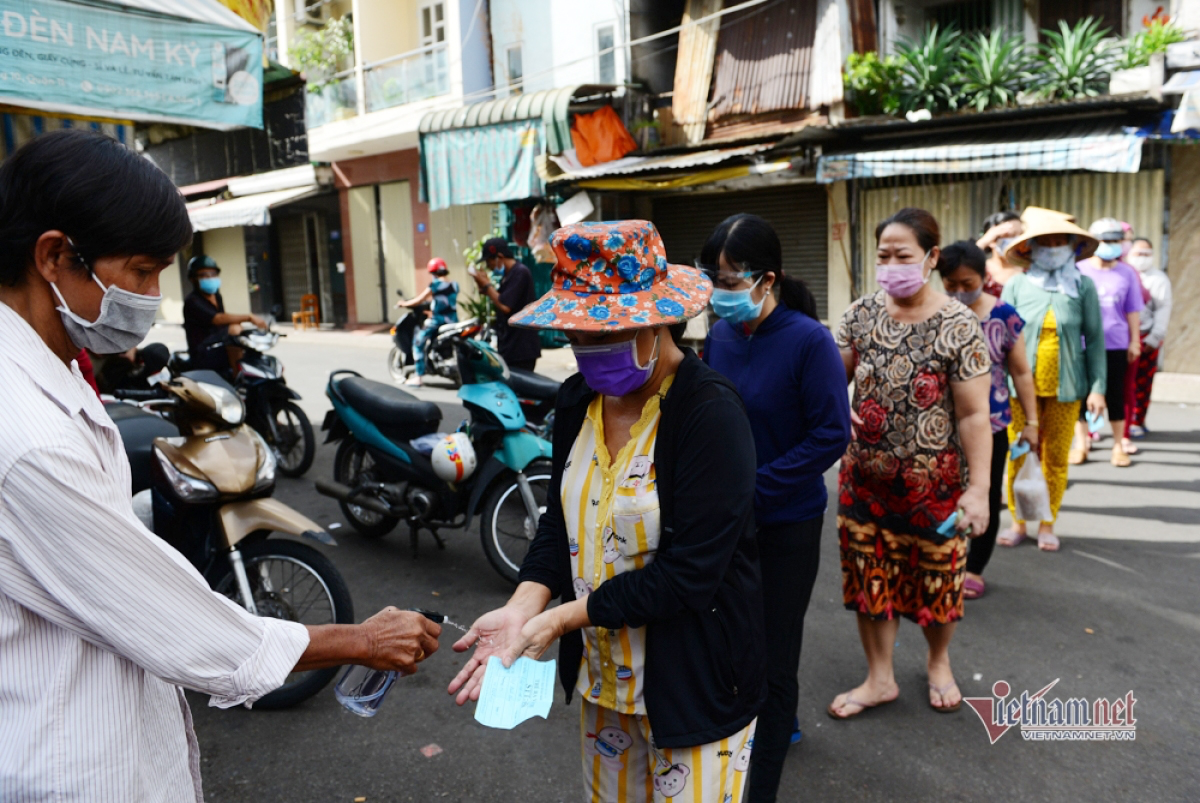 Local residents in high-risk areas use coupons to go shopping in HCM city. Photo: VNN
Many cases were documented through screening tests at healthcare facilities, and the sources of infection remain unknown, meaning the pathogen is quietly spreading in the community, according to a representative of the HCM city Centre for Disease Control.
During a meeting on June 28, Duong Anh Duc, vice chairman of the local administration, said the city is likely to extend social distancing after the two-week order that was imposed on May 31 and was extended once on June 15 expires on June 29.
This time, the city will be carrying out the order under the municipal administration's decree No. 10. It has classified districts and towns as high/medium-risk and risk areas, and measures have been put in place correspondingly.
Vietnam successfully synthesises anti-SARS-CoV-2 drug
The Vietnam Academy of Science and Technology on June 28 announced that its Institute of Chemistry has successfully found out a new method for synthesising anti-SARS-CoV-2 drug from Favipiravir in the laboratory.
The result will contribute to joint efforts of Vietnamese scientists in researching drugs, vaccines and biological products to serve Covid-19 prevention and control.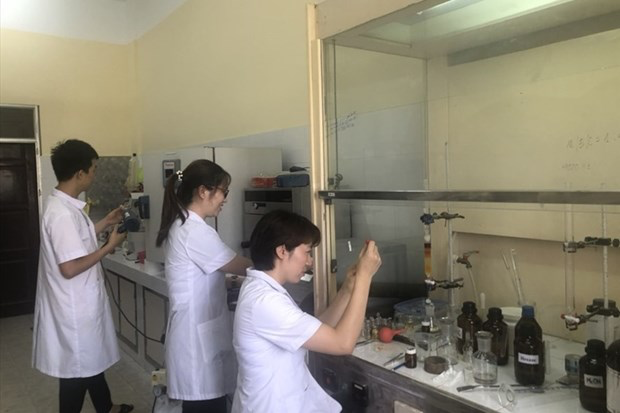 Scientists from the Institute of Chemistry are conducting research in the laboratory. Photo: Institute of Chemistry
The research, licensing, production and vaccination of Covid-19 vaccines such as Astrazeneca, Pfizer, Moderna, and Johnson and Johnson have contributed to effectively containing the spread of Covid-19. However, due to the emergence of new strains that are able to resist vaccines, antiviral drugs are an important supplement to Covid-19 vaccines, reported VNP.
In that context, scientists of the Institute of Chemistry have successfully researched the new method for the synthesis of anti-SARS-CoV-2 drug from Favipiravir in the lab.
With an action mechanism similar to Remdesivir but it is administered orally, Favipiravir was first used against SARS-CoV-2 in Wuhan, China. This drug has importantly contributed to preventing the Covid-19 pandemic in many countries, including Italy, Japan, and Russia.
The Vietnamese scientists are hoped to perfect their research, thus scaling up the synthesis of the drug in the coming time.
Infection concern as thousands of workers turn up for Covid tests
Thousands of factory workers in epicenter Bac Giang gathered Tuesday to get coronavirus tests, triggering infection alerts.
The workers are employees of Luxshare Precision Industry (Luxshare ICT), the Chinese assembler of Apple's AirPods wireless earphones in Vietnam, which operates at the Van Trung Industrial Park in Viet Yen district.
Van Trung is one of four IPs with almost 400 companies that had been shut down for 10 days starting May 18 after becoming Covid-19 clusters, cited VnExpress.
From May 28, only a part of those IPs have been reopened, and Luxshare ICT has just got permission to have its workers back to the factory recently.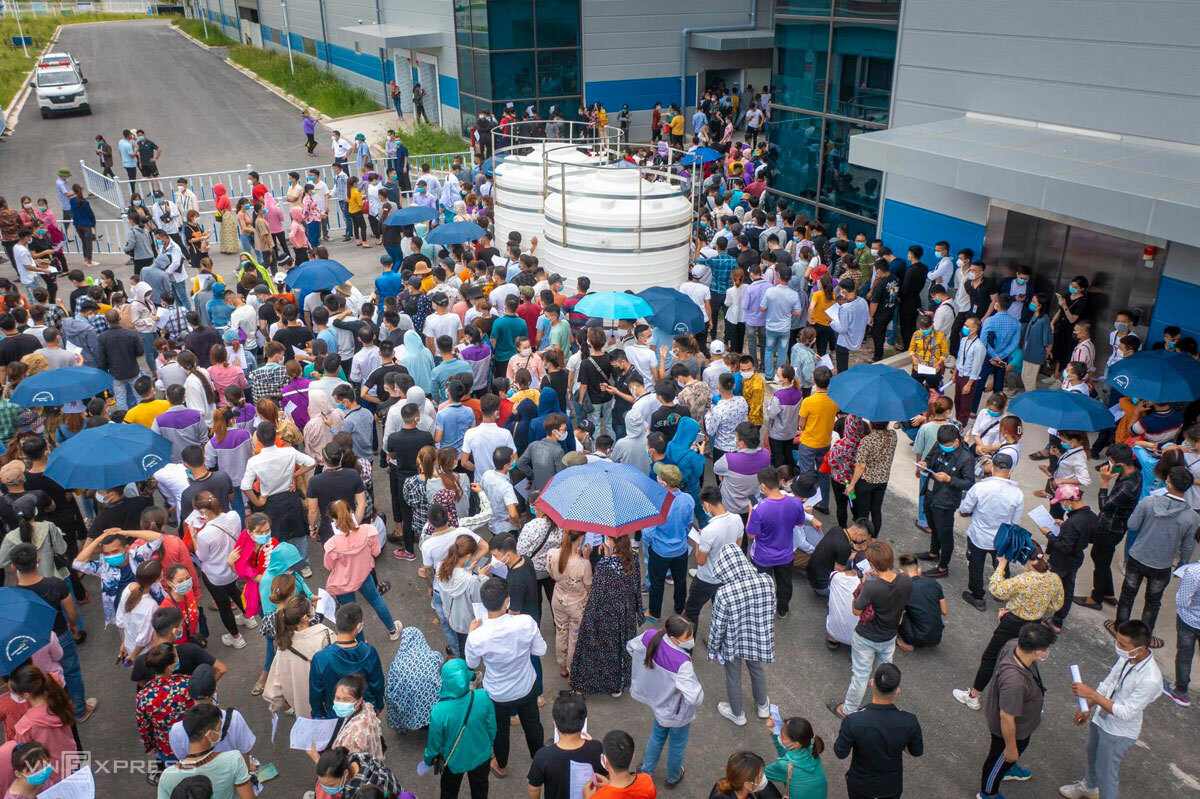 Luxshare ICT workers gather to get the new coronavirus test, June 29, 2021. Photo: VnExpress
As regulated, workers who reside in areas that the authorities now consider safe enough can go to work but they must test negative for the coronavirus by the RT-PCR method one day before coming to the factory.
A Luxshare's representative had announced earlier that nearly 7,000 workers should come for tests, leading to the big crowd on Tuesday morning, according to Bac Giang health authorities.
The sample collection was organized by the company itself and done by a private healthcare unit that is authorized for the job.
However, as the company had gathered too many workers at once and failed to ensure social distancing among them, the authorities had ordered it to stop.
The company was then requested to divide workers into smaller groups and let them come in different shifts to have their samples taken.
Bac Giang has so far allowed 188 companies in the four IPs, with the other three being Quang Chau and Dinh Tram in Viet Yen district and Song Khe – Noi Hoang in Yen Dung district, to resume operation.
The companies will have to test their workers seven times per day in the first month of having them back. In the next months, the test will be taken randomly among half of the workers once a month until further development.
Vietnam's GDP rises 6.61% in QII despite Covid-19
Vietnam's Gross Domestic Product (GDP) in the second quarter of this year grew by 6.61% against the same period from last year, despite the impact of the latest Covid-19 outbreak beginning in late April, according to the General Statistics Office (GSO).
Unveiling the three-month and six-month data in Hanoi on June 29, the GSO said the second quarter's figure is far higher than the growth rate of 0.39% recorded in the second quarter of 2020 and lower than the figure of 6.73% seen in the second quarter of 2018 and 2019.
The agro-forestry-fisheries, industry and construction, and service sectors expanded by 4.11%, 10.28%, and 4.3%, respectively, in the second quarter.
Photo: VOV
Overall, national GDP in the first half of the year increased by 5.64%, far higher than the growth rate of 1.82% recorded last year, but lower than the figures of 7.05% and 6.77% seen in both 2018 and 2019.
Nguyen Thi Huong, GSO general director, noted that the resurgence of the SARS-CoV-2 virus in a number of localities across the country since the end of April has posed numerous challenges for Vietnam as it strives to realise the dual goal of pandemic prevention and economic development.
The GSO stated that 11,300 businesses capitalized at VND164,300 billion (US$7136 million) were established in June alone, down 2.5% in terms of the number of enterprises but a rise of 9.1% in registered capital, according to VOV.
In total, the first half of the year saw 67,100 newly-established with registered capital of VND942,600 billion (US$40942 million).
Since the beginning of the year, about 26,100 enterprises have resumed operations, while 35,600 businesses have been forced to temporarily suspend their operation.
Meanwhile, the consumer price index (CPI) in June rose by 0.19% from the previous month and 1.62% compared to December 2019, which can largely be attributed to a surge in the price of raw and input materials in line with global market fluctuations.
Core inflation in June rose 0.07% over the previous month and 1.14% against the same period from last year, while the average core inflation in the first half of the year witnessed an annual increase of 0.87%.
Rosie Nguyen