Vietnam News Today (June 27) notable headlines
Over 400,000 HCM city residents vaccinated against Covid-19 pandemic
Vietnam to welcome foreigners with Covid-19 vaccine passport under new pilot scheme
All 4 Vietnamese students win silver at Int'l informatics Olympiad
Hanoians tread warily despite lifting of Covid restrictions
Vietnamese firms' overseas investment rises nearly 2.5-fold in H1
Vietnam speeds up locally-produced Nano Covax vaccine testing
South-central province imposes social distancing as cases surge
HCM city sets up two more field hospitals to receive Covid-19 patients
Vietnam exports 25 tonnes of green mangos to Australia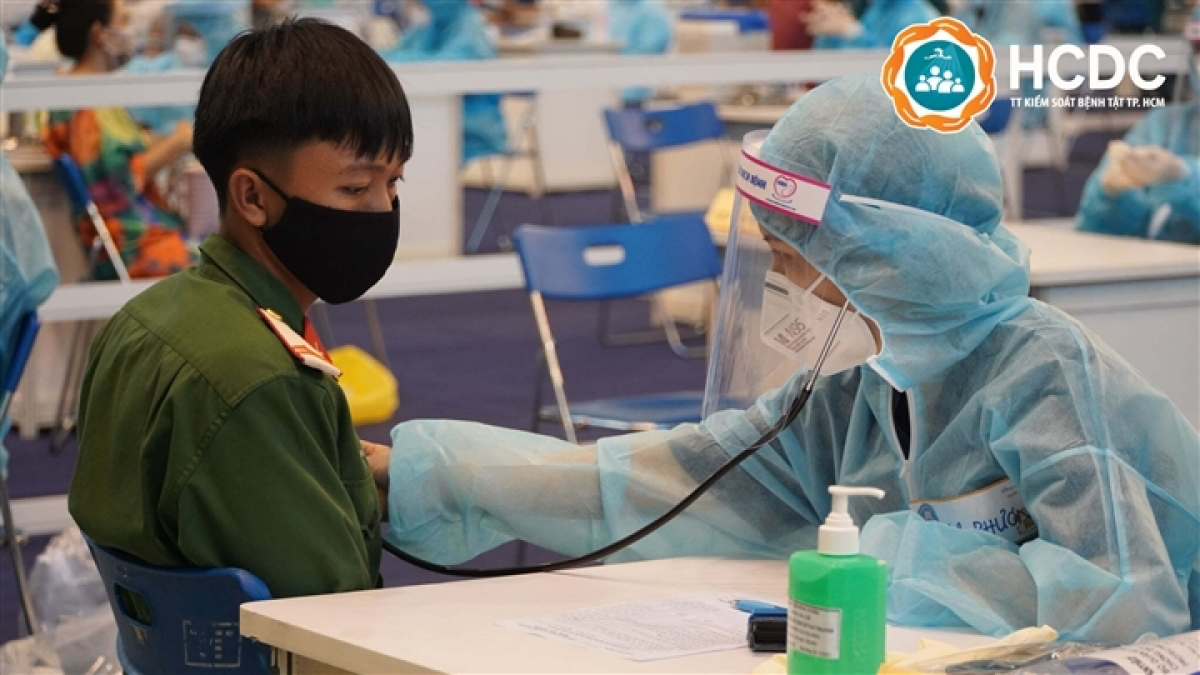 Photo: VOV
Over 400,000 HCM city residents vaccinated against Covid-19 pandemic
Over 400,000 residents in Ho Chi Minh city have been inoculated against Covid-19 over the past five days as part of the southern city's ongoing vaccination campaign.
A total of 1,109 individuals have suffered from some forms of side-effects after receiving the AstraZeneca vaccine, with 73 experiencing anaphylaxis, reported Nguyen Tan Binh, director of the Ho Chi Minh city Department of Health at a press conference held on June 25.
But they have been handled in a timely manner by medical teams, said Binh.
HCM city has been carrying out the largest ever vaccination campaign after the SARS-CoV-2 virus recently resurged and spread to all 22 districts and towns in the city.
The campaign was initially launched on June 19, and the municipal administration is aiming to complete the campaign in few days' time in order to slow the spread of the mutated strain Delta which was first identified in India, cited VOV.
Top priority is given to essential groups, including service providers, teachers, people working in administrative agencies, people over 65 years of age, along with workers in industrial parks and export processing zones.
Vietnam to welcome foreigners with Covid-19 vaccine passport under new pilot scheme
The north-eastern border province of Quang Ninh has been selected to receive foreigners, providing that they hold a vaccination certificate known as a vaccine passport.
All travelers will be placed into a concentrated quarantine facility for a period of seven days upon their arrival, in line with relevant Covid-19 guidelines, according to the Ministry of Health in its recently signed decision.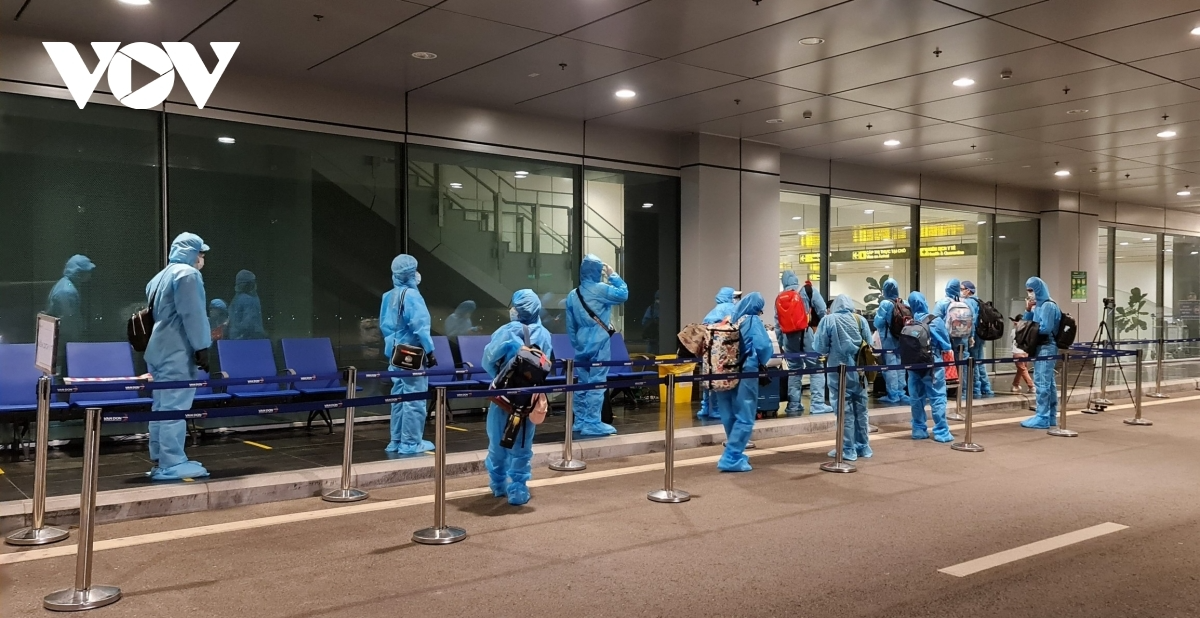 Making health declaration at Van Don International Airport in Quang Ninh. Photo: VOV
The decision will see the pilot scheme apply to those who have either received two vaccine shots or who have previously recovered from Covid-19. In addition, the foreigners must have a negative RT-PCR test result for the SARS-CoV-2 virus and have a positive anti-SARS-CoV-2 antibody test on the first day of their entry.
Most notably, their vaccine must be approved by the World Health Organization, the US Centers for Disease Control, the European Medicines Agency, or from Vietnam. The last dose must be given at least 14 days prior to arrival and no more than 12 months from the time of entry, reported VOV.
For those who have fully recovered from the disease, their certificate must be issued by competent authorities from their country, whilst time from hospital discharge to the entry date must not exceed 12 months.
Other cases will be placed into quarantine for 14 days as opposed to 21 days, as regulated in current Covid-19 guidelines.
The decision will not apply to people entering the country who come to work for less than 14 days.
The pilot scheme will be carried out from July 1 – 30.
All 4 Vietnamese students win silver at Int'l informatics Olympiad
All four Vietnamese students participating in the International Olympiad in Informatics 2021 brought home silver medals, according to the Ministry of Education and Training's Quality Management Department.
All four Vietnamese students participating in the International Olympiad in Informatics 2021 brought home silver medals, according to the Ministry of Education and Training's Quality Management Department.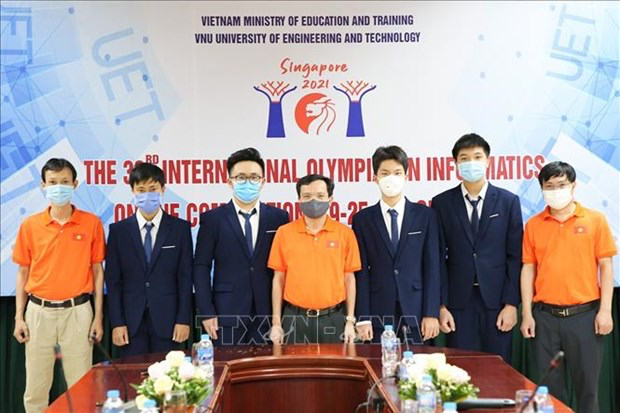 All four Vietnamese students participating in the International Olympiad in Informatics 2021 win silver medals. Photo: VNA
The students are Ho Ngoc Vinh Phat, a 12th grader from Quoc Hoc – Hue High School for the Gifted in Thua Thien-Hue province; Truong Van Quoc Bao and Nguyen Hoang Vu, 11th graders from Phan Boi Chau High School for the Gifted in Nghe An province; and Le Quang Huy, a 12th grader from High School for the Gifted - University of Natural Science of Vietnam National University – Hanoi.
The International Olympiad in Informatics 2021, hosted by Singapore, attracted the participation of 351 students from 90 universities and territories, cited VNP.
This is the second year the contest has been organised in an online format. Vietnamese students competed on June 19, 22 and 25 at the University of Technology under the Vietnam National University-Hanoi.
The closing ceremony of this year's Olympiad will be held on June 28.
Hanoians tread warily despite lifting of Covid restrictions
While Hanoi has relaxed some of its Covid-19 restrictions, people remain wary of its threat and resurgence elsewhere in the country.
Three days after Hanoi allowed restaurants to reopen, Tran Thi Thu Trang and her family have not dared visit their favorite hotspot restaurant for dinner.
"I am worried that crowds and public places pose an infection risk, so we have so far stuck to eating at home," the 45-year-old banker said.
She has not gone out for lunch with colleagues either since the fourth wave of Covid started in late April, according to VnExpress.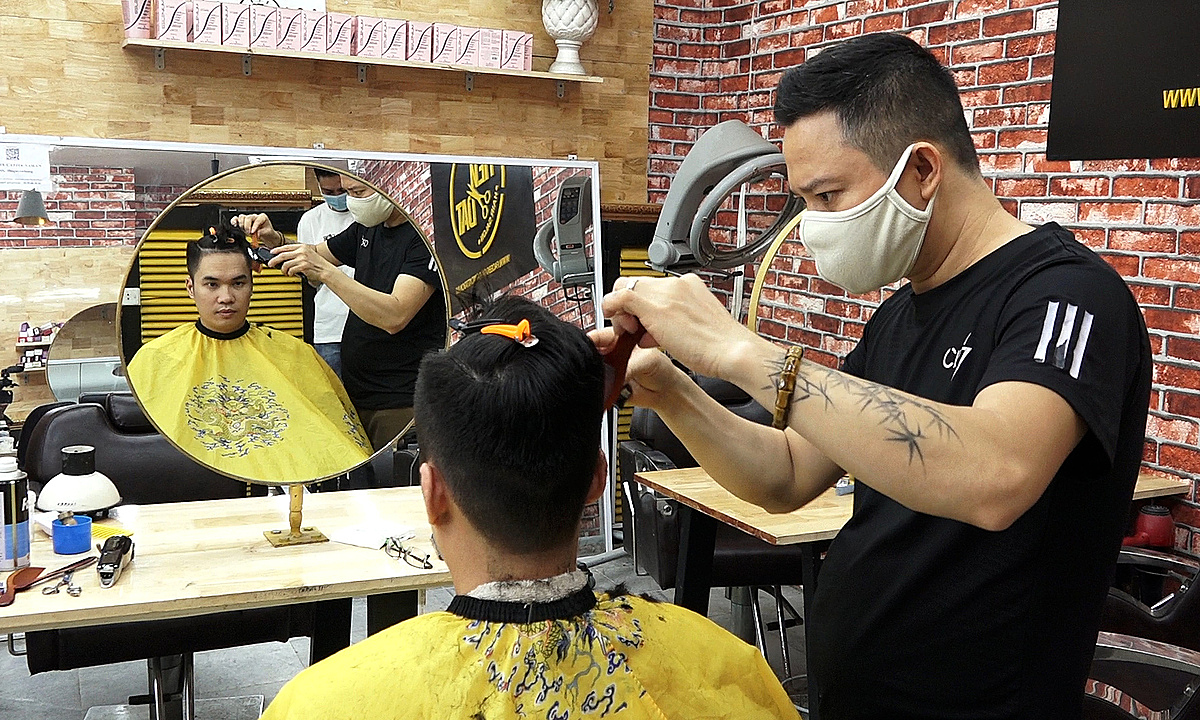 A customer has a haircut at a barbershop on Hanoi's Nguyen Hong street on June 22, 2021. Photo: VnExpress
She also canceled a trip to her hometown in Yen Bai province for her father's death anniversary, saying staying at home is the best option amid the continuing threat of Covid.
She is among many people in Hanoi who have cautiously welcomed back normalcy after the city eased Covid restrictions even as the pandemic has resurged in some places around the country.
Many continue to avoid public spaces and scrupulously adopt preventive measures though restaurants, coffee shops and barbershops are now open to customers.
Most of them have followed Covid prevention rules, placing plastic dividers between tables and bottles of hand sanitizers for customers' use.
"Both business owners like me and customers know that we are not totally safe from the coronavirus," Trang said while cleaning tables and plastic dividers with alcohol. She washes utensils with hot water "to kill the virus," she said.
Some companies have started allowing staff to return to office after weeks of working from home, but with preventive measures in place.
Vietnamese firms' overseas investment rises nearly 2.5-fold in H1
Overseas investment by Vietnamese firms neared US$547 million in the first half of 2021, rising close to 2.5 folds against the same period last year, according to the Foreign Investment Agency under the Ministry of Planning and Investment.
As many as 24 new projects with a combined registered capital of US$143.8 million were granted investment certificates in the months, equivalent to 77.6 percent of the same period last year.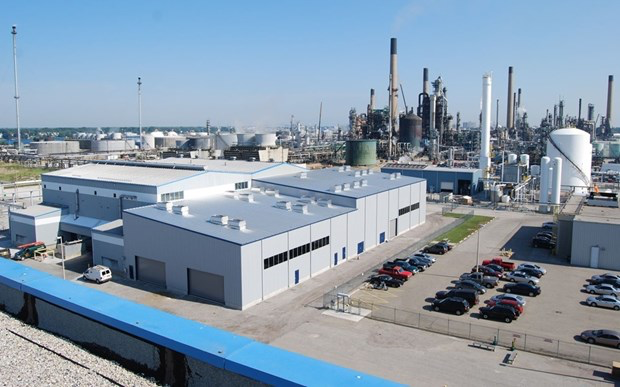 A factory of Masan High-Tech Materials abroad. Photo: VNA
Over US$403 million were added to nine existing projects in H1. They included two projects of the Vingroup conglomerate and its automobile arm Vinfast which were adjusted up by US$300 million and US$32 million in the US and Germany, respectively.
Among the 12 fields of investment, Vietnamese firms channeled US$270.8 million into science-technology projects, accounting for nearly half of the total. Wholesale and retails came second with US$148.6 million.
The US was the top destination for Vietnamese capital in the period with US$302.8 million, holding a lion's share of 55.4 percent.
Cambodia ranked second with US$89.2 million, followed by Canada and France, cited VNP.
As of June 20, Vietnam had 1,420 valid overseas projects totaling US$21.8 billion, mainly in the sectors of mining (36.4 percent of total capital) and agro-forestry-fisheries.
Laos was the largest recipient of Vietnam's overseas investment, making up 23.7 percent of the total capital, followed by Cambodia (13.1 percent) and Russia (nearly 13 percent).
Rosie Nguyen