Vietnam News Today (June 26): Hanoi reopens outdoor activities from June 26
Vietnam News Today (June 26): HCM city vaccinates 404,700 people in less than a week, targets 800,000 by end of Saturday; Hanoi reopens outdoor activities from June 26; HCMC detects record 667 Covid cases in 24 hours and heat wave to return to Northern region from June 26.
Vietnam News Today (June 26) notable headlines
HCM city vaccinates 404,700 people in less than a week, targets 800,000 by end of Saturday
Hanoi reopens outdoor activities from June 26
HCMC detects record 667 Covid cases in 24 hours
Heat wave to return to Northern region from June 26
Vietnam fruit, vegetable exports to top record US$4b in 2021
Hanoi focuses on maintaining craft villages' traditional value amid Covid-19 pandemic
Third-phase clinic trial of Nano Covax to be sped up
Long An's economic growth in H1 ranks third in Mekong Delta
Protected zone established for endangered primates in Quang Binh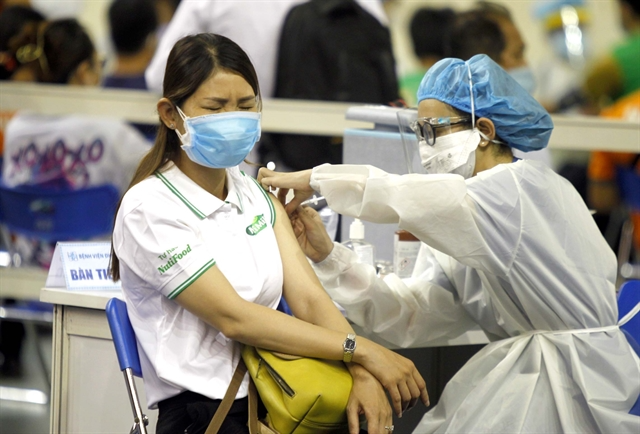 People in HCM city get vaccinated at the Phu Tho Sport Stadium in District 11 on June 25. Photo: VNS
HCM city vaccinates 404,700 people in less than a week, targets 800,000 by end of Saturday
In HCM city, 404,700 people got immunised in the fourth phase of its Covid-19 vaccination drive which began on June 19, according to its Department of Health.
Screening before vaccination found that 40,412 people had high blood pressure and other health conditions, meaning they could not get the shot. They will be checked again at hospitals before being given the vaccine.
The Ministry of Health will provide more vaccines to the city. The city would seek its own sources for 15 million doses this year, Nguyen Tan Binh, the department head, told a press meeting on Friday.
The city would ensure there are enough vaccines for everyone, he added, cited VNS.
It plans to speed up vaccination to administer 800,000 doses by the end of Saturday as scheduled, he said.
Explaining the slow start to the campaign in earlier this week, Binh said this is the first time vaccination sites have been set up across many industrial zones and other sites in the city and there have been stumbles in coordination between various bodies involved in the vaccination efforts, but the operations have been going well since Thursday.
It has set up 946 sites at health facilities and elsewhere since June 19 and assigned 1,290 teams of doctors and other medical workers and volunteers, he said.
The city is carefully preparing human resources and materials for the vaccination drive besides storing vaccines, screening and post-vaccination monitoring, he said.
Hanoi reopens outdoor activities from June 26
Outdoor activities including golf courses can resume with gatherings of less than 20 people, Hanoi authorities announced Friday.
They said that all residents have to continue strict compliance with Covid-19 prevention measures while participating in outdoor activities, including exercising in public spaces, reported VnExpress.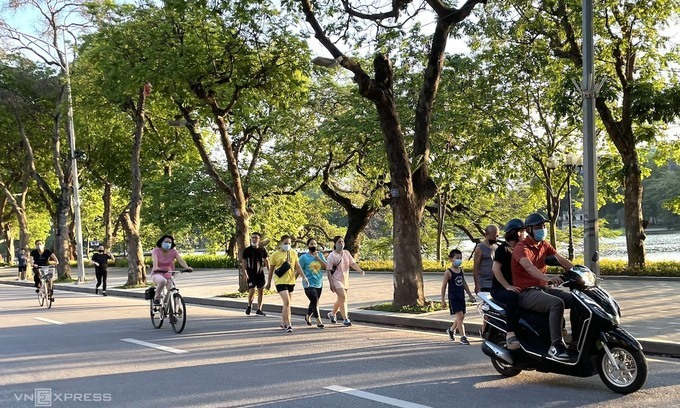 Hoan Kiem Lake, a popular public space for exercising of people in Hanoi. Photo: VnExpress
Golf courses are allowed to operate again, but owners, employees, service staff and customers must comply with the pandemic prevention guidelines, officials said.
These establishments must make daily records of customers and provide them to authorities when needed.
Officials said Hanoi will continue tightening safety measures at medical centers and treatment facilities.
The capital city had allowed barbershops and indoor dining services to reopen, starting Monday. The capital had shut down non-essential businesses and services starting April 29, beginning with karaoke parlors and bars, then restaurants and cafes and later, cinemas, gym and barbershops.
In the latest wave since April 27, Hanoi has recorded 466 local Covid-19 cases.
HCMC detects record 667 Covid cases in 24 hours
HCMC detected an all-time high of 667 Covid-19 cases over a 24-hour period as of Friday, the municipal health department announced.
The cases were recorded from 6 a.m. Thursday to 6 a.m. Friday, including two imported cases. They have not been officially registered into the national list of patients by the Ministry of Health.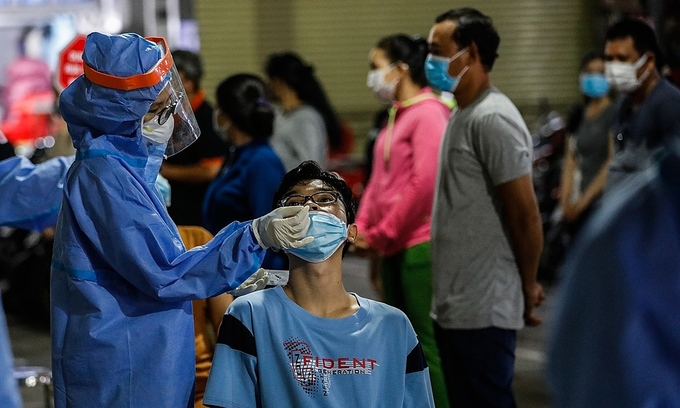 People receive coronavirus tests in Binh Tan district, HCMC, June 22, 2021. Photo: VnExpress
14 of the cases were detected through coronavirus screening in hospitals, one was exposed to the virus while working as a nurse at the Binh Thanh District medical center, another was detected through expanded Covid-19 testing, two tested positive in centralized quarantine zones, and 10 more cases are being contact traced, said Nguyen Tan Binh, director of the HCMC Department of Health.
The other 637 cases were detected within quarantine zones and other locked down areas, he said.
Among them, 31 are in severe conditions and are being treated at numerous hospitals. Binh said the clusters were caused by the Delta coronavius variant, which is much more transimissible than other strains.
"The consecutive appearance and large number of infections in HCMC since the end of Reunification Day holiday (in late April) means the virus has gone through at least 4-5 infection cycles," he said, cited VnExpress.
It's been a month since Vietnam's latest coronavirus wave hit HCMC, wrecking havoc on the southern metropolis with the presence of multiple clusters in hospitals, factories and residential areas.
The city has recorded 2,343 local cases according to data from the Ministry of Health.
HCMC has adopted social distancing since May 31. But for more than a week, its daily coronavirus tally always exceeded 100. Authorities have not been able to detect the infection sources of all the Covid-19 cases yet.
Heat wave to return to Northern region from June 26
Intense heat in the Central region will continue for many days to come while the Northern region must brace itself for hot weather to return from June 26, according to the National Centre for Hydro-Meteorological Forecasting.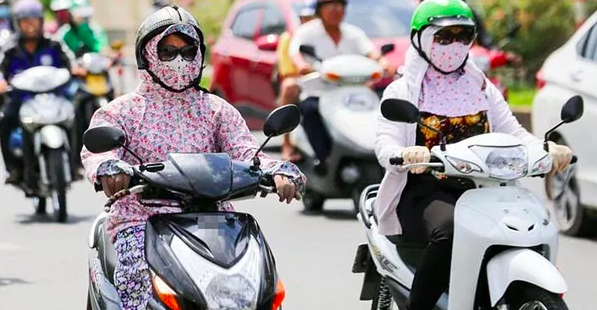 Photo: NDO
The Central region is facing intense and especially intense heat today June 25, raising the heat index (HI-Heat Index) and the ultraviolet index (UV) in many provinces to dangerous levels.
In addition, many localities have posted an extreme caution heat index with temperatures from 32-41C including: Da Nang city, the Hoang Sa Archipelago (Da Nang), Ho Chi Minh city, Phu Quoc city (Kien Giang) and the Truong Sa Archipelago (Khanh Hoa).
Meanwhile, the heat index in Hanoi, Quang Ninh, Ha Tinh, and Quy Nhon reached 41-54, the danger level.
At these temperatures, people are likely to experience heat exhaustion and cramps with prolonged exposure to the sun or after prolonged physical activity, reported NDO.
Northern cities saw their UV index at 7-8, with a high and very high risk of harm on June 25 and the UV index reading is forecast to remain at around 8 from June 26-28.
Meanwhile, the UV index continues at a very high level in the Central region, possibly reaching 10 on June 28 and increasing slightly to 9-10 in the Southern region.
Vietnam fruit, vegetable exports to top record US$4b in 2021
Exports of fruits and vegetables were worth US$2.06 billion in the first six months of this year, up 17.4 per cent year-on-year, and are expected to reach a record US$4 billion this year.
Dang Phuc Nguyen, general secretary of the Vietnam Vegetables Association, said exports would increase sharply this year since importing countries are recovering economically, leading to an increase in demand.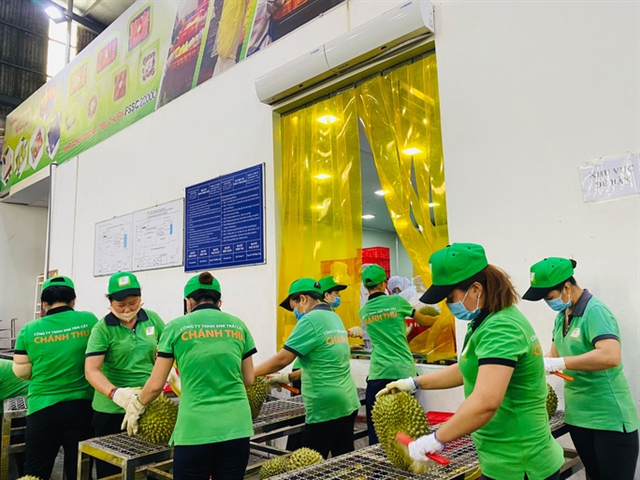 A fruit processing plant in the Cuu Long (Mekong) Delta. Photo: NLD
But in the next few months Thailand, Malaysia, China, and other countries would also have their fruit harvest season making competition very fierce, he said.
New-generation free trade agreements such as the EU-Vietnam Free Trade Agreement (EVFTA), the Comprehensive and Progressive Agreement for Trans-Pacific Partnership (CPTPP) and Regional Comprehensive Economic Partnership (RCEP) are helping Vietnamese businesses increase fruit and vegetable exports this year, he said.
The UK – Vietnam Free Trade Agreement (UKFTA) that took effect late last year scrapped taxes on more than 94 per cent of vegetables and fruits, he said.
Experts said to take advantage of opportunities and boost exports, exporters should improve processing technologies, especially in the post-harvest and packaging stages, to preserve their products longer and enhance their value, cited VNS.
Vietnam is gradually expanding exports to the US, EU, Japan, and South Korea, but China remains the leading market for Vietnam's farming, forestry and seafood products.
It accounted for 64.7 per cent of Vietnam's fruit and vegetable exports in the first quarter of this year.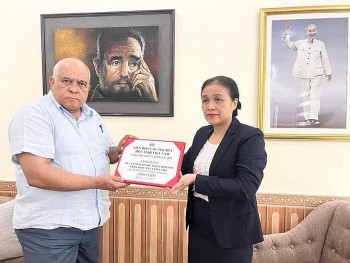 Focus
According to Cuba's News Agency Prensa Latina, on August 16, President of Vietnam Union of Friendship Organizations Nguyen Phuong Nga said that Vietnamese people will always stand by and support Cuba no matter what difficulties our friend is facing.