Vietnam News Today (June 25) notable headlines
Vietnam, US work towards stronger comprehensive partnership
PM proposes WHO support and prioritize vaccine delivery to Vietnam
Covid-19 vaccine passport program readied for foreigners to visit Phu Quoc Island
Flights to central region destination temporarily suspended
FDI pledges to Vietnam hit over US$15 billion in first half of 2021
PM: Vietnam must be able to produce Covid-19 vaccines no later than June 2022
Vietnam considered in good position to attract FDI: UK-based website
Vietnam joins ASEAN-Japan cybersecurity drill
VCCI proposes working group to tackle container shortages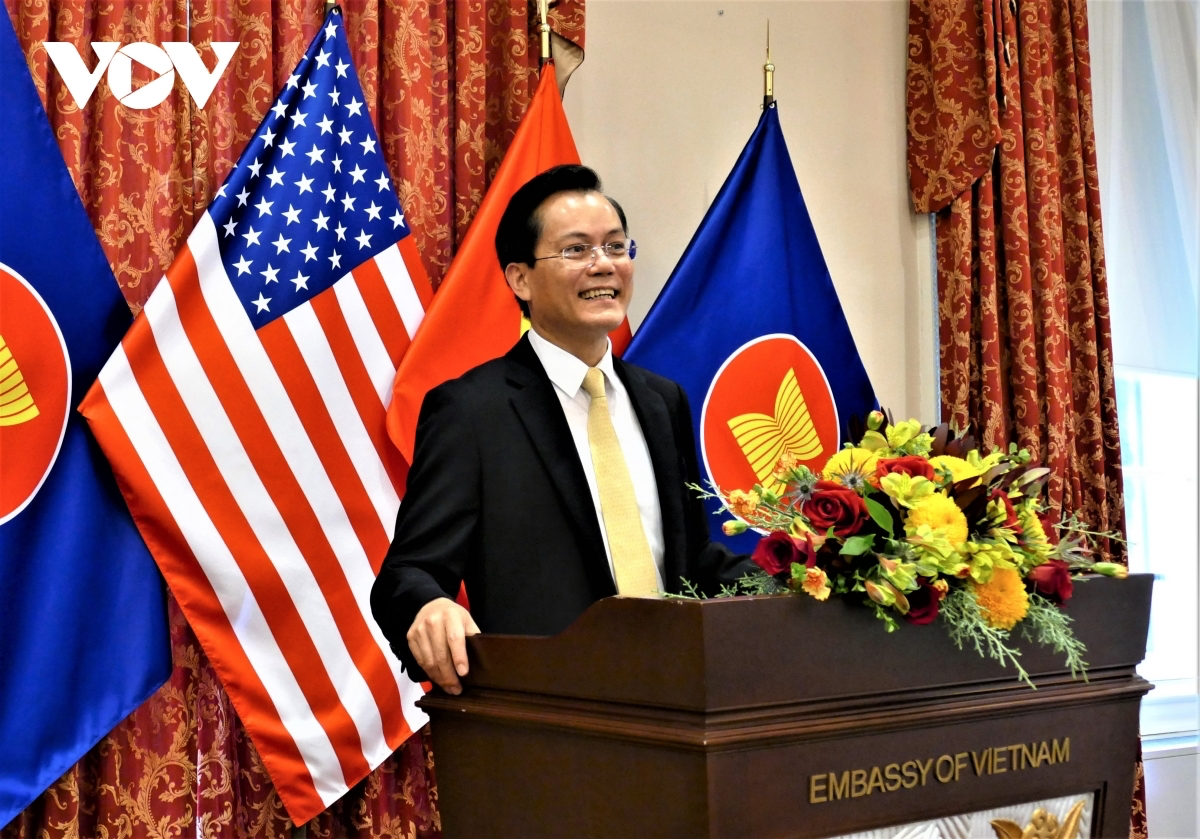 Vietnamese Ambassador to the United States Ha Kim Ngoc. Photo: VOV
Vietnam, US work towards stronger comprehensive partnership
Vietnamese Ambassador to the United States Ha Kim Ngoc met with Republican Senator Dan Sullivan of Alaska to discuss a range of measures aimed at propelling the joint comprehensive partnership forward.
During the meeting, both sides showed their elation at the strong development of bilateral relations in recent times, whilst consenting to enhance economic and trade pillars in the bilateral relationship, especially co-operation in energy, agriculture, and tourism.
He went on to express his hope that the Senator, together with the US Senate, parliament, and Government, will pay greater attention to the wider world, thereby making it possible for Vietnam to gain early access to vaccines, cited VOV.
In response, Senator Sullivan expressed his special affection for Vietnam and his deep impressions from his previous visit to the country. He said he looks forward to returning to the nation in the future and is very interested in helping Vietnamese efforts in overcoming the Covid-19 pandemic.
Both sides highlighted the importance of maintaining constructive dialogues as a means of settling differences between both sides.
The Vietnamese diplomat stated his wish for the US Trade Representative (USTR)'s investigation under Act 1974's Section 301 to not cause adverse actions against Vietnam and ongoing economic co-operation between the two countries.
Regarding regional issues of common concern, Ambassador Ngoc suggested that Senator Sullivan and the US Senate take devote the necessary resources to effectively implement the Mekong-US partnership.
They shared the view that the US should continue playing a constructive role in and contributing to maintaining peace, stability, co-operation, and development, along with a rules-based order in the East Sea and the Indo-Pacific region.
PM proposes WHO support and prioritize vaccine delivery to Vietnam
Prime Minister Pham Minh Chinh proposed the World Health Organization (WHO) support and give priority for Vietnam to soon receive the next batches of Covid-19 vaccines as committed under the COVAX Facility during his phone talks with WHO Director-General Tedros Adhanom Ghebreyesus on June 24.
PM Chinh affirmed that Vietnam will implement the vaccination strategy effectively and safely in a timely manner.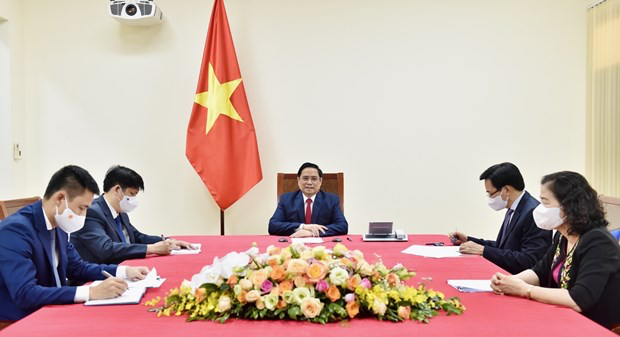 Prime Minister Pham Minh Chinh holds phone talks with WHO Director-General Tedros Adhanom Ghebreyesus. Photo: VNA
He also proposed the WHO to support and assist Vietnam to become one of the vaccine production centres in the Asia Pacific region, adding that with the capacity of the medical sector of Vietnam as well as potential of some Vietnamese businesses, Vietnam could produce vaccines meeting international standards. He applauded the WHO Director-General's suggestion to send WHO experts to support Vietnam in this process, reported VNS.
He appreciated the cooperation and support of the WHO for the development of the medical sector of Vietnam over the past 45 years.
For his part, Tedros spoke highly of Vietnam's success in implementing the "dual goal", particularly the country's active and creative measures, resolute leadership of the Government and the participation of the whole political system, contributing to Vietnam's pandemic prevention and control efforts to make the country an effective Covid-19 prevention model in the world which was widely popularised by the WHO.
He applauded Vietnam's assistance to international friends in the fight against COVID-19 and thanked the Vietnamese Government for its commitment to contribute 500,000 USD to the COVAX programme.
The WHO Director-General also thanked Vietnam for receiving and successfully treating a UN staff member who contracted Covid-19.
Tedros said Vietnam would be prioritized to get quick access to sources of vaccines as well as become a vaccine production centre in the region. The WHO would send experts to support Vietnam's vaccine research and production efforts meeting international standards, he added.
Covid-19 vaccine passport program readied for foreigners to visit Phu Quoc Island
The tourism ministry is urgently working on a plan for welcoming international tourists with the so-called Covid-19 vaccine passports to Phu Quoc Island in Kien Giang Province.
Nguyen Van Hung, the Minister of Culture, Sports and Tourism, said Thursday that any plan to receive tourists must abide by coronavirus prevention measures.
Previously, on Tuesday, the tourism ministry and Kien Giang authorities had been requested to prepare a plan to receive foreigners to Phu Quoc and submit it to Prime Minister Pham Minh Chinh next month.
The health ministry would cooperate with other relevant entities to trial the use of vaccine passports allowing foreigners to travel to certain tourism destinations that have managed the novel coronavirus pandemic well, it was announced, reported VNP.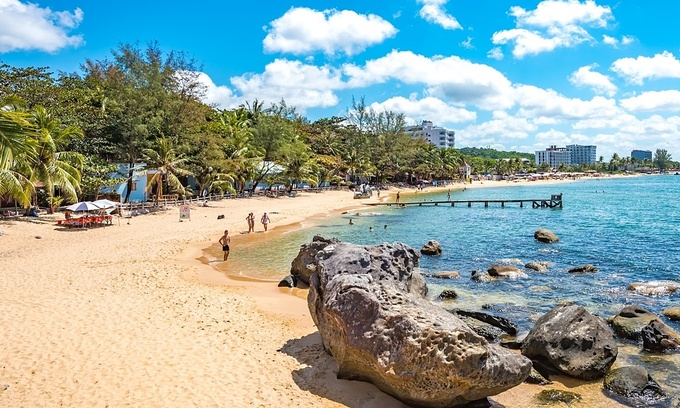 Foreign tourists on Truong Beach of Phu Quoc Island. Photo: Shutterstock
The National Steering Committee for Covid-19 Prevention and Control had already decided in April that three groups of entrants: vaccinated Vietnamese citizens stranded overseas; foreigners wishing to enter Vietnam for investment and business purposes; and international tourists would be eligible to use vaccine passports.
The vaccine passport is currently envisaged as a digital document issued by the country where the vaccine has been administered.
Vietnam plans to receive people coming from countries that have managed Covid-19 outbreaks well, including those that have achieved herd immunity thanks to their vaccination programs. Such people will be able to visit tourist sites and resorts designated for their ability to control the flow of tourist traffic well and be able to manage guests' itineraries efficiently and safely.
Phu Quoc, Vietnam's largest island, has become a top tourist destination after the government rolled out a 30-day visa-free policy for foreigners in 2014.
In 2019, the last year before the onset of the pandemic, it received over five million visitors, including 541,600 foreigners.
Flights to central region destination temporarily suspended
Deputy Minister of Transport Le Anh Tuan has sent a document to relevant authorities on a temporary suspension of flights between Ho Chi Minh city and the central province of Quang Binh's Dong Hoi city starting from June 23.
At Tan Son Nhat airport in Ho Chi Minh city. Photo: VNA
The decision was made at the request of the Quang Binh People's Committee in a bid to curb the spread of Covid-19.
The suspension will remain valid until further notice, according to VNP.
Earlier this month, the ministry also temporarily suspended flights between Ho Chi Minh City's Tan Son Nhat airport and the Cat Bi, Van Don and Pleiku airports in Hai Phong, Quang Ninh, and Gia Lai following requests from the three localities.
Vietnam logged 127 new Covid-19 cases, including 126 domestic ones, from 6am to noon on June 24, according to the Ministry of Health.
HCM city, now under social distancing, is among the country's current largest Covid-19 hotspots. The health ministry announced that cases in the city were infected with the highly contagious Indian B.1617.2 variant, also known as the Delta one.
FDI pledges to Vietnam hit over US$15 billion in first half of 2021
Vietnam has attracted US$15.27 billion worth of foreign direct investment (FDI) in the first half of 2021, equivalent to 97.4% of the figure recorded in the same period last year, according to the Ministry of Planning and Investment (MPI).
Data as of June 20 shows that of the total FDI pledges, US$9.24 billion has been disbursed, up 6.8% year-on-year.
During the period, as many as 804 new FDI projects were licensed across the country with a total registered capital of nearly US$9.55 billion, representing a year-on-year increase of 13.2%. In addition, new pledges of US$4.12 billion were made to 460 existing projects, up 10.6%, cited NDO.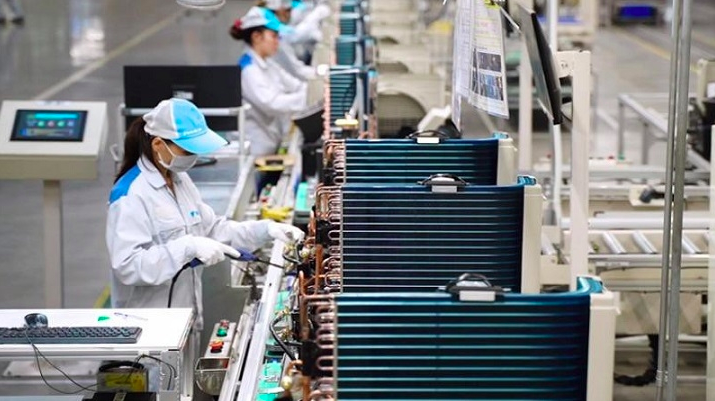 The processing and manufacturing industry remains the most attractive to foreign investors in the first six months of 2021. Photo: NDO
Foreign investors' capital contributions and share purchases between January and June reached approximately US$1.61 billion, down 54.3% from the same period in 2020.
The MPI report stated that among the 18 FDI-attracting industries, the processing and manufacturing sector continued to take the lead with US$6.98 billion, accounting for 45.7% of the total registered capital.
Electricity production and distribution came next with US$5.34 billion or nearly 35%, followed by real estate with US$1.15 billion and science-technology with US$476 million.
So far this year, 80 countries and territories have invested in Vietnam, led by Singapore with US$5.64 billion, accounting for nearly 36.9% of the total and up 3.6% year-on-year. Japan and the Republic of Korea rank second and third with US$2.44 billion, or nearly 16% of the total (up 66.8%) and US$2.05 billion, or 13.4% (up 43.6%), respectively.
As of June 20, there are 33,787 valid FDI projects in Vietnam with a total registered capital of US$397.89 billion, with the disbursement rate hitting 60.6%, or approximately US$241.1 billion.
Rosie Nguyen