Vietnam News Today (Mar. 30): Foreign Arrivals to Vietnam Surge in March
Vietnam News Today (Mar. 30): Number of recoveries hits record figure of over 1.67 million; Vietnam ready to vaccinate children aged 5 to 11 years; Foreign arrivals to Vietnam surge in March; Is it time to consider Covid-19 an endemic disease?
Vietnam News Today (Mar. 30) notable headlines
Number of recoveries hits record figure of over 1.67 million
Vietnam ready to vaccinate children aged 5 to 11 years
Foreign arrivals to Vietnam surge in March
Is it time to consider Covid-19 an endemic disease?
Vietnamese furniture firms strive to further join global supply chain
Domestic air fares rise ahead of national holiday travel rush
Da Nang – Ly Son high-speed ferry service launched
Over US$800 million of trade surplus recorded in Q1
Vietnam Airlines Group to offer some 750,000 seats for upcoming holidays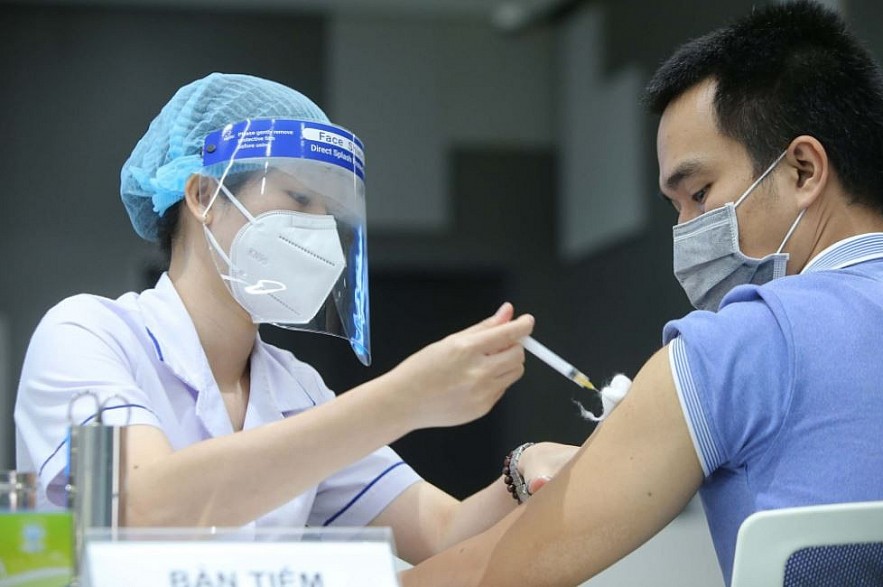 Photo: Suc Khoe & Doi song
Number of recoveries hits record figure of over 1.67 million
An additional 88,378 new Covid-19 infections were confirmed by the Ministry of Health on March 29 to bring the country's total caseload up to more than 9.38 million, while the number of recovered cases hit a record high of 1,679,138.
The three localities recording the highest number of new cases included Hanoi with 8,993, the northern province of Bac Giang with 4,047, and the central province of Nghe An with 3,817.
In relation to the latest daily tally, 61,258 cases were detected within the community.
The nation's Covid-19 death toll climbed to 42,306, with a further 55 deaths recorded over the past 24 hours.
Furthermore, the total number of recovered cases rose to 7,153, 846 following the Health Ministry's confirmation of 1,679, 138 recoveries on the same day.
As of March 28, 279,038 doses of Covid-19 vaccines were injected, bringing the total number of administered doses to 205,495,812 nationwide, cited VOV.
According to the Ho Chi Minh City Department of Health, although the number of Covid-19 cases requiring respiratory support remains high, the number of deaths has now bottomed out. This shows that protection efforts have yielded remarkable results, particularly among high-risk people.
The southern city has also prepared efforts to vaccinate children from five to 12 years old, with data entry, screening examinations, and injection being put into place.
During a campaign aimed at protecting high-risk people, Ho Chi Minh City compiled a list of more than 240,800 people belonging to this group.
This list shows that more than 1,400 people out of over 41,900 individuals tested were confirmed to be positive for Covid-19 and were promptly treated with drug Molnupiravir. In addition, nearly 2,900 people were vaccinated with the Covid-19 vaccine, of which 241 people received their first dose.
Vietnam ready to vaccinate children aged 5 to 11 years
Vietnam will start Covid-19 vaccination for children aged between 5 and 11 years old from the second week of April 2022, according to the Ministry of Health's latest instruction on the Covid-19 inoculations for children.
The Ministry of Health stated that the Covid-19 vaccine for children will arrive in Vietnam in several days and the vaccination will be implemented right after the testing and certification procedures for the vaccine are completed.
Photo: NDO
The ministry also asked Health Departments of provinces and cities to accelerate the vaccination of booster doses for adults in order to stand ready to conduct the vaccination campaign for children.
The free inoculations of children will be implemented at both fixed and mobile injection sites as well as at schools where children are attending in-person learning, according to NDO.
The Health Ministry also asked localities to make a list of 5-11-year-old children to be administered against Covid-19.
The Ministry of Health estimated to buy 21.9 million doses of vaccine for 5-11-year-old children. The ministry noted that the Australian government pledged to donate about 13.7 million doses of Covid-19 vaccine to Vietnam to inject children aged between 5 and 11, with the first batch of vaccine set to be shipped to Vietnam in early April.
Foreign arrivals to Vietnam surge in March
The number of international arrivals to Vietnam in March increased by 41.4 percent over the previous month and 2.2 times against the same period last year as Vietnam has fully reopened and many international flights have been restored, according to General Statistics Office (GSO).
In the first quarter of this year, the number of foreign tourists to the country reached nearly 91,000, a year-on-year rise of 89.1 percent. Among them, visitors arriving by air accounted for nearly 90.5 percent of the total international arrivals to Vietnam, an increase of 165.2 percent.
Revenue from accommodation and food services in the January-March period increased by 1.2 percent year on year, while tourism revenue rose by 1.9 percent year on year.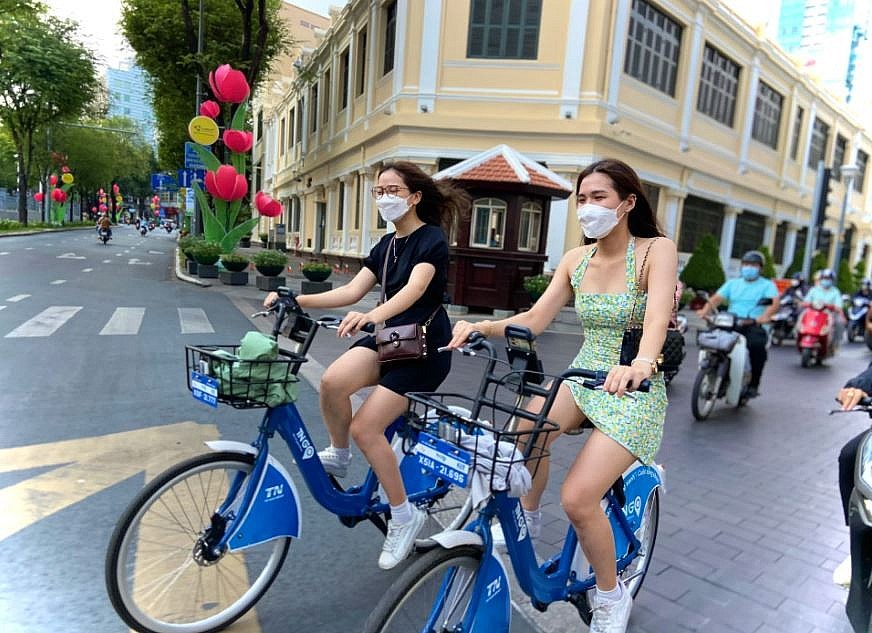 Photo: Zing
From March 15, tourism activities have been fully reopened for both international and domestic tourism, via air, road, rail, and sea routes.
Conditions and regulations on immigration and health for international tourists have become much more favorable.
The unilateral visa exemption policy for 13 countries has been restored, along with the immigration policy as before the pandemic.
Director General of the Vietnam National Administration of Tourism under the Ministry of Culture, Sports and Tourism Nguyen Trung Khanh affirmed that the reopening of tourism activities from March 15 is a very important milestone for Vietnam's tourism industry.
It does not only restore the economy but also affirms that Vietnam is a safe and friendly destination, contributing to improving the position of the country's tourism in the context that tourism in other countries around the world is also recovering, he said, adding that after March 15, tourism activities in many localities have been vibrant again with promotions to attract tourists, reported VNA.
The National Tourism Year-Quang Nam 2022 with the theme "a green tourism destination" was officially opened at Hoi An Memory Island in Hoi An city, Quang Nam province on March 26. This is the largest annual tourism event jointly organized by the Ministry of Culture, Sports and Tourism and the People's Committee of Quang Nam province.
The event was announced at the ongoing World Expo 2020 in Dubai which attracts much attention and attention from international visitors.
Is it time to consider Covid-19 an endemic disease?
BA.2 and BA.1, two variants of the Omicron strain with the ability to spread faster, do not cause severe cases like the Delta variant, particularly among children, meaning Covid-19 can therefore be considered an endemic disease.
This assessment was made by Dr. Truong Huu Khanh, former head of the Department of Infection – Neurology at the Children's Hospital 1 in Ho Chi Minh City, before the evolution of the Covid-19 pandemic, with the Omicron variant predominating.
Dr. Khanh said that the Omicron variant has eased the severity of Covid-19 and stressed that the sub-variant of Omicron, BA.2, did not have a severe impact like BA.1.
"The BA.3 variant has indeed appeared, but the biology and transmissibility are not exceptional so this is not a problem. With the pandemic evolution being the dominant Omicron variant, Covid-19 can be considered an endemic disease when the possibility of severe disease progression is not much," analyzed Dr. Khanh.
The Omicron variant's BA.2 sub-variant is being called the "stealth variant". This can be understood because this sub-variant has a genetic defect, meaning PCR testing does not detect it and the test may provide negative results in the initial three days. There remains a certain percentage of people infected with the Delta variant, meaning that people should not neglect pandemic control measures, although he went on to add this is not an area of huge concern.
According to statistics, since the beginning of March sub-variants of Omicron have shown quick infection ability in recent times in provinces nationwide, especially in Hanoi and Ho Chi Minh City, while gradually replacing the Delta strain as the dominant variant.
Doctor Truong Huu Khanh, former head of the Department of Infection – Neurology at the Children's Hospital 1 in Ho Chi Minh City. Photo: VOV
In Hanoi, variants of Omicron were recorded in 20 out of 30 districts, in which BA.2 accounted for 87% of the total number of samples detected with Omicron infection. Meanwhile, evaluated by random screening in Ho Chi Minh City, "Omicron Stealth BA.2" made up for 64% of infections.
Globally, the BA.2 sub-variant of Omicron accounted for roughly 86% of Covid-19 infections recorded between February 16 and March 17. This is the cause of the current wave of infections in Europe. Although more contagious than the parent strain, BA.2 fails to cause more severe illness and currently-available vaccines are still effective against this variant.
Furthermore, according to recent studies, the primary vaccination and booster injection remain the best protection against the BA.2 sub-variant of Omicron, cited VOV.
Those who have "mixed" immunity from the vaccine and immunity from a previous infection could reduce the risk of re-infection by 55%.
Studies done in Denmark, where the most cases of the BA.2 variant have been found in the world, after sequencing the gene have found that people who have been infected with BA.1 will rarely be re-infected with the BA.2 variant.
Studying data taken from more than 1.8 million cases over a three-month period from November, 2021, to February, scientists found only 47 cases were re-infected with the BA.2 variant after previously getting the BA.1 strain, with most being unvaccinated.
Assessing the infection evolution of the Omicron variant, domestic and foreign experts both said that BA.2 is more infectious than BA.1, with severe cases and deaths being markedly lower. This demonstrates the immunity of the human body to the appearance of any sub-variants.
Vietnamese furniture firms strive to further join global supply chain
The Vietnam Furniture Matching Week 2022, a major event of the domestic wood and furniture sector this year, will take place from April 13-20 in Ho Chi Minh City, heard a press conference on March 29.
With diverse activities, to be held in both online and offline forms, the event is intended to seek solutions to help local firms expand their business network and further integrate into the global supply chain.
guyen Chanh Phuong, Vice President of the Handicraft and Wood Industry Association of HCM City (HAWA), said Vietnamese furniture enterprises have seen their orders fully booked until the third quarter, even the end of this year, as the global demand has been on the rise.
However, the Covid-19 pandemic and global uncertainties have disrupted the supply chain and led to high logistics costs, he noted.
Therefore, the event is expected to support domestic furniture and handicraft firms not only to expand their consumption markets but also access the best logistic services, Phuong said.
Within the framework of the program, there will be Furniture Sourcing Day on April 13-14, which will enable businesses to approach international buyers and suppliers of support services, along with exchanges and workshops, according to organizers, VNA reported.
The program will bring together some 500 businesses, more than 100 representative offices and international buyers.
Online activities will take place on HOPE (hopefairs.com) platform, which has been upgraded to make it easier for participating businesses and international buyers to hold meetings anytime and anywhere.
According to Tracy Tran, representative of Mitchell Gold Bob Williams in Vietnam, Vietnamese wooden products and furniture have been highly valued thanks to their quality and reasonable prices.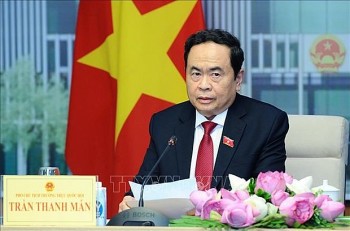 National
China's National People's Congress stands ready to work with Vietnam's National Assembly to play a positive role in carrying forward traditional friendship, enhancing political mutual trust, deepening practical cooperation, properly managing differences, and enhancing people-to-people ties