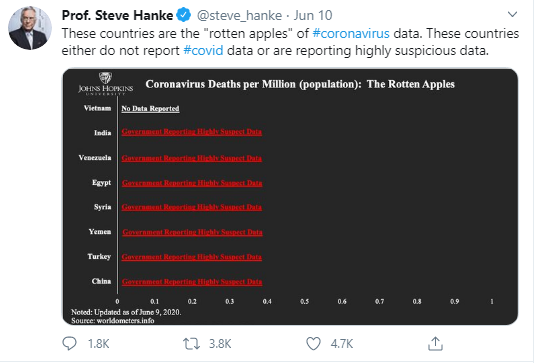 Professor Steve Hanke tweeted on June 10.
Vietnam not COVID-19 "rotten apple"
Steve Hanke, professor of Applied Economics at Johns Hopkins University, on June 10 tweeted that Vietnam is a top "rotten apple" of COVID-19 data.
Vietnam, at the time of writing (June 10), has had 334 confirmed cases and, as widely reported and verified, zero deaths, according to its Health Ministry's daily update. It has also received plaudits for its transparency in fighting the pandemic by many mainstream international media outlets, including CNN, BBC, Reuters, The Guardian, the World Economic Forum, among others.
The letter labels the errors and excuses as unscientific and representing low professional standards. The information is in contrast to the Johns Hopkins University work to create a COVID-19 dashboard that has guided public health professionals across the globe.
It also demands that the tweet is retracted and both professors and universities acknowledge the error and publish the correct information instead.
The tweet has angered many, not just in Vietnam. It, so far, has received 3,800 retweets and over 1,800 replies.
As of June 16, Prof Hanke has posted another tweet that somehow acknowledged his mistake and shared the Vietnamese Health Ministry's information portal, https://ncov.moh.gov.vn/. However, he is yet to delete the original tweet or apologize. This tweet has been shared only 25 times, far smaller reach than the original tweet (3,800 retweets).

Professor Steve Hanke tweeted on June 16.
"Contrary to an image I posted last week, #Vietnam turns out to have a "perfect" record in its fight against coronavirus. Official Vietnamese data indicate that Vietnam has not suffered any coronavirus fatalities--zero (0) deaths," he tweeted on June 16 (local time), citing information and data from Vietnamese Health Ministry's information portal, https://ncov.moh.gov.vn/.
In particular, the word "perfect" is enclosed in quotation marks.
Answering below this tweet, many accounts are still not satisfied and want Prof. Hanke to apologize for his misleading information.
The Ministry of Health officially launched the above-mentioned website in February to share vital and accurate information of the novel coronavirus outbreak.
It have been acted as the health sector's main channel to provide official information on guidelines and activities of the health sector, assistance information, and instructions on disease prevention for people and the community.
On the same day, the health ministry in collaboration with the Viettel Military Group's Viettel Business Solutions also introduced an Smartphone app called Sức Khỏe Việt Nam (Việt Nam Health).
Media lauded for contributions to COVID-19 fight
Prime Minister Nguyen Xuan Phuc and Deputy Prime Minister Vu Duc Dam on June 16 has extended their greetings and lauded the media for its important contributions to the fight against the COVID-19 pandemic, reported VOV.
According to the Ministry of Information and Communications, from early February to late May, domestic press agencies published 560,000 news reports and articles about the COVID-19 epidemic. By the end of May, more than 10,000 news reports were broadcast on five major television channels, including the VNA's television channel (VNews).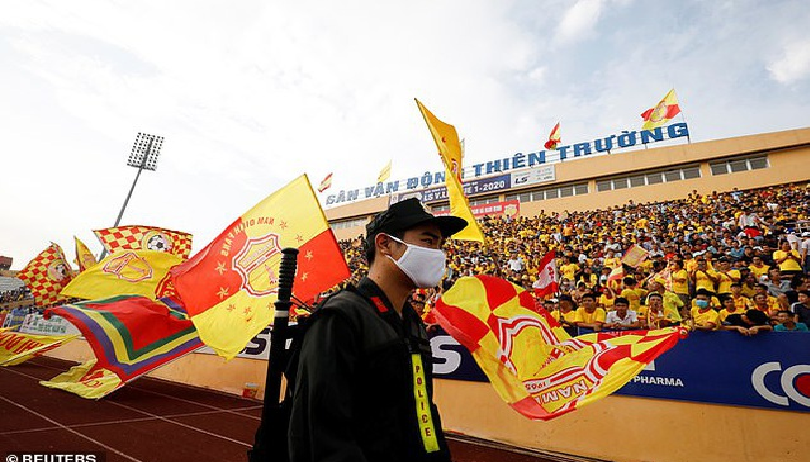 V-League returned on June 5 with crowded audiences is reported on Daily Mail. Photo: Reuters
Vietnam reported one new imported COVID-19 case on June 17 morning, raising the tally of infections to 335, said the Ministry of Health.
Earlier on June 16, a further two patients suffering from the novel coronavirus (COVID-19) were released from hospital, bringing the overall number of fully recovered cases to 325, or 97.3% of all patients with no fatalities recorded as a result of the deadly virus.
Of the total 335 cases confirmed, 195 were imported and the remainder were community transmissions.
7,250 cases having close contact with registered patients and entering the country from epidemic-hit areas are being kept in quarantine.
According to the National Steering Committee for COVID-19 Prevention and Control, the remaining 10 active cases are undergoing treatment at hospitals nationwide, including five having tested negative for the virus once or at least twice.
Meanwhile, the British pilot patient known as the nation's 91st COVID-19 patient, continues to make good progress towards recovery as he is capable of standing and is undergoing physical therapy twice a day, according to Ho Chi Minh City-based Cho Ray Hospital.
As coronavirus is under control and there is a relatively low risk of importing infections, Japan will ease travel restrictions, starting with flights to Vietnam on a limited basis later this month, Kyodo News reported on June 15 citing government sources.
The Singaporean Ministry of Health also announced that people entering Singapore from 10 countries, including Vietnam, will not be subject to a 14-day quarantine period as of June 18, following new immigration regulations relating to the novel coronavirus epidemic./.
Hannah Nguyen