YouGov, a British international Internet-based market research and data analytics firm, headquartered in the UK, with operations in Europe, North America, the Middle East and Asia-Pacific, has just released a review of the reliability of media coverage in many countries. Accordingly, Vietnam is the country winning the highest level of confidence with the information published on media about the Covid-19 pandemic.
According to YouGov's statistics, up to 89% of Vietnamese respondents confirmed their belief in Covid-19 news reported by Vietnamese media. Forbes analyzed that, despite having a large border with China, Vietnam was not seriously affected by the number of cases because it had taken the Covid-19 preventive measures early. The timely recognition of risks and information assist Vietnam to be successful in stopping Covid-19's outbreak.
India ranks No. 2 with a confidence level of 67%, China ranks third of the rate by 62%.
Controversies have been arising on the international level regarding the reported number of cases and deaths from China, especially in Wuhan, under the suspicion of actually concealed damages.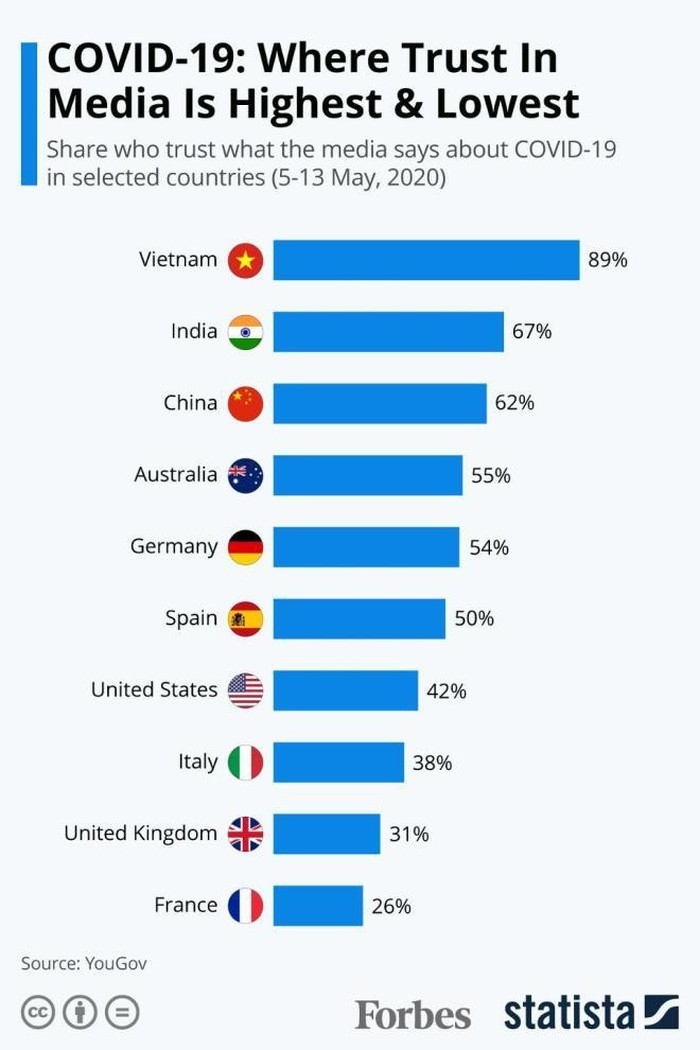 YouGov's assessment of the reliability of media in other countries.
Australia and Germany win 55% and 54% of the media trust and accuracy, respectively. Spain gets by 50% of the media reliability in this country according to YouGov.
In the US, the level of trust by 42% much affected recently due to the ascending fake news in the current crisis. President Donald Trump has repeatedly criticized the press and media agencies for reporting untrue and taking advantage of Covid-19 to depose his reputation.
Italy has only got about 38% of the media reliability. In the UK, the media has sowed division after Brexit and it is not surprising that public confidence is only by 31%.
The reliability of the French media is underestimated, the number according to YouGov's estimate is only by 26%.
In general, European countries get relatively low levels of people's confidence in their disease-related information.
Source in Vietnamese: https://thoidai.com.vn/bao-quoc-te-truyen-thong-viet-nam-dua-tin-dang-tin-cay-nhat-the-gioi-ve-covid-19-108901.html
Tarah Nguyen